Shipmate Column
Summer 2010
---
CLASS OF 1963
Pres: CAPT W. Spencer Johnson IV, USN (Ret.)
Sec'y: Michael H. Shelley
164 Sweetwater Lane, Pisgah Forest, NC 28768
h: 828-862-4245 e: nstar@citcom.net
Web site: http://www.usna63.org.


For any classmate you can go to the Classmates Page and enter his name to read his current biography if available.
---
&nbsp I have several very interesting items to share with you this month, so let's get right to it. First, Randy Orlowski sent this account of his participation in a High Society event during our second class year.
&nbsp I was going through a box of mementos now that I've retired, and found this clipping from the New York Daily News in December 1961.

Debutante Ball in New York City


During Second Class year there was a call for midshipmen wishing to serve as escorts for young ladies coming out at the International Debutantes Ball at the Astor Hotel in Manhattan. It was being held during our Christmas holidays and although I didn't think it would be Debs Gone Wild, I thought maybe it would be a fun evening nevertheless. Plus, for me it was a just short subway ride from my home. All right, maybe I did have a fleeting vision of charming the daughter of some Wall Street mogul or of the owner of a South American copper mine. Not too far-fetched, I felt; I had a passable batting average at the Jersey shore. I didn't always strike out. Moreover, I was an Annapolis midshipman and would be there in dress blues and white gloves.

&nbsp Well, reality quickly set in. At the ceremony, amid the opulence and glitter of a spectacular ballroom, the pageantry began. The announcer formally presented each debutante, stating her lineage and pedigree just like they do when the thoroughbreds trot on at Churchill Downs. (I'm trying not to roll my eyes during this part of the pomp.) The young lady would then take the arm of the mid or cadet who would escort her through the protocol and then off stage where we all sat down at the dinner tables with the debs and her friends.

&nbsp I'm not sure how some of the other escorts were treated, but my attempts to engage my charge in conversation were met blandly with polite, brief responses which trailed off as she was already turning her head back to her friends. I was strictly background material, about as relevant as the floral centerpiece on our table; about as noticeable as the missing period in the Dr Pepper logo. No sense hanging around here much longer. I soon headed back across the Hudson, deflated, but wiser; almost looking forward to the return to Bancroft and the impending Dark Ages.

&nbsp Anyway, in the clipping I can identify Lars Runquist and Jim Oakes to my right, but no one down the line from there. Coincidentally, right after graduation I once again met up with Runquist and we hit the Jersey beaches where we fell in with and spent the week with some coeds from Pitt. That was a much happier tale.
---
&nbsp I received word that John Van Horn of Dallas, PA, died on 4 May 2010. A member of the 16th Company, he left USNA in 1960.
---
&nbsp A press release issued in June brought this news about Ron Terwilliger:
&nbsp The Board of Trustees of Enterprise Community Partners, Inc., a national leader in the affordable housing and community development industry, has elected J. Ronald "Ron" Terwilliger to succeed Norman Rice as board chairman. Terwilliger has been a member of the Board of Trustees of Enterprise Community Partners since 2007 and currently serves as co-chair of the Enterprise Real Estate Leadership Council. He is also chairman emeritus of Trammell Crow Residential, a national residential real estate company and the largest developer of multifamily housing in the United States.

&nbsp Terwilliger is past chairman of the Urban Land Institute where he continues to serve on the Governance Committee. Additionally, he is chairman emeritus of the Wharton Real Estate Center and is former chairman of the International Board of Directors of Habitat for Humanity, where he currently chairs Habitat's $4 billion Global Capital Campaign.

&nbsp In 2008, Terwilliger was elected to the National Association of Homebuilders' Hall of Fame in recognition of his efforts to advance housing opportunities for all Americans. Additionally, in 2009 Ron was honored by the National Housing Council with the Person of the Year Award for his commitment and contributions to the affordable housing community.
---
&nbsp Gents, let me invite your attention to the "Pride and Tradition" section of our web site. The "Memories" area contains many sea stories and reminiscences about the Academy and the Class of 1963. As a sample, here is a submission from Mike Moore.
&nbsp I remember the potentially most disastrous thing I did Plebe year: When Billy Graham preached at the Chapel, I attended in one of the church parties. As we marched smartly up the entrance to the Chapel, and whipped our overcoats off smartly, I realized I had no blouse on! (We were in Service Dress Blue B w/overcoats) After groping frantically and unsuccessfully at the inner liner of my overcoat, I realized I could not sit in the chapel in shirt sleeves. I did a "to the rear march" and went between the 1st and 2nd squads all the way through the formation. I came out the rear just as a church party from town was returning nearby. I quickly fell in, marched back to Mother B, and was dismissed. I returned to my room, not believing what had happened. I decided I was going to be guilty of false muster unless I did something, so I went to my Company Commander's room and turned myself in, so to speak. He had me repeat my story a couple of times, and then he got his classmates in the room, and I repeated it several more times. Fortunately for me, they thought it was all pretty amusing, and I suffered no immediate consequences. I've often wondered what would have happened had I sat in the Chapel in shirtsleeves! I have had nightmares about this by the way.
&nbsp Among the other accounts on the web site are anecdotes about the much-feared LCDR "Black Jack" Scoville and the real story about the 18th Company Firsties' Christmas party in Bancroft Hall which resulted in big punishment for 13 men - and unexpectedly elevated some others to "striper" positions. To go directly to the "Memories" area, click HERE. Want to submit a remembrance of your own? Contact our webmaster, Steve Coester, at scoester@cfl.rr.com .
---
&nbsp Watt Miles composed this beautiful tribute to his roommate Austin Lett, who passed away this May.
&nbsp Homer Smith and I were at the memorial service for our Fifth Company classmate, Austin Lett, and his wife Lyla at the home of their daughter Heather in Costa Mesa, CA, on 27 June. Randy Orlowski, 12th Company, also came up from Laguna Niguel to provide additional Class of '63 support for Austin's family, which was deeply appreciated. Following the service, we boarded a charter boat to go out and scatter the ashes of Austin and Lyla, along with the ashes of their love letters, at sea. It was an informal event, but deeply moving. Austin and Lyla both died of ALS (Lou Gehrig's disease) within six weeks of each other -- an incredible coincidence.

&nbsp Austin was my roommate the last two years at the Academy. To say that he was a strong character would seriously understate the case. Some of the sea stories I was able to write up for his son and daughter, who said he hardly ever talked about the Academy, are almost in the Philo McGiffen class. There was, for example the time he obtained retribution for a fairly minor prank played on him by hiding in the room of the pranksters six pieces of fish, only five of which could be found by the occupants after the room became uninhabitable. Foreshadowing some outstanding later successes in investment banking, Austin revealed the location of the last odiferous portion in return for an agreement to refrain from counter-retribution. On another occasion, a couple of fellows in Fifth Co. from '64 gave offense that Austin again thought deserved retribution. We were living on fourth deck of Fifth Wing at the time, just before that wing was to be gutted for renovation. The unsuspecting pair lived around the corner. On D-Day, just after taps, Austin, I and two plebes (it should be noted here that the plebes were draftees; I was a volunteer, for reasons I still cannot fathom) went up into the attic, navigated to the target, broke into the (occupied) room through the overhead using fire axes, dumped two pillows worth of feathers into the opening just created, then doused the mess with the contents of a fire extinguisher. Somehow, we escaped any consequences.

&nbsp The story that I think best captures the spirit of my roomie in those years, however, concerns his interview with Admiral Rickover for admission to the nuclear power program. In one of the preliminary interviews with a captain, Austin had revealed that in his spare time he liked to keep up with world events -- he was as intellectually aggressive as anyone in the class, I think. In due course, Austin found himself one-on-one with The Great Intimidator himself. Naturally enough, Rickover seized on the misuse of potential study time to try to peel up a corner and rip Austin's hide off. He went so far as to accuse Austin of committing an Honor Offense by said misuse of time. He didn't know who he was dealing with; trying to intimidate Austin Lett was a fool's errand. All Rickover did was to amuse Austin (he laughed as he told me the story that evening) and convince him that Navy Line was his future. Rickover actually called the Supe (Uncle Charlie) about it. He told Austin about the call, and they both laughed.

&nbsp Navy line was a good choice. In July 1967, Lt. A.S. Lett became the first member of the Class of 63 to take command of a ship, the HICKMAN COUNTY (LST-825), a WW II vessel. Austin was awarded a Bronze Star for his service as C.O. of the ship in and around Vietnam.

&nbsp After sea duty, Austin was on staff at the NROTC unit at the University of Michigan. There he got his MBA, and met and married Lyla Strauch. He also managed from a standing start on January 1, 1971, to overcome years of inactivity by training for and completing the Boston Marathon in 3:26. Classmates will not be surprised that he found a way to enter the race without having previously run a qualifying marathon; I can empathize with the University of Michigan varsity track coach who was somehow convinced to obtain an exemption for the "college athlete." Pure Austin.

&nbsp Austin left the Navy in 1971 and entered business as a financial guy, establishing a strong record of success as CFO with two big companies in the Midwest, and eventually becoming a partner in Bollinger, Wells, Lett & Co., a boutique investment bank in New York. The stories told at his memorial service by those who served with him in the finance world rival the ones Homer and I told about his Academy and Navy days. Unfortunately, alcohol fueled some of those civilian adventures, and Austin very nearly crashed and burned. Fortunately for him, his wife and good friends intervened to save him. Austin resurrected himself, and went on to be instrumental in saving many others through AA. One person at the service spoke movingly of how Austin had saved his life.

&nbsp Austin's kids, Heather and Travis, are young adults any of us would be proud to call our own. Heather is a Ph.D. clinical psychologist, mother, and former model. Travis is chef and co-owner of Gjelina, a restaurant in Venice, CA, which has become 'hot.' He has been written up in Vogue, and selected by the James Beard Foundation as a Rising Star Chef of the Year for 2009. Perhaps Austin's major contribution to their success, other than some genes for looks and smarts, was to choose as his wife and their mother a woman who was, by all accounts, truly outstanding. Not only as a wife and mother, but also as an elementary school teacher and as a friend, Lyla was one of those paragons of devotion and dedication who make her small part of the world a much better place. I'm sorry I never got to know her.
---
&nbsp While at the Naval Academy this April, I paid my first visit to the museum since it reopened in August 2009 following a two-year renovation of the building and exhibits. The results are stunning. I took a number of photos in the museum, some of which appear below. If you have some past issues of Shipmate lying around, check out the article about the museum in the September-October 2009 issue. If you prefer, you can see it on the Alumni Association's web site at http://www.usna.com/Document.Doc?id=1248.

&nbsp I saw several things in the museum that connect directly to the Class of 1963. The display of class rings includes Carl Kolon's ring, donated to the museum after his death from cancer in 1980. The Naval Academy Tradition panel includes a photo of one of our classmates (Jeff McLaury, I believe) and his date next to the big ring at the reflecting pool before our Ring Dance. The display relating to prisoners of war lists Mike Cronin and Denver Key among the Vietnam War POWs. The panel devoted to USS LIBERTY includes a photo of Steve Toth.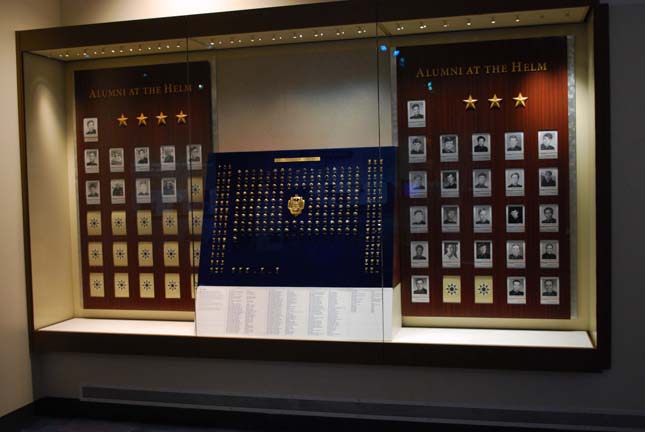 Class rings and photos of senior serving alumni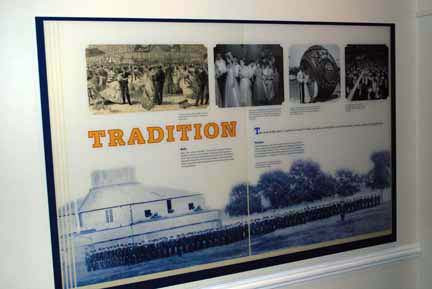 The Naval Academy Traditions panel -- "The cycle of the year is marked as much by balls, parades, and tradition as it is by classes, exams, grades, and graduation."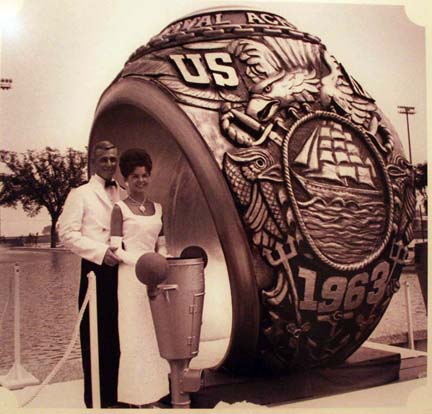 Before our Ring Dance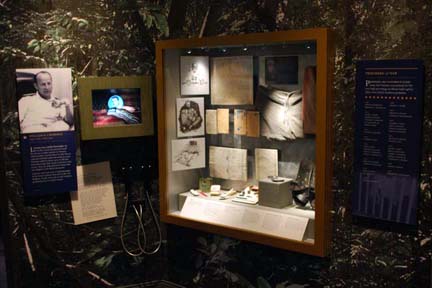 The Prisoner of War display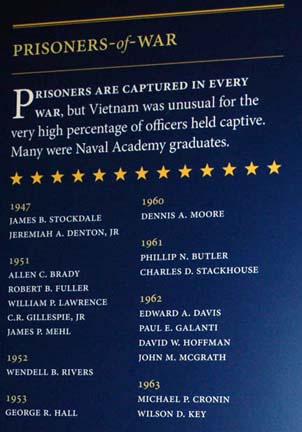 The upper half of the POW panel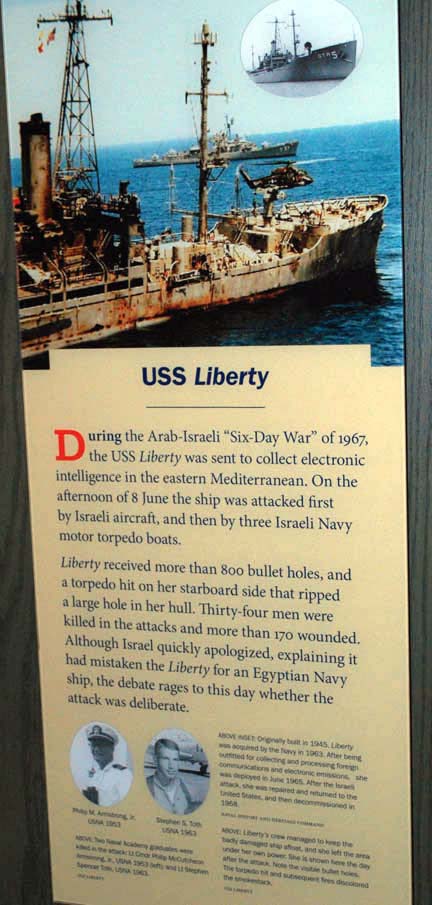 The USS LIBERTY panel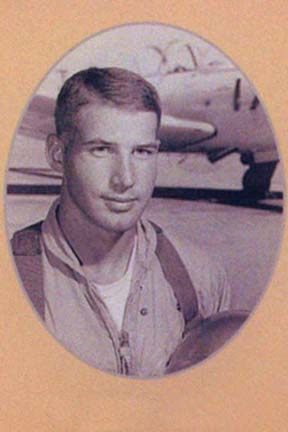 Steve Toth, killed in action aboard LIBERTY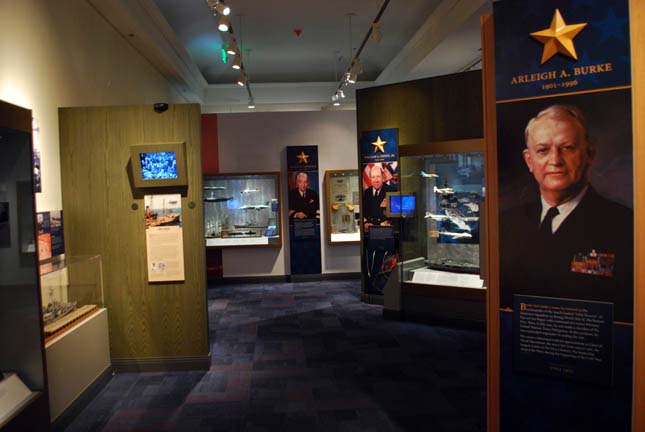 A small corner within the museum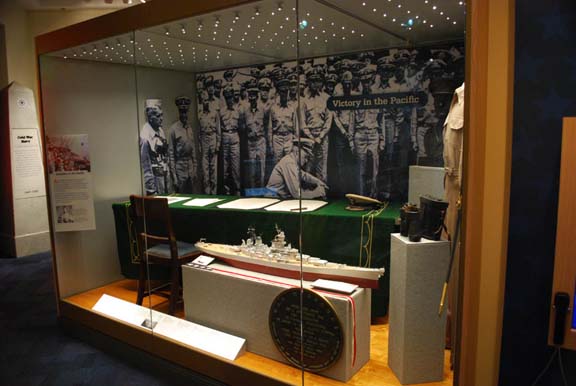 The Japanese surrender exhibit, including FADM Nimitz' cap and khaki uniform worn that day


&nbsp The ship model gallery occupies most of a full floor in the museum. As shown in the photos below, the design and presentation of the exhibits are very well done.
The entry to the ship model gallery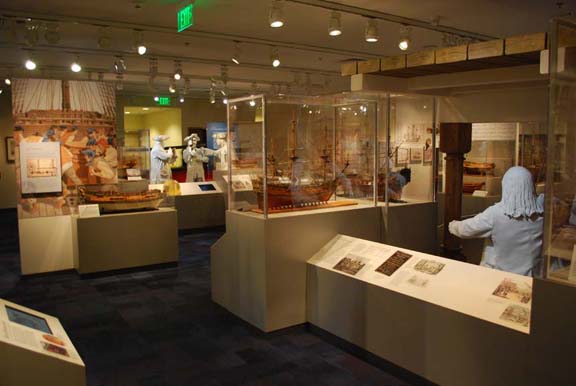 Ship models and model makers


&nbsp When you are next in Annapolis, spend an hour or two in the museum. It will absolutely be worth your time.
---
&nbsp Did you know that there is another USNA class ring display in Annapolis? It's at the Naval Academy Alumni Association. The Class of 1963 ring in that collection is a replica rather than one that had been worn by one of us. If you know of a deceased classmate whose family might want to have his ring on permanent display, please let me know.
---

&nbsp Be sure to reserve 31 March - 3 April 2011 on your calendar for the Class of 1963 Mid-Term Reunion in San Diego. A tentative schedule of events and other details will be available soon.
---
&nbsp That's it for this time around. What are you doing this summer? How about sending me a report and a photo or two to share with our readers? Thanks!



---