Shipmate Column
November-December 2013
---
CLASS OF 1963
Pres: CAPT W. Spencer Johnson IV, USN (Ret.)
Sec'y: Michael H. Shelley
164 Sweetwater Lane, Pisgah Forest, NC 28768
h: 828-862-4245 e: nstar@citcom.net
Web site: http://www.usna63.org.


For any classmate you can go to the Classmates Page and enter his name to read his current biography if available.
---
---
---
&nbsp As classmates, we have for many years shared our joys and now, inevitably, we share the pain of our losses. Regretfully, we begin this month with news of the deaths of five members of the Class of 1963.


&nbsp Robert R. Cronin died on 31 July. His widow, Julianne, can be contacted at 9121 Volunteer Drive, Alexandria, VA 22309-2922.


&nbsp David M. Anderson passed away in Kent, WA, on 7 August. He was predeceased by his wife, Pat, in 2012. She was the sister of our classmate, Larry Warnken. He had four children; his daughter, Elizabeth Cuddie, can be contacted at 2633 Thornhill Road, Puyallup, WA 98374.


&nbsp Donald R. Freese died on 3 September. His widow, Sherry, can be contacted at 4613 Mirabella Court, St. Petersburg Beach, FL 33706.


&nbsp Peter L. Barth passed away on 5 September. He is survived by four children; we do not have contact information for them.


&nbsp Jerry T. Lockett died on 10 September. His widow, Ruth, can be contacted at 7305 North Highland Road, Leesburg, FL 32788.

&nbsp Obituaries and other information about these good men can be seen in the Last Call section of our web site by clicking HERE.
---

&nbsp Time has rushed by, and our 50th Reunion is only three weeks away. Attendance may be record-breaking: more than 850 people are registered to participate.

&nbsp The class banquet on Friday night has been sold out. The dress code for that event is coat and tie for the men and equivalent attire for our ladies.

&nbsp The Athletic Association reports that the football game is a sellout. That matters to us because our tailgate area is inside the stadium and you will need a game ticket to enter.

&nbsp Check-in for the reunion weekend will be at Loews Hotel on West Street in Annapolis from 1000 to 1630 on Thursday and from 0830 to 1200 on Friday. The reunion committee is seeking volunteers to staff the check-in and to help with ticket-taking at the Friday banquet and the Sunday brunch. Please step up to assist the committee, which has worked for so long to plan and prepare our weekend together. To volunteer, contact Jennifer Earner at jearner1205@verizon.net . For details about these opportunities, click HERE

&nbsp Here are the names of the Reunion Committee members. Be sure to thank them for all the time and effort they have devoted to ensuring that our 50th Reunion is something very special for all of us. Bill Earner (Chairman), Pete and Jan Quinton (Hotels and Banquet), Spencer Johnson (Class Meeting), Bob Forster (Tailgate and Football), Steve Duncan (Memorial Service), Jim Lloyd (Golf), Dick Kuntz (Class of 1963 Singers), Mike Nadolski (Memorabilia), Stephanie Nadolski (Graphics/Layout), Norm Shackelton (Photography), Jeff Miles (Virtual Tour), Charlie Stubbs (At Large), Steve Coester (Webmaster), Larry Marsh (Spirit Buttons) .
---
&nbsp Among our many contributions to the Another Link in the Chain program, the donation of Class of 1963 swords to new Ensigns and Second Lieutenants stands out as something very special. Beyond the obvious financial benefits to the young officers, the legacy aspect provides an enduring link between classes separated by 50 years. The anticipated donation of the same swords to members of the Class of 2063, and perhaps other classes to follow, will give us a connection with the distant future.
&nbsp I have heard from several sword donors since our last Shipmate report. The first was Peter Browne, who transferred his sword to Nick Waugh '13. This is especially noteworthy because Nick is the first grandchild of the Class of 1963 to graduate from the Academy. His grandfather is Pat Waugh, who was Peter's plebe year roommate.

&nbsp Jim Ring tells us about his donation:
&nbsp In May, I presented my sword to ENS Chris Ceconi '13, who is headed to Pensacola. I presented the sword in the name of my roommate, Jim (Kelly) Patterson.

Jim Ring and Ensign Ceconi '13



&nbsp Giving his sword to Ensign Charlotte Hauser '13, Bruce Webb sent her a letter emphasizing the legacy involved. Here's an excerpt:
&nbsp I herewith bequeath to you my Naval Officer's Sword as a legacy gift representing the Link-in-the-Chain between your Naval Academy Graduating Class of 2013 and my Naval Academy Graduating Class of 1963. This sword comes with special obligations. It was given to me by my brother, Lowell E. Webb, who graduated in the Naval Academy Class of 1960, and it represents my family's heritage with a link to the American Revolution. I am a member of the Society of the Cincinnati (of the State of New Hampshire) and have collaterally descended from Captain John Peck Rathbun, USN, a Revolutionary War Navy Captain who served as second in Command to the Father of the U.S. Navy, John Paul Jones, on board the first Navy ship, the Continental Sloop USS Providence. John Paul Jones' membership in the Society is on display at the USNA Museum. Made up of descendants of the Military Officers of the American Revolution, the Society is the oldest patriotic organization in the U.S. It is dedicated to the memory of the American Revolution and to the principles for which the Army and Navy of the revolution fought and died. These principles are embodied in the U.S. Constitution. Your obligation remains to uphold them. I would also ask, if at all possible, that the sword I am passing to you will become your legacy gift to a member of the Naval Academy Class of 2063, continuing the Link in the Chain.

Bruce Webb and Ensign Hauser '13



&nbsp Other donors include George Emery and Jamie McClure. Jim Stageman gave his sword to a 2012 USNA graduate whose parents live in his neighborhood.

&nbsp More Mameluke blades were donated by three of our Marine Corps classmates. Len Eaton reported about his sword transfer at the University of Arizona.
&nbsp Every year the Southern Arizona Chapter of the USNA Alumni Association presents a sword to the top NROTC graduate entering the Marine Corps from the University of Arizona. A retired Navy Admiral does the same for the top graduate going Navy. When I graduated from USNA, the Midshipman's Store set aside one day for graduates entering the Marine Corps to purchase a sword. There was a Marine Officer there to measure us for a sword. Maybe it was my big ears but, the Officer was in a hurry and measured me for an extremely long sword. This past May, I gave my Mameluke to the NROTC Unit to be awarded to a very tall graduate entering the Marine Corps who has served the unit with distinction and is worthy of the award. Our Chapter pays $525 for a sword each year. The NROTC Unit includes several former enlisted Marines who upon graduation have to spend a lot of money for uniforms. With all their college debts, for one of them to get a free sword is very meaningful.
&nbsp Watt Miles tells us about his donation:
&nbsp I had promised my sword to a grandson after he expressed interest in it when he was younger, so I did not initially offer it up to a 2013 Marine officer. Subsequent to 2013's graduation, , I did decide to donate my sword. I have corresponded with a couple of 2ndLt's. The first one was 6'4'' as it turned out, and my sandblower-sized Mameluke just wouldn't do for him, but he recommended a companymate.
&nbsp On 29 September I drove up to Quantico and met 2ndLT Mark D. Bradley, USMC, at the National Museum of the Marine Corps. I passed my sword to him and he promised to pass it on to a Marine from of the Class of 2063. I'll have to trust him on that. The sword had been re-habbed by the folks at The Marine Shop in Quantico and they did a superb job -- it really did look like just like new. Interestingly, they wouldn't let us do turnover in the Museum -- no weapons allowed in there. Mark's fellow 11th Co. classmate joined us for lunch at the Tun Tavern Grill inside after we stowed the weapon safely in Mark's POV. I told them some sea stories from our time 'by the Bay' and they did a good job of seeming suitably impressed.
&nbsp I only recently learned that Ed Howard donated his Mameluke to 2ndLt Caitlin Foran USMC '13. With his gift, the number swords donated to members of '13 stands at 35, plus two that were given to other new officers.
---
&nbsp Chuck Stone submitted this photo, taken at his home in Escondido, CA.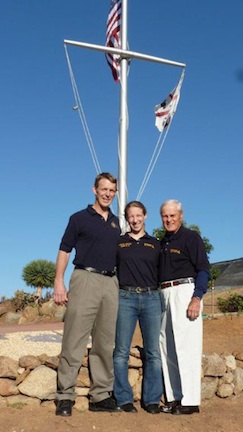 Adam Curtis '85, Laura Curtis '13, and Chuck Stone in their Navy shirts
&nbsp We had a recent visit with our Link in the Chain, ENS Laura Curtis '13, her parents, CAPT Adam and Bonnie Curtis '85, and her grandparents, CAPT Joe and Janet Bartel (long time San Diego Supply Corps friends). Laura (the recipient of my sword) graduated with 2013, and is attending medical school at UC Irvine!
---
&nbsp Alan McAnally checked in with this news about a 21st Company event in late August:
&nbsp In what is almost becoming the annual Navy Week on Cape Cod, Joe Collins again graciously hosted a pretty good contingent of gentlemen and ladies from the 21st Company. The first day was highlighted by a round of golf for some, shopping for others and a wonderful dinner by Chef Jack Saux and his staff. The following night everyone enjoyed a festive dinner at Joe's golf club in Pocasset. Great weather, great company and great times!

21st Company on Cape Cod


&nbsp Left to right in this picture are Yvonne Saux, Terry McAnally, Carol Davisson, Dolly Batzel, John Middleton, Betty Small. Back Row (L to R) Jack Saux, Suzanne Collins, Tom Batzel, Wink Wilkinson, Joe Collins, Betty Middleton and Bud Small.
---
&nbsp Mike Blackledge shared this account of a recent meeting with Ed Hutcheson:
&nbsp Ed hosted Bonnie and me to a dinner at La Hacienda in Old Town, Albuquerque, on Sunday 15 September, in memory of the February 2011 breakfast that Bonnie prepared for the 1963 Ski Team (well, at least D.B.A. Moore and Ed). This time the weather was beautiful, the sky was blue, and the air was cool, not freezing as it was at the previous meeting.

Blackledge and Hutcheson (Notice the license plate)



&nbsp Ed and Sandy spend two six-week tours each year in Paris (not the one in Texas): one from early October to mid-November, and one from mid-March to the end of April. This explains why they are unable to attend October or April reunions in Annapolis. It also allows their grandkids to have a wonderful time visiting the grandfolks at their Paris apartment.
&nbsp We plan to visit Paris in the Spring, and thus were most interested in details, such as locating a great apartment to rent via VRBO.com. Ed promises more details on surviving in Paris. After 14 years of doing this, he is just now signed up for a French course.
&nbsp Ed was in town to teach a one-week Contract Management course on Kirtland AFB. He lives in Oakton, VA, and works for Management Services Consulting (MSC), traveling quite a bit teaching this course at bases all over the country.
---
&nbsp Charlie Minter sent a photo from the Intrepid Sea, Air & Space Museum in New York City.
&nbsp This picture was taken incident to the 16 August ceremony recognizing the 70th anniversary of the Intrepid's commissioning and a reunion of former crew members, including a number of plank owners. Since my dad commanded the ship in the early '60s, I was invited to participate in the wreath laying part of the ceremony.

At the Intrepid museum



&nbsp The photo shows Rob "Blackie" Black and me in front of an F-8 Crusader which has "LT Anthony Nargi" (our classmate) painted just below the canopy. Tony scored the last kill by an F-8 when he downed a MiG-21 over North Vietnam on 19 September 1968. The museum curator assured me that Tony flew this aircraft but it was not the one he flew in the shootdown. Blackie is pointing to the red star signifying the MiG kill.
&nbsp Photos of Charlie at the wreath laying and with his granddaughter can be seen by clicking HERE.

&nbsp Blackie sent a couple of photos from November 2006, taken during one of Tom Hall's appearances before the Navy League in New York City while he was Assistant Secretary of Defense.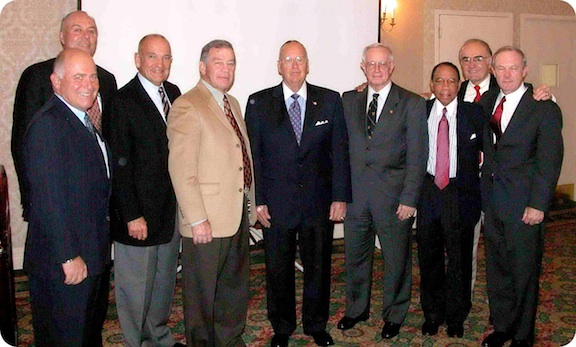 Ken Metviner, Mike Krause, Mike Bonsignore, Tom Hall, Rob Black, Rob Newton, Bill Palafox, Bob Campbell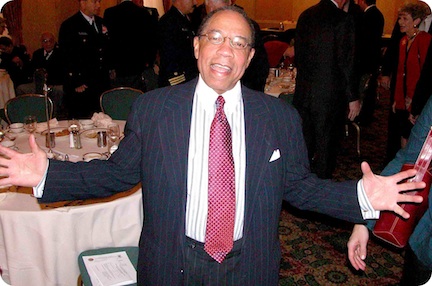 The Ageless Rob Newton
---
&nbsp In early September, Nick Nerangis mentioned to me that he had received an award for his performance in the lead role in an independent film. I asked him for some details about the film and his acting career to share with readers of our Shipmate reports. Here's what he had to say:
&nbsp The film is called "A Little Off The Top." I was cast by a director I had previously done a minor role for. He offered me the lead in this "nice guy goes nuts " film and I felt I could do the role well. As it turned out, the folks at The World Music and Independent Film Festival chose our short film to be in competition. We were nominated in seven categories and won in three of them. We won best director, best original screenplay, and my best actor.
&nbsp As you know, I earned a degree in acting from Shenandoah University in 2004 and continued to pursue film, TV, and stage opportunities after that. I had the very pleasant experience of working on "The West Wing", "America's Most Wanted", "The New Detectives", and stand in or minor roles in about 30 film and television productions. On stage, I achieved my professional status in the late 1980's. I have worked on such shows as "1776","Annie Get Your Gun", Disney's "Beauty And The Beast", "Singing In The Rain", and over 50 more Actor's Equity contracts.
&nbsp Now, with the advent of my award, there is a flurry of activity that I had not previously experienced. I am filming a promotional piece for a national health organization in the next three weeks. Beyond that, I have three other filming offers including a very exciting one, subject to funding, as a feature role in a huge film to, hopefully, be filmed around the U. S. in mid 2014. That project is being forwarded by an Emmy winning director who saw me and made the offer of the role the next day. As if that weren't enough, I am also currently in pre-production on a feature film which I will be producing and acting in. It will be a G rated family film about making the best of your talents and situation in the present.
---
&nbsp Max Ricketts tells us about winning an auction for a piece of golf history.
&nbsp Reading in the May issue of Shipmate of my Saigon roomie Jim DeFrancia's much-deserved citation for his Navy Distinguished Civilian Service Award inspired me to check in with this news:
&nbsp While my regular golf mentors, Lynn and Lew Blackwell, were wine tasting touring Italy with Connie and Miller Detrick this August, I joined a Pro-Life Charity golf tournament at Encinitas Ranch and had the honor of being highest bidder for the autographed 18th hole pin flag from Phil Mickelson's 2010 U.S. Master's win -- his third victory there.



&nbsp Left to right in this photo are Mary Mickelson, me, Phil Mickelson, Sr., and my wife Edith. At the awards dinner, the Mickelsons delivered a touching and very personal narrative of the life and times of their son. Phil senior is a former Navy fighter pilot. One only hears the very best about Phil Mickelson. His folks are adorable people -- a loving couple.
---
&nbsp I have reported previously about some impressive hiking accomplishments in the Sierras and the Grand Canyon by Dave Moore, John Peterson, Phillip Marsden, and other classmates with them from time to time. Phillip filed this report about the latest expedition:
&nbsp Dave couldn't join us when John Peterson and I spent a week hiking in Yosemite this summer. Our initial itinerary went out the window due to the enormous Rim Fire, but flexibility is the key to backpacking and we enjoyed a wonderful week on the trail. The photo shows John and me on Cloud's Rest with Half Dome and the Lower Valley in the background. Not bad for a couple of geezers!

Marsden and Peterson in Yosemite



&nbsp John Peterson told me that they had climbed Half Dome the day before this photo was made. "Not the sheer face," he said, "but still an accomplishment for 72 year olds." I agree.
---
&nbsp Here's a nice picture of Pat and George Emery celebrating their 50th wedding anniversary in Provence in July. His brief note said that there were "No crossed swords at our small town wedding in Sanford, ME, soon after graduation, but Don Grant faithfully journeyed north to be an usher at the ceremony."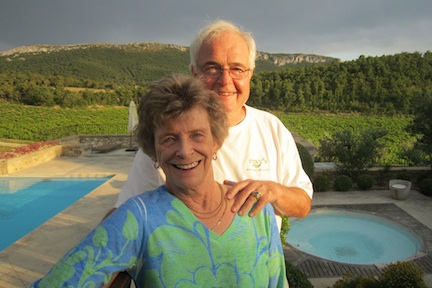 Pat and George Emery in Provence
---
&nbsp We'll end for this month with a couple of pictures from Western North Carolina. The first was taken when Anne and Watt Miles (on the right) joined Lou and me for lunch in Brevard one fine day in early August.


This last snapshot was made at the September lunch meeting of our classmates who live in and near Transylvania County. Left to right are me, Bob Maier, Bill Hollenack, Joe Kotowski, Bernie Grabowski, and Ben Cole. Ben lives just over the state line in South Carolina but we bend the eligibility rule for him.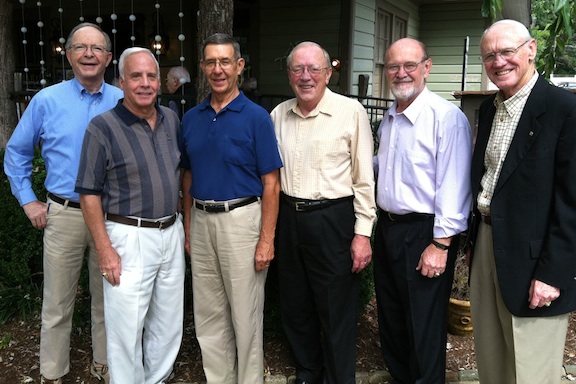 Western North Carolina classmates
---
&nbsp That's all for now. See you in Annapolis!



---