Shipmate Column
November-December 2014
---
CLASS OF 1963
Pres: CAPT W. Spencer Johnson IV, USN (Ret.)
Sec'y: Michael H. Shelley
164 Sweetwater Lane, Pisgah Forest, NC 28768
h: 828-862-4245 e: nstar@citcom.net
Web site: http://www.usna63.org.


For any classmate you can go to the Classmates Page and enter his name to read his current biography if available.
---
---
&nbsp I am sorry to report the death of our classmate James Anthony Rave, who passed away on 18 September. His widow, Mary Lynne Rave, can be contacted at 118 Jefferson St., Beaufort, NC 28516-9702
---
&nbsp A commitment ceremony for our classmate Bruce Lenz was held at the Naval Academy Columbarium on Hospital Point on 15 August. Tom Robertson and Larry Marsh contributed to this account of the event.
&nbsp The Memorial service was -- appropriately -- a beautiful Navy day and the Columbarium is a comforting place indeed. Family, friends, and numerous classmates made it a very special '63 day. Bruce's wife, Sally, his son and granddaughter, and his two brothers and their ladies were there to honor Bruce and to commit him in a very moving ceremony. For sure, he will be missed by all.

After the commitment ceremony



&nbsp This photo shows our classmates who were there. Six were Bruce's fellow 20th Company mates. Ralph Stowell and John Wall were his roommates. Left to right are Bruce Webb, Tom Robertson (20), Bill Earner, Chuck Fishburn (20), Pete Quinton, Doug Davidson, Dan Koczur (20), Ralph Stowell (20), Jeff Miles, Dick Jones, Spencer Johnson, Larry Marsh (20), and John Wall (20) . It was an admirable team to honor our classmate.
&nbsp Sally Lenz hosted a wonderfully elegant luncheon for all of us at the O' Club, a relaxing moment that Bruce surely would enjoy. He was with us in spirit.
&nbsp A few weeks later, Tom Robertson sent this wonderful story about his special connection with Bruce.
&nbsp Bruce Lenz and I, simpatico '63 companymates, were constant running mates first class year. Our bright new class rings were witness to a steady string of capers in Washington, Baltimore, New York, Syracuse, Philadelphia, Norfolk, and the Eastern Shore; ill-fated stewardship of the 20th Company car (a '41 Buick); and double-dating UM sorority sisters. If only rings could talk!
&nbsp Now only one ring and one of those once-young men remains. My ring was stolen in 2010, victim of a professionally cased home burglary -- and no doubt went straight to the melting pot. Bruce died suddenly from cancer in April 2014, a loss infinitely greater than any ring. Sally Lenz was aware that I lacked the zeal for replacing my ring with a new one, less meaningful and untraveled. In planning Bruce's inurnment at USNA she stunned me with the generous offer of Bruce's ring. I was honored to accept the ring after the memorial service at USNA in August 2014, on extended loan from the Lenz family.
&nbsp As for the ring, I'm wearing it with pride and indelible memories. Ring and man after 50 plus years are now traveling in the same circles again, though less adventurous for sure. The ring: in top shape on a long journey with two lives of kindred spirit. The man: hanging in there, with a new spring in his step. The circle of life once more!
---
&nbsp Chuck Fishburn is sampling the opportunities and joys of his retirement.
&nbsp I thought it was about time to provide an update on my status. I retired from my position at the Marine Corps Operational Test and Evaluation Activity this January 31. So far I am just enjoying being retired.
&nbsp To celebrate Patti's 70th birthday and our 50th anniversary we took a Rhine River cruise on the Viking Long Ship Tor. It was a wonderful experience and we recommend it as a great way to see a part of Europe. We spent two days in Lucerne, Switzerland, and then joined the ship in Basel, Germany. The ports we visited included Breisach, Strasbourg, Worms, Koblenz, and Cologne, Germany; and Kinderdijk and Amsterdam, Netherlands. The ship traveled at night and we had ample time to see the cities we visited during the day and early evening. Patti took about 700 photos that we still have to edit. Good thing I am retired.
---
&nbsp On the occasion of his 50th wedding anniversary on 22 August, Gaylord Hopkins submitted two photos for the Weddings section of our web site, showing Barbara and himself on their wedding day and at the celebration of their fiftieth.
&nbsp Also submitting two photographs for the Weddings section was Ray Kutch. He included this note.
&nbsp We will celebrate our 50th anniversary on October 3. There were many classmates who never thought that I would make it for a couple of years, let alone 50. The recent picture of Judy and me is at our son Tony's wedding in Hawaii. That makes four for four. We and all three of our children were married in Hawaii. Since this is being written before our anniversary party, we anticipate that companymates Pete Soverel, Jim Hall and Don Grant will attend. We also expect Ed Bush '64 to visit us here in the Northwest all the way from Florida. I hope all is well with you classmates! If you are ever in the Portland, OR, area, we would welcome a visit.

Judy and Ray Kutch



&nbsp You can see these and many more then-and-now images on our web site by clicking HERE . I encourage you to send your pictures to be added to this collection. Email them to our Webmaster, Steve Coester, at scoester@cfl.rr.com .
---
&nbsp Jon Harris submitted an interesting account of his participation in a noteworthy event during his Youngster cruise -- the first raising of a 50-star American flag over New York City. It was only the second one to be flown over the continental United States, the first having been raised at Ft. McHenry in Baltimore earlier that day. To see Jon's story in the Pride and Tradition -- Memories section of our web site, click HERE .
---
&nbsp It was good to receive this communication from Don McAlister:
&nbsp Two former First Company roommates and their wives got a chance to visit late this summer for the first time in over 25 years. I, my wife Ginny, and Patty and Jon Harris were in the Tidewater Area of Virginia in early August. We had traveled from our home in central Texas; Jon and Patty came from western Virginia.

Don and Ginny McAlister with Patty and Jon Harris.



&nbsp Jon and Patty introduced Ginny and me First Class year. The two ladies were in nursing school together in Baltimore at the time. He and I had been friends since Plebe Summer and roommates Second Class year. We got a chance to tell a lot of sea stories, at least some of which were true.
&nbsp Besides a chance to visit our daughter's family, we were in Virginia Beach for our son-in-law's change of command. Capt. Marc Delao, CEC, USN, (USNA 91) assumed command of Afloat Construction Battalion Two at Joint Expeditionary Base Little Creek on August 1. The Harrises were visiting their son-in-law Lt. Col. Darren Roberts, USAF, and daughter, Jenny, who are stationed at Langley AFB.
---
&nbsp I hope you have spent some time looking at the Current Biographies section of our Web site to see how the lives and careers of your classmates have unfolded. The self-submitted texts are always interesting to read and are sometimes surprising. Jim Ring was browsing through the biographies recently and noticed that there was no information about Jack Burke, his Plebe Summer roommate. You may recall that Jack was lost in the sinking of SCORPION, together with our classmates George Farrin and Mickey Lamberth. Jim prepared a text about Jack and submitted it for inclusion in the Current Biographies. Here it is:
&nbsp Jack was my plebe summer roommate and he was a great one to have. We were here three days when our other roommate, Gordon Smith from Georgia, said, "I ain't doing this sh--!" and resigned. If it wasn't for Jack, I probably would have followed him. I know I called my Mother and told her I wanted to come home. But thanks to Jack and my folks, I stayed and it was the best decision of my life. Jack helped me because he always had a positive outlook on everything and a fantastic smile on his face. He encouraged me and made our short time together enjoyable, if that is possible during plebe summer. During our four years at the Academy, he was in the other regiment, so I would only see him occasionally, but he always had that big smile on his face.
&nbsp After we graduated, Jack went into the nuclear power and submarine pipeline and unfortunately was aboard SCORPION (SSN-589) when it sunk on 22 May 1968 with two other classmates. This was almost one year later to the day that one of my other roommates, Jim "Kelly" Patterson, was lost over North Vietnam. Their bodies were never recovered. I had no contact with his family until I was involved with the Class Foundation and Mike Lents tracked down his widow and found out that Jack had two children. Stasia was four and Heidi was under one when he died. The Class Foundation provided grants for college to both of his children and both finished college. Fast forward 50 years and I noticed that a Gordon Smith from Georgia (and there was only one person with that name, who entered with us) donated $1,000 to our 50th reunion gift fund. I guess you can't get USNA out of your system.
&nbsp Jack's 23rd Companymates Mike Rubel (his four-year roommate) and Zimm Zimmermann added comments to Jack's biography page. Click HERE to see them.
&nbsp To add or update your current biography, just submit your text, plus one or more photos if you wish, to Steve Coester at scoester@cfl.rr.com .
---
&nbsp Ed Howard shares news of the latest sword donation to a member of the Class of 2013.
&nbsp This is just a quick note to bring news of my efforts regarding the "Link in the Chain." Sometime last spring, Spencer Johnson sent an email wanting to know if any Marines would donate their sword to a Marine Lieutenant out of the Class of '13, I responded that I thought I could do that. After making contact with 2LT Katey Foran, I mailed my Mamaluke to her at Quantico. Subsequent to that, she got Communications and was sent to 29 Palms for Communications school. For her westward travel with a classmate, I offered my home here in Mesa, AZ, as a way station and she accepted. Born in Korea and adopted by American parents, Katey is from Long Island, NY. She said she had used the Class of 1963 Center for Academic Excellence quite a bit and finished in the top 100 of her class because of it. Her friend received a Rhodes scholarship and gave credit for that achievement to our class.
---
&nbsp Another trip report came from Watt Miles.
&nbsp In July, Anne and I took a road trip and had the opportunity to watch two Blue Angels performances at Pensacola Beach. Unsurprisingly, they are still as awesome as when we saw them there in 1961. Also had opportunity to host, for dinner at Anne's brother's house on Pensacola Bay, Michael Washington, Class of 2013, and his fiancee Ashby Lee. Our daughter Sarah taught both of them at Maury High School here in Norfolk. Ashby is the granddaughter of a dear friend and erstwhile next door neighbor. We had met him for the first time at their Ring Dance; delightful couple. I asked Michael when he was having his first solo. "Tomorrow." Clearly not anxious.
&nbsp On the way home from Florida we stopped off for a couple of days in Atlanta to visit with Dave Maples and his wife Kate. They were most gracious hosts. Kate is a wonderful cook, and as all in the Fifth Company understand, the party is wherever she is. Dave has more and better war and sea stories than anyone I know. The former from his time as A-1 pilot in two tours flying mostly over the North; the latter from a subsequent career in the FBI. He was the FBI's guy for the Olympics in LA, Barcelona, Seoul, and Atlanta. He worked one airliner hi-jacking event without benefit of cover. Literally. Buck naked when he and his partner made the capture. Gloria and Fred Beckham will join Dave and Kate, and Anne and me for a long Army game weekend in Baltimore. We will link up there with Polly and Wilson Harris, also from the Fifth Company We hope Kathleen and Bob Prangley will also be there.
---
&nbsp Social encounters highlighted the summer for our classmates in Florida. Here are two submissions received in August, one from Steve Coester and one from Ray Ross.
&nbsp Yvonne and I rendezvoused with Sandy and Ollie Donelan for our third annual dinner at Dixie Crossroads, a local landmark in Brevard County on the Space Coast, FL. Ollie and Sandy visit with relatives in New Smyrna Beach and the restaurant is midway between there and our home in Rockledge. This time we took our local grandson, Stephen, along to meet the guy who started the whole Yvonne thing at USNA. It's always great to meet up with our old friends and classmates. We all (except Stephen) ate the Cape Canaveral Special which was enough for two plus a big doggie bag; Stephen ate one and a half pounds of snow crabs. We highly recommend Dixie Crossroads.

Coesters and Donelans



&nbsp And this from Ray:
&nbsp While Ollie was over visiting Steve and Yvonne, I stopped in Palmetto and had lunch with Fran and Tom Reemelin. Here's photographic proof of our encounter.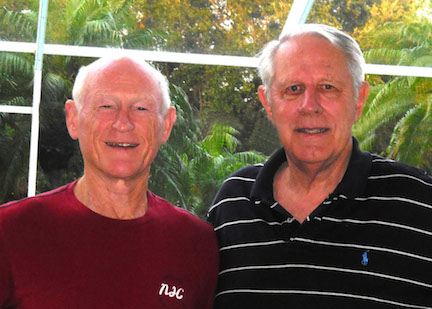 Tom Reemelin and Ray Ross
---
&nbsp Dave Moore checked in with this report:
&nbsp Art Roper travelled to Sacramento for a Senior League softball tournament in June. Doc Varanini and I watched two games and then the three of us went to lunch.

Dave Moore, Doc Varanini, and Art Roper



&nbsp I'll be heading down to San Diego/Coronado to escape the Sacramento heat and attend Phillip Marsden's annual '63 gathering at the concert in the park. A few days after that I will join Phillip and Jim Fontana in the mountains behind Bishop, CA, for two nights of campground camping. They and John Peterson will then go into the Sierras for six days but I will return home to conserve whatever energies I have left.
&nbsp ( Doc and I were in the same 9th grade classroom at Christian Brothers High School in Sacramento. My family moved back east and we didn't see each other again until one Saturday noon meal in the Mess Hall in the fall of Plebe year. It was quite a surprise! )
---
&nbsp Soon after returning from the High Sierras, Phillip sent three photos and this brief note.
&nbsp Jim Fontana, John Peterson, and I spent a week above 10K feet in Humphreys Basin on the eastern side of the Sierras. We were fortunate to avoid any rain and had a fun week exploring high alpine lakes and spectacular wild vistas. Dave Moore joined us for a few days at our base camp.

Moore, Marsden, and Fontana at Lamarck Lake




Peterson and Marsden at Piute Canyon




Moore, Marsden, Peterson, Fontana



---
&nbsp Before heading to the mountains, Phillip had submitted this Southern California news:
&nbsp Class of 1963 folks, Parents from the Class of 2013, and some surprise visitors from the Classes of 2011 and 2016 attended this year's Concert-In-The-Park in Coronado. In attendance were Jim and Cindy Lasswell, Lee and Sue Cargill, Jim and Pat Fontana, Maureen Hogan, Donna Kaup, Ted and Kay Krohne, Dave and Lana Moore, Clyde VanArsdale, Vern and Gail Von Sydow, and Ron Wills. Class of 2013 parents included John and Gail Pedrotty, Roy and Nilda Hansen, Paul and Renee Evans. This photo shows some of the attendees. (At an event like this, gathering people for a photo is like herding cats.) In spite of rumors to the contrary, I do have a wife and Martha can be found in the photos. She and I are fine and really enjoying our new home in Coronado.

Coronado concertgoers




Phillip and Martha Marsden



---
&nbsp Our class column this month reflects what a busy summer we had. A busy autumn season is already underway, so I am hoping that you will take a few minutes to send me a brief email about what you've been doing and any classmates you have seen or spoken with. We depend on your support to keep this news exchange timely and interesting. Thanks!



---