Shipmate Column
November-December 2015
---
CLASS OF 1963
Pres: CAPT W. Spencer Johnson IV, USN (Ret.)
Sec'y: Michael H. Shelley
164 Sweetwater Lane, Pisgah Forest, NC 28768
h: 828-862-4245 e: nstar@citcom.net
Web site: http://www.usna63.org.


For any classmate you can go to the Classmates Page and enter his name to read his current biography if available.
---
---
---
&nbsp As is often the case, I have more news and pictures to share with you than the printed magazine can accommodate. Be sure to visit our web site for the entire '63 column.
---
&nbsp Our classmate Gary Comfort died on 14 September. I have no details to share with you. His widow, Janet, can be contacted at 85 Ocean Way Dr., Ponce Inlet, FL 32127-7314.
---
&nbsp We extend our sympathy to Jay Roberts, whose wife, Nancy, passed away on 3 September. Jay can be contacted at 681 Margarita Avenue, Coronado, CA 92118
---
&nbsp Thanks to Alan McAnally for providing this account of a 21st Company assembly this summer.
&nbsp Eight of us, along with our wives or significant others, got together in Pocasset, MA, on Cape Cod this August for a host of different activities, ranging from golf, a tour of Woods Hole Oceanographic Institution, a cruise, and fine meals and drink. As usual, Suzanne and Joe Collins were gracious hosts and effective cat herders.

21st Company men and ladies



&nbsp We had a special unveiling of this unique '63 banner. The drawings on the banner -- depicting a Squared Away Plebe, an Overwhelming Youngster, an Overwhelmed Second Class, and a Typical Firstie -- were drawn by Joe LoPresti during his time at the Academy. Originally, Joe drew these cartoons on the walls of his parents' rec room. When the house was sold, the illustrations were cut out and saved. We wish Joe and his wife Bonnie could have been with us for this gathering, but Joe is having a few health problems and sent the banner instead. Appearing in this photo are Jack Saux, Joe Collins, Yvonne Saux, Suzanne Collins, Bud Small, Betty Middleton, John Middleton, Terry McAnally, Alan McAnally, Dolly Batzel, Tom Batzel, Betty Small, Wink Wilkinson, Carol Davisson and Jace Singler.
---
&nbsp Dedicated community volunteer Bill Sheehan has stepped down from his position as chairman of the Connecticut Nuclear Energy Advisory Council, ending 18 years of service on the council, including the past ten years as its chairman. Formed by the state legislature, the council keeps tabs on nuclear power plants in the state, the results of Nuclear Regulatory Commission inspections, and national and international events affecting nuclear power and nuclear waste storage. As he stepped down, Bill was lauded for his "incredible 10 years of service." He spent countless hours reviewing technical documents, touring the Millstone nuclear plant, and meeting with power company and NRC officials. A spokesman for Millstone called him "a great asset to the people of Connecticut."
&nbsp Bill spent 24 years on active duty, including command of DANIEL WEBSTER (SSBN 626)(Gold). His final tour was as Executive Officer of Submarine Base New London.
---
&nbsp Bob Forster told me that some of our classmates who were together at Destroyer School have been meeting for lunch in Annapolis from time to time. He sent a photograph with this note:
&nbsp This picture was taken in early September. The occasion was a Maryland crab feast lunch we enjoyed on Norm Shackleton's deck in Annapolis. We get together every two to three months. Shown left to right are Norm, Ed Hutcheson, me, and Bill Earner. All of us , plus about eight other USNA classmates, were in Destroyer School Class 12; Ed, Norm, and John Pfeiffer were housemates there.

Destroyer School classmates



---
&nbsp In early August, Jim Ring sent this news of his 16th companymate Frank Davey.
&nbsp I had dinner with Frank and Elaine Davey a few weeks ago, and visited them again today. Both Frank and Elaine are in good spirits although he is coping with ALS. They have spent the summer at their lovely home in Bethany Beach, DE. As we all know, family is important and they are surrounded by family. Two of his sisters have places close to Bethany Beach. His son (USNA '89) and one daughter have beach houses within a block or two of their home. That daughter lives in Raleigh but spent most of the summer in Bethany with her family. His other daughter was there today and is a frequent visitor with her children. On Sunday, they had a big family get together on the beach with food and libation. It was a great day for the beach and for Frank and Elaine to have all fourteen of their children/grandchildren with them. Other classmate visitors have included Catherine and Al Merkel and Donna and Dave deHoll.
---
&nbsp From southern Arizona came this travel news from Len Eaton.
&nbsp Jana and I very recently took a River Boat cruise from Amsterdam to Basel, Switzerland, on the Rhine and Moselle Rivers. A highlight of the trip was a visit to the American Cemetery in Luxembourg. At the cemetery we listened to an excellent one hour presentation on the Battle of the Bulge. We traveled through wine country where we sampled excellent dry riesling wines and of course the local beers were excellent too! I am enclosing three pictures. One is of Jana and me. The other two, one of which was taken in front of General George Patton's grave at the American Cemetery in Luxembourg, includes Gary Cecchine, Col. USA (ret) USMA '64, Pierce Johnson RADM,USNR (Ret) USNA '66, and me, class of '63 and having served in the Marine Corps.

Len and Jana Eaton




At General Patton's grave




USNA and USMA alumni



---
&nbsp Larry Marsh sent this photo and an invitation to members of the 20th Company.
&nbsp Recently, Dan Koczur, Charlie Robbins, and I renewed the long-standing Washington, DC, area 20th Company tradition of having lunch on a regular basis. All were doing well and invite fellow companymates to join them at any time to "re-tell old tales".

Marsh, Koczur, and Robbins



---
&nbsp Ken Sanger filed this report from his home in Sandpoint, ID.
&nbsp My significant other, Dawn Leeds, and I met Gail and Doug Tozour for a round of golf at the Coeur d'Alene Resort on August 19. It was a beautiful, if somewhat smoky (western forest fires), day. These photos are from the tee at the floating green - while our games were pretty good, we all missed the green, though Doug claims to have birdied it a few days earlier. Dawn parred it two weeks ago and I bogeyed it the same day. (Golfers need to brag sometimes).

Golfers in Coeur d'Alene




Ken Sanger and Doug Tozour



&nbsp The next day, Doug and Gail came to Sandpoint to spend the day with us before heading home. We enjoyed catching up and re-living old stories, boring our ladies.
---
&nbsp Eight USNA '63 couples enjoyed being together on a Pacific Northwest River Cruise this August. Here are some details, as shared by Tom O'Brien: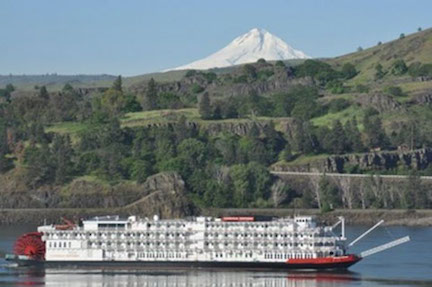 The American Empress
&nbsp The cruise was a grand experience. Ann and I had a wonderful time being with fellow 18th Company couples Ella and Mike Bracy, Eileen and Eli Dabich, Sandy and Ollie Donelan, and June and Chuck Stone, plus Sharon and Bob Forster (10th), Linda and Bill Penn (17th), and Gail and Doug Tozour (4th) . All of us expressed appreciation to Eileen and Eli for setting up the cruise, making sure all the details were addressed, and coordinating logistics with the Alumni Association and the travel company.
&nbsp Ann and I enjoyed spending many hours visiting with all our cruising companions in our '63 group. The scenery was wonderful and I especially recall our passage through the magnificent Columbia River Gorge. I still can't believe I was lucky enough to spy two Cowboys on horseback actually rounding up cattle (their dogs were doing most of the work) on those 45 degree slopes alongside the river. Wild West, indeed!
&nbsp These pictures, taken aboard the riverboat American Empress, were provided by June and Chuck Stone. The men's group comprises (L-R) Doug Tozour, Mike Bracy, me, Bob Forster, Ollie Donelan, Eli Dabich, Bill Penn, and Chuck Stone. The couples are Bracys, Tozours, O'Briens, Forsters, Donelans, Penns, Dabichs, and Stones.

Riverboating classmates




Touring couples



---
&nbsp Our classmate Ed Kolbe passed away in 2010. I learned recently that his widow, Bonnie, received a liver transplant at the Einstein Medical Center in Philadelphia in early September. The surgery went very well; she returned home about two weeks later, and is recovering nicely. I know that Bonnie would enjoy hearing from Ed's classmates; her email address is montanarivers15@aol.com . The transplant procedure was very expensive, and those who would like to help with the medical expenses can contribute through the GoFundMe web site at https://www.gofundme.com/9npgnbe8. Bonnie asked me to express her gratitude to our classmates who have already donated directly and through the web site to help her. She can be contacted at 321 N 7th St, Perkasie, Pa 18944.
---
&nbsp Phillip Marsden simply will not slow down. Here is his latest report of adventures with some of our classmates in the High Sierras of California.
&nbsp Pete Optekar joined me for a wilderness experience in Yosemite National Park. I had planned a rather simple itinerary to backpack into High Sierra Camps where we could camp in the campgrounds but receive our meals from the Camps. You quickly learn to be flexible on these outings as major campgrounds we intended to use were closed due to plague eradication and we had to evacuate other campgrounds due to fires. After we finished the Yosemite phase of the trip, Pete headed home and I traveled south to a campground near Bishop where I met up with my old hiking buddies, Dave Moore and John Peterson. John was meeting some other fellows for a week in the Sierra backcountry over Bishop Pass. The photos show Pete and me on Mt Hoffman above May Lake with lower Yosemite Valley in the background; the other shows Dave, John and me at Bluff Lake. The haze in the background is smoke from another fire!

Pete Optekar and Phillip Marsden




Moore, Marsden, and Peterson



---
&nbsp Arriving just in time for this month's news exchange, this note from Miller Detrick tells us about a visit to a nearby classmate.
&nbsp My wife, Connie, and I recently visited Kay and George Tracy at their lovely home in Lakewood Ranch, near Sarasota, FL, an hour drive from our place in Tampa. You will note that the poster in the background prompted some memories from George's lacrosse days. He stays in contact with his favorite sport, locally and nationally. We shared the tip of our iceberg of life experience, USNA and beyond, including George's lacrosse and my own track and cross country adventures. He and Kay are heavily involved in community volunteer service with the 12th Circuit Court (child guardians) and MOAA Sarasota. George still works part-time for SAIC at CENTCOM (MacDill AFB) and still plays his piano, daily. He and Kay send greetings to all, welcoming you to "Stop by, if you are in the neighborhood".

Detricks and Tracys



---
&nbsp Thanks to all those who contributed to our news exchange. Many of you are overdue to check in with me, so take a minute now to send a brief email and maybe a picture or two.



---