Shipmate Column
November-December 2019
---
CLASS OF 1963
Pres: CAPT W. Spencer Johnson IV, USN (Ret.)
Sec'y: Michael H. Shelley
27 Cambridge DR, Brevard, NC 28712
h: 828-506-2201 e: nstar@citcom.net
Web site: http://www.usna63.org.


For any classmate you can go to the Classmates Page and enter his name to read his current biography if available.
---
---
---
&nbsp As the end of summer approached, we learned of the deaths of several of our classmates. After you read their names below, be sure to click on the links provided and read the obituaries and other information to review the richness of their lives and their contributions to those around them.

&nbsp David L. Durfee passed away on 6 April. Dave's widow, Vivian, can be contacted at 9989 Dishman Road NW, Bremerton, WA 98312. Click HERE for Last Call.
---
&nbsp

&nbsp John J. Calande died on 8 August. His son, Steven Calande, can be contacted at 62 Johnson Road, Columbia, CT 06237.
---
&nbsp

&nbsp Charles A. Spadafora died on 8 August. Chuck's widow, Linda, can be contacted at 255 Williams Street, Indiana, PA 15701. Click HERE for Last Call.
---
&nbsp

&nbsp Frank R. Whalen passed away on 13 August. Dick's widow, Marti, can be contacted at 1276 Mossy Oaks Court, Virginia Beach, VA 23454. Click HERE for Last Call.
---
&nbsp

&nbsp Richard C. Jones, Jr. died on 25 August. Dick's son, Kevin Jones, can be contacted by email at kevin@kajones.me. Click HERE for Last Call.
---
&nbsp It is also with sadness that we note the 25 July passing of Susan Dunn, wife of our classmate Michael J. Dunn. Mike can be contacted at 9706 Beman Woods Way, Potomac, MD 20854.
---
&nbsp



&nbsp Here is some remarkable news from our class president Spencer Johnson about the future of the Class of 1963 Center for Academic Excellence at the Naval Academy.
&nbsp On the 5th of September a dozen or so classmates gathered at Sparks Steak House in New York City. Present was Ron Terwilliger, who used the occasion to announce his commitment to a $27.5 million dollar bequest from his estate to endow the 63CAE. In addition, any near-term shortfalls in funding for 63CAE current and projected annual operations will be shared equally by Ron and the class. Once the Terwilliger endowment is activated, any funding shortfalls should be a moot point. Ron has ensured the financial viability of the 63CAE in perpetuity. Our name on the door will ensure the memorialization of our class and classmates long after we are gone. Ron Terwilliger is truly a Distinguished Graduate and a most esteemed classmate. I know I speak for the whole class when I say, "You have our salute, Ron. Well Done, Classmate !!"
&nbsp Your continuing contributions, gifts, memorial funding, and estate bequests are all still needed and much appreciated as we continue to touch the midshipmen of the Brigade each and every day through the services of the 63CAE. Well Done!
&nbsp Mike Krause organized the luncheon at which Ron announced his bequest. Here is an excerpt from Mike's after-action report.
&nbsp A Class of 1963 luncheon was held at Spark's Steak House in New York City on 5 September. For those not familiar with Spark's, it was where the "Teflon Don" John Gotti knocked off "Big Pauli" Castellano in 1985.

At the New York City luncheon



&nbsp Pictured in the photo of those who attended are (from left to right): Spencer Johnson, Ken Metviner, Rob Black, Jack Colyer, Ron Terwilliger, Chris Munger, Erwin Storz, Mike Krause, David Campbell (Bobby's son), Bill Palafox, Scott Wilson, and Joel Gardner. Not pictured: Robbie Newton and Mike Bonsignore.
---
&nbsp Here is a fun report from Bill Anderson about his on-stage activities.
&nbsp I haven't acted since 1959 but on 25 August we finished ten performances of "Avalon"-- a new play based on the King Arthur legend -- at an outdoor site on Deer Isle, ME. Standing ovations -- ah, the roar of the greasepaint (Actually, there was no makeup.), the smell of the crowd -- despite my appearance as the mean, misogynistic "Bishop" wearing a miter that resembled a dunce cap from the Chinese Cultural Revolution. Thankfully, I only had 21 lines -- very taxing at this age.

"Bishop" Bill Anderson



---
&nbsp This month's demonstration of the Small World phenomenon came from Jim Koehn.
&nbsp Judy and I were vacationing in central Oregon and ran into my 4th Companymate Mike Harman at the Sunriver resort golf course. Judy recognized Mike's voice in the practice area! After knowing each other for 60 years it's a small world!

Mike Harman and Jim Koehn



---
&nbsp Prolific author Pete (P.T.) Deutermann, our classmate, informed me that his latest novel will be published soon.



&nbsp It's called The Nugget and will be out in November. It is another WWII in the Pacific story, this time about a young naval aviator. Here is part of the review printed in Publishers Weekly: In the prologue to this rousing WWII naval action thriller from Deutermann, Navy Lt. Robert T. Steele faces a court of inquiry in Pearl Harbor, Hawaii, that wants to know where he has been in the almost two years since he went missing from the USS Hornet in 1942. Flashback to the December 7, 1941, Japanese attack on Pearl Harbor, where Steele is aboard the battleship Oklahoma, seriously hung over. After surviving the Oklahoma's sinking, he's assigned to the aircraft carrier USS Enterprise as the pilot of a Dauntless dive bomber. Steele participates in some of the Pacific war's most important battles, including Midway and Guadalcanal, but it's only after he's marooned on the Philippine island of Talawan that his greatest adventure begins. Deutermann keeps the reader spellbound throughout.
---
&nbsp From the South Carolina coast came this note from Daryl Rabert:
&nbsp I had intended to send this picture some time ago with a note saying that I joined Doug Tozour in May to play in a golf tournament on Hilton Head. I stayed with Gail and Doug and had a great visit. Celebrated my birthday tasting some of Doug's wonderful selection of single malt Scotches.
&nbsp The tournament was to benefit the Low Country Foundation for Wounded Military Heroes. It is a wonderful organization. Doug and I played in different foursomes. I was part of the St. Simons Island foursome and he had his foursome from Wexford Golf Club. As a matter of fact, Doug was instrumental in getting eight foursomes from Wexford to participate in the tournament.

Tournament players Doug Tozour and Daryl Rabert



---
&nbsp Lou and I enjoyed a visit from Caroline and Austin Chapman on 20 September. They came from their home in Columbus, NC, for lunch at our new home in Brevard, NC. It was so good to spend time with them and compare experiences in downsizing from long-term homes to new, smaller residences.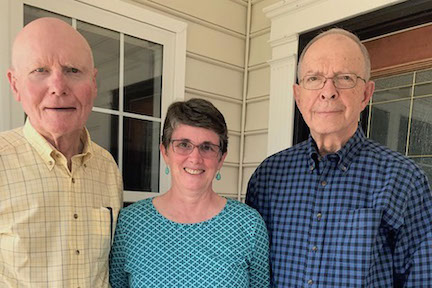 Austin and Caroline Chapman, Mike Shelley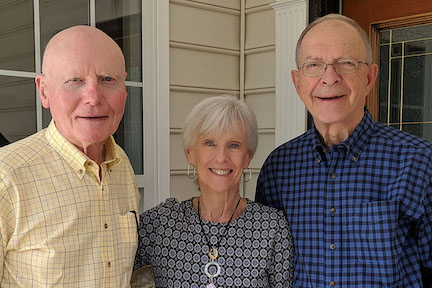 Austin Chapman, Lou and Mike Shelley
---
&nbsp The Current Biographies section of our web site provides an opportunity to record information about your career, family, activities, and personal interests. More than 400 members of the Class of 1963 have submitted their information. It is easy to do, and there is no prescribed format or content; it's up to you. To be included, just send your text and digital photos to our Webmaster, Steve Coester, at scoester@cfl.rr.com . Don't miss this opportunity to record your information and have it available to your classmates, family, and others.
&nbsp If you have already submitted your current biography, please review it now and tell Steve about any updates or additions that should be made.
---
&nbsp Beat Army!



---