Shipmate Column
November-December 2020
---
CLASS OF 1963
Pres: CAPT W. Spencer Johnson IV, USN (Ret.)
Sec'y: Michael H. Shelley
27 Cambridge DR, Brevard, NC 28712
h: 828-506-2201 e: nstar@citcom.net
Web site: http://www.usna63.org.


For any classmate you can go to the Classmates Page and enter his name to read his current biography if available.
---
---
---
&nbsp Since my last report, we have learned of the deaths of two of our classmates and one '63 spouse.

Joel Ruland Gardner died on 6 August. Condolences to his family can be sent to Joel's daughter, Eve Gardner, at 32 Nottingham Rd., Short Hills, NJ 07078.

James Randall Barnum passed away on 11 August in Alice, TX. We do not have contact information for his widow, Sandra.

Eloise Danhof, wife of our classmate Dick Danhof, passed away on 5 September. Dick can be contacted at 121 Eagle Ridge Drive, Guntersville, AL 35976.
---
&nbsp In this communication to the Class of 1963 in September, class president Spencer Johnson announced the designation of an honorary classmate.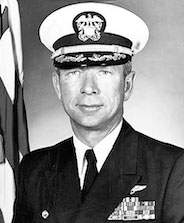 CAPT Wendell "Ray" Alcorn, USN
&nbsp At the suggestion of our classmate Jim Metcalfe, and with the unanimous approval of our class officers, I am delighted to announce the addition, sadly posthumously, of Captain Wendell "Ray" Alcorn, USN, as an honorary classmate. Many of you knew Ray from our time in service together and from his frequent attendance at many class gatherings over the years in company with his sister Lou Shelley and her husband, our classmate, Mike Shelley.


&nbsp Ray graduated from Penn State University and received his wings in June 1963. He then flew A-4s in Vietnam, was shot down in 1965 while on a low-level mission over hostile territory. He spent the next seven years as a prisoner-of-war in 11 of Hanoi's 14 prison camps. On release and repatriation, Ray continued his Navy career. His last assignment was as Commanding Officer of Naval Air Station Fallon, Nevada. There he is credited with the expansion of Fallon and its becoming the home of advanced tactical training for naval air squadrons and air crews. Ray was awarded two Silver Stars, the Distinguished Flying Cross, the Navy Air Medal, three Bronze Stars all with Combat 'V's" , two Purple Hearts, and four Legions of Merit. On retirement, Ray served as the Nevada Director of Veterans Affairs. Ray is one we can all be proud of as an honorary classmate. He passed away in March and will be interred at Arlington cemetery. Welcome aboard to Ray's widow, Karen.
&nbsp To see more about Ray Alcorn and his distinguished career, click HERE . Our other honorary classmates are VADM Charles Kirkpatrick (our USNA Superintendent) and VADM Charles Minter (our USNA Commandant).
---
&nbsp Jim Oakes sent a photo and this note in early August:
&nbsp Lynn and Lew Blackwell and I met for dinner in San Francisco. They were on their way from San Diego via Pismo Beach to Bend, OR, for a week. Several of their La Quinta friends summer there. We lamented about the current situation but managed to have a good time dwelling on happier times in the past.

Jim Oakes flanked by Lew and Lynn Blackwell



---
&nbsp A member of the Sons of the American Revolution (SAR) and an Eagle Scout with many years of service in adult scouting leadership positions, Austin Seay was appointed in July as Chairman of the SAR's Eagle Scout committee for the state of Tennessee. The committee's primary function is to oversee an annual competitive Eagle Scout scholarship contest at three levels: local, state, and national. The picture below shows Austin accepting his appointment at the Tennessee SAR's meeting near Nashville.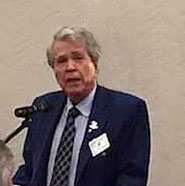 Austin Seay accepting his appointment



&nbsp Austin continues to serve as a member of the Executive Board of the Cherokee Area Council of the Boy Scouts of America, headquartered in Chattanooga. He says that he is glad to be able to help sustain a strong connection between the BSA and the SAR, two organizations that are very important to him.
---
&nbsp As of this writing in mid-September, the Army-Navy football game is scheduled to be played in Philadelphia on 12 December. I'm hoping that won't be affected by the pandemic or anything else. Coincidentally, I have two items relating to games in the 1960's to share with you.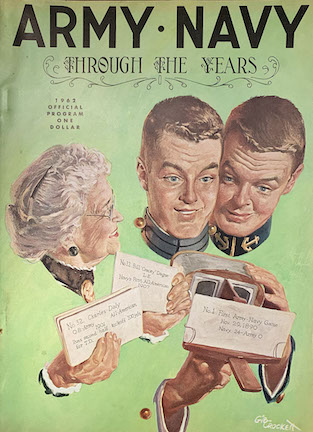 1962 Army-Navy football program



&nbsp Dirck Praeger has submitted a lively account from the 1962 Army-Navy game. He, Lionel Banda, Jim Carter, and Bob Borlet traveled to Philadelphia by car on the morning of the game. It was a tense, action-packed journey involving heavy traffic, overdue head calls, a uniform race, and fence climbing. I'm sure you will enjoy the story. You can read Dirck's account in the Pride and Tradition: Memories section of our web site by clicking HERE .
---
&nbsp Here's another account from the 1960s, this one from Ray Heins, who sent this photo with an explanatory note.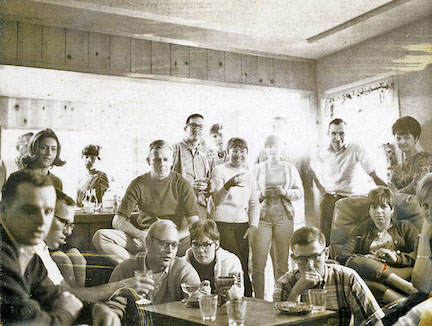 Watching the televised Army game in 1967
&nbsp Here's my shot at carrying out a super-procrastination! The attached photo was taken (using a Polaroid camera) from behind the TV set at a gathering (mostly of classmates) in December 1967. The party was at the "Snake Ranch" occupied by Tom Miller and me, along with a couple of non-USNA friends. We were all going through pre-Vietnam training in language, "Counter Insurgency," weapons, and survival (SERE) in San Diego. Tom and I were headed for the Naval Advisory Group, as were attendees at the party Tony Womble, Charlie Minter, Bob Harper, Don Palen, and others. The lighting was pretty bad, but other eyes may identify other folks.
&nbsp Why did it take me 53 years to send the photo in? God only knows! By the way, December 1967 was also the last month before my wedding, to then and current wife Virginia (Blake). Our class of Vietnam participants departed for one year of tropical fun and sun in March 1968.

Philadelphia Municipal Stadium



&nbsp Recalling our four trips to Beat Army in Philadelphia, I realized that I was not sure of the name of the stadium where the games were played. I did a little research and found that it had opened in 1926 as the Philadelphia Municipal stadium. It was the site of 41 Army-Navy games. The stadium was renamed the John F. Kennedy Stadium in 1964. It was demolished in 1992.
---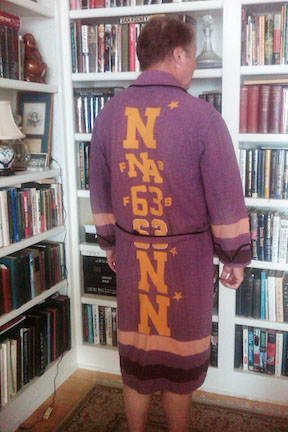 The mystery B-robe


&nbsp While looking for a photo of the stadium, I came across this picture of a heavily decorated B-robe originally worn by one of our classmates. I saw no information about the wearer (apparently too young for '63) or the robe itself. From the Lucky Bags and other books on the shelves, he appears to be a USNA alumnus. Can you identify the original owner of the B-robe? If you know, please tell me.
---
&nbsp That's all for now, folks. Please keep those emails and photos coming.

BEAT ARMY!





---