Shipmate Column
November-December 2021
---
CLASS OF 1963
Pres: CAPT W. Spencer Johnson IV, USN (Ret.)
Sec'y: Michael H. Shelley
27 Cambridge DR, Brevard, NC 28712
h: 828-506-2201 e: nstar@citcom.net
Web site: http://www.usna63.org.


For any classmate you can go to the Classmates Page and enter his name to read his current biography if available.
---
&nbsp We have a lot of news to share with you. First, though, we note the loss of three members of the Class of 1963.

&nbsp We have learned that Charles C. Di Bari passed away on 1 January 2021. His daughter, Nicole Di Bari Roxby, can be contacted at 30312 Anamonte, Laguna Niguel, CA 92677.
---
&nbsp Mark F. Crane died on 1 August. His widow, Patricia, can be contacted at 1702 Westminster Way, Annapolis, MD 21401.
---
&nbsp Wyatt C. Whitworth passed away on 17 August. His daughter, Elizabeth Whitworth Elam, can be contacted at 6014 Killarney Drive, Corpus Christi, TX 78413.
---
&nbsp Butch Whitworth had donated his Marine Corps Mameluke sword to 2LT Toni Paruso '13, joining several of our classmates who donated their swords as a legacy to members of the Class of 2013, our Link in the Chain partner. He was unable to travel for the presentation, so his 17th Companymate Bruce Webb passed the sword to Toni following her graduation from The Basic School in March 2014.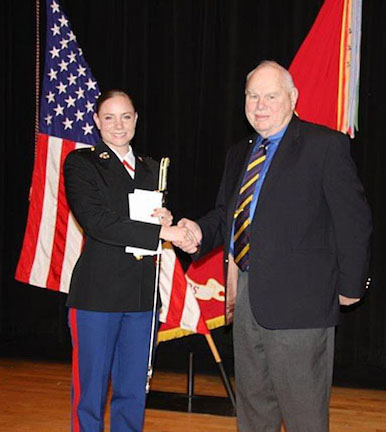 Toni Paruso '13 receives Butch Whitworth's sword



&nbsp Captain (Major select) Paruso is stationed at Beaufort, SC, and has served a tour as a Company Officer at USNA. She contacted another 17th Company Marine, Bernie Conatser, to say that she would attend Butch's interment at the Coastal Bend Veterans Cemetery in Corpus Christi, TX.
&nbsp When I heard of Captain Whitworth's passing, I was deeply moved. It saddens me to think that the first time I have been able to make this trip to see him -- he won't be there. While I never had the chance to meet him, I have always felt as if we were connected. I have used the sword he bequeathed to me at every Marine Corps Ball since graduating from TBS. Sharing his story with my Marines, midshipmen, family, and friends has become an integral part of my story as a Marine. Having the opportunity to present the burial flag to his family is the greatest honor I've received in the Marine Corps. It's not often we are able to honor our veterans with such an intimate gesture.

Toni Paruso '13 with the Whitworth sword



---
&nbsp Last month's '63 column included news from Eli Dabich about his grandson's induction as a member of the USNA Class of 2025. Phil Gubbins has checked in to say that he also has a grandson at USNA.
&nbsp I am writing to claim equal time with Eli as I too have a grandson in the Class of '25. I have enclosed a couple of pictures of Midshipman Philip Sing.
&nbsp The first is with his parents Anne and Roger Sing (King's Point '82) taken on I Day. The second also includes his sister, Madeleine (Senior at the University of San Francisco) taken during Parents Weekend. I am looking forward to joining the 17th Company gang in South Bend for the Notre Dame game. Depending on how he is doing, I may even get to spend some time with young Philip.

Midshipman Sing '25 and his parents




The Sing Family at Parents Weekend



---
&nbsp Two days after his 80th birthday on 27 August, Tom Meyer celebrated the milestone by skydiving for the first time in his life. He and his 19 year-old granddaughter Zoe went to the Dallas Skydive Center where they each made a tandem jump with an instructor from 13,000 feet. Tom posted videos of his jump on the internet. He was obviously enjoying every part of the experience.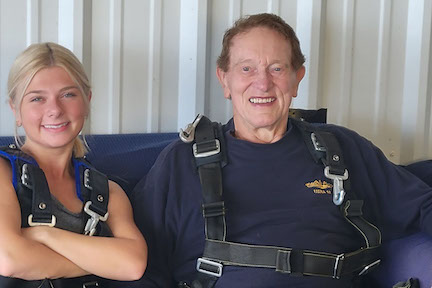 Tom Meyer and his granddaughter waiting for their flight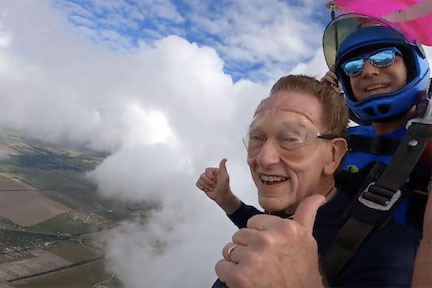 Tom descending with his instructor
---
&nbsp Seeing our children have good and happy lives is an ultimate joy. A good example of this comes from Bob Maier, who tells us of his son's retirement and new phase of life.
&nbsp Cindy and I were in St Augustine over Labor Day . My son Steve (USNA '93) retired after 28 years. His girlfriend Michelle did it up right. We had a limo ride to the schooner Freedom, a beautiful sunset cruise with all the family and friends, and a post-party at a beach house.

Cindy and Bob Maier in Jacksonville




Steve Maier '93 and his girlfriend Michelle



&nbsp Steve went nuclear power after USNA, then to an attack boat and duty as a sub school instructor before the Navy put him through medical school. Then he was a flight surgeon for three years before being one of only two doctors selected for an ophthalmology residency. He spent his last active duty years in Okinawa and Jacksonville hospitals. As a retiree, he's already practicing at an ophthalmology clinic in Jacksonville. As I remarked at his retirement, I could never have made it through that career path. He has a lot of different insignia in his shadow box!
---
&nbsp NOTE THIS -- it's something important to look forward to. Make a note on your calendar: The 60th reunion of the Class of 1963 will be held in Annapolis on the weekend of 19-22 October 2023. The football opponent will be Air Force.
---
&nbsp Ken Sanger sent this photo and note in August.
&nbsp Pete and Grace Optekar joined Dawn and me for a beautiful day of golf, dinner, and camaraderie at The Idaho Club near Sandpoint, Idaho. Golf was OK, conversation was better! Pete and Grace live about 40 air miles south of us, where Pete is working alongside Ray Kutch to get the North Idaho Chapter of the USNA alumni association to be more active as North Idaho has become home to many USNA grads.

'63 in Sandpoint, Idaho



---
&nbsp Still enjoying the New England summer air, Bob Harper filed this report in early September.
&nbsp We just hosted 17th company classmate Bruce and Larissa Webb at our Winter Harbor, ME, summer digs. Here's a picture showing Bruce, Larissa, Anne, and me about to consume some of the local ocean treats. Bruce had a meeting of the Society of the Cincinnati in New Hampshire, so they came up to sample God's Country as well. Anne made sure they thoroughly enjoyed it, though I did needle Bruce a bit.

Webbs and Harpers in Maine



---
&nbsp The party in Coronado goes on and on. Here's Philip Marsden's latest report.
&nbsp Five of our classmates enjoyed the second of this summer's concerts here in Coronado. The photo below shows locals Jerry and Rowena Harken, Donna Kaup, Ron and Dee Wills, yours truly, Vern and Gail VonSydow, joined by Frank and Barbara Bennett from Mesa, AZ. The camaraderie was enhanced by the beautiful weather and toe-tapping music of a pop/country band. Eagle eye viewers will note the old banner from the mid-term reunion in 2011. I interchange that banner with the one from the 55th reunion just to keep you on your toes.

Concertgoers in Coronado



---
&nbsp Californians Jim and Sue Penrod visited Derek and Dana Simmons in Asheville, NC, in late August. Lou and I joined them for a leisurely lunch at the impressive Sierra Nevada Brewery in Mills River, NC. Here are two pictures from that day. In the group photo are (l-r) Sue and Jim Penrod, Derek Simmons, Mike and Lou Shelley, and Dana Simmons.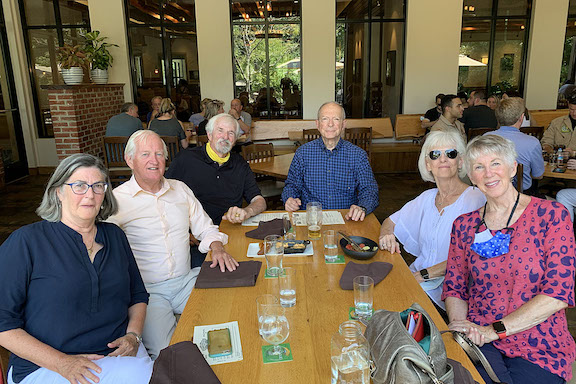 '63 couples at Sierra Nevada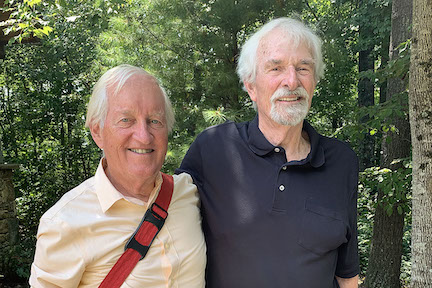 Second Companymates Penrod and Simmons
---
&nbsp John Peterson, who was photo editor of the USNA Log Magazine, sent some photoprints from our USNA years. Here are three for your enjoyment. The first shows our late classmate Jack McDonald aboard one of the USNA boats in the sailing squadron. The visible beard indicates several days afloat, perhaps in the Annapolis-Newport or Newport-Bermuda race. In the second picture John (on the right) appears with Mark Schwing in the Photo Club darkroom. The last image for this month was taken in the Field House at a Sunday afternoon concert by the Dave Brubeck Quartet. Brubeck is at the piano and the great saxophonist Paul Desmond stands at the right. I recall that the singer Julie London also performed at that concert. Can anyone confirm that?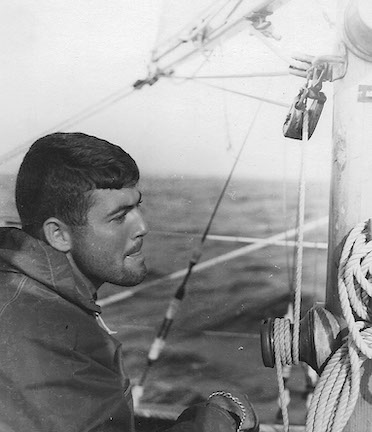 Ocean sailor Jack McDonald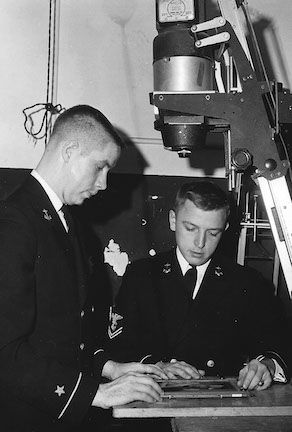 Mark Schwing and John Peterson in the photo club darkroom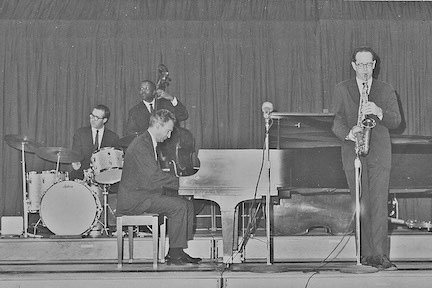 The Dave Brubeck Quartet
---
&nbsp That's all for now. Keep in touch and BEAT ARMY!



---