Shipmate Column
November-December 2022
---
CLASS OF 1963
Pres: CAPT W. Spencer Johnson IV, USN (Ret.)
Sec'y: Michael H. Shelley
27 Cambridge DR, Brevard, NC 28712
h: 828-506-2201 e: nstar@citcom.net
Web site: http://www.usna63.org.


For any classmate you can go to the Classmates Page and enter his name to read his current biography if available.
---
---
---
&nbsp As I prepare this column in late September it is my sad duty to report the loss of the classmates named below. Be sure to visit the Last Call section of our web site to read their obituaries and other remembrances.

Anthony P. Ditteaux passed away on 31 July. We do not have contact information for his next of kin.
---
Roger J. Milos died on 2 August. His daughter, Victoria Milos, can be contacted at 13468 Findlay Avenue, Apple Valley, MN 55124.
---
Dennis R. Jones passed away on 17 September. Denny's widow, Penny, can be contacted at 1215 Sylvan Road, Monterey, CA 93940.
---
Information published in our September column about the death of Donald Reeves , who died on 22 June, was incorrect. The contact address for his widow, Louise, is 1925 Clifford Street, Apartment 701, Fort Myers, FL 33901-3257.
---
We have also learned that our classmate Rick Trani's widow, Gertrude, passed away on 1 September 2020. Their daughter, Cathy, may be contacted at 1702 Windemere Avenue, Baltimore, MD 21218.
---

&nbsp The Class of 1963 Center for Academic Excellence continues to be an essential resource for the Brigade of Midshipmen. In Academic Year 2022 the number of visits by midshipmen reached more than 51,000-the highest ever. During that time 71 percent of the Brigade used the CAE, including 99 percent of the plebes and 33 percent of the 1/C midshipmen. Those who were helped ranged from struggling students to many with high averages. Surprisingly, 61 percent of those with 4.0 averages visited the CAE an average of 11 times during the year. The CAE has been a major factor in the reduction of separations for academic reasons from an annual average of 30 ten years ago to only 10 last year. The latest summary report from CAE Director Dr. Bruce Bukowski is posted on our web site. I encourage you to review it in the Class of 1963 Foundation section of our web site by clicking HERE
---
&nbsp In our October column I reported that among those attending the interment of Mel Bunnell at Arlington National Cemetery on 11 July were three of his 21st Companymates: Tom Batzel, Dick Kunz, and Ray Hoag . A few days later, I saw two pictures that Tom had sent to Mel's daughter showing Mel, his companymates, and their ladies who came to Annapolis for the Ring Dance of the Class of 2013, our Link in the Chain class. Tom has identified those pictured, eight of whom have passed away in the intervening years. In the front row (L-R) are Dick Kuntz, John Middleton (D), Dave Reif, Tom Batzel, Joe Lopresti (D), and Jack Saux (D) . In the back row are Joe Collins, Alan McAnally (D), Mel Bunnell (D), John Castro, and Wink Wilkinson (D).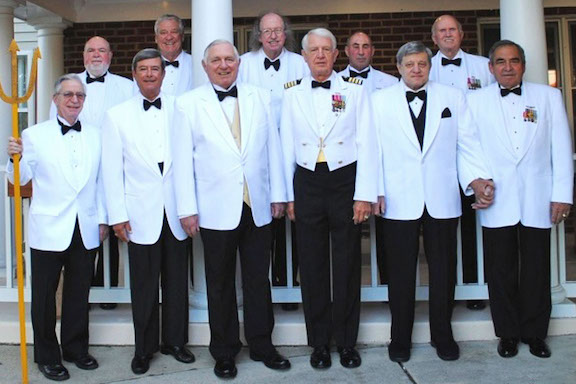 21st Companymates ready for the Class of 2013 Ring Dance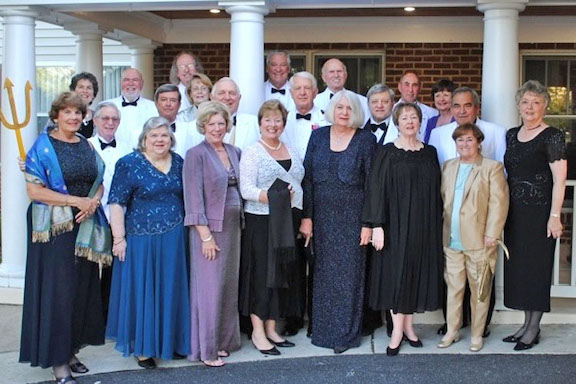 21st Company ladies and gentlemen



&nbsp The second image shows the men and their ladies. In the front row are Betty Middleton, Janice Kuntz, Sheila Reif, Terry McAnally, Dolly Batzel (D), Bonnie Lopresti, Yvonne Saux, and Carol Davisson (Wink's OAO) . Standing in the second row are Dick Kuntz, John Middleton, Dave Reif, Tom Batzel, Joe Lopresti, and Jack Saux . In the third row are Suzanne Collins, Joe Collins, Mel Bunnell, Glynda Bunnell (D), Alan McAnally, Wink Wilkinson, John Castro, and Christina Castro .
---
&nbsp It was good to receive news from Mal Wright , who sent this account of recent travel to the far northeast coast of the United States.
&nbsp Three years ago, 9th Company couples Dick and Helen Anderson, Charlie and Carol Minter, and Lya and I spent a month traveling in France and Spain. This summer, Dick and Helen, who had moved from California to Castine, ME, suggested that the six of us gather at their beautiful home to see some of Maine and to relive our past travel experience. The Minters came from Franklin, TN, and we came from Poulsbo, WA. Dick and Helen could not have been better hosts, shepherding us all over the coast.

Wrights, Andersons, and Minters atop Cadillac Mountain in Acadia National Park.



&nbsp During our travels we were entertained for an overnight by Classmate Bob Harper and his lovely wife, Anne, who live part of the year in Winter Harbor, ME. Anne fixed a magnificent dinner of fresh Maine lobster, more than we could eat. They live right next door to a lobsterman and enjoy a ready supply.

Bob and Anne Harper (right) entertain at their Maine home



&nbsp Supplementing Mal's account of the visit, Bob Harper sent a note and a photo of the four classmates.
&nbsp Greetings from the (Down) East coast. We had a fine visit with the 9th Company couples. There were many sea stories and much catching-up about our families and activities. You might note the pine tree in front of our house is decorated with varied lobster buoys, courtesy of Anne's decor. I find great satisfaction informing the tourists that they were left there by high tide. My shirt also announces that we might not overcome a powerhouse like Delaware, but we will BEAT ARMY!

Harper, Anderson, Minter, and Wright in Winter Harbor, ME



---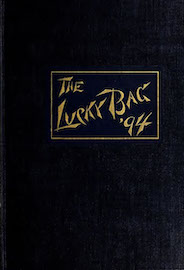 The Lucky Bag of 1894


&nbsp Navyonline.com, the web site of the Midshipmen Store and the USNA Visitors Center Gift Shop, has published a nice article about the history of the Lucky Bag yearbook. The Navy "Lucky Bag": The Largest Yearbook in the World chronicles the history and evolution of this unique publication and tells how the full contents from 1894 through 1970 can be viewed online. You can see the article by clicking HERE. To go directly to the 1963 Lucky Bag click HERE.
---
&nbsp Jim Metcalfe sent some family news and two images from Norfolk/Virginia Beach.
&nbsp Jeff and Marla Miles have a condo rental at Virginia Beach each September, and we always go together for a dinner at Steinhilber's in the Thalia section of The Beach. Here we are after our annual dinner. It was, as always, a great dinner and fellowship enhanced by our grandson Matthew (who took the photo). You will note that we look cold. The temperature was down to about 68F after a blistering summer. 

Lisa and Jim Metcalfe with Marla and Jeff Miles in Virginia Beach




Touring USS WISCONSIN (BB-64)



&nbsp The other picture is of me with my grandson Matthew Metcalfe Thornton during his six-week visit with us. Mathew is a July graduate of Royal Holloway University in Surrey, England. He has dual U.S. and U.K. citizenship as do our other grandkids. We were photographed just before touring WISCONSIN (BB-64) at Nauticus in Norfolk. The ship's tour was well run and now that it is a museum, visitors can tour almost the entire ship. We took the combat center tour where everything is programmed for the opening of Desert Storm. Very impressive. 
&nbsp My first tour of an Iowa class battleship was in 1952 when either MISSOURI or IOWA came to Annapolis to pick up the Midshipmen for their cruise. The next year the other one came to town. I had a hands-on top to bottom tour both times. My Godfather was Commander, Battleship Cruiser Force Atlantic. Later, as an Assistant U.S. Attorney, I received a tour of IOWA (BB-61) here at NOB courtesy of an NIS or NCIS agent. I remember distinctly getting a thorough tour of Turret 2. I was very impressed by the gun crew who briefed me in detail. They were all soon to die in the explosion of Gun 2 in the turret. In my opinion those sailors were very professional, very knowledgeable about their equipment and duties, and safety conscious down to checking my shoes for possible sparking sources from nails.
&nbsp We also had our younger grandson Adam Metcalfe Thornton, who has finished his first year at Surrey University, over for a visit earlier this year as well as our daughter Megan and our granddaughter Maya who is in what we would call 9th Grade. After three years of not being able to see them due to COVID-19 travel restrictions, it was a great pleasure for us to see them "over here."
&nbsp Our son James Madison Metcalfe aka "Jimbo" is the senior Navy counsel at the Navy Shipyard in Portsmouth, VA. Last year and this he spent time on active duty as a Commander in an expeditionary logistics outfit assigned to major commands in both the Atlantic and Pacific AOR's. His wife, Andrea, is a Navy civilian pediatrician at Naval Hospital Portsmouth. They have a young Labrador puppy which we have had the pleasure of training due to their very active Navy service duties.
---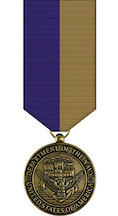 Navy Meritorious Public Service Award


&nbsp You may have missed the Bravo Zulu section of the July-August Shipmate magazine, which reported that our classmate Jim Czerwonky was presented his second Meritorious Public Service Award as he retired as a Blue and Gold Officer with 40 years of service. That's remarkable dedication to the Navy and the Academy. Well done, Jim!
---
&nbsp Looking back to our Academy years, Pete Carrothers shared some of his memories of misbehavior as a Midshipman.
&nbsp My two roommates, Bob Black and John Kelley , were Marine Juniors and were totally squared away. I felt it my sworn duty to counter this and provide a little more balance. I studied the Reg Manual and noted a significant flaw. The drinking radius was seven miles, but we could ride in a "public conveyance" to 10 miles. This left a small band of geography that was fair game. I rode the bus out the old Richie highway as I recall and after I passed the seven-mile limit I got off and, lo and behold, a sight for sore eyes: a roadside inn that was so despicable that no self-respecting Academy officer would be seen there. They gladly served this thirsty young man, and I became a regular until I got my own apartment out on Prince George Street our second class year. I never got a Class A but do have the dubious distinction of having been charged with two UCMJ's.  The first one was Plebe year for "Inciting a Mutiny" when I encouraged our companymates to refuse to participate in the infamous cruise box races. The second UCMJ was first class year. I was charged with a frivolous violation of the Mann Act. I was totally innocent How was I to know she was a Congressman's daughter? The Academy should not have allowed underage girls to attend the Tea Fights. I rest my case! Both UCMJ's were dropped..and all's well that ends well.



&nbsp Speaking of misbehavior, I wonder what stories our classmates have about smuggling alcohol into Bancroft Hall. In my case I discovered that our bunks were made of tubular steel and the inside diameter was just the right size to shove a "miniature" up one tube and put the empties up the other tube. I had a girlfriend who was a flight attendant and brought me an ample supply. When and if we got any liberty, it was time to  "take out the trash" from the bed tubes. If I had spent as much time studying as I did trying to "beat the system" I might not have ended up a "slick sleever" but then how much fun would I have missed?
---
&nbsp Mike Rubel contacted me with news of his pre- and post-pandemic activities. He's been very busy.
&nbsp It has been a while and I thought I would share some news through our Shipmate column. In this picture are my four children with Mike, Jr. (USNA '93) on the left.

Mike Rubel and his children



&nbsp I may have told you but in 2019 a tenant who was occupying a restaurant building I owned defaulted and was forced to leave. Being without a tenant but still having to make payments to the bank and do upkeep and maintenance I decided to open my own restaurant called Costella's. we had an Italian market in the upper area and the dining area below. We featured all house-made pastas and sauces, some of which we sold in the store. We opened in the Fall of 2019 to great reviews but then Covid came along, and we were forced to dine outside starting in January 2020. Outside dining in the Pacific Northwest can be a little troublesome, given the rain, cold, and occasional 50mph-plus wind gusts that blew our tents across the road. We struggled but, in the end, I was not there full-time to supervise, and we folded in August of 2020. The good news was I sold the property and am now free from the stress of owning a restaurant.
&nbsp I have been posting to a YouTube channel named "author rubel" with "Letters from the Edge" along with a series of videos on catharsis in writing. It has been fun and the more subscribers I receive the better it all becomes. I have at least 25 letters to post. The first one, "Best Friends," was about the loss of my friend and classmate Reed Farrington a few years back. All who read it are saddened because they have best friends they have lost as well. I invite you to take a moment to visit my YouTube channel.
---
&nbsp John Peterson sent news about his travels afloat and ashore. He begins, though, with his quest for a replacement item of clothing from our Midshipman days.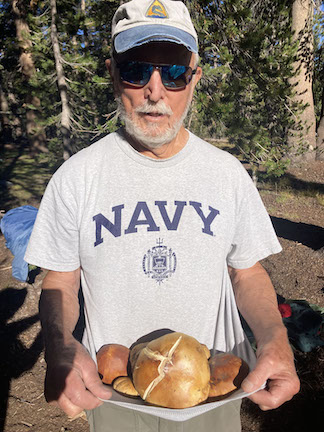 John Peterson in the wild
&nbsp I have had no success in finding a new version of the gray T-shirt resembling the ones we were issued 63 years ago. Neither the Midshipmen Store nor the USNA Gift Shop offers it now. This picture shows my current edition of that T-shirt, but you can't see the ragged neckline and spots that prevent me from wearing it in any other environment than our annual backpacking trip in August into the Sierras where I have been going for 27 years.  It might be misleading to call it backpacking these days as we resort to mules hauling most of our gear in and out. That is a concession to the oldies in the group but climbing from 7,000 to 10,000 feet still gives us a good workout. The mushrooms pictured are lovely porcini which we joyfully feasted upon. The weather conditions were just right, and we even found them at 10,000 feet.

At the Concours in Pebble Beach



&nbsp This picture, with the mandatory champagne, was taken at the 2022 Concours d'Elegance here in Pebble Beach this August. There were over 200 pristine classic automobiles on display. The beautiful Bentley next to me was a lot younger and didn't have any wrinkles.
&nbsp Earlier this summer Jean and I had a work/play/work trip to the Mediterranean where we hosted a short cruise into my old sailing grounds in the Eastern Aegean. We then were joined by the rest of the family for a reunion in the little town of Lerici at the south end of Liguria where we had lived for seven years. It was wonderful in spite of the heavy dose of tourists and heat.  I then went back to Turkey to visit my favorite dentist for the inevitable and to prepare a friend's boat to be put on the market.
&nbsp You may recall that the Petersons have spent extended time afloat in past years. In our October 2021 Shipmate column John said that he and Jean had for the previous seven years been onboard representatives for associations of cruise travel consultants. Before the pandemic they had logged 15 cruises ranging from 10 to 80 days with groups up to 170 people on the longer cruises. They are now slated to host a 140-day world cruise beginning in January. The cruise will be mostly Southern Hemisphere with many new stops for the Petersons. What a life!
---
---
&nbsp That's all for now, folks. Please keep sending your news and photos to be shared in this news exchange.



---