Shipmate Column
October 2003
---
CLASS OF 1963
Pres: Stephen M. Duncan
Sec'y: Michael H. Shelley
25 Sweetwater Lane, Pisgah Forest, NC 28768
h: 828-862-4245 e: nstar@citcom.net
Web site: http://1963usna.topcities.com/
Remember that you can click on any underlined Classmate's name to view his Current Biography.
---

&nbsp Sadly, the roll call continues. I regret to inform you of the loss of two more members of the Class of 1963 family. Our classmate Lawrence Carpenter of Ballston Lake, NY, died on 19 July. I do not know the cause of his death. Survivors include his father, a son, and a daughter. Memorial contributions can be made to Our Brother's Keepers Foundation, P.O. Box 1872, Albany, NY 12201-1872. Arne (Bud) Johnson's wife Judy lost a year-long battle with cancer on 23 July. The funeral mass was in Ridgecrest, CA, on 30 July, followed by burial at Arlington on 18 August. Bud can be contacted at 222 Mesquite, Ridgecrest, CA 93555. Judy was the sister of our classmate Jim Lamb.
---

&nbsp Here's a recap of recent activities from Tony Womble.
&nbsp After a too brief working vacation installing asset management software at Kennedy Space Center in Florida I am back in the Atlanta suburbs. The software product is MAXIMO, the world's leading Asset Management system (over 10,000 clients). KSC was a particularly challenging opportunity since they are so diverse in their business processes and functions. One of the highlights of my 4 1/2 years there was getting aboard Columbia, though her tragic loss has been hard to accept. The enclosed photo shows me in the Commander's seat as she was finishing her launch preparation.

Tony Womble aboard Space Shuttle Columbia


Since leaving KSC, I have been working with several clients in DC, MD, TX, NJ, NC, and Taiwan. Virginia and I spent a couple of months in Taipei while I was working with a cellular phone company. That was a real kick. We enjoyed being able to get around so easily on their MRT (a new, brightly lighted, very clean subway system). The biggest challenge was trying to figure out what we were ordering at a restaurant. Often there was no clue so we just pointed at some indecipherable characters and hoped for the best. Octopus eyes weren't too bad, but the pig intestines, chicken feet, and snails (not like escargots) were a bit much. We did have some great meals there as well. Fortunately, a neighbor in Atlanta has a brother in Taipei, so he and his wife took us in tow and showed us some places we would never have found on our own. I took a taxi between the hotel and work each day, and each time I shuddered at having to ride in the traffic. I had visions of being on Fear Factor.

A couple of months ago, I started working with Veterans Affairs in DC. Now I am spending most of the week in DC, near Chinatown, and it looks like I'll be here for a while. I haven't gotten in touch with the local group of '63 classmates, but I'll try to do that. When in Atlanta, I have been attending the Alumni Association luncheons on the third Fridays of each month. Last month the class of '60 had six members present. It would be great if we could get some '63ers to show up. The Atlanta group also has an annual lobster fest. This year there were about 250 people enjoying the good time.
---

&nbsp If you have not already submitted your current biography for our web site, please do it soon. Commemorate our 40th Reunion by joining the many classmates who have already provided information about their activities since graduation. There is no standard length or format, and you can submit one or more photos to accompany your text. For examples and inspiration, visit our web site and look at some of the biographies available there. To make your submission (or to update an earlier version), simply send it in an e-mail or e-mail attachment to webmaster Steve Coester (Steve.Coester@1963.USNA.com).
The Coesters are another of the 1963 couples who have celebrated their 40th wedding anniversaries this year. Here is a great photo of Steve and Yvonne taken on their big day, 21 June.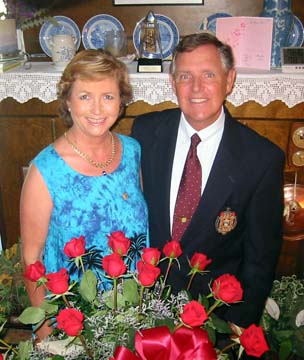 Yvonne and Steve Coester celebrate their 40th wedding anniversary
---

&nbsp I'm often surprised, and inspired, by the activities and accomplishments of our classmates. Here's a brief note from Gay Hopkins about his continuing athletic career.
&nbsp Here is a picture from the Senior Olympics in Norfolk this past June. I won the gold medal and broke the existing national record for the 60-64 age group in both the 200-yard freestyle and the 500-yard freestyle. I haven't competed for a while due to work restrictions, but since we've moved to Lakeland, FL, I have a YMCA close by and manage to get in some serious swimming, mainly as a stress reliever. It feels good to be able to compete again.

Record-breaking swimmer Gay Hopkins



---

&nbsp Doing his part to support our news exchange, Mike Krause sent this illustrated note: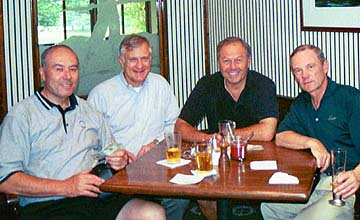 Nineteenth hole in Connecticut
&nbsp Here's a photo taken when four 1963 classmates assembled at The Connecticut Golf Club for a round of golf this June. From left to right are Mike Krause, Fred Storz, Mike Rubel, and Bobby Campbell enjoying a beer at the club. Erwin joined us for drinks as he does not play golf, but is taking lessons. Mike was in New York City to visit his daughter, and Bob and Erwin drove up from New Jersey to join us. The following weekend, Mike Pero and I teed it up following the NYC regional Class of 63 luncheon hosted by Rob Black. About a dozen classmates and wives attended from Connecticut, New Jersey, and New York.
---

&nbsp Adding a postscript to the recent dialogue about junior and senior high schools that each produced several members of our class, Rob Black noted that he had also graduated from Alice Deal Junior High School in DC, bringing that total to six. He continued with this account of the aforementioned New York City gathering:
&nbsp Tri-state metro NYC area classmates and their ladies gathered on 14 June (Flag Day) for a Class of '63 Pre-40th Reunion luncheon. A good time was had by all in the Theatre District. Sandra and Ken Metviner served as 'hosts' to: (from Connecticut) Kathy and Mike Krause, Leslie and Mike Pero; (from New Jersey) Carol and Rob Black, Bob Campbell, Kathleen and Fred Storz and daughter; (from New York) Dottie and Bill Hughes, Charlie Lynch, Rob Newton and Robin Russell, Bill Palafox, and Harry Salmon with his son Jeff. Mike Rubel (from Washington state) also dropped in for a while.

The current class roster lists about 75 Classmates in the metro tri-state area. The idea for our Pre-40th came from Mike Krause, Bob Campbell, Erwin Storz, and Rob Newton jawboning at the Metro NY Service Academy Business Networking night in April, then turning around to me, the networking host that night, saying, "Hey, Blackie, you can do this? Right?!?" Now the golf aficionados are planning '63 golf outings. If any '63er is in NYC area on any third Wednesday of the month (except Dec., Jun., Jul., Aug.), they are welcome to attend our joint Networking Night happy hours 5:30-7:30 p.m. at the Soldiers, Sailors, Marines, & Airmen's Club on Lexington Avenue near East 38th Street. In mid-December, NAANY (Metro NY Chapter) hosts the annual holiday party, which usually sees a good '63 turnout.
---

&nbsp Our recent series of news items from and about our grandfather classmates has stimulated numerous responses. Here are some of them. A few months back, Scotty Wilson staked his claim to being the '63 member with the most grandchildren of one gender only - seven grandsons. He has followed up with graphic evidence.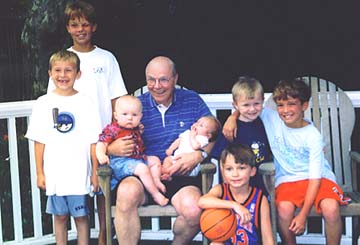 Scotty Wilson and his seven grandsons
&nbsp Here's a recent photo to support my claim - seven (count 'em) grandsons only. No girls allowed in this club. The roster: Standing tallest -- Chris K. (11); Middle -- Zeke W. (8), Fletcher W. (1), me, Jimmy K. (2 mos), Griffin W. (5), Kevin K (9); Kneeling -- Scotty K (7)
---

&nbsp John Gowens doubled the number of his grandchildren in one fell swoop. Identical twin girls were born to his youngest son Colin and his wife Lacey on 11 July in Atlanta. The girls were named Ivy Erin and Sierra Jane. John now has two grandsons and two granddaughters. Here's a photo of John and the girls.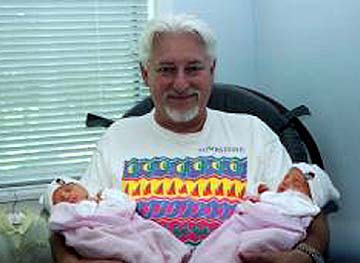 John Gowens and his twin granddaughters
---

&nbsp Dave Puckett's claim to have the most grandchildren - nine! - has been challenged by Dave Anderson, who submitted this impressive picture of himself with all nine of his grandkids. Wow!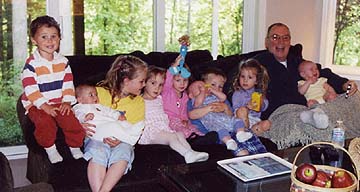 Dave Anderson and his NINE grandchildren
---

&nbsp Lastly, Jack McDonald reported that Connor McDonald, his newest grandchild, was born on 21 July. By coincidence, Jack's son Sean (serving in the Army in Iraq) called from Baghdad as his own son was being born and was able to hear him cry. Another classmate whose son has been serving in Iraq is Dan Hitzelberger. With pride and relief, he reports that
&nbsp All of my "kids" are now home. Our son-in-law, LCDR Jason Cronin USN, USNA ' 87 supported Operation Iraq Freedom by serving as a Deputy Director of the Joint Task Force Search and Rescue Center working out of Saudi Arabia. He returned home on 11 April and was reunited with Debbie and their daughter, Victoria. Jason and family are now in California going to school until next December.

CAPT Tim Hitzelberger, USMC, our son, is the S-2 of an Infantry Battalion which deployed to Iraq from Camp Lejeune in mid January and finally returned home on 28 June. He was welcomed home by his wife, Holly, and his son, Keith. Tim is now settling back into a more normal lifestyle. Here is a picture of Tim and me taken at his homecoming.

Tim and Dan Hitzelberger



---

&nbsp The family of one of our deceased classmates is looking for a 1963 class ring to replace the one that he had lost shortly before his death. If you have a ring that can be made available to the family, please contact me so I can put you in contact with them.

Our July in the North Carolina mountains was made memorable by the arrival of Mallory and Felix DeGolian, who motored up from Atlanta and spent a weekend with us. We had a grand time hiking through the woods to visit several of the major waterfalls in the Dupont State Forest, dining at Asheville's renowned Grove Park Inn, enjoying the products of Mrs. Shelley's kitchen and Mr. Shelley's drink cooler, and spending quality time in rocking chairs on our porch.
---

&nbsp For some of us, it's difficult to resist the urge to get underway and head back out to sea. For others, it's very easy! Wilson Harris gave in to the urge this summer and submitted this account.
&nbsp I just got back from my high school reunion in San Juan, Puerto Rico, and the follow-on cruise that we took. Some of us continued the reunion by signing up for a Caribbean cruise on the Carnival line ship Destiny. It was my first time on a "civilian" cruise. Naturally, I did a lot of cruising on the U.S. Gray Line after school. I served on two WW2 aircraft carriers: YORKTOWN and RANDOLPH. The Destiny is over twice the size of those ships, coming in at 101,000-plus tons, almost 900 feet in length, and drawing only about 27-29 feet. Other than the pointed bow, it looks like a huge and wide high-rise building. When I boarded it for the first time, I thought, "How is this thing stable?" But it was a smooth ride; in the low seas of the Caribbean you hardly noticed you were moving. I was very disappointed I couldn't get a tour of the entire ship, though. They cited security as a reason. I really wanted to see the bridge, engineering spaces, crews quarters, etc. All they offer was a galley (they called it a kitchen) tour. So there went my vacation time, and I'm back at the office awaiting our 40th.
---

&nbsp Jim Metcalfe reports that a painting of the newly-commissioned USS RONALD REAGAN by our classmate and superb maritime artist Dick Whalen appears on pages 102-103 of the July issue of the Naval Institute Proceedings. Take a look!
---

&nbsp Lee Livingston checked in with a note about his plans for the near future.
&nbsp Marti and I won't be able to attend the reunion; we will be in Europe. As a gift for our 40th anniversary in June, our three children gave us a vacation in Italy, all expenses paid! We intend to do research on her family roots there, and take a standard tour. On the trip back, we'll stop in England for a week, to see our youngest, James, graduate from the London School of Oriental Medicine (acupuncture). In June, we visited our teacher daughter, Maria, in Bangkok for a few weeks, and stopped in Kaui for a week on the trip back. Retirement is sure hard to take. Please send our regards to all of '63.
---

&nbsp And that's all for this month, folks! I'm hoping to hear from YOU soon. Please don't disappoint me.

QUALITY - '63
---
---