Shipmate Column
September 2003
---
CLASS OF 1963
Pres: Stephen M. Duncan
Sec'y: Michael H. Shelley
25 Sweetwater Lane, Pisgah Forest, NC 28768
h: 828-862-4245 e: nstar@citcom.net
Web site: http://1963usna.topcities.com/
Remember that you can click on any underlined Classmate's name to view his Current Biography.
---

&nbsp So here we are, on the verge of our 40th Reunion. Sort of takes your breath away, doesn't it? The Reunion Committee has everything in hand and is ready to welcome you back to Annapolis. If you have been unable to make your reservations to attend, you still have time! Check our web site for details or contact me by phone or e-mail (addresses above).

A very important event during reunion weekend will be the Class of 1963 business meeting on Friday morning. Be sure to include it in your personal schedule.

While I'm on the subject of the reunion, here's some very good news. Chuck Adams reports the success of "Project CLASS OF 1963," the drive to provide a rowing shell to the USNA crew program and to establish an endowment to purchase replacements so that, from this autumn on, there will always be a shell in the Navy fleet bearing the name of our class. During our reunion weekend, there will be a presentation ceremony at Hubbard Hall (the crew boathouse on College Creek) at 1000 on Saturday, 20 September. All classmates, families, and friends are invited to attend.
---

&nbsp July was not a good month for the Class of 1963 because it brought the loss of two of our classmates, Tony Celebrezze and Bill Kennedy.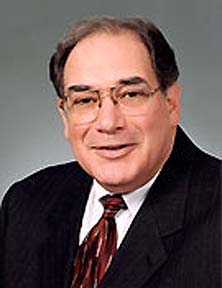 Tony Celebrezze


Anthony J. Celebrezze, Jr., a former Ohio Attorney General, Secretary of State, and State Senator, died on 4 July from cardiac arrest. He was a distinguished public servant and one of Ohio's leading Democrats. After graduation, Tony served for five years on active duty in the Navy. He remained in the Naval Reserve for many years thereafter, attaining the rank of Captain.

He began his elected service in 1974 by winning election to the Ohio Senate, representing western Cuyahoga County. In 1978, he was elected Secretary of State, ousting a 28-year incumbent. In 1982, Tony won his first of two terms as Attorney General. He was the Democratic candidate for Governor in 1990.

A lifelong fan of auto racing and part of a Legends racing crew, Tony died soon after racing his replica 1937 Chevy sedan to a third-place finish at a speedway in DeGraff, Ohio. His car was Number 63. Our class column in the March 2003 issue of Shipmate included a photo of Tony with his race car.

Tony married Louisa Godwin in 1965. They are the parents of five children. The family suggests that memorial contributions be made to the USNA Class of 1963 Foundation, P.O. Box 64740, Baltimore, MD 21264-4740 or the Celebrezze Endowment Fund, Development Office, Ohio Northern University, 525 S. Main St., Ada, OH 45810-9989. Louisa can be contacted at 5805 Bastille Pl., Columbus, OH 43213.
---

&nbsp Will Settle alerted me to a laudatory article about Tony that appeared in the Cleveland newspaper. Here is the final paragraph:
&nbsp On the way to the church, Celebrezze's funeral procession snaked through the Flats and across the Center Street swing bridge. As the procession crossed the bridge, the city's fireboat -- named after Celebrezze's father, a longtime Cleveland mayor -- fired its water cannons in symbolic salute.
---

&nbsp Tony's good friend Phil Gubbins offered this observation:
&nbsp Anyone who knew Tony knows that cars were his great passion -- the older and more decrepit the better. One of the great challenges Louisa and the kids face will be finding all the cars he owned that are stashed in barns around the state of Ohio.

&nbsp Phil noted that Tony had recently become President-elect of the Columbus Rotary Club and would have taken over as president next July. For additional information and for recollections about Tony offered by our classmates, visit the Class of 1963 web site.
---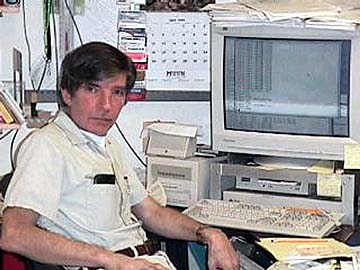 Bill Kennedy

&nbsp One week later, on 11 July, Bill Kennedy succumbed to heart failure after several years of declining health. A man of many talents, great energy, and unflagging determination, Bill was the technical architect and implementer of the Class of 1963 web site, which he hosted at his "server farm" until a disastrous Texas flood put everything out of commission. He had intended to restore our site there but was hindered by a variety of physical challenges.
I am sure that you remember Bill's unique contribution to the morale of the Brigade of Midshipmen. He conceived and repeatedly performed the amazing stunt of taking control of the public address system in the Mess Hall during breakfast, playing audiotapes with topical and humorous commentary by "Mister B." (Bill himself) about current events at USNA and Executive Department officers who deserved to be lampooned. He was never apprehended.
I encourage you to read Bill's biography on our class web site at its temporary location and to look at his account of the Mister B escapades. It's quite a tale. Bill's widow, Jean Kennedy, can be contacted at Bandera Falls Box 63449, Pipe Creek, TX 78063-3449. She suggests that memorial contributions be made to Pipe Creek EMS, P.O. Box 5, Bandera, TX 78003.
---

&nbsp To get us in the mood for this fall's season of Navy football, Fred Storz supplied this account from the 2002 Army-Navy game.
&nbsp Because last year's Army game was at the Meadowlands, we hosted a pre-game tailgate at our home in Rockaway, New Jersey. Carole and John Conroy showed up with his world famous Navy Bean Soup. It's an Army-Navy game tradition and John makes it in one of his special pressure cookers. Vern Shock also came. He and I were roommates at Columbian Prep. He left USNA in the middle of second class year and later had a very successful career with the CIA, from which he has retired. Andrea and Spence Johnson showed up with brother Charlie and his wife Nancy. Charlie is USNA '66 and also attended Columbian Prep. Grace and Pete Optekar came all the way from Washington state. As Shipmate readers know, Pete's brother Dave set up a behavioral studies program in Russia in conjunction with a Russian university. Many members of the Class of 1963 contributed to this program so Dave sent a bilingual "Go Navy, beat Army!" banner thanking us for the help. I guess it worked because we won big. Thanks, Dave! In the published Shipmate are two pictures from game day. One image shows John, Vern, me, and Pete at the Storz home before the game. Note the display of football photos from our midshipman days on the wall behind us. The other picture, from the stadium, shows Pete, his grandsons, and me with the banner from Russia.

If you remember, we had sponsors when we were midshipmen. The sponsor program was to provide a home away from home. My sponsor was CAPT Rigterink, a dental officer at USNA, and I got to know the family really well. The Rigterinks had three sons a little younger than us, and I kept in touch with them over the years. Unfortunately, the Captain passed away about a year ago. The family has a long-standing tradition for everyone to get together and go to the Army-navy game. The group stopped by our house for a couple of drinks before the game last year. It was a thrill to see them all again and it brought back many fine memories.

I have good vibes about this year's football season. The coaching staff is top-notch and the teams looks like they come to play and win. I hope to see everyone in Philadelphia. Beat Army!
---

&nbsp Rich Weidman submitted this additional proof of the lively social life along the South Carolina-Georgia coast.
&nbsp The Hilton Head area Low Country Chapter had a luncheon/golf meeting on 11 July. USNA Commandant COL John Allen, USMC, and Alumni Association President George Watt came down as our guests. Adding his presence to the special occasion was Daryl Rabert (my plebe summer roommate), who came up from St. Simon's Island. This photo shows my 16th Company roommate Denny Tomlin, me, and Daryl.

At the Hilton Head alumni luncheon



---

&nbsp Hey, folks, don't overlook the Chapter News section of each issue of Shipmate as a source of information about our classmates. In the June issue, for instance, you can see photos including Nick Nerangis (Shenandoah Valley Chapter) and Gaylord Hopkins (Tampa Bay Chapter). You can also learn that Spence Johnson is a member of the Board of the Annapolis Chapter and that the aforementioned Messrs. Weidman and Tomlin are Secretary and Treasurer, respectively, of the Hilton Head area Low Country Chapter.
---

&nbsp I had a very pleasant phone conversation with long-time New York City resident Charlie Lynch, who phoned me in early June. He's still enjoying The Big Apple and is busily engaged in a variety of professional and personal pursuits there. He mentioned having recently been with Judi and Dave Puckett and a large contingent of their family as they visited the city.

In the last issue of Shipmate I printed an inquiry from Dave Moore, who noted that Alice Deal Junior High School in Washington, DC, produced five members of the Class of 1963: Pete Deutermann, Josh Fields, Dave Moore, Frank Pinney, and Don Saidman. He wondered if any other school could surpass that. Jim Ring responded immediately, saying that he was one of seven of our classmates who graduated from Gonzaga College High School in DC. The others were Sonny Langley, Steve Richter, Lionel Banda, Bill Hughes, Jimmy Carter, and Tom Buckley. Jim generously noted that the five from Alice Deal might be a record for a junior high school.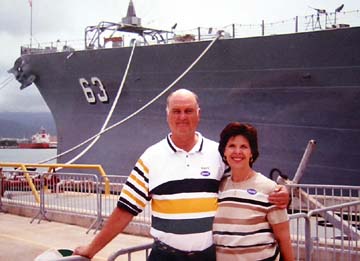 The Donelans and the Mighty Mo


&nbsp To close out this month's news exchange, here's a photo of Sandy and Ollie Donelan standing near USS MISSOURI (BB-63) at Pearl Harbor this April. How's that for a hull number? Ollie finally retired this summer and says that they will be doing some serious travelling as soon as he finishes a few of his "honey-do's." We're looking forward to his trip reports.
---

See you at the 40th, everyone!

QUALITY - '63
---
---