Shipmate Column
October 2004
---
CLASS OF 1963
Pres: Stephen M. Duncan
Sec'y: Michael H. Shelley
25 Sweetwater Lane, Pisgah Forest, NC 28768
h: 828-862-4245 e: nstar@citcom.net
Web site: http://www.usna63.org.
Remember that you can click on any underlined Classmate's name to view his Current Biography.
---

&nbsp Well, here we are again with a severely limited report for you, the result of the Association's decision to cut the maximum length of class news columns in half. This has not gone down well with many Class Secretaries and other folks, but it looks like this will be a permanent restriction. Therefore, the web site version of our Shipmate column has become our primary means of disseminating Class of 1963 news and the magazine's usefulness is greatly diminished.
---
I'm pleased to publish this letter to the Class of 1963 from Leslie Palenscar McFalls, widow of our classmate Doc Palenscar.
&nbsp On June 21, the remains of my late husband, Alexander John (Doc) Palenscar III were laid to rest in a niche at the Naval Academy Columbarium, 37 years after his death in combat in North Vietnam. Our family wishes to thank the Class for the very lovely flower arrangement that you sent to remember Doc.

After a funeral mass at the Academy Chapel, family and friends gathered at the cemetery on a beautiful, sunny morning to say, finally, a fond farewell. I believe Doc would have approved the site which is on the bank of the creek looking across the water to the buildings of the Yard.

Doc's parents, Fran and Al, his sister Mimi and her family, our children Kate and Alex, extended family members, and childhood friends attended the ceremony. What amazed me, and what really tugged at my heart, was the number of Academy classmates who came from near and far to pay tribute to a young man who touched their lives so briefly. His family hasn't forgotten him, of course, but how wonderful that he is also so alive in the memories of his friends and classmates!

In closing, a sentiment often expressed by Doc; let me relay it for him now: "Duty, Honor, Country, and All My Love." Thank you so much.
---

&nbsp I reported last month that our classmate Lee Livingston had died in July. We have subsequently heard from his son, Major Thomas Livingston, USAF, who reported,
&nbsp His death took us by surprise. He was in perfect health a month ago. He was recovering from a scheduled vascular surgery when he developed an infection and further complications snowballed to a point where he could not recover. He left at the top of his game with no regrets, no grudges, no relationship un-mended. He loved his wife of 41 years more on the day he died than at any other time. We are missing him terribly.
&nbsp Here's a snapshot of Lee and his wife Marti on a Caribbean cruise last December.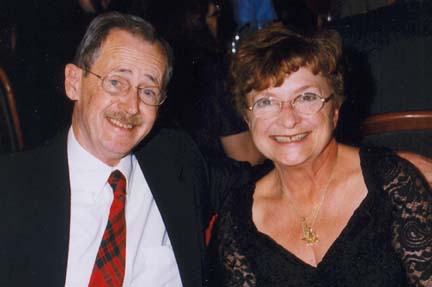 Lee and Marti Livingston


&nbsp Marti sent me this note, which I know you will enjoy reading.
&nbsp It all started during Second Class summer when Bill Marshall and Nan were looking for a blind date for someone short. Their group was in Philadelphia for that dreadful fire-fighting training. It was a great first date -- I think I first fell in love with the uniform. At the end of that first evening, Lee first made a date for the next night, then asked me if I would have gone out with him if he were a white hat. I laugh now at my response, "Of course not. A Midshipman, yes. They're different. They're special. They're gentlemen." It was a beautiful friendship and a beautiful life, especially the last few years. We rode elephants through the jungles of Thailand on a visit with our daughter, an international teacher. We were honored on our 40th anniversary by our children with a fabulous reception and dinner. Their gift to us was six weeks in Europe, which included one month in the village from which my grandparents emigrated. We spent hours in their archives and collected genealogical data that would have kept us busy for a year or two. At the end of that time, we attended our younger son's graduation from acupuncture school in London. In December, we enjoyed the wedding and cruise for our older son, an Air Force Major.

Lee's funeral was a fitting tribute to a dedicated military man, complete with bagpipes for the Scottish part of him. Bill and Nan Marshall were there. We will do the military honors at a service in Florida (our winter home) sometime in February.

We had planned to take the children to Annapolis this summer, but that didn't quite happen. Instead, our sons, daughter-in-law, and granddaughter went and left a little part of Lee behind. (Some of the shrubbery in front of Bancroft Hall and flowers in front of the Chapel might grow a little better.) We played tourist and took the guided tour. While we were on the tour (I was wearing the Class of '63 t-shirt) a couple passing by stopped me and identified himself as a '63 grad. It was Mike Corgan, one of Lee's fencing teammates! What are the chances of that happening? Someone Up There was watching.

Life was beautiful. We will miss him a lot.
---

&nbsp Mickey Mays wrote to me in July with news of his latest golfing adventure.
&nbsp I just completed a nifty USNA Alumni Association sponsored trip to the 2004 Open Championship (aka British Open). The journey was by vessel, the M/V Clipper Adventurer, departing Dublin, Ireland, several days in advance of the tournament. We hopscotched the Irish Sea playing golf at many great venues (Royal Liverpool, Castletown, Royal Portrush, Machrihanish, and Royal Turnberry) before landing at Troon. This picture shows Doug Tozour and me standing on the eighteenth tee at Castletown Links on the Isle of Man. The smiles are because we have both successfully driven across the "Abyss" into the fairway beyond.

Tozour and Mays on the Isle of Man


Doug played great. As you know, he has two new hips and is hitting the ball farther now than ever before. It was fun to play with him and he was one of the most popular members of the cruise. My roommate, Ed Howard, is preparing for knee replacement surgery. He hopes to be back on the links in 4-6 weeks, also hitting the ball farther than ever before. Go Navy! Beat Army!
---

&nbsp Well, life is full of surprising developments. Take, for example, this outstanding story from Gary Smith.
&nbsp I got married this summer. Lori Kate Calise and I met three years ago when I was asked to take her out to lunch to check her out for a date with a co-worker of mine. She and my co-worker didn't work out, and she called me asking me out to lunch. Eight months, and quite a few lunches, later she asked me out for a non-date. Keep in mind I'm 29 years older than she is, so dating was not in the picture. We non-dated for 352 days. In the meantime I had been diagnosed with esophageal cancer. Six weeks before my surgery she admitted that she was in love with me. Three weeks after the surgery (I figured I should wait to see if I lived.) I asked her to marry me. Our engagement was an exciting time of chemo and radiation. I ended up back in the hospital at the end of November, 50 pounds under my original weight and half dead from the chemo. Lori Kate's main projects after that were planning the wedding and getting some weight back on my bones.

Colorado wedding


We were married in Beaver Creek Colorado on July 10th. Sorry, no class of 63 attendees -- Roy Warren couldn't make it. My nephew Ryan Smith, class of '94, couldn't come either; he was on his own Honeymoon. So all we had was a couple of ROTCs, my brother Richard Smith and my new father in law Nick Calise, both Reserve Captains, retired.

Our honeymoon was in Costa Rica. The idea was to find a place we hadn't been and I've covered most of Asia and both of us have seen quite a bit of Europe. With the exception of the roads, Costa Rica is a wonderful place.

Lori Kate in her hammock




Chilling out in Costa Rica


We loafed on the beach in Montezuma for three days then went up to the Cloud Forest in Monteverde. There we did the sky walk and then zipped through the trees on cables. The next day we took a guided tour hiking up to the continental divide. I'm not quite back up to my usual physical self but I didn't do badly on the hikes. Lori Kate proved to be a expert at spotting rare wild life. She spotted a pecary, which amazed the guide, a glass butterfly and then became a hero by spotting the rare quetzal. Our guide was calling everyone he could reach to come see this beautiful bird. It was the sacred bird of the Aztecs and prized by both the Incas and the Mayans. After that we headed down to Manuel Antonio and the rain forest. A bit more touristy but a great place to see unbelievable butterflies and frogs.
---

&nbsp Judging from his latest notes, Mr. Non-Stop - Dave Moore - had a busy summer with strenuous outdoor pursuits but still made time for some good reading.
&nbsp Sandy Stoddard and I just finished four days in northern Sierras working on the Pacific Crest Trail. We will join John Peterson in late August for backpacking in Yosemite for seven days. Jim Eckland dropped me an e-mail saying that he had taken a job in Baghdad with the Flour Corporation to build a power plant there.

I recently picked up a wonderful new book "The Last Stand of the Tin Can Sailors" by James Hornfischer. With the 60th anniversary of the Battle of Leyte Gulf approaching, it is a timely read.

You probably recall the four major parts of the battle.. This book focuses on the battle off Samar Island. The author's interviews with the survivors bring the action to life like no other naval history book I have read. Anybody with a drop of Navy Blue in their veins should read this book -- in fact, anyone entering the Navy should read it. It never hurts to have a few more heroes in your personal pantheon.

It's a hell of a saga in a very well told story. Since I know that most of you do not have time to read a full book of such ancient stuff, here, as a tease, are some of my favorite excerpts:

LCDR Ernest Evans '31 was from Oklahoma and proud of his Cherokee bloodlines. When he took command of USS JOHNSTON (DD-556) at its commissioning in 1943, he said; "This is going to be a fighting ship. I intend to go in harm's way and anyone sho doesn't want to go along had better get off right now. Now that I have a fighting ship, I will never retreat from an enemy force."

On 25 October 1944, JOHNSTON was one of three Fletchers and four DE's that were escorting the six CVE's of TAFFY 3 in support of landings at Leyte. When an Avenger pilot suddenly reported that a large Japanese fleet was only 20 miles from TAFFY 3, Evans immediately went to flank speed, started making smoke, turned toward the threat, and without orders from anyone commenced to attack one super-battleship, three normal battleships, six heavy cruisers, two light cruisers, and eleven destroyers. JOHNSTON's guns were actually the first fired in this battle as they concentrated on the lead heavy cruiser's superstructure. At max range they fired ten torpedoes which hit the lead cruiser in the bow and stern. The Japanese CRUDIV Commander decided to shift his flag to another cruiser, resulting in the loss of two cruisers from the rest of the battle.. As Evans turned away to make his return to TAFFY 3, JOHNSTON began taking 14- and 6-inch shell hits which destroyed the aft engineering plant. Reduced to half power, Evans noted that three other US "smallboys" were headed toward the Japanese fleet, so he turned again to provide an assist. Taking more hits including armor piercing shells that passed right through the ship without exploding ( a common event that day), JOHNSTON became separated in the smoke and then survived a duel with a battleship at 7,000 yards scoring about fifteen hits on the larger foe. An hour later they interposed themselves between a heavy cruiser and the sinking GAMBIER BAY firing at 6,000 yds. Then they turned to attack a column with a light cruiser and four destroyers causing the Japanese to launch their torpedo attack early.

Finally surrounded by cruisers and destroyers which pumped shells into the burning hulk, JOHNSTON sank after two and half hours of desperate fighting. Evans was posthumously awarded the only Medal of Honor given in that battle.

Ltjg "Blue" Archer was a non-reg Avenger pilot who was given to flat-hatting. Like many pilots from the CVE's, he started the day with the wrong type of ordnance and shortly after had no ordnance. He completed one attack making a phony torpedo run at a battleship, then pulled up, inverted his plane, and fired six shots from his revolver as he passed over the battleship.

USS SAMUEL B. ROBERTS (DE-413) was originally stationed on the north side of TAFFY 3 so the skipper, LCDR Copeland, elected to attack the Japanese along with the three faster Fletcher class DD's . She shared the same fate as JOHNSTON and HOEL. When enemy shells began tearing her apart, she lost electrical power. GM2 Paul Carr was in charge of Mount 52 on the fantail. He kept firing in manual control even though they lost gas ejection air. They started the day with 325 shells in the after magazine and handling room. With almost all rounds expended, the barrel was starting to glow a dull red. The 324th shell resulted in a breech explosion which destroyed Mount 52. After ordering Abandon Ship while a Japanese destroyer continued to fire shells into the wreck, the Captain ordered a search of the ship for any injured but living men. When an MM2 checked in the wrecked mount, there was GM2 Carr ,barely alive with his abdomen ripped open, and clutching the 325th shell. Carr begged the MM2 to help him load the shell in the breech. The MM2 took the shell from him and laid Carr out on the deck of the mount. After pausing to take another injured man out of the mount, the MM2 looked back in the mount and there was Carr on his feet holding the shell again. The MM2 removed the shell again and evacuated Carr to the fantail where he died a few minutes later. USS CARR (FFG52) is named for him. FFG-58 is named for SAMUEL B. ROBERTS. You may remember she was badly damaged by a mine in the Persian Gulf. USS COPELAND (FFG-25) was named for the C.O.
---

&nbsp Most members of the Class of 1963 have attained their 63rd birthday. Those of us who haven't can draw inspiration from the way that Phil Marsden chose to observe his advancing seniority.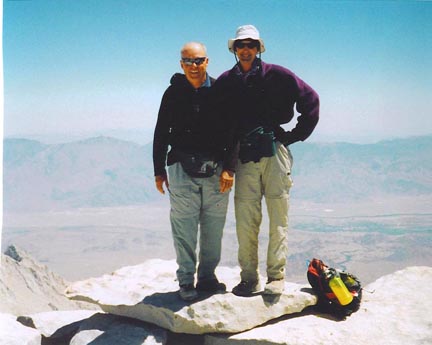 On top of Mt. Whitney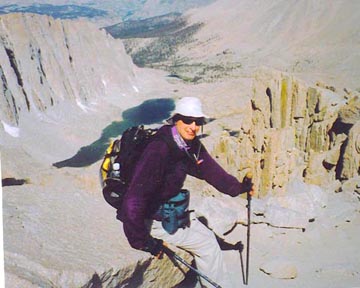 Phillip approaches the summit
&nbsp I decided I needed to do something special to celebrate my upcoming 63rd birthday. The result was a successful one-day hike to the summit of Mt. Whitney, at 14,500 feet the highest mountain in the "lower" 48 states. With a round-trip of 22 miles combined with 6,000 feet-plus altitude gain, it was a real challenge. I trained for several months including staying at altitude for three nights before the climb. The trail was spectacular, the weather perfect and I had little problem making the summit with my guide and Raytheon co-worker, John Tomlinson (on the left in the summit photo). However, the trail down seemed endless and I was ready to burn my boots at the bottom. I'm glad it is over and am not planning a repeat anytime soon!
---

&nbsp While vacationing in England this summer, Lisa and Jim Metcalfe met up with several of our classmates who were participating in the seniors crew races at Henley. Here is his account.
&nbsp We had a grand time in England. During our stay we saw the finals of the Royal Henley rowing regatta. What a spectacle! We sat at the course's edge and watched some of the world's best rowers flash past just short of the finish line. Another highlight was a visit with the USNA masters crews. The week after Royal Henley, there is a regatta of what the Brits call "seniors." Navy had two eights there. Our class was represented by Craig Thrasher, Jim Fontana , Mike Pero , Felix DeGolian , Dick Kuntz , Rich Wilson, John Aucella , and Dick Omohundro. Craig's wife Peggy and a number of other wives attended. Lisa and I and our two grandsons met up with the USNA rowers on the day of their first practice. I found Henley much more attractive on a practice day than a race day. The Thames is beautiful and the course is very picturesque.
---

&nbsp That's all for now, so we end here. Let me hear from you soon!



---