Shipmate Column
October 2007
---
CLASS OF 1963
Pres: CAPT W. Spencer Johnson IV, USN (Ret.)
Sec'y: Michael H. Shelley
164 Sweetwater Lane, Pisgah Forest, NC 28768
h: 828-862-4245 e: nstar@citcom.net
Web site: http://www.usna63.org.


For any classmate you can go to the Classmates Page and enter his name to read his current biography if available.
---
&nbsp First things first: Our 45th Reunion will be in Annapolis from 24 through 27 April 2008. Have you made your hotel reservation yet? While you're on our web site, click on Wardroom, then Reunions, for a list of hotels and the reunion schedule.
---
&nbsp In the very small world department, here's some wedding news from Chuck Stone:
&nbsp During the fall of 2005, my sister, Roselyn, advised me that she had become acquainted with Charlie Maples, who indicated that he had been at USNA with the Class of 1963. It turned out that indeed he had! He was in the 19th Company, was Bobby Cooper's roommate, and had lived across the hall from Felix de Golian (who, coincidentally, was June's and my "Best Man" in 1965) until he left during second class year.

Well, it all came together in Atlanta on April 21, 2007, when they were married! It was by all measures a perfect weekend. Not only was the Atlanta springtime weather perfect (We thought we were still in San Diego.), Mallory and Felix de Golian hosted a delightful Friday evening "rehearsal dinner." In attendance were the entire families of both Charlie and Roselyn. Both have grown children, plus lots of grandkids, brothers, sisters, nieces, nephews, in-laws, etc... The de Golian's son, Felix IV (nicknamed "Flex"), was also perfection as the chef, host, and maitre 'd extraordinaire!

Newlyweds Roselyn and Charlie Maples




Sister and brother




Chuck Stone, Felix de Golian, Charlie Maples, and Bobby Cooper - all wearing USNA '63 ties


On Saturday, the wedding was hosted in the home of Charlie's sister, Mrs. Dorothy (and Dr. Ted) Woodsides. Again, the weather was perfect, and the north Georgia outdoor setting was storybook-like. It is great to have Charlie in the family, and back in the fold of USNA 63!!! " (Special thanks to my sister, Gail, for the great photography work.)

The bride and groom




Felix, "Flex," and Mallory de Golian




19th Companymates Cooper, Maples, and de Golian



---
&nbsp Doris and Ken Sanger took an extended vacation trip to Turkey, Georgia, and Azerbaijan this spring. I admire their stamina, for they continued their journey and were in Normandy for the 63rd anniversary of the D-Day landings in 1944. It must have been a powerful experience. Ken has promised to send a full report soon.
---
&nbsp Our 23rd Company classmates enjoyed a fishing expedition together in Montana this summer. Harry Hirsch prepared a lively and colorful account of the adventure, and Sherwood Zimmerman sent me numerous photos taken by himself, Steve Hoy, and other participants. This picture at their base at the Big Horn Trout Shop shows (back row) Mike Krause, Steve Hoy, Steve Leisge, Harry Hirsh, Dick Ortwein, Bill Bradford (front row) Sherwood Zimmerman, Vern Von Sydow, Niles Iannone.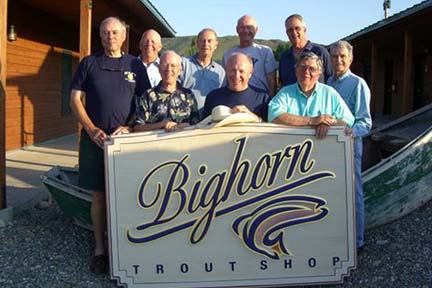 23rd Company fly fishermen
&nbsp Last year, Noel Bing of the illustrious 23rd Company had the daring idea to get a group of Company relics together for a fly fishing expedition to Creede, CO, altitude 8,000 feet, and known worldwide to have boundless trout waiting to be lured by artificial insect delicacies with miniscule hooks. Seven of us, attired in rubber farm overalls, waded on slippery rocks in freezing water, casting nymphs, justifying why we were willing to fly cross country and then drive hours to reach the place. Although there were many claims by the group that a fish was caught, the 23rd Company 2006 inaugural fly-fishing expeditionary force produced no credible photographic evidence of a single fish of any size or description. Undeterred, Steve Hoy organized a second annual expedition that took place in late June of this year. He amassed a force of nine men from the 23rd whose mission was to redeem the reputation of the Company, as least as far as fishing is concerned. In addition to Steve, the august group included Vern Von Sydow, Bill Bradford, Dick Ortwein, Sherwood Zimmerman, Niles Iannone, Mike Krause, Steve Leisge, and Harry Hirsch. We assembled at Fort Smith, MT, home of the Big Horn Trout Shop.

The Great Montana Fly Fishing Adventure


Steve's approach was to pair each inexperienced fly fisherman with a more inexperienced fly fisherman. However, unlike last year, when the participants relied upon their inherent masculine "provider" instincts, this year each pair of fishermen would be accompanied by a guide to improve the chances of a more favorable outcome.

For three days we spent 8 - 10 hours on the water pursuing the big one. The Big Horn River, clean and vibrant, is one of the best trout streams in the lower 48 and can be fished year round. We fished the 13-mile stretch from the Afterbay Dam to the Bighorn Access Site, where the creel survey shows 7,000 fish per mile. It would be conservative to say that the average catch of each novice over the three-day period was 75 trout. There were times when so many fish were caught in such a short span you could barely hold your arm up. We all caught trout around 20 inches or more in length. The fish were absolutely beautiful. The rainbow trout have beautiful rose and silver metallic stripes and the browns have translucent red spots. They are nature at its best: healthy, beautiful specimens and a thrill to catch and release.

We all agreed that fishing the Big Horn was an experience we will long remember. The best part was being together, the camaraderie, the laughter, the ribbing, the memories of our youth, the commonality we all share from having gone to the Academy so many years ago and our service in the military. We have taken different and varied paths, but what a joy it is to see life go "full circle." Thanks to Steve Hoy, the 23rd has redeemed itself, and we had a great time together.
&nbsp About the photographic record of the fearless fishermen's expedition, Zimm added
&nbsp A full set of original pictures is on a web page that Steve Hoy has set up. The address is http://picasaweb.google.com/Hoysteve/23rdCompanyBigHornFishingTrip . You don't need to sign on because this is a public site.
---
&nbsp While returning to Jacksonville, FL, from several days of relaxation in the cool mountains of Western North Carolina this July, Rocky Pratt and his "super special person," Sherry Hopkins, visited me briefly. We had an extended al fresco lunch at the Hob Nob restaurant here in Brevard. It was a real treat to catch up with each other after too many years without direct contact. We raised glasses in memory of Steve Toth, with whom Rocky had been close when they were next-door neighbors in the same house on Upshur Road at USNA before becoming Midshipmen. Rocky also told me some remarkable things about his distinguished Navy family. His father was a RADM (USNA '36) A grandfather on his maternal side was Commodore H.B. Mecleary '08, a C.O. of OMAHA. His great uncle was W.V. Pratt '89, Chief of Naval Operations 1930-33, for whom WILLIAM V. PRATT (DLG-13) was named.

Sherry is a delight and was patient and understanding as Rocky and I went on and on with our reminiscences and sea stories.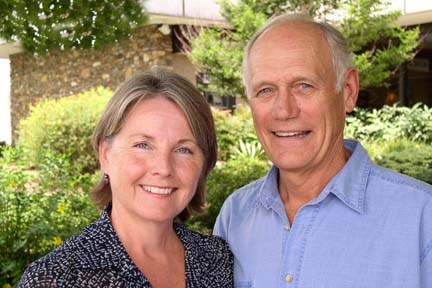 Rocky Pratt and Sherry Hopkins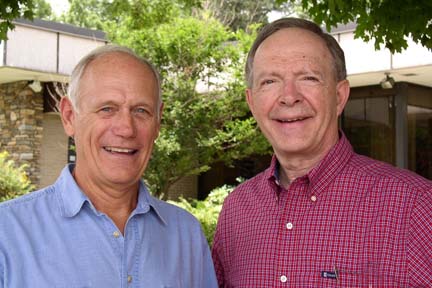 Pratt and Shelley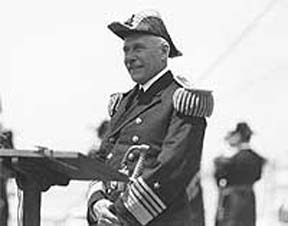 ADM W.V. Pratt '89
---
&nbsp In a surprising report, George Singer tells of having sailed aboard a USNA yawl in San Francisco Bay.
&nbsp This update was triggered by a morning spent sailing on NAVY 44 VIGILANT with a few grads and a group of Rising Youngsters (read Plebes) who have not yet finished their summer activities and come back to the Academy to view the Chapel Dome. Just spending a couple of hours with these fine young men and women out on San Francisco Bay was a wonderful event and inspiring to see the people we have following our footsteps. Since I sailed for all four years at school, being back on a 44 after 44 years was more than personally fulfilling -- it felt very comfortable and I didn't trip over anything and I didn't fall overboard!

Penny and George Singer




Penny Singer and the Midshipmen crew in San Francisco Bay


Penny and I have bounced around since 2000 to Southern California, Memphis, Denver, Northern California, Fenton, MI, back to Denver, then, finally San Francisco. Some of the trip has been good, some not so good. In all of this time I have probably become the most metallic member of the class. I have two hips and three stents plus a lengthwise wrap of platinum wire from neck to belly (result of a quad bypass in 1999). That said, we are back to playing golf, taking care of my 92 year old in-laws, whom we moved here last September, working, and enjoying life in one of the great cities in the world.

My stepson, Gary, graduated from USAFA in 1988, spent seven years active and has been working for a 1963 USAFA grad, Bill Wecker, since '95 in Novato, CA as a mathematical and ops analysis consultant. He and Melissa have four children aged from 17 to 3. My son Mat graduated from Iowa State and is the Director of Operations for a large medical supply chain management company in Broomfield, CO. He and Jennifer have three children, aged from 9 to 3. Daughter Raleigh graduated from Purdue and has her law degree from U of Chicago/Quinnipiac and is practicing in Illinois. She and Bill (former Marine Captain and current Supervisor, Sky Marshals Service) have a son, 3. Great family and all doing exceptionally well.

I started a new Division for an established company last year here in SF. We sell software, civil, and geospatial engineering services. I have established tech partners in India, China, Malaysia, Ukraine, and Vietnam and we are finally getting going with some momentum.

We don't have any room in our typical SF apartment, but would love to see anyone coming through SF. Contact info is: 265 N Point St, Apt 206, San Francisco, CA 94133; 415-956-9460; 415-515-5036 (cell); geosinger63@comcast.net.
&nbsp I asked George how USNA yawls happened to be in San Francisco Bay, of all places. His response:
&nbsp The entire fleet of 44's is being replaced with new boats a couple at a time each year. The two that were here were trucked out from Annapolis and are being used for new Youngster sail training. Each group of 3/c gets 2 weeks on a boat apparently. These two will eventually be sailed up to Puget Sound and Lake Washington to be on loan/used in perpetuity by the NROTC program at the University of Washington. USNA keeps ownership and gets to use the boats for 3/c summer training. I do not know about the other boats, but it sounds like a reasonable use for the older boats. Just to think that I sailed all four years on real wooden yawls that had no engines or electronics and now they are replacing the replacements -- kind of like my hips, I guess!
---
&nbsp Our classmates continue to enjoy athletic pursuits such as golf, tennis, swimming, weight training, and the like. Paul Schleifer's efforts are applied in a unique and challenging activity. He sent a photo and this brief note:
&nbsp Since retiring, we moved full time to the Big Island of Hawaii. Outrigger canoe paddling is a major focus of our time here. This year they had a 60-plus category at the State Championships for the first time. My wife and I both qualified for this year's races on Kauai. Our club won the "A" division (small club) championship. This is a picture of me next to the koa canoe used in competitions here. Aloha to all my classmates.

Paul Schleifer



---
&nbsp Since moving from Connecticut to Annapolis earlier this year, Peter Featherstone has been enjoying the waters of Chesapeake Bay.
&nbsp Dan Hitzelberger and I got together on 17 July, we think for the first time in at least 20 years! I had our boat ('Tis) moored temporarily in Annapolis, so after a brief visit at my house, I shanghaied Hitz to help me return her to her berth in St. Michaels. I figured that a Marine could help in the event we ran into any pirates, but he also excelled at the helm, as this picture attests. The other picture shows the two of us on the fly bridge safely at the dock in St. Michaels. It was great to catch up with news about classmates, family, and careers. As usual, we could have gone on for at least another three days.

Featherstone and Hitzelberger




Hitzelberger at the helm


Another milestone occurred on 17 July: daughter-in-law Debbie (wife of oldest son P.J.) delivered Harper Abigail Featherstone, my 4th grandchild.
---
&nbsp The latest news from Sunny San Diego comes, as it does so often, from Phillip Marsden.
&nbsp San Diego classmates and their ladies gathered in Coronado on 22 July for what is becoming an annual Concert-in-the-Park get together. On a beautiful, balmy Sunday afternoon "Oldies-but-Goodies" music was provided by Rockola, a favorite band of the summer community concert series. In attendance besides Phillip was Clyde and Sybil Van Arsdale, Chuck and June Stone, Bill and Dottie Hughes, Ron and Dee Wills and Ron's brother, Barry, Charles and Nancy Helsper, Donna Kaup, and Grant Telfer. The photo shows some of the attendees who paused long enough in their dancing or smoozing to be caught on camera: Phillip, Donna, Grant, Chuck and June, Bill, Nancy and Charles. The couple on the far right, Jim and Linda Kauffman, are Phillip's good friends and known to many in the class.

Concertgoers in Coronado



---
&nbsp Jim Ring sent a brief note in July saying that he had heard from Mary Jo and Jack Dranttel. They had just returned from a five-week vacation in Scotland and Ireland, mostly for golfing but with a few other things thrown in for luck. With them were Carolyn and Tom Smith. Mary Jo sent three photos from the trip: one of Jack and Tom with their scorecard from the Old Course at St. Andrews, Scotland; one of their group; and one of a tavern owned by a man named James Ring. Is that a coincidence, or evidence that Jim is in business on both sides of the Atlantic?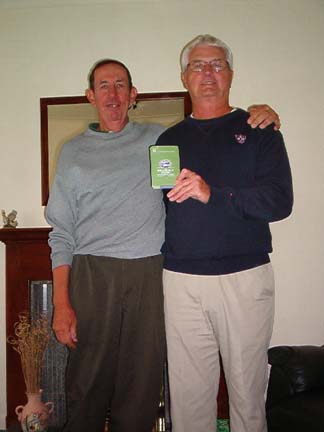 Jack Dranttel and Tom Smith display their scorecard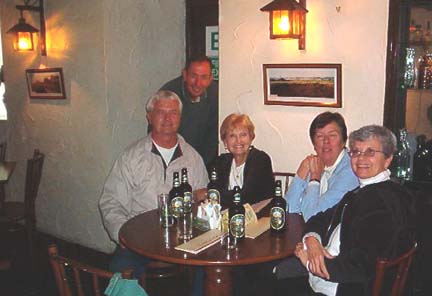 Relaxing in Scotland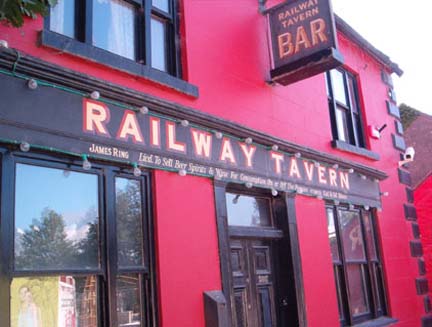 James Ring's Tavern
---
&nbsp Updating his current biography on our web site, Bruce Alitt provided this news:
&nbsp A widower since November 2005, I reside in Las Vegas and work for the State of Nevada. I am the Chief Investigator for the Nevada Real Estate Division with jurisdiction over all real estate licensees and Homeowner Association Boards. My main office is in Las Vegas, with a smaller office in Carson City. I have two daughters and three grandsons. I would welcome hearing from any classmates visiting Las Vegas. My email is seawolf1963@aol.com.
---
&nbsp This was another great month for news, thanks to our contributors. It's your turn now, sir. Let me hear from you soon, please.



---