Shipmate Column
October 2018
---
CLASS OF 1963
Pres: CAPT W. Spencer Johnson IV, USN (Ret.)
Sec'y: Michael H. Shelley
164 Sweetwater Lane, Pisgah Forest, NC 28768
h: 828-506-2201 e: nstar@citcom.net
Web site: http://www.usna63.org.


For any classmate you can go to the Classmates Page and enter his name to read his current biography if available.
---
---
---
&nbsp I am sorry to report the passing of our classmate John Newsom, M.D. , who died suddenly on 4 July. His widow, Carolyn, may be contacted at 1588 Woodside Road, Yardley, PA, 19067. John's obituary and other information can be seen in the Last Call section of USNA63.org.
---
&nbsp Zimm Zimmerman sent this fine travel report about a Bucket List visit to Normandy earlier this year.
&nbsp In May, George Emery and his son, Rob; George's brother, Chip '68; and I and my son, Mark, toured the beaches, bunkers, and WWII occupied towns of lower Normandy, France. This trip was a "must do" Bucket List item, and a tour we'll never forget. Our guide's detailed acquaintance with the geography of the area surrounding the D-Day beaches permitted us to see an incredible amount of the Calvados countryside and visit many sites crucial to understanding the breadth of the D-Day campaign. His ability to sketch in the sands of each beach we visited, the scenario of the American, British, and Canadian landings was a terrific way for us to capture the image of individual landing challenges and piece them together from one beach to the next. The courage our landing forces displayed against impregnable German strongpoints and the blood they shed are sobering. The several allied cemeteries in which so many of them lie were the recipients of our tears. We also toured the sites of the equally brave allied airborne assaults by parachute and gliders behind German defenses; crucial to driving the Germans from the roads and bridges they would have needed to launch counterattacks on our landing forces, and without which our landing forces could not have exited the beaches. Standing next to an actual hedgerow gave us an appreciation of just how major an impact they had on the ability to wage war.

George, Rob, Chip, Mark, and Zimm




Chip, George, and Zimm




George, Chip, and Zimm at Pointe du Hoc






&nbsp The picture of the larger group shows us with a farmer who was 12 years old when he survived Germans occupying his town and slaughtering his civilian friends. Left to right are: Chip, Mark, the farmer, George, the farmer's daughter, our guide, and me.
---

&nbsp Dr. Bruce Bukowski, the Director of the Class of 1963 Center for Academic Excellence at the Naval Academy, recently issued a review of the CAE's past year. Here is a quote from his introductory text:
&nbsp CAE remains devoted to offering the highest quality academic support programs for all midshipmen seeking to improve their academic performance. Evidence of CAE's commitment to this mission, our number of student visits has continuously increased. This year was record-breaking for the CAE; we had the most midshipmen visits in our history with 45,577 total -- almost 5,500 more visits than last year. That's 1,350 per week. In fact, almost 3,000 unique midshipmen utilized a CAE-provided service this year, including 98% of all plebes and 73% of students with a perfect 4.0 CQPR. Thanks to the valued support of the Class of 1963, the CAE has been able to continually tailor our programs according to the needs of midshipmen, aiming to enhance the academic and personal success of every midshipman.
&nbsp Dr. Bukowski's full report is posted in the Class Foundation section of our web site. Click HERE to see it. The CAE has produced a four-minute video (title screen shown above) describing its programs and services. I encourage you to view it by clicking HERE .
---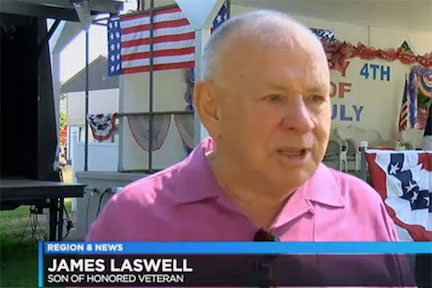 Parade Grand Marshall Jim Lasswell


&nbsp Jim Lasswell contacted me after spending a memorable Fourth of July in Piggott, AR. The holiday parade there was dedicated to Jim's father, a Piggott native, in recognition of his codebreaking activities during World War II. Colonel Alva Lasswell, USMC, was a key member of the team of cryptographers who broke the Japanese naval code, leading to the decisive American victory at the Battle of Midway. Jim, who was the Grand Marshall for the parade, is planning to attend this summer the opening of an NSA building at Fort Meade, MD, named in his father's honor that will house the USMC Cyber Command. You can view the KAIT-TV video of the parade and an interview with Jim by clicking HERE .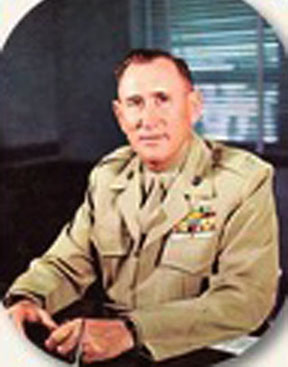 COL Alva Lasswell, USMC



&nbsp An article about Colonel Lasswell's most notable cryptographic contributions -- including decoding a message that enabled the downing of a plane carrying Japanese Admiral Yamamoto and thwarting a plan to kill General MacArthur as retribution -- is posted in the "Pride and Tradition ... Lest We Forget" section of our web site. You can see it by clicking HERE .
---
&nbsp Contributing to this month's report, Mike Rubel sent some news of his activities and three related pictures.
&nbsp I had some recent encounters with our classmates and thought it time I checked in with you and submitted three pictures to share. I enjoyed a golf outing with Win Orgera, Jim Thornton, and Lew Blackwell in Carlsbad, CA. We had fun beating up each other and making snide remarks about our golf swings. Like, "How do you hit a shot like that" as it soars out of bounds!

Golfers Orgera, Rubel, Blackwell, and Thornton



&nbsp This picture was taken when I was fishing in British Columbia on a lake where I have fished for almost 40 years. The biggest fish was over 5 lbs. which we fileted and ate that night. These lake trout are like landlocked salmon with very dark red meat.

Lake trout for dinner



&nbsp The last picture is from my recent visit to see Chuck Stone and his ever-vigilant nurse, June, in Escondido, CA. We had a wonderful lunch at their country club where June presided over the menu and Chuck grumbled but complied. It was great to catch up and both are looking forward to the 55th.

Chuck Stone and Mike Rubel



&nbsp I still work with some real estate ventures and assist my sons in building a company that repairs cell phones and iPads. They have five stores now and are expected the add three more next year. They also have a web site for donations to the military called "Second Wave" that donates several $1,000's to military programs for Vets.
&nbsp June Stone amplified Mike's account by saying that she "took the picture on an outing to the Vista Valley Country Club. It was wonderful to reconnect with such a great friend and classmate like Mike Rubel. Many stories were shared. Chuck is looking ahead to the 55th reunion here in San Diego. "
---
&nbsp Daryl Rabert sent this note in mid-July:
&nbsp A few weeks ago, I had the opportunity to spend five days with my old roommate Ron Terwilliger deep sea fishing in Ocean City, MD. We had a great time catching up with our lives in addition to fishing. Ron has a super boat, but unfortunately, we only got one day of fishing due to the rough seas. We did manage to catch some mahi mahi. We ate some of the catch at a local restaurant and it was delicious. This picture shows (l-r) me, Ron, and one of Ron's partners, Russ Davis.

Happy fishermen



&nbsp The high seas reminded me of my First Class cruise coming home from the Med on a destroyer. We ran into a hurricane in the Atlantic. Having been in the Marine Corps, I had to re-learn what getting your sea legs is all about. Ron and I look forward to seeing our classmates at the Reunion in October.
---
&nbsp We'll close this month's presentation with a selection of photos from Hundredth Night 1963. I hope you'll enjoy seeing them, though some identifications are uncertain. Thanks to Lois Grabowski, Dave Bingemann, and Bruce Alitt for providing these images. The event has been called "Hundreds Night" since the 1990's, and perhaps earlier. I can't explain that name change.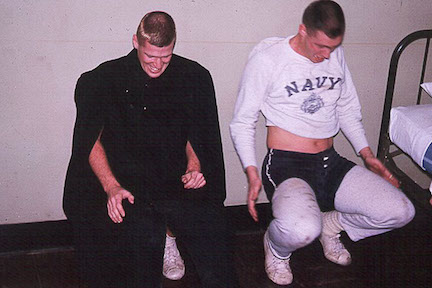 Dave Bingemann and Mike Colston shoving out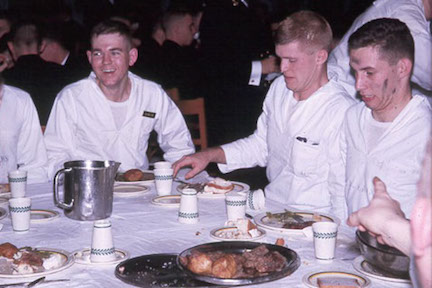 Plebe '66, Dave Bingemann, Bill Earner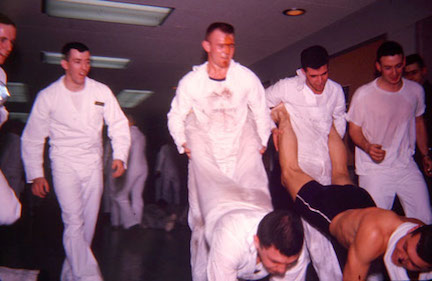 Wheelbarrow race. Bernie Grabowski holding Niles Iannone's (?) legs and Reed Farrington holding on to Mike Rubel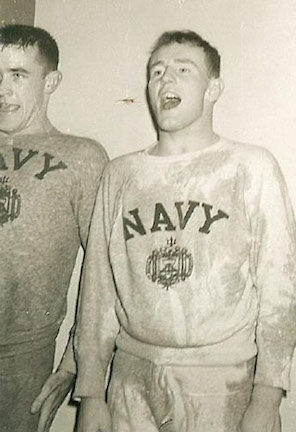 Pat Wright and Mike Harman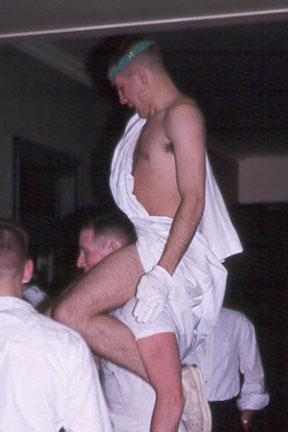 Dick Buelow on Hugh Schall's shoulders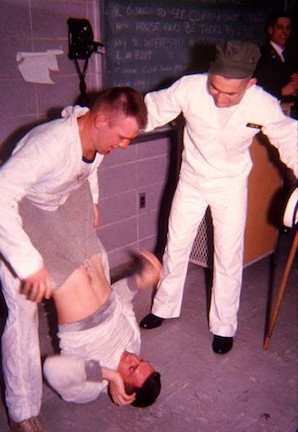 Bernie Grabowski, Denny Hobbs (?), and a plebe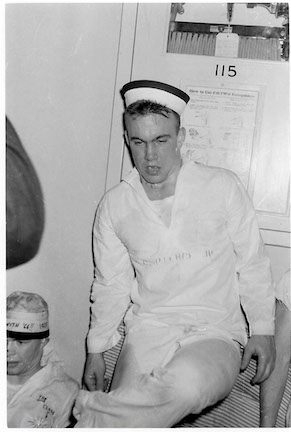 Mike Shelley and Walt Pierce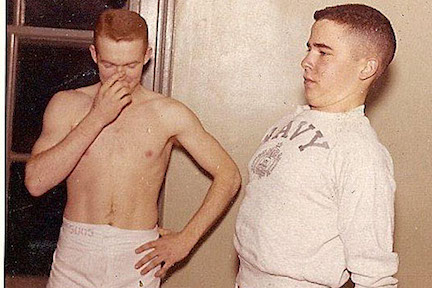 Bruce Alitt at the start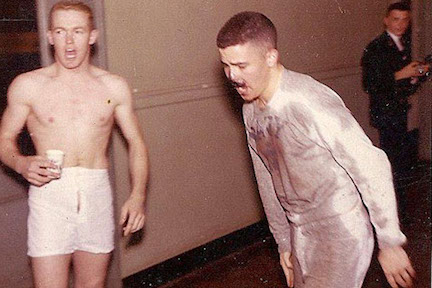 Bruce Alitt much dirtier and wetter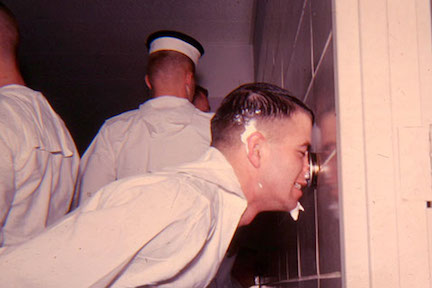 Steve Leisge (?) holding up a can of shoe polish
---
&nbsp That's all for now. Please keep sending emails and photos to be shared with our classmates and other members of the USNA '63 family!



---