Shipmate Column
October 2019
---
CLASS OF 1963
Pres: CAPT W. Spencer Johnson IV, USN (Ret.)
Sec'y: Michael H. Shelley
164 Sweetwater Lane, Pisgah Forest, NC 28768
h: 828-506-2201 e: nstar@citcom.net
Web site: http://www.usna63.org.


For any classmate you can go to the Classmates Page and enter his name to read his current biography if available.
---
---
---
&nbsp We'll begin this month with news from Mal Wright, who tells of his ongoing special relationship with classmate Larry Marsh.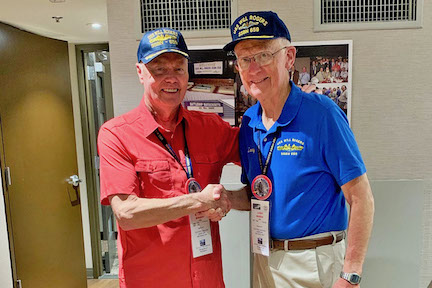 Mal Wright and Larry Marsh
&nbsp Larry Marsh and I were opposite crew commanding officers on USS WILL ROGERS (SSBN 659) in the late 70's. We exchanged command of that fine ship 13 times over the course of 3 1/2 years of serving together. It was a heady time that Larry and I reminisced about during a WILL ROGERS reunion held this past June in Tulsa, OK. As for me, serving with Larry was professionally rewarding and it resulted in an extremely strong personal bond between us that endures to this day.
&nbsp I remembered publishing a photo of Mal and Larry in Shipmate many years ago. After a little research, I found it. Shown here in the November 1977 photo are Mal (C.O. of the BLUE crew) and Larry (C.O. of the GOLD crew).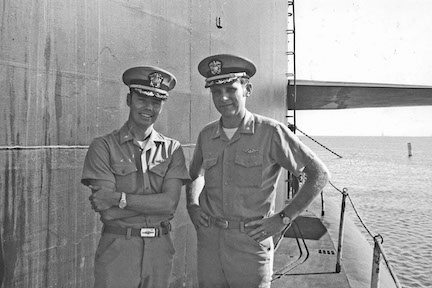 WILL ROGERS Blue and Gold Crews Commanding Officers


&nbsp Mal also sent a photo and news from July 2019.
&nbsp This is a picture from a '63 lunch held during Phil Marsden's visit to the PACNORWEST. Phil leaves the warmth of San Diego occasionally, to come north to visit friends and family in the area. Five 9th Company stalwarts were joined by a lone 7th Company classmate in Port Townsend, WA (where the movie "An Officer and a Gentleman" was filmed back in the 80's), some of us accompanied by our ladies. These proud Navy supporters are (left to right): Laurie Musick, Meredith Musick (7th Co refugee), Carol Minter, Charlie Minter (9), Phil Marsden (9), Bob Wildman (9), Mal Wright (9), Lya Wright, Gerri O'Claray, Dan O'Claray (9) .

July lunch group in Port Townsend, WA



---
&nbsp Here's a nice note from Hugh Schall about an enviable fishing trip in Alaska:
&nbsp In the early 80's, I did a fair amount of work in Southeast Alaska at the Louisiana Pacific mill in Ketchikan. My father was an avid fisherman, so I asked the mill staff where I should take him fishing. The answer was unanimous: Yes Bay Lodge. My dad and I went twice, and it was so enjoyable that I have made it a point to take my son-in-law and grandsons fishing there. I have the hope that they will continue the tradition. I just got back from fishing with my middle grandson, Cairn (11). This picture shows yours truly and Cairn with one morning's catch.



---
&nbsp Jackie and Mike Cronin's daughter Colleen was married at The Inn at Perry Cabin in St. Michael's, MD, on 13 July. It was nice of Jackie to send a note and share some pictures from that day.
&nbsp I am sending a few pictures from the wedding of our daughter Colleen to Matt Murphy. There were quite a few members of USNA '63 in attendance. I am sorry we did not get a group picture; there was just too much going on. Those classmates attending were Satch Baumgart, Mike and Ella Bracy, Eli and Eileen Dabich, Ollie and Sandy Donelan, Spencer and Andrea Johnson, Pete and Jan Quinton, and Jim and Kate Ring.

The father of the bride




Mike and Jackie Cronin




Mike, Colleen, and Jackie



---
&nbsp I learned recently that Jack Saux has authored ten novels. Impressed by that volume of work, I asked him to provide some information about himself to share with you. Here it is: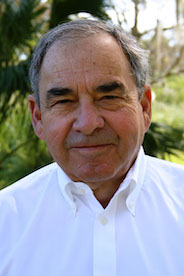 Jack Saux
&nbsp After graduation I married my high school sweetheart but did so for an unusual reason. Sophomore year in high school, she said I was both rude and immature, and would not marry me if I were the last man alive. You cannot insult my DNA like that and get away with it. For 55 plus years I have made her suffer for that statement. In the process she gave us three terrific children who created nine grandchildren. I did five years flying in the Air Force, one of which was in Vietnam. Next was an airline job and I flew for Delta for 27 years. The last ten were flying from the US to Europe. I took an early retirement to have more time to pursue my writing and to instill political correctness in my grandkids.
&nbsp Everything was going great with that plan until Delta declared bankruptcy and cut my pension by just over 90 percent. We, the wife and I, had a family meeting to discuss options. There were only two: change our lifestyle or have me return to work. In a landslide vote of one to one, it was decided that I would return to work. Selling real estate is a great place to experience many different personalities. But real estate has slowed the novel production.



&nbsp So far, eight of my novels have been published. Two more are complete and being polished. The latest is Clueless, the Adventure Continues, a sequel to Clueless in New Orleans, Adventures in Adolescence. Both are coming of age novels. The latter was selected for the summer reading program at New Orleans' premier high school. My other books are: -- The Pilot and the Fairy Princess, inspired by all of the men and women who lose limbs in the Mideast conflicts. A five-year-old child convinces an injured pilot that if he can find a Fairy Princess his disability will not matter. -- The Lamp, a former POW works with victims of domestic violence. -- Act of Faith, an estranged husband helps his wife prepare for death from cancer. - Men, By Nature, are Foolish. This was so much fun to write as it is pure fiction. A man makes a decision based on lust and not logic and it causes many problems for him and his friends. -- The Program, addresses alcoholism in the cockpit. -- The Pilot, my darkest novel. All of these are available through Amazon.com.
---
&nbsp Thanks to Alan McAnally for sending this item about an assembly of his companymates and their ladies.
&nbsp A happy group of the 21st Company gathered on Cape Cod in August. The Cape never loses its special flavor and attraction. Again this year, a little golf, beautiful Pocasset, a wonderful party at Betty and Bud Small's home in Barnstable, and the great cooking by Carol and Jack all made for a delightful gathering. In the front row, left to right, are Suzanne Collins, Terry McAnally, Jack Saux, Bonnie LoPresti, Yvonne Saux, Jace Singler and Tom Batzel. In the back row are Joe Collins, Betty Middleton, Wink Wilkinson, Carol Davisson, and John Middleton. Not pictured are Alan McAnally and the Smalls.

21st Company group on Cape Cod



---
&nbsp Writing from his home in Grantham, NH, in late July, Bob LaGassa told us about a visit from a Second Company mate.
&nbsp We just concluded a delightful visit from Jim Penrod, who was visiting his family in hometown Barre, VT. He was there to support his invalid sister, and to attend his Primary and High School Reunions. Jim usually comes East from Piedmont, CA, twice a year -- spring and fall -- and makes it a point to visit Bill Fitzgerald's grave site. Bill was also from Vermont and I believe they were roommates at USNA for a while. Jim was one of the pallbearers at Bill's interment.

Zoe LaGassa and Jim Penrod



&nbsp The highlight of the visit was the smoked, barbecued baby-back rib dinner on Sunday night, with great camaraderie and reminiscences in the pergola. Jim brought a great Stag's Leap Cabernet Sauvignon, which will have to wait until I get off my aggressive oral antibiotics to savor. While at near opposite ends of the political spectrum, we found common ground on the important issues of life and friendship. It was a beautiful time, once again.

Bob LaGassa and Jim Penrod



---
&nbsp That's all for now. Check in with me this month. We need your news and photos to be shared with our classmates. Thanks!



---