Shipmate Column
October 2020
---
CLASS OF 1963
Pres: CAPT W. Spencer Johnson IV, USN (Ret.)
Sec'y: Michael H. Shelley
27 Cambridge DR, Brevard, NC 28712
h: 828-506-2201 e: nstar@citcom.net
Web site: http://www.usna63.org.


For any classmate you can go to the Classmates Page and enter his name to read his current biography if available.
---
---
---
&nbsp Sadly, especially in this time of pandemic and social unrest, I must tell you of the loss of four members of the Class of 1963 family.

Craig Lee Thrasher died on 8 July. His widow, Peggy Anne, can be contacted at 1021 Mill Road, East Aurora, NY 14052.

We learned that Wiley G. Grantham passed away on 18 July. His widow, Ellen, can be contacted at 449 SW 129th Terrace, Newberry, FL 32669.

Walter J. Breede died on 24 July. His widow, Betty, can be contacted at 1755 East Lake Road South, Apt 113, Tarpon Springs, FL 34688

I received the sad news that Alece Haynes Key, wife of our classmate Denver Key, died on 7 July. Denver can be contacted at 504 Sugar Grove Place, Orange Park, FL 32073.
---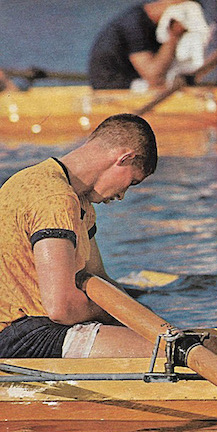 Craig Thrasher


&nbsp A fellow oarsman with Craig Thrasher, our classmate Hugh Schall sent this remembrance.
&nbsp Craig was a boat mate, sometime a coach, a classmate, and great friend. If it wasn't for Craig, there wouldn't be a "Navy Masters Rowing Program." In addition, Mike Pero, Dick Omohundro, and Craig, but especially Craig, were responsible for establishing the Navy Crew Fund. The fund was established to provide equipment and other items for the Navy crew that wasn't forthcoming from the NAAA funds. The three of them were instrumental in raising a lot of money, but without the initiative of the '63 plebes, under Craig's leadership and hard work, it's not likely the fund would exist today. Only three of Navy's oarsmen in history, Craig, Dick Omohundro, and Jim Fontana ever received a full-page picture in "Sports Illustrated." In 1961, the magazine ran an article on crew, and all three of them had full-page pictures. I am sending a copy of Craig's picture from that issue. The caption read, "Exhaustion seems mingled with satisfaction as Navy's Craig Thrasher rests at last." He will be missed.
---
&nbsp Our class Vice President Jim Ring is showing himself to be an effective memorist, as demonstrated by these two items he submitted recently.
&nbsp The first is an interesting and entertaining remembrance of his Academy roommate, Jim Patterson, who was shot down over North Vietnam in 1967. He is officially listed as killed in action, though his fate remains in dispute.
&nbsp Jim Ring's remembrance is posted in the 1963 web site following other material in the Current Biography pages for Jim Patterson. The accounts of our plebe year experience are sure to spark your memories of that unforgettable time in our lives. To see it, click HERE .
&nbsp Jim also shared some personal notes about our late classmate Mike Cronin.
&nbsp In late February, I went to lunch with my classmate and good friend, retired Navy Captain Mike Cronin. At the time, Mike was suffering from the same brain cancer as John McCain. Both had been POW's in North Vietnam for over five years (Mike for six-plus). Mike had flown more than 170 missions over Vietnam, each one a "You bet your life mission" because you never knew if you would be killed or captured. Twice his plane was hit by a missile. The first time he barely landed the heavily damaged aircraft in Da Nang and was awarded the Distinguished Flying Cross. The second time he was not so lucky and had to eject from his uncontrollable plane that was on fire. He is probably the most combat decorated of our classmates with two Silver Stars, four Bronze Stars with Combat V, two Legions of Merit with Combat V, and many other awards.

Mike Cronin and Jim Ring


After our lunch, on a beautiful day, we took a walk along the Chesapeake and Ohio canal near his home in Maryland. I thought he might tire easily but that was not the case. Mike really seemed to enjoy his time out along the Potomac and Seneca Creek and wanted to keep walking. That was the last time I saw my good friend alive; he died on 17 June -- 57 years after we graduated from the Academy. Mike was a great guy who will be sorely missed by his wife Jackie, his two daughters and son, and all his friends and classmates. Last summer, he did accomplish one of his high priority things to do before he died: he got to dance at his daughter Colleen's wedding.

Mike and Colleen



---

&nbsp Congratulations to Bo Kearns, whose novel Ashes in a Coconut was named a 2020 Finalist for the Eric Hoffer Book Award. Hoffer was a 20th century American writer, philosopher, and recipient of the Presidential Medal of Freedom. Each year the award is given to honor books of merit published by small, academic, and independent presses. Bo's book can be purchased from Amazon, Barnes and Noble online, or through local bookstores.
---
&nbsp While traveling in New Mexico, Jim Oakes made an effort to reconnect with a classmate he had not seen for several decades. The result, as he reports here, was a fine reunion.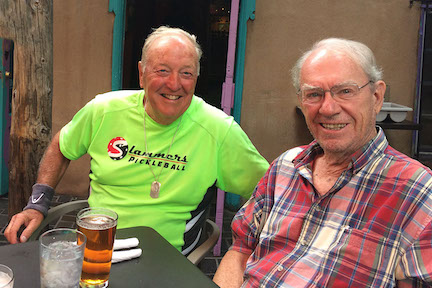 : Jim Oakes and Mike Spear in Santa Fe
&nbsp While spending some time in Santa Fe, NM, playing pickleball and hiking, I got in touch with Mike Spear. We had some beers and a great lunch at a Santa Fe hotspot. We hadn't seen each other since graduation. We caught up on old times. Mike reminded me of the time I went up to his family's Lake Tahoe cabin for a couple nights after Youngster cruise. One of his sisters wanted to practice dyeing hair before doing her own. She asked me if she could dye my hair and I obliged. She dyed it red and from that time on I was known as "Red Oakes" in the Spear household.
&nbsp Mike told me about his experience interviewing with Admiral Rickover and being told to "get out" by the Admiral when asked why he wasn't taking an overload course next semester. After three Navy Captains came in to coach him, he went back into Rickover's office and told him he was going to take an overload course in nuclear physics next semester, the Admiral's answer was, "Good. Get out."
&nbsp I told Mike about my meeting Fleet Admiral Nimitz at quarters #1 on Treasure Island in San Francisco Bay in September of 1963 right after we graduated. I was stationed on the USS MIDWAY (CVA-41) at the time and was on liberty heading to SF to find the future Mrs. Oakes in a bar when I diverted off the Bay Bridge to have Admiral Nimitz autograph my yearbook. I wrote an article for Shipmate back in the 90's on this event titled " Nothing Ventured, Nothing Gained."
&nbsp After getting his MBA at Stanford, Mike worked for the government in various conservation bureaucracies. Fish and Game was one of them. Mike told me about his experience at Stanford Business School in the early 70's and I compared my time there in 1980 going through the Investment Management Program. We also realized that we probably met at a dinner at the St. Francis Hotel in SF put on by the then Navy football coach, Eddie Erdelatz, before we committed to USNA. We also found out we were both members of the august Black N Club. His offense was after Youngster cruise and mine during second class summer.
&nbsp The final story of the day was my recollection of one Saturday coming over to visit him and his roommate, Dan (Father) Flanagan in the "terrible 10th company." The firsties saw me coming 50 yards from their company border and were licking their chops waiting for me to enter their compound. As soon as I got in their boundary, they jumped on me. I ended up "rigging" an M-1 until my arms were no longer able to hold it up, pushed a match box down their passageway with my nose , sweated several pennies to the bulkhead and "shoved out" for several minutes before they secured me. If the terrible 10th didn't win the competition for toughest Plebe year, something is wrong.
---
&nbsp The pandemic having ruled out an in-person reunion this year, 14 members of the 4th Company participated in an online group meeting using the Zoom utility on 10 July. It was such a good experience that we agreed to hold additional meetings at six to eight-week intervals. Thanks went to Tom Meyer for hosting the event. This screen shot shows the participants in the first session. Left to right, top to bottom, are Craig Barton, Mike Shelley, Bill Graham, Mike Blackledge, Pat Wright, Harry Salmon, Dick Wyttenbach-Santos, Steve Duncan, Ron Saqui, Jim Koehn, Lou Simpleman, Ken Sanger, Mike Harman, and Tom Meyer.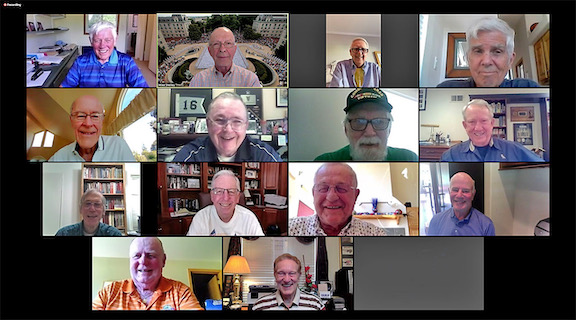 4th Company online mini reunion



&nbsp I hope other '63 companies will take advantage of Zoom or another conferencing utility for virtual meetings of their own. It's easy to do and the experience of reconnecting with your mates is more than worth the modest effort required.
---
&nbsp



---