Shipmate Column
October 2023
---
CLASS OF 1963
Pres: CAPT W. Spencer Johnson IV, USN (Ret.)
Sec'y: Michael H. Shelley
27 Cambridge DR, Brevard, NC 28712
h: 828-506-2201 e: nstar@citcom.net
Web site: http://www.usna63.org.


For any classmate you can go to the Classmates Page and enter his name to read his current biography if available.
---
---
---
&nbsp Regretfully, we begin this report with news of the deaths of three members of the Class of 1963 family. Please take a few minutes to read their obituaries in the Last Call section of our web site.

David J. Ebert died on 30 June. His widow, Lynn, can be contacted at 626 Edwards Road, Annapolis, MD 21401.
---
Frank C. Holmes died on 9 July. We do not have contact information for his next of kin.
---
Karl Kozak's wife, Marirose, passed away on 13 June. Her obituary is posted with Karl's entry in the Current Biographies section of our web site. Karl can be contacted at 850 Beech St. #1001, San Diego, CA 92101.

Phillip Marsden sent this photo taken after the 15 July service celebrating Marirose's life. Pictured surrounding Karl are Lee and Sue Cargill, Grant Telfer, Betty Ray Wilson, Lew Blackwell, Dave and Patti Meyers, Phillip Marsden, Jerry and Rowena Harken, Vern and Gail Von Sydow .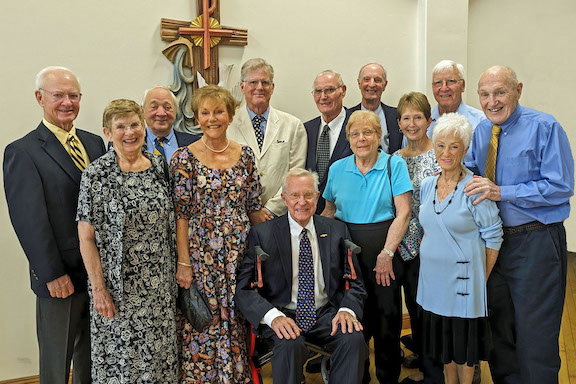 After the service for Marirose Kozak
---

&nbsp Our much anticipated 60th reunion will be held in Annapolis 19 - 22 October. It's a good idea to check the reunion page on our web site from time to time for the latest information as the reunion approaches. Among the resources there are a link to register to attend, an up-to-date list of classmates already registered, and a link to order '63 merchandise. Be sure to note the deadline for ordering.
---
&nbsp Jim Ring wrote with news about the continuing search for his USNA roommate, Jim Patterson .
&nbsp On July 1, I hosted a lunch at Army Navy Country Club in Arlington to discuss the continued search for the status of my roommate, Kelly (Jim) Patterson . His A-6 was shot down on May 19, 1967, over North Vietnam. Contact was made with him on the ground, and he indicated he had broken his leg. After a few days, there was no contact. His pilot, Red McDaniel, was captured and endured vicious beatings. Among many other medals awarded to him was the Navy Cross.

At the Army-Navy Country Club



&nbsp At the lunch, from left to right are Red McDaniel, Luck Patterson -- Jim's brother, Kenton Van Lue -- a member of Jim and Red's squadron, Mike McDaniel USNA '80 -- son of Red, Forrest Siburt, and Kent Maxfield.
&nbsp Luck told us about his lifelong search to find out what happened to Jim and the runaround he has been receiving for his search. Red and Luck also told us about their belief that not all POW's in Vietnam were returned at the end of the war. It is a very sad story.
---
&nbsp Fourteen members of the Fourth Company and three guests reunited via Zoom on 11 July for lively conversations about matters current and past. Here is a screenshot showing the participants. Left to right, top to bottom, are Doug Tozour, Mike Shelley, Tom Meyer, Mario Fiori (12), Ken Sanger, Jim Metcalfe (1), Dick Wyttenbach-Santos, Mike Blackledge, Felix DeGolian (19), Craig Barton, Steve Duncan, Lou Simpleman, Ron Saqui, Bill Graham, Pat Wright, Jim Koehn, and Harry Salmon (with a camera problem).
Fourth Company reunites via Zoom on 11 July.
---
&nbsp There is less news than usual from our classmates to share with you this month, so I hope you'll enjoy some photos from past Shipmate columns. From the fall of 1993 is this picture of Spencer Johnson in his distinctive fur coat and unique Navy pennant at a home game tailgate.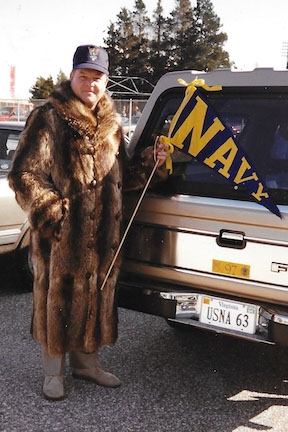 Ultimate Navy fan Spencer Johnson
---
&nbsp From the September 1993 version of June Week West, a large Navy spirit event in San Diego, came this picture of our classmates J.J. Hogan, Mike Rubel, Vern Von Sydow, and Craig Barton.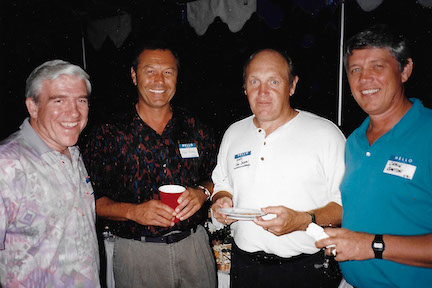 Celebrating in San Diego, 1993


.
---
&nbsp Here are three photos from the tailgate party at our 35th reunion in Annapolis in October 1998. The first shows two of our foreign national classmates, Luis Adriasola (Chile) and Gil Barbe (Belgium.) In the next picture are Phil Rooney and Rob Newton , and in the third are Ben Redd and Hoot Gibson .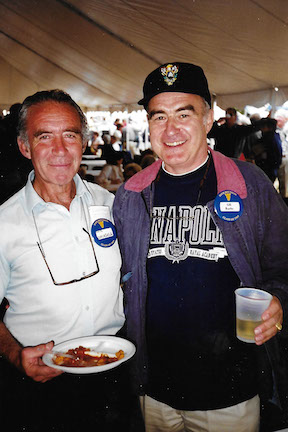 Adriasola and Barbe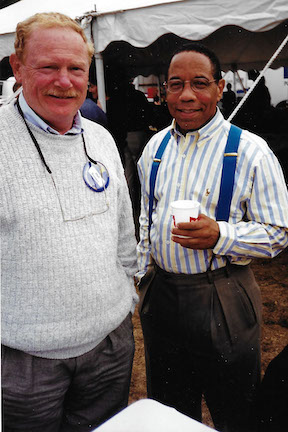 Rooney and Newton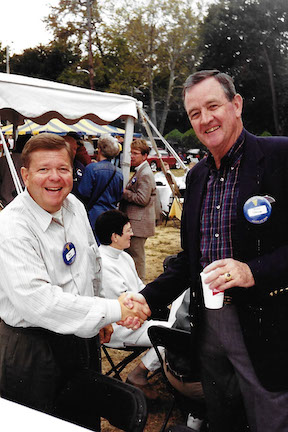 Redd and Gibson
---
&nbsp This picture of Sonny Glassner, Chet White, and Chuck Stone was taken at a well-attended '63 dinner during the weekend of the December 2005 Poinsettia Bowl in San Diego.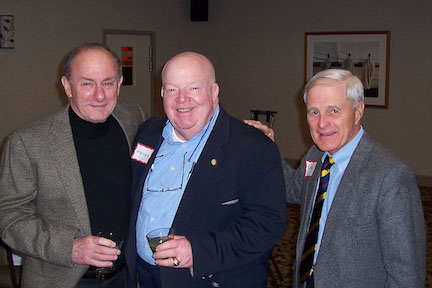 Celebrating Navy's Poinsettia Bowl victory
---
&nbsp I expect to have many pictures from our 60th reunion to share with our readers. Will you be among those whose happy faces are shown? I hope so. See you in Annapolis!



---