Shipmate Column
September-October 2015
---
CLASS OF 1963
Pres: CAPT W. Spencer Johnson IV, USN (Ret.)
Sec'y: Michael H. Shelley
164 Sweetwater Lane, Pisgah Forest, NC 28768
h: 828-862-4245 e: nstar@citcom.net
Web site: http://www.usna63.org.


For any classmate you can go to the Classmates Page and enter his name to read his current biography if available.
---
---
---
&nbsp The Summer of '15 is rushing by, or so it seems. It's a busy time for most of us with family, friends, travel, and special events. Be sure to send me news and photos to be shared with our classmates. We depend on you to keep this news exchange in business.


I am saddened to report that our classmate Gary Smith passed away on 3 July 2015 after a brief illness. His widow, Lori Kate Smith, can be contacted at 2812 Kalliam Drive, Santa Clara, CA 95951. Please review his obituary in the Last Call section of our web site by clicking HERE .
---
&nbsp Jim Fontana reports that he and several other classmates from the USNA crew team were afloat together again -- this time without oars.
&nbsp Back in 1989, nine members of the class of '63 heavyweight rowing squad, along with coach Paul Quinn, reunited on the Severn for what was to be the beginning of the Navy Masters Rowing Club. Over the next 20 years, the squad grew in numbers, added former Navy lightweight rowers, who would no longer be classified as lightweight, and expanded to include other year groups. The Club competed in masters/age-group regattas across the country, throughout Europe, and even in Australia, completing its last race at the three mile long Head of the Charles in 2008. Along the way, it established Navy Crew as the first "endowed" sport at the Naval Academy.
&nbsp In June of this year, Felix Degolian, Mike Pero, Dave Konold, Craig Thrasher, Dick Kuntz, and I got back on the water again -- only this time, with our wives in the boat with us. We took a river cruise through the Provence, Burgundy, and Beaujolais regions of France. No training regimen was required and we all weighed a few pounds more as a result of the experience. These three photos record our time together. The first shows (L-R): Degolian, Pero, Fontana, Konold, Thrasher, and Kuntz. If you look closely, you'll see that Thrasher and I are on our toes trying to match Konold's height. The second photo shows (L-R): Mike and Leslie, Felix and Mallory, Dick and Janice, Craig and Peggy, Jim and Pat, Dave and Beth.

Rowers and coxswains




Masters Rowing Club husbands and wives




Craig and Peggy Thrasher celebrating their 52nd wedding anniversary while on the cruise



---
&nbsp Phillip Marsden sent me copies of some emails relating to a grand prank at the 50th reunion of the West Point Class of 1965. As I understand the tradition, members of the 50th reunion class line the parade field to the right of the reviewing stand. On 19 May of this year, members of USMA '65 were surprised and duly impressed to see one of their own, Alex Alexander, attired in a Cadet uniform, marching as commander of company A-1, the first company in the line of march. This was not a completely new experience for him because he had commanded A-1 fifty years earlier.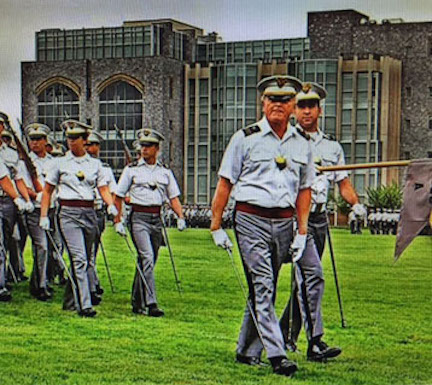 Passing in review 50 years later


The details of the prank's planning and execution were later shared with his classmates and make quite a story. I was struck by Alex's description of the 50th reunion experience. It rang in harmony with what we felt when we gathered in Annapolis two years ago and when we later reflected on that weekend. I contacted Alex to seek permission to share it with our classmates and other Shipmate readers. He graciously assented. As you read his account, you will likely be reminded of the old saying about USNA and USMA, "We're just the same, only different."
&nbsp The main activity for the reunion consisted of looking at name tags (thank goodness for name tags), and striking up a near-infinite variation of the same conversation with each person: [Glance at name tag], "Hi [whomever]...long time. What have you been up to for the last 50 years?" Like that. The conversations were all variations of the same things - career anecdotes, where are you living (where's that?), kids, grandkids, and ailments, scattered with some, "The last time I saw you was [somewhere in Viet Nam, or some such].
&nbsp It was banality on a grand scale, and you'd think it a recipe for tedium. But oddly, the recipe cooked up into something special, a re-connection, and the realization that I value these connections more than I had known, and more than all other connections other than family. And I learned, to my surprise, that the connections were anchored not so much in my memory as in my heart. I like and respect these guys, and they like and respect me, even when we hardly knew each other. (I'm only realizing this as I'm writing it, and it's blurring the letters on my screen.) These are all exceptionally good people, some of them great, none of them jerks, and each with Duty, Honor, Country deeply, deeply engraved within him, and grateful for it. And I'm one of them. I enjoy the rah-rah stuff as much as anybody, but what really touches me somewhere in my core is this connection, and the sense of belonging - almost a oneness -that comes with it. What a privilege."
---
&nbsp From Coronado, CA, came this second item from Phillip Marsden
&nbsp San Diego area classmates gathered for our annual Concert-in-the-Park on 12 July. We had a beautiful day, a lively band, and lots of gossip and sea stories to share. Our distinctive Class banner continues to draw many curious visitors including other grads, old shipmates, parents of current mids, and (always) hungry members of the Class of 2017 who were in town for summer training. Attendees included Alan and Terry McAnally, Dave and Pattie Meyers, Max and Edith Ricketts, Chuck and June Stone, Grant Telfer, Clyde Van Arsdale, Vern and Gail Von Sydow, Lew and Lynn Blackwell and their friends Ron and Linda Arndt, Maureen Hogan, Donna Kaup, Karl and Marirose Kozak, and Phillip and Martha Marsden. This photo shows the happy group beneath their proud banner.

At the annual Coronado concert



---
&nbsp Phillip also forwarded this news from Max Ricketts.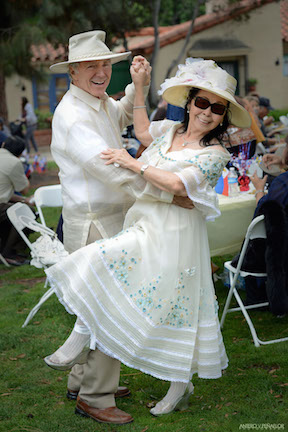 Edith and Max Ricketts
&nbsp This is a photo of Edith and me celebrating Philippine-American Friendship day in San Diego's Balboa Park on June 12, 2015. That day is also the commemoration of the declaration of Philippine Independence in Kawit, Cavite on June 12, 1898. The well-attended festivities began with the singing of the American National Anthem and saluting the American flag and, of course had wonderful music and plenty of food.
&nbsp I would also like to mention that Edith and I are proud to announce that our grandson, James Maxell Ricketts, was recently awarded a full Army ROTC scholarship at the University of San Diego. James was the president of his Mater Dei high school student body and is the youngest son of our son, Alex, who served in combat in Iraq and Afghanistan in the U.S. Army reserves Airborne and Civil Affairs.
---
&nbsp Before we end this month's column, let's take a detour into the popular culture of our youth. Doug Tozour told me of a web site that not only plays the original recording of Don McLean's popular, but enigmatic, song "American Pie" but in text and many illustrations explains most of the references in the lyrics. If you want to do some time travel and have some questions answered, click HERE. The illustrations tell much of the story of our generation from the 1950's forward.
---
&nbsp That's it for now, folks. Be safe and be well.



---