Shipmate Column
September 2002
---
CLASS OF 1963
Pres: Stephen M. Duncan
Sec'y: Michael H. Shelley
25 Sweetwater Lane, Pisgah Forest, NC 28768
h: 828-862-4245 e: Class.Secretary@USNA63.org
Web site: www.USNA63.org
Remember that you can click on any underlined Classmate's name to view his Current Biography.
---

It saddens me to begin this month's report with news of multiple deaths in our Class of 1963 family.

Marshall "Stony" Jackson died on 8 June in St. Augustine, FL. A native of Clover, SC, Marshall was a retired Naval Aviator. He worked at Grumman St. Augustine and later at Northrop Grumman, where he was a production manager. Survivors include his wife, Judy Glenn Jackson, two sons, two daughters, and a grandson. Judy can be contacted at 324-D Village Drive, St. Augustine, FL 32095-9076. Memorial contributions may be made to the Prostate Cancer Research Institute, 5777 W. Century Blvd., Suite 885, Los Angeles, CA 90045 or the Youth Mission Group at Memorial Presbyterian Church, St. Augustine, FL 32095.

In late June I received the distressing news that Jane and Bob Hecht had lost their 24-year-old son David in a tragic car accident. The Hechts can be contacted at 2077 Blairmont Drive, Pittsburgh, PA 15241.

Retired Army Colonel Roland "Curley" Fontaine passed away on 11 July after fighting his final fight with cancer. His wishes were to return to Saigon and die there as so many of his comrades in arms did. Knowing his time was near, he returned to Vietnam in early June. There he married his long time sweetheart, Thao, who was at his side along with many friends when he passed. He spent his last days at the Choray Hospital in Saigon. Curley served two tours in the Vietnam War. He returned many times after the war to seek peace within himself as well as for the people for whom he fought. Curley's remains are to be interred near his parents in Woonsocket, RI. He is survived by his daughter Michelle Cazier of Germantown, MD and son John who lives in Texas. The Class of 1963 extends its sympathies to the families of these three good men. We stand ready to assist them in any way we can, and will keep them in our thoughts and prayers.
---

Last month I reported that Dick Cherry had been located in Guam. Responding to my e-mail, Dick submitted this fascinating synopsis of his activities since graduation::
Immediately after graduation, I served aboard MULLANY (DD-528) as CIC Officer. Signed up for UDT Training and spent the remainder of service with Special Warfare Ops at PhibPac, leaving active duty in late 1969. Started civilian career with E.F. Hutton as a broker, but didn't get rich. Ended up in the tuna industry with Van Camp Seafood Company doing foreign development work. During my travels, I met an Aussie lass in Papua New Guinea and fell completely in love, which was a bit messy, as we were both married to someone else! However, we worked through the situation. I was eventually offered the presidency of a start-up fishing operation owned by B.C. Packers (Canadian) in Zamboanga, Philippines, where we built a 100 ton-a-day tuna cannery and a fleet of purse seine fishing vessels. Irene (the Aussie lass) and I were married in Manila in 1981. We left the Philippines in 1982 because they kept trying to kidnap me, and I wasn't sure anyone was going to come up with the ransom.

In 1984, I answered a Wall Street Journal ad for a food processing manager in the Western Pacific, thinking it had to be a tuna job. Turned out to be CEO of Foremost Dairies in Guam. Foremost International had just been acquired by a Dutch company and they wanted a new President. In 1989, we were transferred to Thailand as Managing Director of Foremost Dairies Bangkok, Thailand's largest dairy company. In 1992, the company was sold to Unilever and Irene and I took a year off to supervise building a Hans Christian 43-ft. yacht which we sailed back to Guam. Bored, we started a water treatment company, American Watertek, and now get to work 60-hour weeks so we can pay employees. We really love Guam, and issue a standing invite to anyone passing through.
---
&nbsp Thanks to Alex Daunis for sending this press release about one of his mates from the First Company:
&nbsp Bill Howard, Vice President of Program Management Services at Richard S. Carson & Associates Inc., has received the prestigious Minuteman Award from the Army National Guard. The award recognizes five years of meritorious service to the Army Training Division and the Distributed Learning Branch of the Guard. Mr. Howard, who received the award in December, currently manages the Carson team that provides support to the Army National Guard Distance Learning project, which brings classrooms and training applications to soldiers regardless of location. The nomination for the award cited his significant contributions to Army National Guard readiness via his work as a distributed-learning consultant. "Everyone in the program depends on his knowledge, experience and ability, and he has become the reference point for all matters related to distributed learning," the nomination stated. "The great strides made in this field would not have been possible without the unceasing effort, professionalism, and dedication of Mr. Howard."
---
&nbsp Here's a fine account from Tim Cook telling us about a classmate's journey through some very difficult times and the impending completion of a long course of treatment and recovery. It's an inspiring tale of courage and determination, bolstered by the steady support of family, friends, and USNA classmates.
&nbsp A little more than a year ago I wrote, and you published in Shipmate, the unsettling news that Dave Anderson had been diagnosed with a malignant brain tumor. I am greatly pleased to be able to give you an update that is promising indeed. I spent a week in early June with Dave and Pat in their home in Longview, WA. He is doing very well, with great hope for the future. First off, Dave has been and continues to be blown away by the outpouring of support and encouragement he has gotten from Classmates. He has received hundreds of e-mails and numerous phone calls. There is no doubt that the prayers and warm words of family, neighbors, and friends have sustained him during difficult times (which were many) and '63 has provided a huge chunk of that.

Prior to his diagnosis in May'01, Dave was the President of his own financial services company, Interwest Financial Services. His two sons, Max and John, worked alongside him and had come a long way toward learning the entire business and establishing the relationships that are so important in that field. Dave was an avid, regular, and very good golfer, and a Deacon for the St. Rose's Roman Catholic Church in Longview. He and Patty were very active in local civic affairs, and their life swirled with business, church, family ... all the good stuff.

Since the diagnosis, Dave has had surgery (The tumor was plum-sized; they got about 65 percent of it.), about two months of radiation, and alternating rounds of chemotherapy and drugs designed to build up his blood, which is ravaged by the chemo. His energy level has been very low, his balance has deteriorated due to the tumor, and his vision has "holes" in it.

Since the boys were pretty well trained already, they've stepped up and taken over the business. Dave needed, and was able, to pretty much rest, and let the drugs do their thing. But, as you can imagine, that can get pretty depressing. Dave and Patty learned an awful lot about faith, about prayer, about patience, and about what is REALLY important in life. All stuff that they had known in their heads, but now it had been filed in their hearts and souls.

Now for the good part: Just prior to my going to Longview, Dave had an MRI, and consultations with both the oncologist and the neurologist. There is NO evidence of any cancer. He was cleared to begin the final round of chemo, which should be finished by mid-August or so. All the docs have now told Dave to get up off his butt and get on with life. While I was with them, I got Dave out on the golf course twice -- once for seven holes, and two days later for nine. He's lost a lot of distance, but he hit the ball as straight as an arrow. Best of all, he glistened with the pleasure of it all. The day before I left, he and I walked about 2.2 miles around a lovely lake that dominates downtown Longview.

He has learned how to accommodate for the balance and vision problems, and the neurologist says that his balance should improve after he gets all the nasty drugs out of his system this fall. By dedicating himself to regular exercise, and by getting past the drugs, he will be back to almost normal by the end of the year, and I'm betting that his golf game will be back in the low 80s, too.

Max and John have the business well under control, and Dave is trying to imagine what he'll be doing. Given his dedication to the church and his warm skills in relationship-building, I'm hoping he'll start a local ministry of "availability" - - just being available to the men of his church and community, to talk about the hard stuff of life and to share encouragement and wisdom. But whatever it is, the experience of the past 13 months or so, especially the encouragement of Classmates, will be both fuel and foundation.
---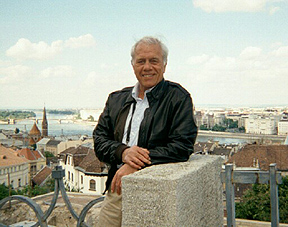 Dick Bachmann in Hungary
&nbsp Here's a nifty photo of Dick Bachmann standing on the Buda heights overlooking the Danube and the city of Pest. It was taken during his visit to Hungary last year. Dick also sent a photo showing himself and Don Freese as they arrived at the Academy on 7 July 1959. Unfortunately, it won't reproduce clearly here, which keeps you from seeing those clean-cut young men attired in coats and ties, suitcases in hand, next to a '51 Ford. Dick also submitted this poignant photo of himself underway in New York harbor on 3 September 2001.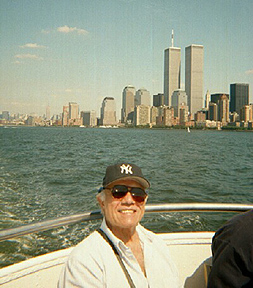 3 September 2001
---
&nbsp Jim Metcalfe continues his outstanding support of this Class of 1963 news exchange. His latest submission ranges from soccer and lacrosse to ambulances, though there is no direct connection between them.
&nbsp The Norfolk Virginian-Pilot of 7 June highlighted Dick Whalen's direction of the North American Sand Soccer Championships held annually in Virginia Beach. Dick launched the championships in 1994 with 26 teams and 2000 participants. This June there were 546 teams and 5000 players. The paper had a great color photo showing a well tanned and fit Dick Whalen tossing a soccer ball at the beach. He has all his hair and it appears to be its original color. Not bad for a '63 guy!

The paper notes that what is really a full-time, year-round job is done by Dick in his "spare" time. He is Director of Military Activities at Old Dominion University, a job for which he was a perfect match. He retired as the Navy head of ROTC in Hampton Roads in 1993 (which includes units at ODU, Hampton University, and Norfolk State). The article called Dick "Mr. Soccer," noting that he has done much to raise the profile of Virginia Beach high school soccer programs and was for six years president of the Beach F.C. club organization in addition to founding and directing the National Sand Soccer tournament. The paper also noted that Dick and Marti celebrated their 38th wedding anniversary on 6 June. They also contributed three fine sons to the soccer game. Scott, USNA '93, played at the Academy. After leaving the Navy, Scott went with a defense contractor and he, his wife, and their son live in Northern Virginia. Todd, who was All- State in Virginia, graduated from UVA in 1990 where he was in the NROTC with our son Jim. Todd became nuclear qualified (surface). He has just received an advanced degree at MIT and is headed for department head school in Newport, RI. He and his wife have a little girl. Matt, at 25 the youngest, was both a soccer and a basketball star. He graduated from Virginia Tech and is employed locally. He helps his father with the tournament. Marti teaches at Virginia Beach Friends School with my wife, Lisa.

In May our daughter Megan, her husband David, and our grandson Matthew flew in from London and met us in Culver, IN, for Megan's 15th reunion from Culver Girls Academy (and my 43d from Culver Military Academy). On the way out and back we stopped to visit with Linda and Miles Schmidt , Megan's Godfather, in Troy, OH. Miles is very busy with running Horton Emergency Vehicles, a company he invested in a few years ago. It is one of the premier manufacturers of ambulances in the U.S. with major sales also to the Mideast (The Europeans usually buy smaller vehicles.). The past year has been particularly hectic because the company has been filling an emergency order to replace a very large number of New York ambulances that were destroyed in the terrorists' attacks on the World Trade Center. On our way by Columbus, we stopped by and got a tour of the plant. It was very impressive to see what a first- class manufacturing plant Miles has. Here is a picture of Megan, Davis, Matthew, and a very proud grandfather standing in front of one of the ambulances. Unfortunately, Miles was engaged with a customer and missed the photo-op.

Visiting the ambulance assembly plant

Linda is still active with the library. Their sons Charlie and Ian have both graduated from college and are gainfully employed. Three of us from CMA '59 were sworn in on 7 July 1959 in Annapolis. Tom Reemelin and Fred Wielandt were the other two. Fred left at the end of youngster summer. He was commissioned in the Navy after graduating from Indiana University. He became a Naval Flight Officer and his last tours were in the S-3 Viking community in San Diego. He retired from the Navy as a commander and lives in Coronado.

Tom and Fran are often seen in Annapolis and Northern Virginia at class gatherings and athletic events (Tom lettered in lacrosse at USNA). He is the director of athletics or some such title at Ft. Belvoir where his job requires him to play golf and racquet ball regularly. At Culver I saw Tom's name and picture in the halls of honor. He played on the last undefeated Culver football team and was awarded the medal for highest honors in athletics and academics. He was seen by one of our CMA classmates in Washington, DC, when the Culver square rigged sailing vessel LEDBETTER visited in May to celebrate the 100th anniversary of the Culver Summer Naval School, which has a long connection with USNA and has been headed by several distinguished USNA grads.
---
&nbsp Please give your attention to this communication to all of us from Pete Optekar's brother David:
&nbsp Last year you were gracious enough to present a letter of request to the USNA Class of 63, drafted by my brother Pete, asking for help with a project I was undertaking in Russia. We did in fact receive support from your classmates for which I am extremely grateful. Unfortunately, our program did not receive full funding so it was postponed. I am writing to you to let you know that I recently received a Fulbright Scholarship from the U.S. State Department that along with your donations will allow us to carry out our drug and alcohol program in St. Petersburg, Russia, this Fall 2002. We are extremely pleased and wanted to let you know the value of your support. While in Russia I will be keeping in touch with our supporters from time to time just to let them know about our project. I hope to have some news for the Class of 63 that will be of special interest. Once again, I thank you and your classmates for your support and confidence in our project. Sincerely, David Optekar, President, Center for Russian-American Behavioral Studies, Inc
---
&nbsp Bob Maier submitted a photo and some interesting news about his sons, both of whom are USNA graduates.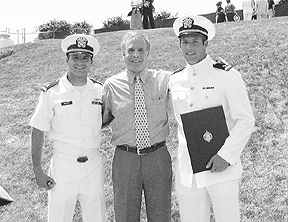 Bob Maier and sons after USNA graduation
&nbsp I've attached a picture of the Maier clan taken at the Class of '02 graduation: Steve '93, Bob '63, and Mike '02. Seems to me we must be approaching the last of '63's offspring at the Academy. My next contribution will have to be Steve's son, class of '22! Steve looked like a new Ensign, but then got many double-takes with his Medical Officer insignia and Dolphins. He's now a third-year medical student at the USUHS School of Medicine in Bethesda. He had to revert to Ensign to participate in the program after spending a couple of tours in the silent service. Mike will be teaching sailing at USNA this summer, then heading to Pensacola for flight training -- the tradition continues.

The week after the '02 graduation my youngest daughter married, and Karen and Art Weidner came down from Maine for the ceremony. We had a great time catching up. Jane and I are settling into our new home in Reston, VA, and the guest room light is lit.

As my license plate states, BT RMY. The number of thumbs-up and thumbs-down I get as I drive the beltway is amazing.
&nbsp Bob has worked at Analytic Services Inc.(ANSER) in Shirlington, VA, for the last five years, and his wife Jane is a consultant with Booz Allen in Tyson's Corner.
---

I came across this definition recently, "Old age is when your classmates are so gray and wrinkled and blind that they don't recognize you." Fortunately, we're not there yet. Not even close.

Let me hear from you soon, folks!

QUALITY-'63
---
---
This page is
Shipmate:
September 2002

---

posted on:
17 July 2002
Shipmate columns:
Navigate to:

Shipmate Index

Wardroom


Plan of the Day

Site Map

USNA63