Shipmate Column
September 2019
---
CLASS OF 1963
Pres: CAPT W. Spencer Johnson IV, USN (Ret.)
Sec'y: Michael H. Shelley
164 Sweetwater Lane, Pisgah Forest, NC 28768
h: 828-506-2201 e: nstar@citcom.net
Web site: http://www.usna63.org.


For any classmate you can go to the Classmates Page and enter his name to read his current biography if available.
---
---
---
&nbsp We begin this month by honoring the memory of two of our classmates who left us in June.

We learned that Joseph B. Clancy died in Holland on 8 June. His widow, Louise, can be contacted at G. Mitsaki 30, Porto Rafti 19003, Greece.
---
Joseph C. Strasser passed away on 21 June. Joe's widow, Barbara, can be contacted at 66 Devalinder Drive, Newark, DE 19702.
---
&nbsp Keeping up with "our ship," here is some text copied from a Navy news release.
&nbsp On June 17, the crew of the guided missile destroyer USS FITZGERALD (DDG 62) unveiled a commemorative flag honoring the Sailors who died in a collision in the Sea of Japan two years ago.



Designed by current crewmembers, the flag memorializes their seven fallen shipmates. The flag is blue with "Don't give up the ship" emblazoned above the names of the seven Sailors. The motto is a common Navy phrase, but all FITZGERALD Sailors embodied that spirit on June 17, 2017 when they fought significant flooding and structural damage following the collision. The FITZGERALD crew held a solemn remembrance ceremony and raised the flag immediately after morning colors.
&nbsp "I am proud of this flag and proud of our shipmates who helped design it, as it is a product of respect and professionalism that symbolizes their great service and sacrifice," said Cmdr. Garrett Miller, FITZGERALD commanding officer, who unfurled the commemorative flag for the first time.
&nbsp In addition, the National Ensign and Union Jack were raised on the ship for the first time since November 2017. "FITZGERALD's crew designed this flag from scratch as a way to embody those shipmates we lost," said Cmdr. Scott Wilbur, FITZGERALD's executive officer. "It will be flown every year on 17 June to honor them and to never forget their sacrifice."
&nbsp On April 16, FITZGERALD took another step toward returning to the fleet. The ship launched and moored pierside at Huntington-Ingalls Industries - Ingalls Shipbuilding shipyard.
---
&nbsp Steve Duncan checked in with me to share exciting news about two of his grandsons who were together in the NROTC program at the University of Virginia in Charlottesville. Ensign Tyler White and his brother, Midshipman 3/c Tristan White, were together in the unit for the 2018-19 academic year. Their parents are Kelly Duncan White and Kyle White, both members of the USNA Class of 1990. This is an excerpt from Steve's report:
&nbsp Here are three photos from the commissioning ceremonies on 17 May. One of them shows me administering the Oath of Office to Tyler, just as I did to Kelly at the Academy some 29 years earlier. Tyler's degree from the University of Virginia was in Chemical Engineering. He's on Temporary Duty until he reports to Pensacola to commence his Naval Aviation career in August. Tristan is interested in Cyber Security, so he plans on a major at UVA in Computer Science. He is currently engaged in his summer training at NAS Coronado and Camp Pendleton.

The Oath of Office




Steve and his grandsons




Tristan White, Natalie and Steve Duncan, Tyler White



---
&nbsp The inurnment service for our classmate Denny Tomlin was held at the Naval Academy Columbarium on 5 June, coincidentally the 56th anniversary of our graduation. Nine of Denny's 16th Company classmates attended and are shown in the photo below. Left to right are Erwin (Fred) Storz, Cliff Barney, David deHoll, Paul Revere, Rich Weidman, Jack Fischer, Joel Warshaw, Jim Ring, and Lee Cargill. They were joined by several other members of our class. In the larger group are Steve Duncan, Erwin Storz, Cliff Barney, David deHoll, Spencer Johnson, Paul Revere, Jack Fischer, Jim Ring, Lee Cargill, Jim Czerwonky, Forrest Siburt, Mario Fiori, Rich Weidman, and Joel Warshaw. Thanks to Edna Barney for being the photographer.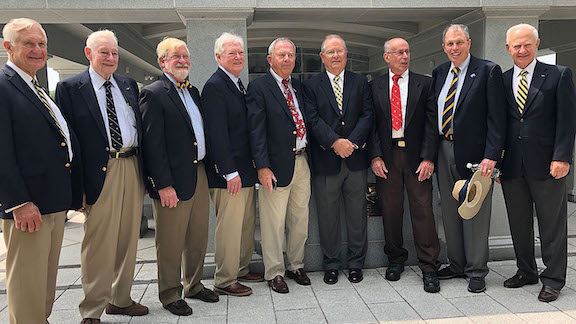 16th Company at the USNA Columbarium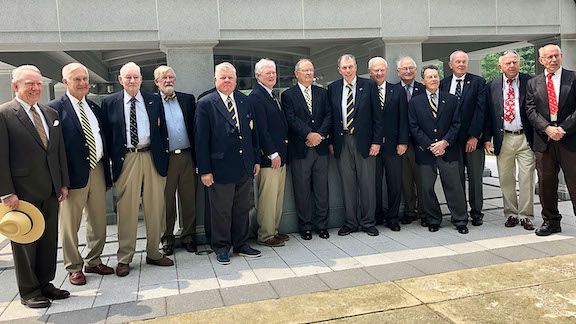 Class of 1963 attendees






&nbsp It's a fine coincidence that Denny's niche is next to the one assigned to our classmate Julian "Skip" Wright.
---
&nbsp Watt Miles has been in contact with his 5th Company mate Rob Harrison and has news to share with us.
&nbsp If memory serves, Rob went into Rickover's Navy and was serving in subs when the Navy opened up a program for serving officers to apply for med school. He did and was accepted. Rickover, to punish Rob for such apostasy, ordered that he be suspended from all duties. Said officer served said punishment catching up on studies required for med students and not offered at USNA. Rob completed a career in the Medical Corps. He sent me this email describing his current activities:
&nbsp "We have been here in Hope Valley, RI, almost 20 years. Sharon and I are doing well- we have been blessed by God with relatively good health, 10 grandchildren and two great-grandchildren! The latter really makes me feel old! However, I went paddle boarding (stand up type) on our river yesterday and had a great time!
&nbsp As for retirement, I no longer do strict medical care, but am working 16 hours a week for the hospital in a grant funded position as Program Director of Washington County Zero Suicide Program. We got a SAMHSA (Federal) $2 million grant over five years to attack the suicide crisis. Suicide is the second leading cause of death in 10 to 34-year old's in our nation, and the 10th leading cause in all ages. I instruct Youth Mental Health First Aid which teaches any adult how to recognize that a young person may be experiencing a mental health challenge and provides an action plan to use to get help for them. It is a national program great for anyone involved with youth ages 12 to18. Every year 22.2 percent of our youth have a diagnosable mental health challenge. Check it out mentalhealthfirstaid.org. Great training every adult needs!
&nbsp I also instruct QPR -- a suicide prevention training helping any adult recognize the signs someone may be suicidal and how to ask the Question, Persuade the person to get help, and make the Referral to the best resource. Anyone trained this way can help save a life.
&nbsp That's probably way more than you wanted to know about what I am doing, but there it is."
---
&nbsp It was a treat to receive a note and these great photographs from White Stone, VA, resident Alan Merkel.
&nbsp I recently completed an item high on my bucket list when I drove my 1930 Cadillac V-16 convertible on Skyline Drive in the Blue Ridge Mountains of Virginia. My son Matthew and granddaughter Christina joined me on the trip. I spent 25 years restoring the car from 1985 to 2010, performing the work myself with the exception of the top and the upholstery. Since completing it in 2010 I have driven it nearly 5,000 miles.

Alan Merkel and his granddaughter with his 1930 Cadillac V-16




At Stratford Hall, General Robert E. Lee's birthplace




A license plate "topper" that attracts comments from Naval Academy people and others



---
&nbsp While doing some spring cleaning, Jim Oakes uncovered a stash of Naval Academy artifacts including his "steam kit," shoe trees with his initials and laundry number, some other objects, and his well-used (abused?) copy of Reef Points. Still inside the front cover are a piece of string, a pencil, a tack, and a cigarette wrapped in a piece of aluminum foil. My own copy contains several eclectic objects, required in case an upperclassman might need something. Was there a standard set of required extras? Do you still have your copy of Reef Points, and what do you remember about carrying and using it?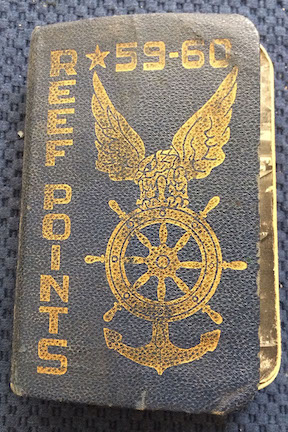 Jim Oakes' copy of Reef Points.
---
&nbsp Have a fine summer and be sure to send me some news about yourself and any of our classmates you encounter.



---