Shipmate Column
September 2022
---
CLASS OF 1963
Pres: CAPT W. Spencer Johnson IV, USN (Ret.)
Sec'y: Michael H. Shelley
27 Cambridge DR, Brevard, NC 28712
h: 828-506-2201 e: nstar@citcom.net
Web site: http://www.usna63.org.


For any classmate you can go to the Classmates Page and enter his name to read his current biography if available.
---
---
---
&nbsp As I prepare this column in late June I am reminded that this is a time to be aware of calendar days and passing years. On 5 June we arrived at the 59th anniversary of our graduation from the Naval Academy. The 63rd anniversary of the formation of the Quality Class of 1963 on Induction Day, 7 July 1959, will come soon. Induction Day for the Class of 2026(!) was conducted on 30 June.
---
&nbsp We were saddened to learn of the recent deaths of four of our classmates who are noted briefly below. Please be sure to visit the Last Call section of our web site to see their obituaries and current biography entries.

Thomas R. Green passed away on 9 May 2022. His widow, Donna, can be contacted at 2413 Craghead Lane, Knoxville, TN 37920.
---
Drake C. Hawkins died on 19 May 2022. Drake's widow, Joanne, can be contacted at 16061 Avenida Venusto, San Diego, CA 92128-3222.
---
Donald L. Reeves passed away on 22 June 2022. Don's widow, Louise, can be contacted at 1925 Clifford St, Apt 701, Fort Myers, FL 33901-3257.
---
John G. "Wink" Wilkinson died on 22 May. His companion, Carol Davisson, can be contacted at 717 Maiden Choice Lane, Apt. ST120, Catonsville, MD 21228.
---
&nbsp Jim Ring submitted this photo of classmates and ladies taken this June at the Naval Academy columbarium following the inurnment ceremony for their 16th Companymate, Jack Dranttel. Pictured (L-R) are Erwin and Kathy Storz, Edna and Cliff Barney, Jack Fischer, Mary Jo Dranttel, Rich Weidman, Sandy Mullen (Mike Mullen's widow), and Jim and Kate Ring .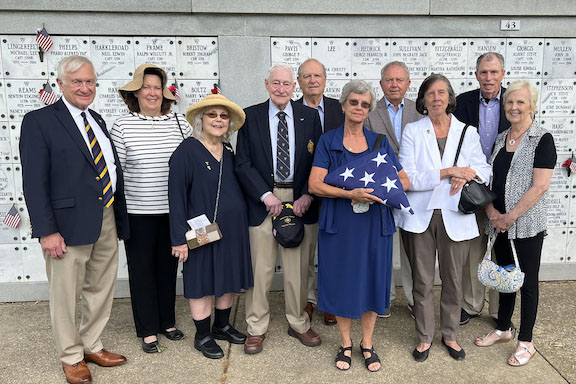 At the USNA columbarium
---
&nbsp Here's some especially good news from Ken Sanger in northern Idaho.
&nbsp After a 10-year dating period, Dawn Leeds and I were married on May 18th. The small ceremony was performed at a former neighbor's house in Sandpoint, Idaho. Officiating was the former neighbor who is a friend and District Judge. The next day, we began moving from our house in the Idaho Club near Sandpoint to another house in the Idaho Club, about a half mile away as the crow flies. We needed to upsize. At the rate we are progressing, we should be fully moved in by Thanksgiving! A short move is more difficult than a long one!

The marriage ceremony for Ken Sanger and Dawn Leeds




Dawn and Ken



---
&nbsp I received emails this month from two of our classmates I haven't heard from in a while. I'm happy they took the time to check in. The first to write was Nick Sim, who wrote to catch up with me and tell about his new location in Rockville, MD.
&nbsp I am living in a very friendly independent living facility called Ingleside at King Farm with the love of my life, Caroline Jane Turner. I have known Caroline for a little over 10 years. We met, of all places, on Match.com, which does work! We lived our first 9-plus years in her home in Garrett Park, MD, and moved to Ingleside about seven months ago. We are both in quite good health for our age. We chose to move while in good health rather than wait until we "had" to move. They take good care of us here, with a comfortable apartment, excellent dining, lots of activities, and a very pleasant group of about 500 residents. We still do a lot of things outside of Ingleside, such as our Sunday Date Night dinner and exploring the neighborhood on my morning walks (every day!).

Nick Sim and Caroline Turner



---
&nbsp The second correspondent was Ron Wills , submitting a family photo representing three Navy warfare communities.
&nbsp I have not written to Shipmate in years, and I think a brief update is in order. I have graduate degrees from the University of Delaware, one in Mechanical Engineering and one in Business Administration.   But I will for sure be rooting for Navy and not the Blue Hens in their football contest this September.  I share Navy football season tickets with Bob Bennett and Bill Witcraft .  
&nbsp Here is a photo from the University of Washington June 10 NROTC commissioning ceremony for 21 graduates.  The photo shows three generations of Navy guys:  Edward Wills USNA '93, Trevor Wills UW '22 and Ronald Wills USNA '63.  Trevor received his BS in Mechanical Engineering Sunday June 12.  He is headed to Pensacola in the fall.  If successful, we will have a submariner (Ed), a tin can sailor (Ron), and an aviator (Trevor) in the family.  

Three generations of the Wills family



---
&nbsp Shipmate readers, I encourage you to follow the good examples set by Nick and Ron by sending me a note about what you've been up to lately. Your classmates will enjoy reading about your activities and other news you share.
---
&nbsp Our classmates continue to take advantage of Zoom to hold USNA company "reunions." Jim Lasswell sent this news and a photo of his companymates during their Zoom session in late May.
&nbsp We just had another 14th Company Zoom meeting. We started this several years ago when Don Palen introduced these meetings. We now do 5-6 sessions per year and usually have 9-10 classmates in attendance. As you can see, we actually have a couple of classmates with hair. Seen in this screenshot are left to right, top to bottom: Merrill Dorman, Jim Lasswell, Larry Atkinson, Jim Fisher, Andy Curtin, Chuck O'Leary, Ed Brady, "Scotty" Scott, Tony Isger, and Dave Moore

14th Company Zoom meeting in late May


.
---
&nbsp Thirteen members of the 4th Company enjoyed a lively Zoom meeting on 28 June. This screenshot shows (L-R, T-B) Tom Meyer, Mike Shelley, Jim Koehn, Mike Blackledge, Doug Tozour, George Grider, Jack Carroll, Pat Wright, Ken Sanger, Ron Saqui, Craig Barton, Steve Duncan, and Dick Wyttenbach . We began these virtual meetings during the pandemic and plan to have at least two more Zoom sessions this year.



---

&nbsp Here's your come-around question for this month: During our years at USNA, what were the restrictions on alcohol consumption by Midshipmen? Specifically, how far from the Academy did a Midshipman have to be before alcoholic beverages were permitted? You may recall seeing the framed map on the wall outside the Main Office near the rotunda in Bancroft Hall.   There was a circle drawn on the map, centered on the Academy, to indicate the prohibited area. What was the radius of the circle: five miles, seven miles, ten miles?
&nbsp I raise this question after learning that Jim Koehn had seen an internet discussion about this on Facebook. He sent an inquiry to a USNA Alumni Association staff member, but nothing could be confirmed after conferring with alumni of various classes, though a seven-mile circle was the most common answer. One person recalled that there had been a Maryland State law against selling alcoholic beverages to Midshipmen within X miles of the Academy. What do you remember about this?
&nbsp I am sure that as Midshipmen we were acutely aware of the boundary and many of us knew exactly where the roads leading out of Annapolis crossed it. Sometimes, though, we broke the rules. The 18th Company Christmas party our 1/c year is an example of rule breaking that turned out badly for the transgressors but became a legend. You can read an entertaining account of the party and its aftermath in the Pride and Tradition: Memories section of our web site[ by clicking HERE
---
&nbsp That's all we have for this month. Keep in touch!



---