Shipmate Column
MemberServe 2012
---
CLASS OF 1963
Pres: CAPT W. Spencer Johnson IV, USN (Ret.)
Sec'y: Michael H. Shelley
164 Sweetwater Lane, Pisgah Forest, NC 28768
h: 828-862-4245 e: nstar@citcom.net
Web site: http://www.usna63.org.


For any classmate you can go to the Classmates Page and enter his name to read his current biography if available.
---
---
---

&nbsp With regret, I begin this report with the news that we have lost another classmate. We mourn the passing of James Joseph "J.J." Hogan, who died on 6 June as a result of complications from a stroke he suffered last year. His widow, Maureen, can be contacted at 3508 Rolling Hills Lane, Bonita, CA 92002.
---
&nbsp Here is another photo from the Class of 2013 Ring Dance on 19 May. It was submitted by Daryl Rabert, who said, "This shows three of the "Old" Corps guys, Jim Lloyd , Walt Breede, and myself. We may be old, but we're not tired." Although it may look like it, these jungle fighters did not wear tropical print jackets that evening. Those colorful patterns were projected by one of the "atmosphere lights" installed at the dance.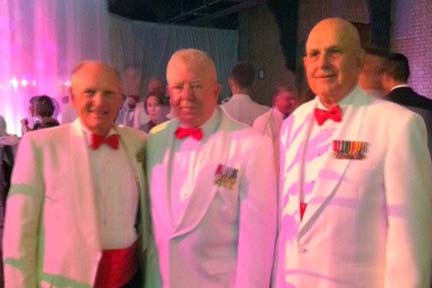 Rabert, Breede, and Lloyd
---
&nbsp Jack Hood sent this timely, illustrated email in early June:
&nbsp Approximately 35 academy grads and their wives met in Rapid City, SD, on May 26th to start a nine-day tour titled "National Parks and Lodges of the Old West." Classes from '58 through '69 were represented with three alumni from the class of 1963. Susan and Pete Deutermann, Pat and Jim Fontana, and Ginger and Jack Hood were the '63 contingent. We traveled through the Badlands, Custer State Park, Crazy Horse Memorial, Mount Rushmore, Spearfish Canyon, Cody, WY, entered Yellowstone National Park from Montana, and ended up riding through Grand Teton National Park to Jackson, WY, where a few ended the trip with a raft trip down the Snake River. The scenery was breathtaking and wildlife was abundant. Buffalo, grizzly bear, black bear, deer, elk, pronghorn antelope, rocky mountain sheep, coyote, beaver, and trumpeter swan were seen on the trip. The lodges such as Lake Yellowstone Hotel and Old Faithful Inn were spectacular with the meals superb and fattening. Needless to say, several hours of happy hour with much telling of sea stories were enjoyed. For Ginger and me, the last day checked off our bucket list item of a final visit to the Grand Tetons. All in all, the trip was totally enjoyable with lots of new alumni friendships forged. An added plus was the addition of several University of Penn alumni who fit right in with the USNA group. The tour company, Orbridge, is going to repeat this tour in the future and all three classmates would highly recommend it as a first class experience.

Hood, Deutermann, and Fontana




Pat and Jim Fontana, Susan and Pete Deutermann, and Ginger and Jack Hood



---
&nbsp A component of our campaign to raise funds for the Naval Academy's Class of 1963 Center for Academic Excellence (63CAE) is a raffle offering three very desirable prizes. The Grand Prize winner of the drawing, to be conducted during our 50th Reunion in October 2013, will receive a complete set of twelve Staffordshire Blue place settings of antique Wedgwood Naval Academy plates, cups, saucers, and bread plates donated by Kathy and Mike Krause. Remarkable prizes in addition to the china will be a weekend for two couples at Sheila and Mike Bonsignore's home in Santa Barbara, CA, and a bottle of Chateau Lafite Rothschild from the exceptional Bordeaux vintage of 2000 donated by Sandy and Ken Metviner. The value of each of these raffle items is in excess of $3,000. A total of 1,000 raffle tickets will be sold at $50.00 each. All proceeds from the raffle will support the Class of 1963 Center for Academic Excellence. A colorful brochure about the raffle and the prizes can be seen by clicking HERE. For a raffle entry form, click HERE .
---
&nbsp Paul Tobin sent this picture of his Second Company mate Al Key and himself enjoying the view from Al's home on Mobile Bay. Doesn't that water look inviting?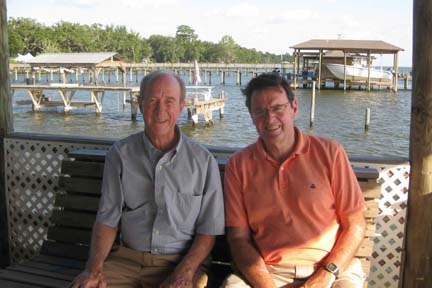 Key and Tobin
---
&nbsp Mike Cronin has been awarded the Daughters of the American Revolution Medal of Honor, an honor conferred on a U.S. citizen showing extraordinary leadership, trustworthiness, service, and patriotism. He received the award at the DAR Maryland State Conference in Baltimore on 24 March.
&nbsp In nominating Mike for the award, the Hungerford's Tavern Chapter of the DAR (Potomac, MD) stated, "Captain Cronin made a lasting contribution to American heritage through his service as Navy pilot during the Vietnam War, his courageous and valiant record as a U.S. POW, and for having conceived the idea and working to pass the War Crimes Act of 1996, which states that any war crimes committed to or by a U.S. Armed Services member or U.S. national are federal crimes as required by the Geneva Conventions."
&nbsp Mike was a POW in North Vietnam for six years. His decorations include two Silver Stars, the Legion of Merit, the Distinguished Flying Cross, four Bronze Stars, and two Purple Hearts.
&nbsp This photo shows Mike receiving the award. His wife Jackie is at the left.
Mike Cronin is honored by the DAR



&nbsp (Thanks to Jim Ring for supplying the photo and news about Mike.)
---

&nbsp Frank Hilton forwarded this photo from a New York Social Diary web page showing Ron Terwilliger speaking at an "I Have A Dream" Foundation gala in New York City on 5 June. The "I Have A Dream" Foundation empowers children in low-income communities to achieve higher education and fulfill their leadership potential by providing them with guaranteed tuition support and equipping them with the skills, knowledge, and habits they need to gain entry to higher education and succeed in college and beyond.
---
&nbsp And so you come quickly to the end of this month's report. It is awfully brief, not at all like our usual news exchange. We rely on audience participation, so take a minute (that's all that you need) to send me some news about yourself and our classmates. We'll all be glad when you do that!
&nbsp Have a terrific summer, folks!



---