Shipmate Column
Stewardship 2013
---
CLASS OF 1963
Pres: CAPT W. Spencer Johnson IV, USN (Ret.)
Sec'y: Michael H. Shelley
164 Sweetwater Lane, Pisgah Forest, NC 28768
h: 828-862-4245 e: nstar@citcom.net
Web site: http://www.usna63.org.


For any classmate you can go to the Classmates Page and enter his name to read his current biography if available.
---
---

&nbsp I regret to report that our classmate Jim Kuneman passed away on February 16. He had been predeceased by his wife. His daughter, Lisa, can be contacted at 7 Stewart Place, Brattleboro, VT 05301. She is looking for information about Jim's active duty career. If you can help, please contact me at nstar@citcom.net and I'll put you in touch with her by email.
---

&nbsp As you firm up your travel plans for our 50th Reunion this October, you should be aware of a change in the previously announced schedule of events for that weekend. For reasons we could not control, the Class of 1963 memorial service cannot occur on Friday morning. Instead, it will be held at 1:00 PM on Sunday, 27 October, in the Naval Academy Chapel. Reunion registration materials will be mailed to you in March.
---

&nbsp Have you made your contribution to our legacy gift to the Class of 1963 Center for Academic Excellence at USNA? Here is some information about our campaign from Fundraising Chair Ken Metviner:
&nbsp Thanks to all who are participating in the Color Company Competition. The winning Company will be honored at our 50th reunion. There is still time to participate and honor the memory of your deceased Companymates. There is still time, as well, to buy a raffle ticket, limited to 1,000 chances. There are many great prizes. Qualified gifts and pledges get your name on the Striper Recognition Plaque at the 63CAE. There is exciting news about estate planning: we now have an endowment fund to sustain the 63CAE in perpetuity. Thanks to Mel Bunnell for starting this. Get more info from your Company Rep (webmaster) or online in the Foundation section of USNA63.org.
&nbsp I am sure you will be interested in this note from Dick Jones about his recent visit to the 63CAE.
&nbsp I stopped by the CAE on February 20 to "look in on our investment" as I tell them. I spent ten minutes or so with the Director, Dr. Bruce Bukowski. He told me of a new trial program they are implementing that has to do with reading. It has been used at both Army and Air Force for some time. Dr. Bukowski was concerned as to how the program would be received by the midshipmen when it was introduced to them by email at 2200 on Tuesday night. He was hoping for enough applications to confirm that the program would be well received and worthwhile. By approximately 1030 the following day, which was when I stopped in and we talked, they had received over 250 applications from the midshipmen. I was impressed and thought that you all would find it of interest. They are also getting more and more interest from repeat participants who are now upper classmen.
---
&nbsp Each winter, the Naval Academy Alumni Association holds a series of Battalion Receptions for members of the First Class. As the senior class in the Another Link in the Chain (ALITC) program, we have been invited to participate in these events for the Class of 2013. Here are some photos from the receptions at Alumni House in January and February.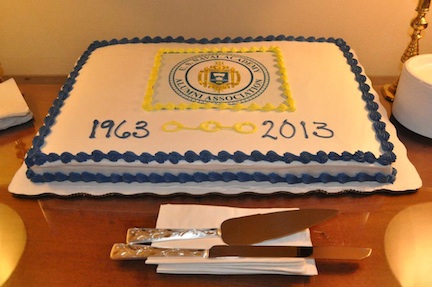 An appropriately decorated cake is prepared for each of the receptions.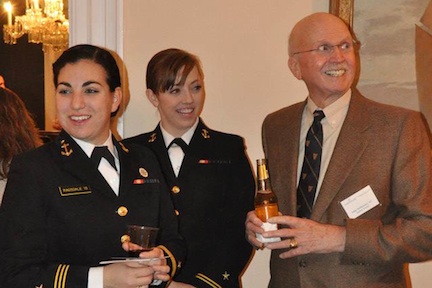 January: Wink Wilkinson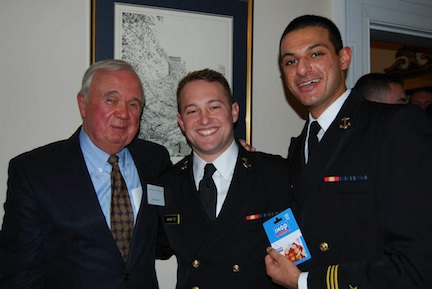 January: Eli Dabich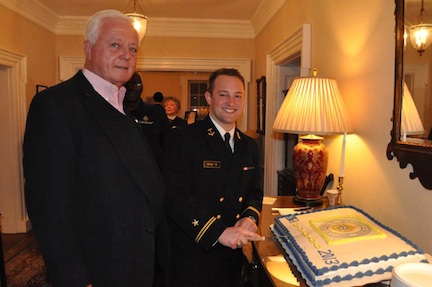 January: Dick Jones and 2013 President John Rex Spivey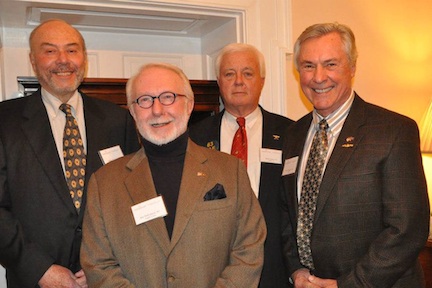 February: Mike Krause, Jim DeFrancia, Dick Jones, Ron Klemick



&nbsp One of the attendees, Mike Krause, sent an email to report that
&nbsp Jim DeFrancia made an excellent speech to the Sixth Battalion Midshipmen at Ogle Hall on February 21 after a buffet dinner of pretty good Mexican Food. We -- Ron, Dick, Jim, and me -- who represented the class were very impressed with our Legacy Class who have picked up the mantle in support of the Center for Academic Excellence. Ron has done a fantastic job of building the ALITC program far beyond its original concept and Jim's presentation was very well received by all those present. Well done and BZ!
&nbsp Mike also mentioned that a video of Jim's talk has been posted on the YouTube web site. You can see it by clicking HERE or by searching "Link in the Chain USNA 2013" on YouTube. It was a very good presentation and I'm sure you'll enjoy seeing it.
&nbsp Many more photos of the February reception have been posted on the Alumni Association's Facebook page and can be seen by clicking HERE
---
&nbsp Readers of our Shipmate columns are aware that Phillip Marsden is the most prolific contributor of news and photos for your enjoyment. He seems always to be in motion somewhere, and rarely without a camera in hand. (It has been said that if you see a camera anywhere, the odds are better than even that Phillip is attached to it.)
&nbsp Vern Von Sydow sent this account of a pleasant social evening enjoyed by some of our Southern California classmates and their ladies. A surprise presentation to CDR Marsden was a highlight of the event.
&nbsp Our Socal/San Diego USNA 63 group had a social gathering at the Fish Market Restaurant after an enjoyable cocktail hour hosted by Marirose and Karl Kozak in their beautiful downtown condo. Attending were Maureen Hogan, Bill and Dottie Hughes, Jim and Pat Fontana, Rich and Betty Ray Wilson, Donna Kaup, John and Terri Ryan, Jim and Sandi Thornton, Dave and Patti Meyers, Phillip Marsden, Lee and Sue Cargill, Vern and Gail Von Sydow, John and Betty Middleton, and Chuck and June Stone.
&nbsp Phillip Marsden has been the momentum that has made the USNA 63 Socal group so dynamic, meaningful, and fun. In this picture, he is being recognized for his outstanding contributions and leadership -- a very, very small token our appreciation for all he has done.

Marsden and Von Sydow



&nbsp The framed certificate reads, "USNA Class of 1963 of Southern California is proud to present a Certificate of Appreciation to Phillip Marsden for exceptional support, camaraderie, team building, and work ethic that you have provided to the Class of 1963 over many, many years. Thank you!"
---
&nbsp Jack Hood sent this note from his home in Mason City, IA, in late January to bring us up to date on his status and plans for an active year ahead.
&nbsp Just a short update to let you know that I am still kicking, albeit a step or two slower. I am attempting to become the class bionic man with more artificial parts. So far, I have two eye lenses, two knees, and added a hip two weeks ago. Am back to a cane, though, and relatively pain free which is a major improvement. I needed to get that over with so I could start two months of radiation for prostate cancer which they say has an excellent prognosis for cure or at least a lot more longevity. Our plans have not slowed, however.
&nbsp Ginger and I have our June reservations at the Marine Memorial in San Francisco for our 50th anniversary, plan on another USNA/Obridge tour to the southwest in September, and have our reservations with the Ninth Company for the 50th in Annapolis in October. With our winters I am lucky to be in our co-op with no stairs, plenty of room to walk and exercise indoors, and the inside heated garage. My only major concession is that after 25 years I have to admit that I no longer need, or can even drive, my 4WD truck with a stick shift. Am picking up a more sensible Honda that is not only a lot lower but has automatic. If that is my only concession at 73 that is not too bad. We are both looking forward to seeing everyone in October.
---
&nbsp In last month's Shipmate, I encouraged everyone to submit or update their Current Biography for our web site. An encouraging number of our classmates responded, but some of you apparently have procrastinated. The 50th Reunion is fast approaching, and this is the time to get on board with us! As a reminder, here is the text that appeared last month:
&nbsp There have been inquiries as to whether or not we will produce a 50th Reunion biographical directory. Rather than being burdened by the difficult logistics and high costs of such a publication, we will rely on individuals' contributions to the Current Biographies section of our web site. Over the past several years, more than 300 of our classmates have submitted their information, and I urge you to join them. When you browse through the biographies by clicking HERE you will see that there is no prescribed content or format; that's entirely up to you. A photo or two will be a nice supplement to your text. Some things to consider including are: your family, your degrees, final rank and branch of service, any family members who attended USNA, and professional and personal biographical info. Just send your information by email to Webmaster Steve Coester at scoester@cfl.rr.com . If your current biography is already on our site, check to see that it is up-to-date and send any changes to Steve.
---
&nbsp That's it for now, folks. Please take a minute to send me an email with some news about yourself. We'd all like to hear from you.



---