Shipmate Column
Stewardship 2014
---
CLASS OF 1963
Pres: CAPT W. Spencer Johnson IV, USN (Ret.)
Sec'y: Michael H. Shelley
164 Sweetwater Lane, Pisgah Forest, NC 28768
h: 828-862-4245 e: nstar@citcom.net
Web site: http://www.usna63.org.


For any classmate you can go to the Classmates Page and enter his name to read his current biography if available.
---
---

&nbsp I am sorry to report the death of our classmate Gerald "Pete" Nomura on 15 February 2014, following a prolonged struggle against Alzheimer's Disease. His widow, Henrietta, can be contacted at 1291 La Brea Drive, Thousand Oaks, CA 91362.
---
&nbsp If you were lucky enough to be at the Mid-Term Reunion in San Diego in April of 2011, you are sure to remember what a fine job the reunion committee did in planning and conducting the weekend's events. Working for years in advance of the reunion, the committee formed bonds that continue to be observed. This report from Chuck Stone provides the latest evidence of that.
&nbsp For the past couple of years, our Mid-Term Reunion Committee has gotten together socially for dinner to commemorate our 2011 Mid-Term Reunion. This year on February 7, we invited all Southern California Classmates.
&nbsp Marirose Kozak took the lead, and arranged everything! A former school principal, she is a real dynamo who gets things done! Marirose and Karl hosted us for cocktails at their spectacular downtown San Diego condo, with scenic harbor views stretching from Petco Park to Lindbergh Field! Then, we had dinner at the newly renovated Tom Ham's Restaurant on Harbor Island.
&nbsp We had a great group! Attending were Rich and Betty Ray Wilson, Lee and Sue Cargill, Chuck and June Stone, Karl and Marirose Kozak, Dave Meyers, Lynn and Lew Blackwell, John and Terri Ryan, Jay and Nancy Roberts, Grant Telfer, Donna Kaup, John and Terry McAnally, Max and Edith Ricketts, Vern and Gail Von Sydow, Jim and Pat Fontana, Bill and Dottie Hughes, Dick and Susan Andrews, John and Betty Middleton, Ron Wills, Bill and Donna Gentile, Lee Tillotson, and Maureen Hogan. Regretfully, since Phillip Marsden was unable to attend, we did not get a good photo of the group. We did, however, take these pictures of Karl and Marirose being thanked for hosting us, and of our MC, Vern Von Sydow, and Gail.

Karl and Marirose Kozak with Vern Von Sydow




Gail and Vern Von Sydow



&nbsp Thanks, Chuck, for being the only contributor to this month's Class of 1963 column. I can't remember a time when there was so little news to share with you. To compensate partially for the absence of news, here are some images from past issues of Shipmate.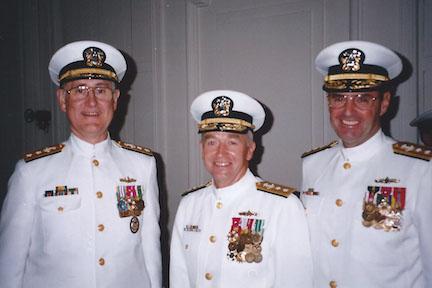 RADM's Denny Conley, Denny Vaughan, and Paul Tobin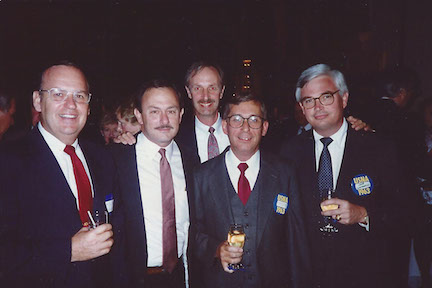 9th Companymates Tom Hall, Sonny Glassner, Phillip Marsden, George Leever, Joe Waterfill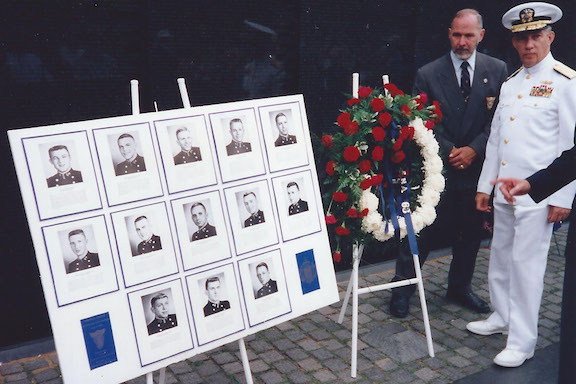 Bob Harper and Bill Earner with the Lost Classmates display at the Vietnam Wall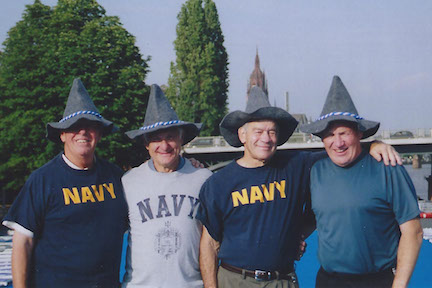 Football teammates Steve Hoy, Erwin Storz, Pete Optekar, and Vern Von Sydow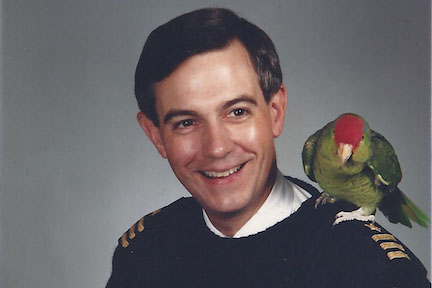 Will Settle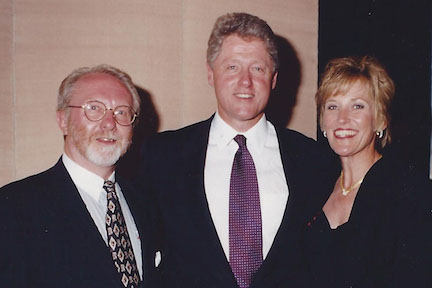 Jim and Cynthia DeFrancia with President Clinton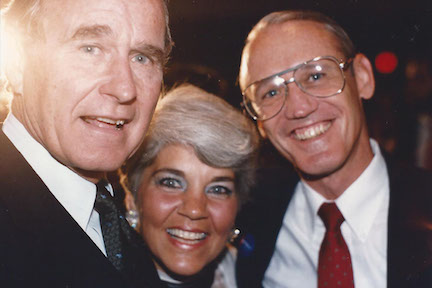 President Bush with Sue and Ben Cole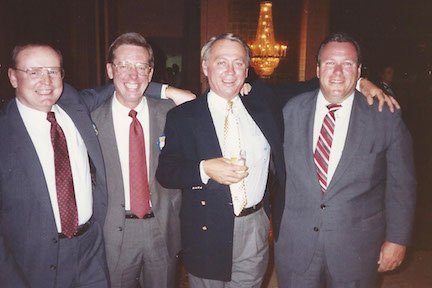 4th Companymates Mike Harman, Jim Koehn, Tom Haney, Sonny Langley
---
&nbsp Finally, here are two photos of what must be the ultimate display of Class of 1963 and USNA spirit. Chet "Whitey" White's full-color tattoos, shown here at our 35th reunion in Annapolis, are simply amazing. I asked him for some background about them, and Chet replied with this:
&nbsp In the summer of 1993 I had the class crest tattooed on my left arm and showed it to many at our 30th reunion. I received lots of compliments although one wife said, "Do not you dare show that to my husband." Many classmates said you need to get the Academy seal on the other arm and I said no but did the next year. They still bring lots of favorable comments.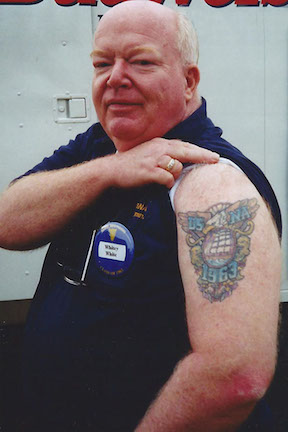 >
---
&nbsp I hope you enjoyed seeing this random selection of photos from years past. Now, how about sending some of your recent images to be shared with your classmates? Pictures and news reports, however brief, are always welcome. Please take a moment to tell me what you've been up to lately. Thanks!
&nbsp Until the next time...



---