Shipmate Column
Stewardship 2015
---
CLASS OF 1963
Pres: CAPT W. Spencer Johnson IV, USN (Ret.)
Sec'y: Michael H. Shelley
164 Sweetwater Lane, Pisgah Forest, NC 28768
h: 828-862-4245 e: nstar@citcom.net
Web site: http://www.usna63.org.


For any classmate you can go to the Classmates Page and enter his name to read his current biography if available.
---
---
---
&nbsp I am preparing this month's news exchange for you in mid-February, the heart of the Dark Ages. Snow and ice abound across the country, affecting many of us. As you'll see below, our classmates in the sunbelt states have not been slowed by their abundance of sunshine and fair breezes. Those of us who are affected by the cold weather may claim some sort of moral high ground but I'd gladly trade that for air temperatures above 32F.
---
&nbsp New Englander Bill Sheehan tells us about a Link in the Chain encounter with some USNA '13 grads:
&nbsp I had the opportunity to interact with a number of members of the Class of 2013 this January. I was doing my monthly Docent Watch at the Submarine Force Library and Museum in Groton, CT. The current class of the Submarine Officer Basic Course was getting a tour of NAUTILUS including the engineering spaces which are not yet open to the general public. When they discovered that I was a member of the Class of 1963 they were very pleased and immediately mentioned the "Link in the Chain" relationship. They are an enthusiastic group and I had a great time discussing submarine life as it was in "the old days." It also made me realize that fifty years ago this month I was graduating from Submarine School and heading to my first submarine. I just hope I made a good impression on them and didn't come off as an old windbag. Just thought I would share with you that the Submarine portion of 2013 appears to be on track.
---
&nbsp Watt Miles checked in with some news and a question that's been unanswered since Plebe year.
&nbsp Gloria and Fred Beckham, Kate and Dave Maples and Anne and I met in Baltimore on Thursday for the Army-Navy game weekend. We had a grand time and our social events included a nice dinner with Polly and Wilson Harris. We enjoyed the game immensely. Were most impressed by the spirit of the Woo Poos -- cadets, alumni and other fans -- who are definitely not dispirited by their recent record.
&nbsp Fred and Gloria, by the way, have sold their boat after almost a decade of long range cruising, mostly in the Caribbean. They are now living In Windsor, Canada, just south of Detroit. (Remember that plebe question: What is the first country you come to if you go directly south from Detroit?)
&nbsp Speaking of plebe questions: Was there ever any resolution to who would win a fistfight between The Phantom and Mike Nomad? This may have been a plebe question unique to 20th Co., but I think it was Brigade-wide.
---
&nbsp Wrapping up our coverage of the 2014 Army game, here are two photos from that great day.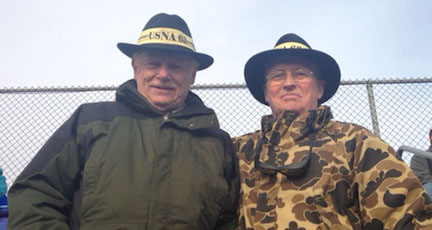 Phil Rooney and Jim Metcalfe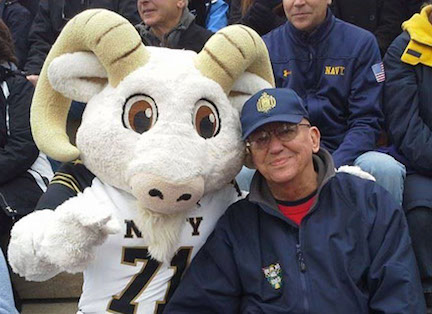 Bill Hillgaertner
---
&nbsp It was very good to hear from Mike Corgan, who contacted me by email recently.
&nbsp I am back teaching international relations for the 20th year at Boston University after a semester (3rd one) teaching at the University of Iceland. Going to Arctic conferences is my current thing; Norway, Iceland, and the Netherlands this year and there was USNA itself four years ago. Living on Cape Cod is great but there are no classmates within about 75 miles.

Mike Corgan



---
&nbsp Thanks to Miller Detrick for sharing this late January news from sunny Florida.
&nbsp The class of 1963 was represented at the 2015 Gasparilla Parade here in Tampa, a Mardi Gras-type event we have here each year. The USNA Drum & Bugle Corps showed up to march. In this picture are Jane and Dave Thornhill, Connie, and me. We are each supporting 7 lbs. of beads tossed our way. I think it was mainly because those in the parade were targeting older folks. Dave and Jane were visiting from Jacksonville, FL, where they have a winter condo.

Bead collectors at the parade in Tampa



---
&nbsp Jim Metcalfe sent news of Marti and Dick Whalen in Virginia Beach after spotting an article in local Navy media regarding the recent decommissioning of RODNEY M. DAVIS, one of the last Perry class guided missile frigates. Their son, Todd, was the ship's final CO and is now off to NIMITZ (CVN 68) as Reactor Officer. Todd is University of Virginia '94 NROTC. Dick and Marti's eldest son, Scott, USNA'93, is with United Technologies Aerospace in Connecticut. Their third son, Matt, Virginia Tech '00, is employed by CACI, focusing on aircraft carrier major ship overhaul scheduling and crew training for the Navy. Matt and his family live down the street from Marti and Dick.
&nbsp Dick keeps busy year round with Beach Soccer. He created and directs the annual "North American Sand Soccer Championships" held in Virginia Beach each June. This largest of amateur and pro/am beach soccer festivals on the planet attracts over 10,000 participants and 100,000 visitors. For more details see www.sandsoccer.com. An accomplished professional maritime artist, Dick says that his artwork time is limited. His last commissioned painting, depicting the rescue of the merchant vessel MAERSK ALABAMA from Somali pirates by the Navy destroyer BAINBRIDGE and SEALs, is in the Smithsonian Museum's maritime art collection.



&nbsp Former "drag" Marti has retired from teaching at Friends School and focuses on their seven grandchildren, reading good books and, according to Dick, "putting up with him after fifty years of marriage."
&nbsp Todd Whalen is a third generation naval officer. His grandfather, Frank D. Whalen, was at Pearl Harbor on 7 December 1941 and served with distinction during and after World War II. When transiting from WESTPAC last December, Todd spoke at the remembrance ceremonies in Pearl Harbor. His fine text about his family's tradition of service is posted on the official blog of the Naval Surface Force Pacific Fleet. I invite you to read it by clicking HERE
---
&nbsp Here's an account of an Arizona rendezvous submitted by Mickey Mays in January.
&nbsp I'm passing along some photos from a recent get together of a few members from the 2nd Company (original 24th). John McCabe, Jim Penrod, Ed Howard, and I traveled to Yuma, AZ, to join Judy and Bill Opitz who "winter over" from Montana every year. The gathering was brief but nonetheless enjoyed by all as we tested our memories with "old tales retold." Daily golf by the guys and exploration of the Yuma Palms Mall by the ladies seemed to be just the formula for this diverse group. These activities were complemented by evening cocktails and dinner which rounded out each perfect day. As you can see by the pictures, some time was spent at the Yuma Territorial Prison. I'm pleased to say that we departed the facilities with the same number of people that entered. The reunion was finalized with a wonderful dinner hosted by Bill and Judy Opitz at their "Winter Quarters."
&nbsp Here are two pictures from our time together. The first, at the Territorial Prison, shows left to right: Ed Howard, Jim Penrod, Bill Opitz, Mickey Mays, and John McCabe.

Visiting Yuma, Arizona



&nbsp The second image shows left to right: Judy and Bill Opitz, Sharon Shillan, Ed Howard, Jim Penrod, Mickey and Marion Mays, and John McCabe. Go Navy!

Second Company men and ladies



---
&nbsp Our dependable Southern California correspondent Phillip Marsden filed this report from his San Diego press bureau.
&nbsp We had a good turnout for a Class of '63 luncheon in mid-February. Attendees included Dave and Linda Oliver, Jim and Pat Fontana, Chuck and June Stone, Alan McAnally, Jerry Harken, John Ryan, Grant Telfer, Jay Roberts, Lee Cargill, Dave Meyers, Vern Von Sydow, Max Ricketts. As the photos show, we had a great time catching up with the local gossip and welcoming Dave and Linda who recently moved to northern California. The consensus was we need to do this more often!

Roberts, Oliver, and Stone




Ricketts, Cargill, and Von Sydow




Meyers, Fontana, and McAnally




Pat Fontana, June Stone, and Linda Oliver




Telfer, Ryan, and Harken



&nbsp Dave Oliver came to San Diego to attend the Armed Forces Communications and Electronics Association conference and promote his book, "Against The Tide." This photo shows Dave and me at the Naval Institute pavilion at the conference."

Dave Oliver and Phillip Marsden



---
&nbsp Responding to the news in our previous column that we had lost several men recently, one of our classmates sent this note to his companymates and a few others. I think he spoke for all of us.
&nbsp I haven't attended reunions lately or kept up with the class goings-on. I do read and appreciate all the emails among classmates, but my image of us is "way back when," and death comes as a shock and a jolt. Processing those memories concludes with realizing how much we drew on each other for support and achieved more -- whether academically or athletically or just stuck with it -- than we were capable of on our own. I conclude with feelings of great gratitude for each of you.
---
&nbsp This report began with mention of the winter weather, so let's wrap it up with a tale about how bad weather added to the enjoyment of classmates' time together. Jim Ring tells us about his February visit to snowy Massachusetts.
&nbsp Kate and I left Florida on a Friday for a weekend engagement party in Northampton at the home of our son Chris's future in laws, Nancy and Eric Reeves. It was a great party, but too much snow. We had a great time staying with Sally and Al Griggs at their home in Northampton. They deserve the medal of honor for hosting us for not the two days we agreed on but for four days necessitated by the cancellation of our return flight due to bad weather. Thanks, Al and Sally, hosts extraordinaire!

Al Griggs and Jim Ring



---
&nbsp That's all for now. I wish you an early thaw. In the meantime, enjoy every day!



---