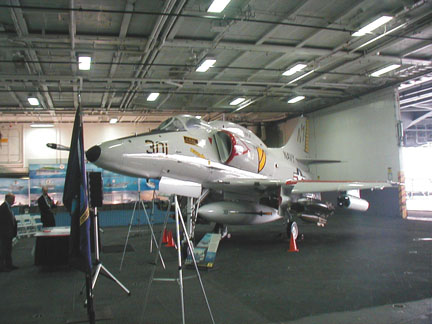 USS Midway Museum VA-23 A-4 Dedication
USNA Class of 1963
---
Participation in the ceremony by members of USNA--'63
---

Summary of the ceremony from Phillip Marsden:


On Saturday, 17 September 2005, the Class of 63 participated in a moving ceremony that honored two A-4 pilots who lost their lives during the Vietnam conflict. One of those pilots was our classmate, Stan Smiley. Mo Peelle, a former VA-23 CO, had located one of their squadron A-4F aircraft in the aircraft graveyard in Arizona and paid to have it restored by the MIDWAY museum. Mo chose to have the names of the two pilots lost during his command tour, LCDR Gosen (59) and LT Smiley, painted on the one side of the restored aircraft. The beautifully restored A-4F was loaded on the MIDWAY in late August and positioned in the hanger-bay. The official VA-23 A-4F dedication ceremony was held at 0845 - 1000, 17 September, next to the aircraft on board the MIDWAY.

The Class of 63 joined the Class of 59 and VA-23 in sponsoring the ceremony. Bill Gilchrist (VA-23) provided the invocation and Mo Peelle added his welcome before introducing Art Merz from the Class of 59. Art described his long-term remembrances of his classmate and roommate, LCDR Larry Gosen. Larry's son, John, who is deaf, added some very personal remarks. Don Freese, representing the Class, of 63, talked about his memories of Stan Smiley and he was followed by Bill Runkle who added a few personal comments. In memory of the two pilots, flags were presented to Larry Gosen's widow and to Don Freese. Mike Cronin spoke about his experiences as a young VA-23 pilot and the perspective gained from surviving the POW ordeal. Mike also announced the $6300 donation by the Class to support the renovation of MIDWAY ready rooms. This gift was accompanied by a plaque that honored the lives of 11 classmates who were pilots/crewmen who lost their lives and the two Prisoners of War.

The Class of 63 was well represented at the ceremony with nearly half of the 120 attendees.The following members of the class were present; Susan Anderson, Tim and Valerie Cook, Mike Cronin, John Dolby, Jim Fontana, Don Freese, Jerry and Rowena Harken and their son and his wife, Kyle and Kate Harken, Charlie and Nancy Helsper, Bill Hughes, Don Jacobs, Kit and Lillian Karson, Donna Kaup, Jim and Judy Koehn, Steve Longo, Ron and Maire Machens, Phillip Marsden, Mickey and Marion Mays, John McCabe, Bill Runkle, Ron Saqui, Chuck and June Stone, Ralph Stowell and son, Ralph Jr. (91), Vern and Gail Von Sydow, Ron Wills, Clyde and Sybil Van Arsdale, Rich and Betty Ray Wilson.

All-in-all, it was a poignant and moving ceremony for all the attendees and an event for which the Class can be proud. The attached photos show scenes from the ceremony and the reception. (The young lady in many of the ceremony pictures is signing for the deaf members of the Gosen family.)
---

Additional information about the ceremony and the MIDWAY ready room project from the perspective of the leading VA-23 rep, Bill Gilchrist.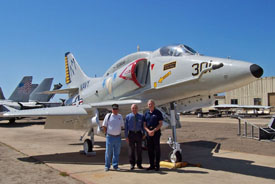 Bill Gilchrist and Phil inspecting the plane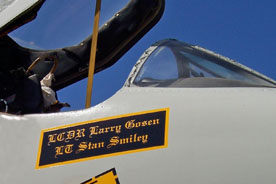 Fallen Pilots
Due to the $6300 contribution by the Foundation of the USNA Class of 1963 and the donations by all of the donors on this list, today we were able to execute the lease for Ready Room Three. So it's now OURS!! and the fun part of doing the decorating begins.
We held a dedication ceremony for A4F BuNo 154977, Modex NM301, on the hangar deck on Saturday with about 125 attendees and Mo Peelle was Master-of-Ceremonies. The class representatives from the USNA Classes of 1959 and 1963 read citations for Larry Gosen and Stan Smiley followed by the presentation of boxed casket flags to our guest-of-honor Mrs. Patricia Gosen, Larry's widow, and Mr. Don Freese, the 1963 representative. The flag was presented to Mr. Freese since there were no next-of-kin for Stan Smiley. The flag will be kept in the ready room.
Larry Gosen's son, John, presented a most meaningful tribute to his Dad. A short speech by Mike Cronin on flight operations in Vietnam was well received by everyone present.
Following his speech, Mike presented a beautifully executed laser carved plaque for the 1963 Class. Ron Machens, also in the 1963 Class, presented a framed Blood Chit which was given to him by an Army friend. John Mudgett, a Vietnam era Black Knight, presented a beautiful plaque listing all KIA's and POW's from VA-23. Tim Cook, a former A4 pilot, offered to contribute his flight gear which was quickly accepted.
We are now beginning to accumulate memorabilia from all over the A4 community which should make our ready room very representative of what we all experienced - if anyone has excess personal items representative of the Vietnam era and you are looking for a place to put it, send it along and we'll provide a good home. Take good care everyone and I'll keep youall posted as the decoration of our VA/VMA Ready Room progresses - respects to all - Bill Gilchrist
---

Here's a note from Art Merz, USNA'59:


Saturday September 17, 2005 the classes of 1959 and 1963 conducted a dedication ceremony aboard USS Midway in honor of Larry Gosen '59 and Stan Smiley '63. Both Larry and Stan were pilots in VA-23 and were killed in combat operations during the Vietnam War. Squadron mates from VA-23 made a truly extraordinary effort in locating and restoring the A-4F Skyhawk airplane that was the representative part of the ceremony and will remain on display aboard Midway. Larry and Stan's names are inscribed on the airplane. Participants from the class of '59 were Jay Bainbridge, Joe Brantuas, Art Merz, Jack Naviaux, John Kanuch, Joe Keeley, Pag Pagnillo, and Gerry Varni. Twenty-five members of Larry's family attended and came from all across the USA. His wife Pat, son John, his three daughters Stephanie, Leigh and Kriss came from North Carolina. As well, his twin sisters Darlene and Louise came from the Mid-West. Son John gave a moving remembrance of his father.
---

For photos from the ceremony Click Here


---

For the program from the ceremony Click Here (Acrobat Reader)

---

For the thank you letter from the Midway Museum Click Here

---

For Mike Cronin's letter listing Navy Air losses in VietNam Click Here

---

Midway Museum homepage

---
February 11,2022--From Jim Metcalfe
This is the story of the two Navy F-9's from ORISKANY intercepting & shooting down 4 (not 5) Soviet Migs in the Korean War. The lead pilot was Royce Williams the #2 was LCdr. John Middleton, First Company Company Officer our First Class year. I was shocked to see that the Navy has apparently refused to tell the true story because there are no currently surviving witnesses. It is certainly recorded in the F-9 displayed aboard MIDWAY at San Diego which has Royce Williams' name on the aircraft. Click Here for the story.

---

Last updated:
February 11, 2022