Nick Nerangis '63-Hogette
USNA Class of 1963
---
Football's Ultimate Fanatics on Parade
By MARK YOST
Wall Street Journal
August 8, 2006; Page D5
Canton, Ohio
Used with permission from OpinionJournal.com, a web site from Dow Jones & Company, Inc.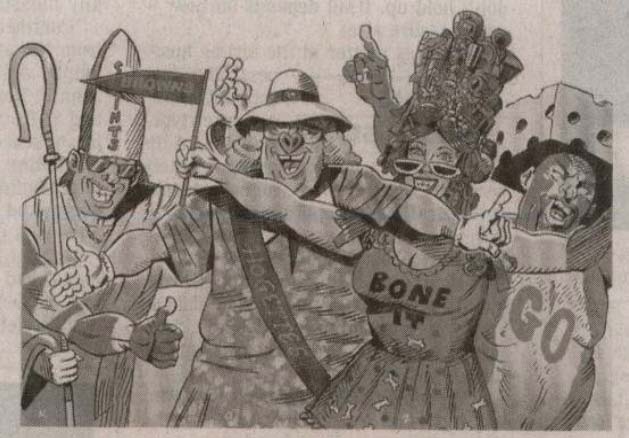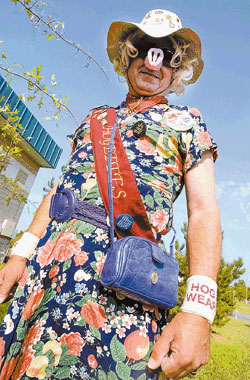 Nick Nerangis, 65, of Winchester, Va., is a highly successful businessman. After graduating from the Naval Academy and working in naval intelligence, he opened more than a dozen McDonald's franchises in Virginia's Shenandoah Valley. Today he's one of the leading commercial real-estate developers in Winchester, a small Blue Ridge Mountain community that's slowly being gobbled up by the expanding Washington metroplex.

So why is a serious, successful guy like him walking down the street in a woman's dress?

Mr. Nerangis is one of the Hogettes, the Washington Redskins fanatics -- Ultimate Fans, they're called -- who dress up each week in flowered dresses, pig snouts and garden-party hats.

While the Hogettes http://www.hogettes.org are perhaps the most famous Ultimate Fans, every team has at least one, and most can be found here every year for the Pro Football Hall of Fame induction ceremony. In fact, some were "inducted" into the hall as part of a Visa promotion. That has since ended, but the Ultimate Fans still show up, much to the pleasure of the fans who lined the streets last Saturday morning for the Timken Grand Parade.

Sandwiched between the Cookie Monster float and Hall of Fame inductee John Madden, the members of the Pro Football Ultimate Fan Association http://www.footballsfans.com had their game faces on. Garnering enthusiastic applause from parade watchers were Captain Defense of the Baltimore Ravens, Sgt. (Indianapolis) Colt, (Tennessee) Titan Lady, (Chicago) Bearman and, an Ohio favorite, the Bone Lady.

The Bone Lady http://www.bonelady.com is actually Debra Darnell, a 45-year-old artist from Cleveland who took on the persona when the Browns, whose mascot is a dog, returned to the NFL in 1999. During the season she dresses in an orange hoop skirt and form-fitting orange T-shirt that reads "Bone It." She wears dog bone earrings and her orange beehive hairdo is festooned with dog bone barrettes, buttons and pins. She even painted her Volvo station wagon orange and topped it with a giant bone that reads "Bone Mobile."

For years, Cleveland's Ultimate Fan was John "Big Dawg" Thompson. He testified before Congress when the Browns moved to Baltimore, devastating Cleveland sports fans. "Mr. Speaker, I rise today to honor John 'Big Dawg' Thompson," Rep. Dennis Kucinich read into the Congressional Record on Oct. 5, 1999.

Mr. Thompson recently lost weight, taking much of the "big" out of Big Dawg. As a result, Ms. Darnell has become for many the Cleveland Browns' Ultimate Fan. She even has an agent who books personal appearances.

Greg Jenns, 43, is the Green Bay Packers' Ultimate Fan. He originally dressed up when someone bet him $20 that he couldn't get on TV. He created Title Town's No. 1 Clown and ended up on the Fox Sports broadcast. Last year, he was featured on the front of the Sports section of the New York Times. This will be his 15th season in the role; he even bought his house because it's within 10 blocks of Lambeau Field.

"We live this, breathe this, bleed this and die this," he said while sitting around the Ultimate Fans' hospitality lounge in the Akron Holiday Inn last weekend.

What does his wife think of all this?

"There were some issues over the years," Mr. Jenns admits, but she finally came to grips with it. "One day she just said, 'OK, you're the Clown.'"

Most days Lionel Alphonso Sr. runs De-Pope Launch and Tavern in Violet, La., outside New Orleans. On Sundays he becomes "Da Pope," a character he created in 1987 after a Superdome Papal Mass by Pope John Paul II. The Saints, who went two decades before posting a winning season, won their next game. According to Alphonso's trading card, he "attended the next game dressed as the pontiff to incite fans and the team to create energy for more wins."

It worked. The Saints posted some of their best seasons from 1987 to 1992, going to the playoffs four times. When the team returns to the Superdome later this season, Alphonso will be found in the stands each week and at some away games, dressed in full papal regalia, including a miter that reads "Bless You Boys."

Like many in New Orleans, he lost everything in Hurricane Katrina, including his pope outfit. He had another one made for "a coupla hundred," he said in his thick Cajun accent.

Some NFL teams embrace the Ultimate Fans. The Seattle Seahawks paid for Mr. and Mrs. Seahawk -- who are really Jeff and DeDe Schumaier, a truck driver and waitress from Auburn, Wash. -- to come to the Hall of Fame ceremonies this year. When the Seahawks went to Super Bowl XL in Detroit in February and the Schumaiers didn't win the ticket lottery, the team made sure they were at the game.

Seahawks owner and Microsoft co-founder Paul Allen often stops by their end zone seats to say hello. Mrs. Schumaier said she gave Mr. Allen the Santa hat he wore at games last season.

Other NFL teams want nothing to do with the Ultimate Fans. Neither longtime Washington Redskins owner Jack Kent Cooke nor new owner Daniel Snyder embraced the Hogettes, even though they've raised more than $100 million for charity and have been some of the best ambassadors for the team -- like many Ultimate Fans -- over the past 24 years.

"That's a lot of money for a bunch of fat old grandpas in pig noses and dresses," said Howie Churchill, 60, of Richmond, Va., who's in his 16th year as a Hogette and wears a size 24 dress.

In September, the Hogettes will host their annual charity golf tournament featuring former Redskins players. Last year the Hogettes raised $35,000 for coach Joe Gibbs's "Youth for Tomorrow," a charity that helps underprivileged kids.

Dressed normally in a bar in Akron, the Ultimate Fans seemed no different from any other football fanatics. And they really aren't. The Hogettes include not only retired career military officers but a guy who works at the Nuclear Regulatory Commission.

"No one thought in 1983 that this would evolve into what it has become," said Mr. Churchill. "Once you start, you don't leave."

Indeed. Mr. Nerangis is one of just two new Hogettes in the past 15 years. His wife bought him a "Hogette for a day" package at a charity auction and he loved it. He was a substitute Hogette for several years before becoming a full-time member five years ago.

"It fit me," he said.
---
Here's a note from Nick:
At first the thought was having fun doing something crazy. But in the last nine years it has evolved into doing as much good for kids as I can, while I can. As the article correctly reports, the Hogettes, 12 in number, have assisted in raising over $ 100,000,000 for children's charities all over the country in the last 24 years. We make over 100 appearances a year in addition to our games, TV commercials, and Redskin support. As strange as it seems, we are known across the U.S. The only sad part of the whole thing is visiting children's hospitals knowing that you can't tell the kids to get better because in many cases they never will. But the smiles we get while we are there are enough to make us keep trying to help.

Hope all is well with you and yours. See you at NMC Stadium.
---