Class Vanity License Plates

USNA Class of 1963
---
"Vanity" plates are a very visible way to express pride in our connection to our class and the Academy.
Many members of the Class of 1963 proudly display their tags.

Send photos of your vanity plate to steve.coester@1963.usna.com
---

Pete Carrothers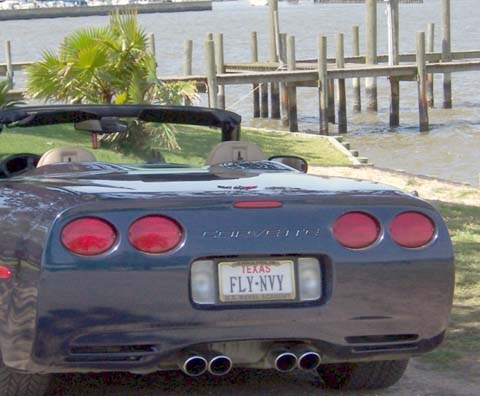 Pete Carrothers' License Plate
---

Tom O'Brien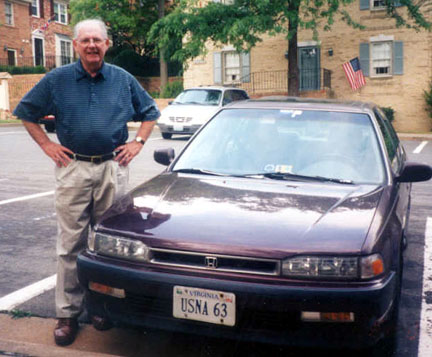 Tom O'Brien's License Plate
Tom has moved to Florida and Al Sherman now has the Virginia plate
---

Don Jacobs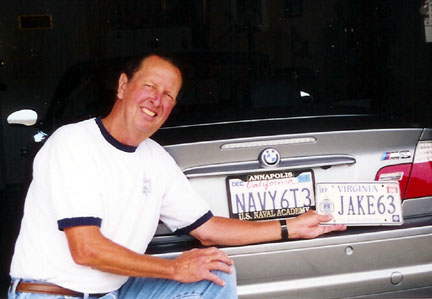 Don Jacobs' License Plate
---

Hunt Parker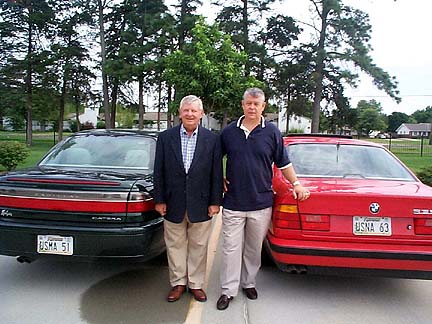 Hunt Parker's License Plate
---

Jack McDonald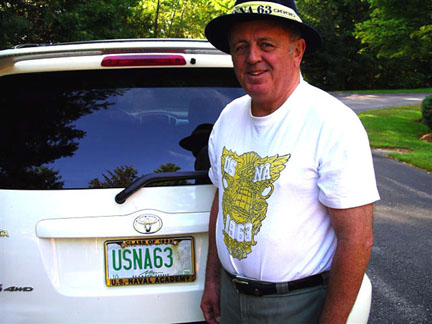 Jack McDonald's License Plate
---

Ed Howard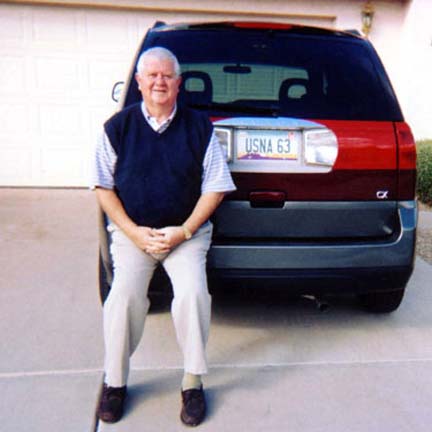 Ed Howard's License Plate
---

Fred Kaiser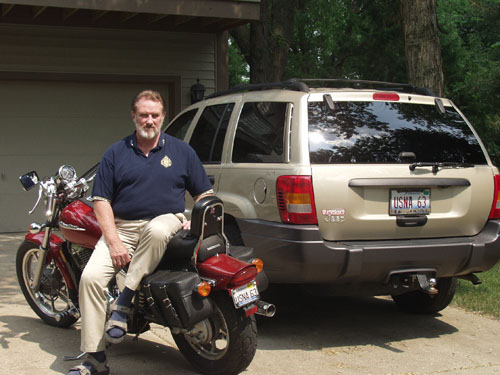 Fred Kaiser's two License Plates
---

Ollie Donelan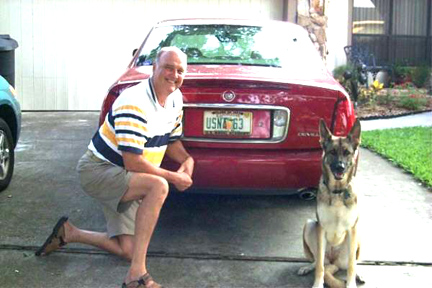 Ollie Donelan's Florida License Plate
Dusty is the one with hair.
---

Nick Nerangis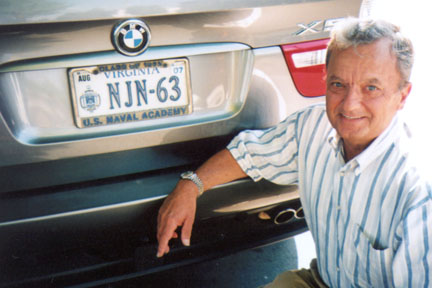 Nick Nerangis '63 Vanity Plate
---

Bob Maier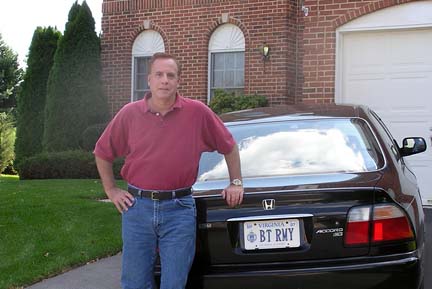 Bob Maier '63 Beat Army Plate
---

George Nolan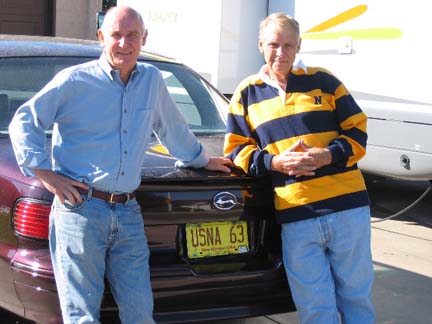 George Nolan's USNA '63 Plate
with Chuck O'Leary on left
---

Mike Blackledge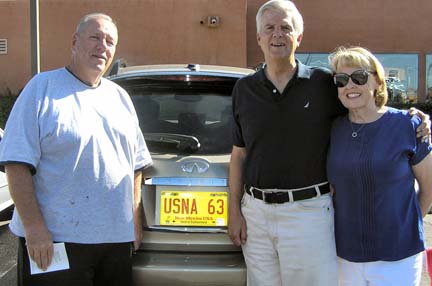 After George Nolan's Death Mike kept USNA 63 alive in New Mexico
Sonny Langley, Mike Blackledge, and Bonnie Nolan
---

Mike Shelley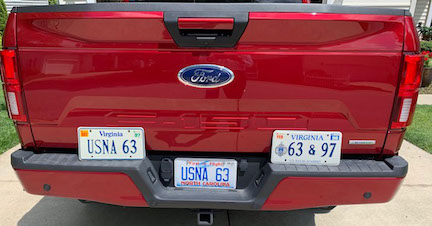 Mike Shelley's multiple USNA '63 Plates
---

Chet (Whitey) White
| | | |
| --- | --- | --- |
| Chet's USNA63 Body Art | Chet White's California plate | Chet White's MD Trailblazer plate |
---

Frank Holmes
Frank Holmes Ford Vanity plate
Frank Holmes Audi Vanity plate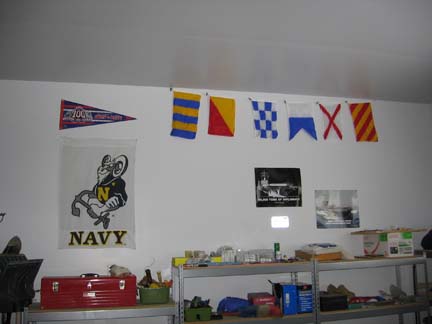 Frank Holmes USNA Garage
---

Tom Selden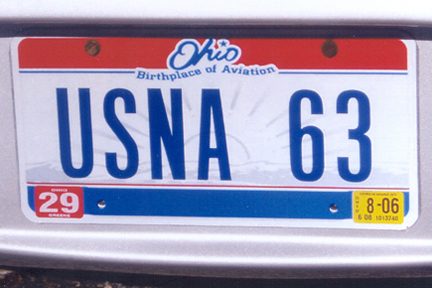 Yes, I am proud to display Ohio USNA 63. Long story behind the photo: NAS Brunswick Maine, Oct 05. Ran into a retired USAF Col. Whose son was a later USNA grad. He asked me if he could submit it and I said "sure". Car is now with #3 daughter cruising the vicinity of Ohio U in Athens,OH where most of the students donŐt even know what US means. Will get a pic with me in it when she gets home around Thanksgiving (2007). BEAT ARMY ! Tom Selden
---

Bob LaGassa
| | | |
| --- | --- | --- |
| | | Bob Lagassa's Vanity Plates |
---

Dave Bingemann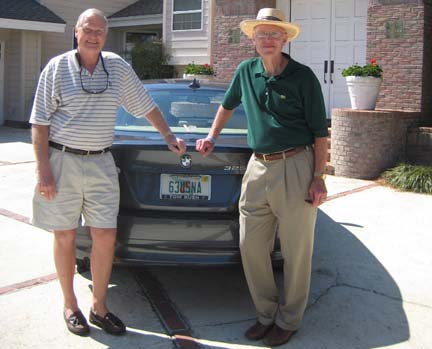 Dave Bingemann's Florida plate. Dave is the guy in the shorts. The other guy is John Boley, another 8th Company classmate.
---

Ron Wills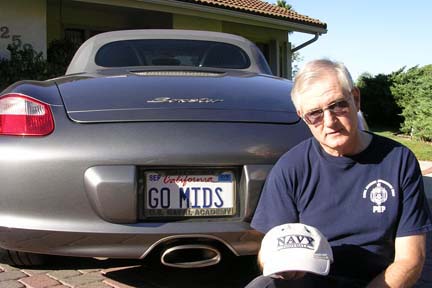 Ron Wills, a Blue and Gold Officer with Blue and Gold spirit
---

Dave Moore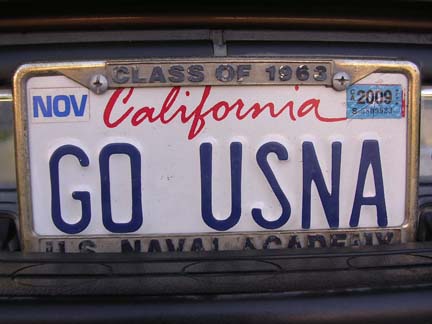 Dave Moore's Vanity Plate
---

Tom Miller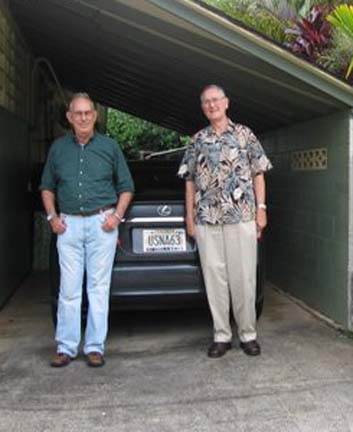 Tom Miller's Hawaii Vanity Plate (Tom on left, Denny Conley on right)
---

Dick Augur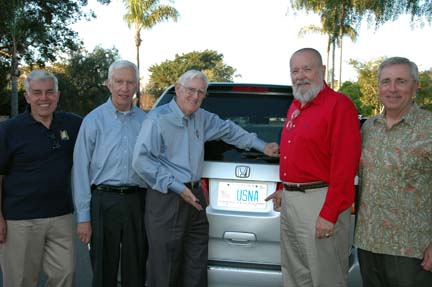 Dick Augur's Vanity Plate (Earl Buck, Bill Earner, Charlie Helsper, Dick Augur, and Bill Hahn)
---

Richard Pace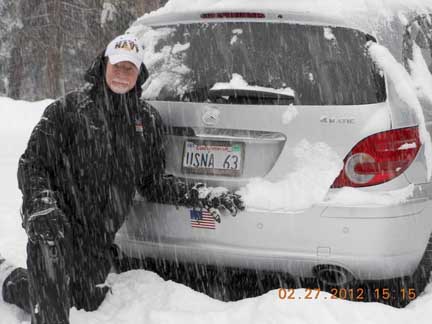 Richard Pace's Vanity Plate-- I am submitting the attached. It was shot in February 2012 during a snowstorm at Northstar ski resort in North Lake Tahoe. Perhaps you'd like a bit of history. I have had the vanity plate since 1976, when it was purchased for me by my mother as a birthday present. She later told me that when she visited the DMV to check on the availability of the plate, she found that graduation years from the 1930s up until the present (and including four or five years into the future) were all taken, with one exception: 1963. Kind of an odd coincidence, don't you think?
---

Jud Pearson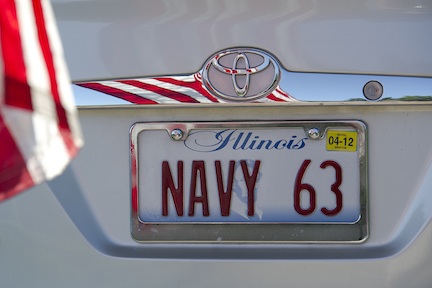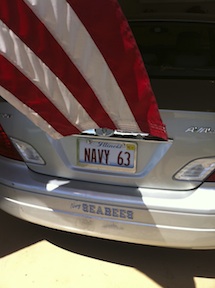 Jud's Illinois Vanity Plate
---

Lanny Cox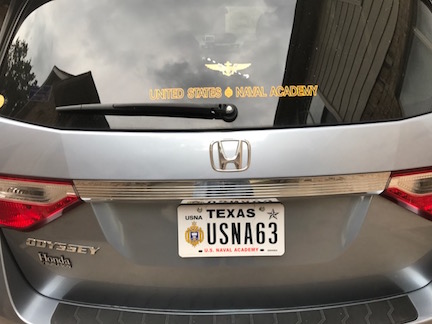 ---

Ken Sanger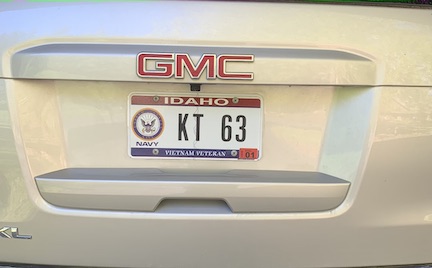 KT was my call sign. Only have had to explain it to one highway patrolman!
---

Al Breen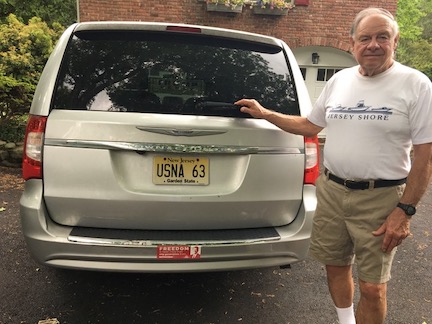 FROM THE WILDS OF NEW JERSEY
---

Dick Wyttenbach-Santos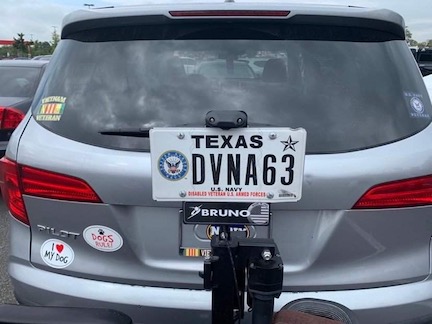 Texas DV plate. The plate is on the top of the lift on the back of the car for my electric scooter.
---
---
---
Vanity Plates

---


Last modified
April 13, 2020

Return to

or navigate to:

Wardroom