Shipmate Column
April 2005
---
CLASS OF 1963
Pres: CAPT W. Spencer Johnson IV, USN (Ret.)
Sec'y: Michael H. Shelley
25 Sweetwater Lane, Pisgah Forest, NC 28768
h: 828-862-4245 e: nstar@citcom.net
Web site: http://www.usna63.org.
For any classmate you can go to the Classmates Page and enter his name to read his current biography if available.
---

&nbsp I am sorry to report that our classmate Clay Morse died on 7 February after hospitalization for a heart attack. A retired submariner, Clay had commanded USS WHALE and served in a number of other challenging billets before leaving active duty in 1984. He was predeceased by his first wife, the Rev. Jane Morse, and their daughter, Sarah, in 1995. He is survived by his wife, Midge, and his son Benjamin. They can be contacted at Box 378, Millbrook, NY 12545; e-mail mncmorse1@aol.com .

Mike Dunn provided this photograph from our Midshipmen days showing 17th Companymates Carl Kolon, Mike Smith, and Clay. They were toasting the young lady in the photo, now Dunn's wife, Susan. Sadly, all three of these fine men are now gone -- Carl in 1980, Mike in 1992, and now Clay.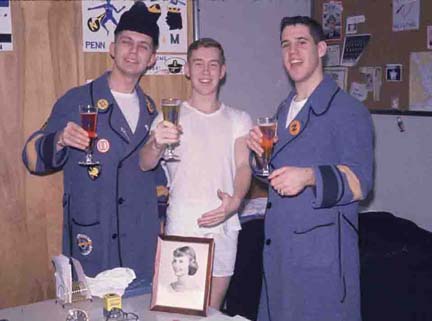 Carl Kolon, Mike Smith, and Clay Morse

&nbsp Bill Anderson offered this remembrance of Clay:
&nbsp Clay and I became close friends after graduation, as we were roommates at nuclear power school and sub school. At sub school, we both dated his eventually-first wife, Jane, and we all stayed in touch after their marriage and throughout his career, which included command of the nuclear attack submarine WHALE. Some of you may remember that Jane died about eight years ago, followed shortly by their daughter, Sarah. Clay touched the lives of so many people. He was interested in them, loved them and brought a wonderful joy of life to everyone and everything he dealt with. We will miss him very much.

&nbsp Clay's companymate and one-time shipmate Jerry Jordan provided a reminiscence covering many years.
&nbsp Clay and I served together on USS PUFFER (SSN 652) here in Pearl Harbor from 1971 to 1973. He was Engineer and I, Ops/Navigator. We did a WESTPAC together, the first Mk 48 Torpedo Certification, and part of a non-refueling overhaul. Since we were also Classmates and Companymates, we became pretty close. We shared many things. At one point, the CO (now retired VADM Dan Cooper) became quite ill and was subsequently diagnosed with a brain tumor (fortunately, as it turned out, benign and operable). He was out of action and the XO was sick, too.

For a period of time, Clay and I were co-CO's (until "Butch" Thompson - 1960 USNA Brigade Commander and 14th Company Firstie could arrive and take over). Clay was on PUFFER before I arrived. The previous CO (John Will) and the ship had a reputation as a "hard charging" and "Fun Loving Wardroom". And, they were - - to the utmost. Once, the Wardroom Officers participated in a Waikiki parade down Kalakaua Avenue with Clay parading in a Superman Suit and pushing a Baby Carriage. For that, his picture was in The Honolulu Advertiser. Not sure the Squadron Commander appreciated the publicity, but that was Clay! He went to Command of USS WHALE probably some time in 1980, had a great tour, but ran into to some minor difficulties; he sustained a submerged grounding - - not a lot of damage and no injuries (it ruined his day, though). Oh well, it didn't deter Clay. He was pretty philosophical about it, but it did kind of stymie his "Navy Career". He subsequently went to COMSUBLANT Staff (Norfolk) in the Submarine Tactical Development arena where we met up again as I reported to Tactical Training Group Atlantic (Dam Neck, VA) in 1984 as the Submarine Officer on the Staff for Battle Group Staff Training. His experience at COMSUBLANT Staff enabled him to start a Consulting Business and then a Company involved with Submarine Fire Control Systems. At some point, another classmate of ours, Dave Byrnes, worked for him.

Judy and I became reasonably close to Jane and Clay as Jane began to valiantly fight a serious illness (Non-Hodgkin's Lymphoma, I believe) but ultimately succumbed in 1995. In the interim, she went to Divinity School and was ultimately ordained an Episcopalian Minister. She was able to practice for short period, bringing much joy to her life. This whole ordeal took a huge toll on the family and their teenage daughter, Sarah, became afflicted with a serious eating disorder (anorexia). Throughout, Clay maintained a positive attitude despite the many sad things that were happening in his life.

&nbsp Dave Riley, has provided a copy of an outstanding Memorial Day address that Clay delivered in 2002. We have added this text to our web site. I encourage you to view it by going to the Last Call page, viewing Clay's obituary, and clicking on the link there. It will be well worth your time
---

&nbsp I have received two reports from the winter meeting of the Trustees of the Class of 1963 Foundation this January. Foundation president David Puckett provided this account of the Foundation's status and plans.
&nbsp Thanks to the kind generosity of Cynthia and Jim DeFrancia we held our latest Class Foundation meeting at their home in Aspen, CO. As the DeFrancia's are kind enough to invite us for a long weekend some of the wives joined us for fun while we were working. In attendance were Andrea and Spencer Johnson, Laurie and Sonny Glassner, Doris and Harry Salmon, Jim Ring, Bruce Webb, Steve Duncan, Charlsie and Doug Davidson, Sandy and Ken Metviner, Bill Howard via the phone, and my wife Judi.

Our discussions centered around three areas. First, we are supporting six children of deceased Classmates with scholarships of $4,000 per year for four years, with two pending awaiting college decisions. Frank Hilton does a great job following up with families for this benefit.

Second, thanks to all the support given to The Class of 1963 Center for Academic Excellence, the fund has $1,400,000 including outstanding pledges. This is adequate to support our commitment to the Center. Therefore, we have decided to discontinue fund raising for this project. I hope that all of you on an outstanding pledge, will complete your pledge.

Lastly, we discussed where we will go from here. We will complete our scholarship commitments and we want to support the "Link of the Chain" program, whereby our Class will support/sponsor the Class of 2013. We also believe, to further our Legacy to USNA, we should support at least one more major project at USNA for one of our upcoming reunions and use the remaining funds the Class Foundation has at that time to complete the project and close the work of the Foundation. To this end, Spencer Johnson is heading a committee to evaluate possible projects and timing.

Thanks to all for your support of the Class and its Foundation!!

&nbsp A related story came from Phillip Marsden, who also supplied several snapshots.
&nbsp I joined some retired Navy neighbors from Coronado for a week of skiing in Aspen in early January. Unbeknownst to me, the Class of '63 Foundation was holding its business meeting in Aspen the same week. When I called Jim and Cynthia DeFrancia to see if they would join me and my friends for dinner, they had a better idea. They kindly invited all of us to join the Foundation crew for dinner at their lovely home. For me and my friends, it was the highlight of a great week of skiing and camaraderie. Sonny and Laurie Glassner, aided by Doris Salmon and Sandra Metviner, served up a sumptuous feast enhanced by copious amounts of good wine and spirited conversation.

Glassner, Puckett, Johnson, Ring, Davidson, and Salmon at the Aspen meeting




Steve Duncan with Cynthia and Jim DeFrancia




Marsden, Duncan, Davidson, Puckett, and Metviner




Presidential dishwashing duties by Steve Duncan (past) and Spencer Johnson (present)




Sandy Metviner, Sonny Glassner, Doris Salmon, Laurie Glassner


A few weeks later, I stopped by the AFCEA West convention here in San Diego to visit with former professional associates and to see classmates from out of town. I linked up with my old friend Bob Forster and we went hunting for classmates. Two encounters were captured in the attached pictures.

Bob Forster, Phillip Marsden, and Jim Lasswell in San Diego




Marsden, Rempt '66, Tobin, Forster


Bob and I went looking for Paul Tobin, AFCEA's director of education. We caught up with Paul comparing notes with the Supt, VADM Rod Rempt '66. After Bob and the Supt compared notes from the Emerald Bowl, I took the opportunity to ask the Supt a question I meant to ask at his briefing to the class at the 40th.....Who was his firstie from our class? He replied that it was Denny Jones.
---

&nbsp Sonny Glassner provided this news of an event which conferred permanent recognition on one of our classmates
&nbsp George Tracy was inducted into the Hall of Fame of The Greater Baltimore Chapter of US Lacrosse on 29 January. This is a wonderful honor and George deserves it. This photo was taken at the ceremony by Denny Wedekind '65. Included in the picture are myself, Denny, Tom Mitchell '61, Dick Corrigan (our attack coach), and Carl Tamulavich, representing the Athletic Association. Also attending but missing from the photo were Hank Chiles '60 and our classmates Bob Forster and John Conroy. It was a great evening and George's acceptance remarks were wonderful.

Lacrosse Hall of Fame induction



---

&nbsp With our 40th Reunion in the past and our 45th Reunion more than three years in the future, several Company units are planning mid-term reunions of their own. One of these events has already occurred. Jim Ring prepared an account of the 16th Company's recent gathering and supplied many photos.
&nbsp Because of the hurricane, some 16th Company classmates did not make it to the 40th reunion. Since we always have a great time when we get together for the big reunions, we proposed having a mini-reunion. After some discussion, we decided on Myrtle Beach during October 22-24, 2004. Myrtle Beach attracted us because of the location, about halfway between where most of us lived in the Mid Atlantic and the South. Since it was off-season, the prices for rooms and golf were considerably less. Jack Dranttel took the lead and arranged for the hotel, dinner, and golf. Attendees were Mary Jo and Jack Dranttel, Carolyn and Tom Smith, Sandy and Mike Mullen, Donna and Dave DeHoll, Elaine and Frank Davey, Kate and Jim Ring, Betsy and Jud Pearson, Doo and Rich Weidman, Edna and Cliff Barney, Paul Revere, Hunt Parker, Erwin Storz, Pete Rollosson, and Bill Beck. Some arrived on Thursday and we played golf on Friday. That evening was the first time that we all got together, at a cocktail party hosted by the Dranttel's. On Saturday we had a scramble golf tournament, which Mike Mullen, Rich Weidman, and Paul Revere won handily. (All three are retired; what else do they have to do?) We had a company dinner that evening in a private room at the hotel. We started back to our homes on Sunday and Monday and all agreed we had a great time and we should do it again before the 45th.

Scramble winners Rich Weidman, Mike Mullen, and Paul Revere -- Note the 35th Reunion Trophy




16th Company reunion attendees




Hunt Parker, Jack Dranttel, Tom Smith, and Rich Weidman




Bill Beck and Jim Ring




Mary Jo Dranttel, Kate Ring, and Donna DeHoll




Paul Revere, Dave DeHoll, Hunt Parker, and Erwin Storz


As Class President and Vice President, Spencer Johnson and I feel that our most enjoyable times are when we get together with classmates. I know that the big reunions can be expensive for some and these mini reunions are a perfect chance to have an inexpensive gathering with those that meant the most to us -- our fellow company mates. All it takes is one or two from a company to organize it. Another idea is to have a dinner with those in your vicinity. The Class web site shows the addresses of classmates by company. For those who have had no contact with classmates since graduation, fear not! I will guarantee when you start talking to your company mates, you will think graduation was yesterday, not some 40 years ago.

&nbsp Two other Companies have already scheduled mid-term reunions. The 18th Company is having its reunion aboard the Holland America Line MS Oosterdam. The cruise will be an "Alaskan Explorer Cruise" from 20 through 27 August departing from and returning to Seattle. There is room for a few more classmates from other companies, so anyone interested should contact Chuck Stone at cwstonejr@aol.com or (760) 751-8635 as soon as possible. The 4th Company will assemble in Albuquerque from 6 through 9 October to enjoy each other's company and take in the annual hot air balloon festival. All classmates are invited to join in. Contact Mike Blackledge at Mike@Blackledge.com for details.
---

&nbsp Once more, let's enjoy remembering Navy's football victory over Army last December. John Truesdell made that easy by sending this photo from the stadium.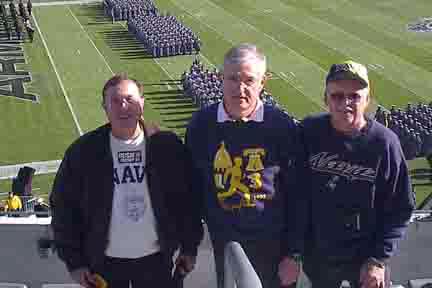 Truesdell, Wills, and Witcraft at the stadium in Philadelphia
&nbsp Ron Wills, Bill Witcraft, and I attended the Army Navy Game together this year in Philadelphia. This was the third game we attended together in 2004. All of us were in the 12th Company and have kept in close contact over the years. Ron lives in San Diego, Bill in Waterford CT, and I am in Hollidaysburg, PA.

Linda and I have been in Hollidaysburg for nine years, having moved from San Diego in 1996. I was working for the aerospace companies there when -- much to my disgust - peace broke out. A number of us had to find honest work so I teamed with a good friend and brother-in-law in Pennsylvania to become a financial advisor with Raymond James Financial Services. The move has put us in good position for retirement - two years away. Ron was my neighbor in San Diego. He recently retired from International Rectifier where he was the chief financial officer for their manufacturing operations in Mexico. He still does a good bit of consulting work for them. Bill spent twenty years in submarines and now works for Electric Boat in Groton, CT, and plans to retire this year. I was Ron's roommate second class year and Bill was Ron's roommate first class year. We have kept in touch over all these years thanks to a core group of classmates in the company who regularly attend all the reunions and such.
---

&nbsp Thermal imaging systems manufacturer EMX, Inc. has announced the appointment of our classmate James "Speed" Leeper as President/COO. A retired Navy Captain, he comes to EMX after nine years leading Orlando operations for FLIR Systems, another large player in the expanding thermal imaging industry. EMX thermal imaging cameras are used by New York City's Police Department in New York Harbor, Exxon-Mobil in Texas, British Petroleum in Colombia, the U.S. Department of Energy in Tennessee, the U.S. Navy in Pearl Harbor, and at 10 nuclear power plants across the nation for safety and surveillance.
---

&nbsp Anticipating Valentine's Day, an article in the 9 February Baltimore Sun profiled three couples "who have found love, spice and adventure in the kitchen." The first couple was Laurie and Sonny Glassner. Here are some excerpts.
&nbsp The scent of sauteing onions wafts from the home of Sonny and Laurie Glassner. Laurie prepares a salad of toasted almonds, Israeli feta cheese, and ripe cherry tomatoes while Sonny puts the finishing touches on sea bass served on a bed of spinach, mushrooms, onions, pears and mango.

There is no table of guests to receive the gourmet feast; it's a blustery midwinter Monday night, an average dinnertime in a home belonging to a couple who cooks together. The Glassners, co-owners of Louis Mazor Inc., which includes Pacific Collection Asian Antiques, began cooking together soon after they married. They negotiate around their small kitchen with the practiced ease that comes from cooking together more than 30 years.

"Compared to virtually every other woman I knew, very few knew how to cook," says Sonny. "Laurie is artistic and she appreciates food almost like another art form." Laurie learned her skills from her mother, who became a gourmand late in life, while Sonny picked up the basics in the Navy. As a young married couple, they began experimenting with flavors, herbs in particular. Sonny recalls that, "She'd make scrambled eggs with so many herbs, I finally said, 'Next time, no thyme!'"

Over the years, the Glassners honed their skills and emerged with individual expertise. "Cooking is Sonny's favorite thing in the world," says Laurie. "I do appetizers, salads and desserts; Sonny does the main course. That's how we do it. It's a question of what we like to do."

"When Laurie and I cook, we totally transpose," says Sonny. "In every other part of my life, I'm totally disciplined and Laurie is very loose and artistic. We look at things very differently. When it comes to cooking, Laurie has to be strict with respect to the recipe whereas I can taste my way through."

The Glassners' kitchen is comfortable, but hardly a set from the Food Network; nevertheless, they've learned how to cook together through years of practice. They know when to share the kitchen and when to get out of each other's way. "I think I know how he does things," says Laurie. "He's a perfectionist and he needs time ... but I've never seen anyone who loves something like he loves cooking."
---

&nbsp That's it for now, folks. Please do your part to keep this news exchange in business!



---