Shipmate Column
April 2009
---
CLASS OF 1963
Pres: CAPT W. Spencer Johnson IV, USN (Ret.)
Sec'y: Michael H. Shelley
164 Sweetwater Lane, Pisgah Forest, NC 28768
h: 828-862-4245 e: nstar@citcom.net
Web site: http://www.usna63.org.


For any classmate you can go to the Classmates Page and enter his name to read his current biography if available.
---
&nbsp We congratulate our classmate Ron Terwilliger for his selection as a Distinguished Graduate of the Naval Academy. He joins a small, select group of alumni who have been so honored. The Distinguished Graduates are recognized for their demonstrated and unselfish commitment to a lifetime of service to our nation; their personal character; and their significant contributions as Navy and Marine Corps officers, or as leaders in industry or government.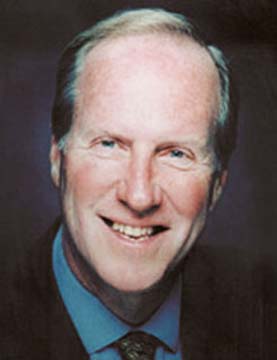 Ron Terwilliger


&nbsp Our Class President, Spencer Johnson, issued this notice to the class:
&nbsp Ron Terwilliger was selected as a Distinguished Graduate for a number of reasons. Not only has he established a position of ethical and business community leadership in the world of real estate over the course of his post-Navy career, he has returned a great deal to the Naval Academy in the form of the modern baseball field that was featured during our 45th reunion, major contributions to the Naval Academy Foundation annual fund, and service on the Naval Academy Foundation board of governors. Over the years, Ron has taken an industrial and personal lead in championing the construction of low-cost housing, having been largely responsible for tens of thousands of units constructed for the less fortunate. He has also been a major force in Habitat for Humanity, an organization that makes low cost and refurbished housing available to people who otherwise could not afford to own their own home or establish roots in a community. This past year, Ron assumed the presidency of Habitat for Humanity International, overseeing similar efforts on a global basis. Closer to home, he has instituted athletic programs and educational opportunities for inner-city youth groups, especially in Atlanta where he makes his home. For these generous and unselfish humanitarian efforts and many other personal attributes, Ron is being honored as our first Class of 1963 Distinguished graduate.

---

---






&nbsp Like it or not, we are rapidly approaching the 50th anniversary of the formation of the Class of 1963 on 7 July 1959. We all know - and feel - the importance of that day to the course of our lives. For many of us, the memories are indelible and still quite sharp. Why not share yours? We have established a 7 July 1959 page in the Pride and Tradition section of our web site. Click Here I invite you to visit there and enjoy reading the stories submitted by Steve Coester, Tom Reemelin, Jerry Huss, and others. To add your own reminiscences, just send the text to Steve at scoester@cfl.rr.com . If you have a photo or two to share, please submit them also.

Actually, not all of our classmates were present when the class was formed. Mike Rubel and two others were victims of a paperwork snafu. Here's his account of the situation.
&nbsp I-Day was a little different for three of us; Paul Tobin, Don Jacobs, and myself. We were not included in the mass swearing-in ceremony in front of Bancroft because our transcripts from college had not arrived in time. They were holding us back for further scrutiny (I guess). I remember going to the admissions office and asking them what to do since the University of Nevada had not sent my grades. He said, "Don't worry, you'll get in, but we need the transcripts to be official." I should have known!

The three of us were sworn in two days later in Mem Hall, with our words echoing around the great room as we pledged our allegiance to God and Country, and not necessarily in that order. Finally we were allowed the privilege of sweating our you know what off in the pleasant humidity of the East Coast with the rest of the class. Welcome to the rest of our life.

One incident that still is a fresh as the day it happened was with Jack Burke, my roommate for four years. We were sitting in our room when Buzz Needham came in and yelled "brace up". I immediately leaped into position, but Jack thought this was a prank by one of our classmates, and told him to do the same. After a few seconds with Buzz flying into a rage, Jack realized maybe it wasn't someone from '63 and he should follow the lead of the rest of us in the room. Needless to say, Jack did his share of come-a rounds, and Buzz exacted his pounds of flesh for the lack of proper respect.
---
&nbsp Our arrival at the 50-year point will bring our participation in the "Another Link in the Chain" program. We will establish a permanent link with the Class of 2013, our juniors by five decades. We will have many opportunities to mentor and assist members of '13 during their Midshipman years and beyond, and to be on hand for key events between now and their graduation. The first of these, Induction Day 2009, will be on 1 July. Details about our attendance and participation in I-Day events should be available soon and will be shared with you ASAP. In the meantime, make your plans to be at USNA that day. Steve has created a new page listed on the Wardroom page for Another Link in the Chain activities. It is "in work" but you can preview it at Click Here.
---
&nbsp Dirck Praeger has sent a colorful account of his adventures as a Midshipman hitchhiking from the East Coast to Kansas with his roommates Dick Williams and Ron Walters. It's waiting for your eyes on the Memories page of the Pride and Tradition section of our web site. Adventures in Hitchhiking.
---
&nbsp For outstanding dedication and Service, Joel Warshaw was honored in December as Police Officer of the Year for 2008 in Hamilton Township, Warren County, OH. After retiring from Proctor and Gamble, Joel was a law enforcement volunteer and in January 2007 was offered a part time job as a police officer. See his current biography at Click Here.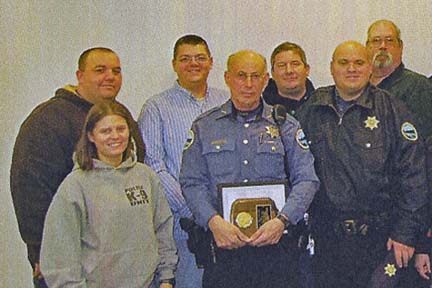 Honoring Joel Warshaw
---
Jim Ring, who provided the above news about Joel, sent this from his retirement home in Delaware.
&nbsp For the Army Navy game, we had a little party at our place at Rehoboth Beach, DE. We invited Carol and Charlie Minter, Elaine and Frank Davey, and Jackie and Mike Cronin plus a few of our neighbors. Charlie and Frank have places in Delaware and Mike came down from Maryland for the weekend. We had a great time, but the game was over after Navy scored the first touchdown. Fortunately, we had enough food and drink so that everyone enjoyed themselves. Pictured are Jim, Frank, Charlie and Mike. Navy made it seven in a row over Army but we all would like the games to be more competitive.

Jim Ring, Frank Davey, Charlie Minter, and Mike Cronin



---
&nbsp Ray Ross checked in from the Rockies with this news:
&nbsp I was asked to lead Air Group IV which is comprised of five Civil Air Patrol squadrons covering the western half of Colorado. From the standpoint of pure beauty, Colorado is even prettier flying than over tropical waters. This is a busy time of the year for our guys and gals because of lost snowmobiles, off-trail skiers, and people who fly into "cumulus granite" clouds. In one week in January they searched for two aircraft (5 fatal), but had several "finds" while assisting local Sheriffs. For Homeland Security they do photo recon of various places, and sometimes are the bad guys who get intercepted by F-16s. In planning is a "Four Corners" (AZ, CO, NM, UT) search and rescue exercise (SAREX) to incorporate lessons learned from the Steve Fossett search last year. My real heart is in the Cadet program, letting 12-18 year old kids experience the joy of flying.
&nbsp Ray sent this photo of two cadets standing with their display in front of a CAP plane, so I asked him to send one of himself. He responded with this picture of himself and Carol.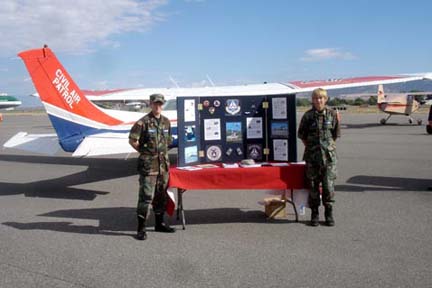 Colorado CAP cadets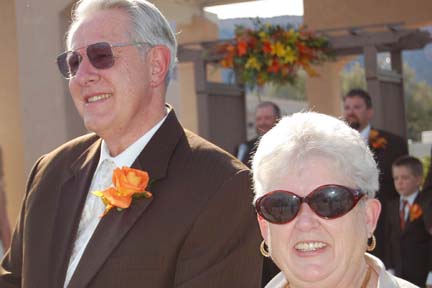 Ray and Carol Ross
---
&nbsp Dave Moore corresponded from sunny Southern California in January.
&nbsp We kicked off the desert social season in La Quinta with a gathering in the local wine bar. Attendees included Dick and Helen Anderson, Dave and Pat Anderson (Longview, WA), Lew and Lynn Blackwell, Bob and Sharon Borlet (Grand Haven, MI), Denny and LuAnne Vaughn (Seattle, WA), Tim and Valerie Cook, Chuck and Linda Spadafora (Indiana, PA), and David and Lana Moore. Bob Borlet was doing very well on his new pair of knees. Also joining us were Lynn and Alan Hendershot '66 (Annapolis, MD). He was a high school classmate of Chuck's but they had not seen each other in almost 50 years. No photos were made that day, but this snapshot of Chuck and Alan was taken the next morning.

Hendershot '66 and Spadafora '63



---
&nbsp This literary news came from Craig Thrasher:
&nbsp John Anderson (legendary starboard oar and my roommate) has published his first novel , "Liberty & Death". It is a story of intrigue surrounding the exploits of a WWII German saboteur team. I received my copy yesterday and am 70 pages in. It is a good read. The publishing company's web site is www.SunDewPress.org.
---
&nbsp Larry Marsh submitted this photo of the 20th Company's annual Washington, DC, Christmas Dinner. From left to right are: Barb Marsh, Pat Smith (Charlie Robbins' fiance), Charlie Robbins, Dan Koczur, Karen Koczur, and Larry. Once again, a good time was had by all!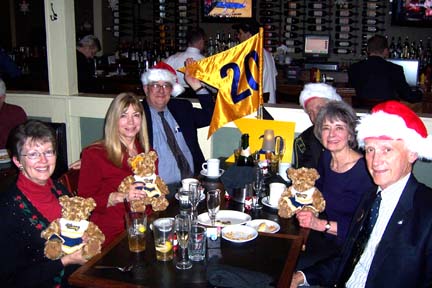 20th Company Christmas Dinner in DC
---
&nbsp Here's a brief item from Mike Blackledge:
&nbsp This photo was taken at a 4th Company lunch at Hof's Hut in Torrance, CA, on 27 January. From left to right are: Sharie Saqui, Mike Blackledge, Susan Anderson, Bonnie Nolan, and Ron Saqui. Susan was to leave the country a few days later for three weeks with friends in Belize; Sharie and Ron were to attend training for Volunteers with Special Ed Kids and Horses in Pomona, CA; and Mike and Bonnie were attending memorial services for Bonnie's mother in Harbor City/Lomita, CA.

Fourth Company lunch



---
&nbsp Around the time of the presidential inauguration in January there was a lot of e-mail chatter among our classmates about our experiences on Inauguration Day 1961. The many recollections of our overshoe "flat tires" along the parade route led Watt Miles to suggest that I ask George Emery to recount a later incident involving an absence of overshoes. George responded quickly and provided this reminiscence.
&nbsp The January day in 1963 that about 100 of us looking to get into the nuclear power program were bused to D.C. was rainy, snowy, and sloppy. The directed uniform was SDB's, carry raingear, i.e., no galoshes. It was a poor decision. We stood in the slush and rain awaiting the busses, then marched (straggled) through the same snowy rain down the street from the busses to Rickover's building. By the time we got inside, everyone's SBD's were wet; we reeked of that "wet wool" smell like dripping "Pigpens." That was bad enough, but what really made me mad were my squishy wet shoes and socks! The procedure was simple enough: we would each be interviewed by three of Rickover's henchmen who would jot down their impressions and pass them on to the Great Man for review before he interviewed us.

One of the henchmen asked me what one change I'd make if I had a chance to be "Superintendent for a day." My steel mind instantly snapped a response to this once-in-a-lifetime opportunity: "I'd make wearing galoshes optional on a lousy, wet, snowy day like this." I must have really impressed him because he wrote it right down. A couple hours later I was ushered into HGR's office. He was blinded by my thoughtful insight. All he could say was something like. "Emery, you have a great mind. I see that if you had one chance to make a change at USNA, you'd make wearing galoshes optional on a lousy weather day. Brilliant! Get out of here!"

I thought about that moment a lot, but never more than during the years 1977-1979 when, on assignment to HGR's offices as a member of the "Line Locker," I escorted student candidates for the nuclear power program into Rickover's office for interviews just like ours those many years ago. Were these guys going to demonstrate the same sharp minds like that with which I had so impressed the Great Man? I prayed they would not, but the truth is, many were even better than me at putting their big wet shoes in their mouths!

I never did figure out why HGR accepted me, but it worked out all right.
&nbsp Yes, it worked out all right: George had a stellar career, attaining the rank of Vice Admiral and serving the last three years of his career as COMSUBLANT.
---
&nbsp Writing from his home in Sandpoint, ID, Ken Sanger shares an enjoyable tale relating to the Navy - University of Washington football game in 1960.
&nbsp Geoffrey Cant, USNA '59, just moved in across the street from me. A friend of his, Dick Westmond, University of Washington '63, was visiting and helping him move. Both of them are former bubbleheads.

On learning that Dick was a U Dub grad from 1963, I made a snide remark about Navy whipping U Dub in 1960 by kicking a last second field goal. I was about to tell another story when he remarked that he had a goat story for me. I knew instantly it was going to be the same story I was about to tell but I didn't realize how coincidental it would become and I let him begin.

In 1960, my father, USNA '35, was the CO of NAS Sand Point, WA. Navy did not fly Bill the Goat to the game but borrowed a couple of angora goats to fill in for him. One of the stand-ins was boarded at the air station. Some enterprising U Dub frat/ROTC boys came on board and stole him. They were not wise to the ways of goats and the purloined goat sort of stunk up the car they carried him off in, plus he seemed to relish the taste of the back seat, somewhat shredding same. He was returned at halftime, although the other double was in uniform at the game.

Meanwhile back at Sandpoint, ID, today (to where my 95 year old father has just moved), I let Dick proceed to relate the same story, but with a twist. Dick was one of the thieves and added to the story that the goat sort of ruined the basement of the frat house where he was sequestered. Go, Bill!

I had interjected some information while he was telling the story, and he finally realized that I knew a lot more about it than he thought I would or should. I then dropped on him that not only was it my father who was CO of Sand Point, but that he was now living less than a mile away. Unfortunately, Dick was leaving to go back east and I had no chance to introduce him to my father.

My sister was eight at the time. This picture, taken before the game, shows her between the fake Bill and the Husky mascot (a husky, of course).


Left out of his story was the fact that some Navy guys stole King Chinook, the Husky mascot, when he was being taken away from the station after the photo shoot. However, Navy brass made Navy return K.C. Because they had promised his safe passage to and from the station for the promo.
---
&nbsp

"Never stand downwind of a wet goat" is still good advice.
Keep those e-mail and photos coming, folks!





---