Shipmate Column
January-February 2009
---
CLASS OF 1963
Pres: CAPT W. Spencer Johnson IV, USN (Ret.)
Sec'y: Michael H. Shelley
164 Sweetwater Lane, Pisgah Forest, NC 28768
h: 828-862-4245 e: nstar@citcom.net
Web site: http://www.usna63.org.


For any classmate you can go to the Classmates Page and enter his name to read his current biography if available.
---
&nbsp Let's begin by thanking all the guys who took a few minutes to send me their news to share with you. We have a very full report this month, so let's get to it.


We begin with the sad news of the death of our classmate John Joseph "Jack" McDonald, Jr. , who passed away on 9 November in Rockledge, FL. His widow, Cynthia, can be contacted at 472 Summers Creek Drive, Merritt Island, FL. I expect that Jack's obituary will appear in the Last Call section of this issue of Shipmate. It can be viewed here at Jack McDonald Obituary
---
&nbsp Thanks to Mike Moore for submitting this illustrated report from a recent ceremony.
&nbsp On 18 October, my wife Connie and I attended the exchange of Vows of Commitment between our classmate Bill Stewart and Joan Eileen Davis of Los Angeles at the Santa Barbara First United Methodist Church. Bill's children with the late Sandy Hanna Stewart were in attendance: Susan, MacKenzie, and Cameron. Joan's children with the late Alex Davis, Hillary and Carolyn, were also in attendance.

Bill and Joan met while they were on work teams from their respective Methodist Churches (She, the Sherman Oaks United Methodist Church, Bill ,the Santa Barbara First United Methodist Church) on missions to New Orleans to help in the aftermath of Katrina.

We also met our classmate Homer Smith and his wife Jean. Homer is the outgoing Principal Engineer for the City of Santa Barbara and the incoming President of the Santa Barbara Yacht Club. He has had a unique career. He retired as a Captain CEC with 28 years of service. He and Jean then spent 10 years living in Saudi Arabia. His email address is hohohosmith@cox.net.. I asked Homer why that unique email address and he told me that while they were in Saudi Arabia, Jean made Santa Clauses as a hobby.

Bill is the current President of the Santa Barbara Chapter of the USNA Alumni Association, while Homer is the former President.

Bill and Joan




Classmates and ladies: Homer and Jean Smith, Bill Stewart and Joan, Connie and Mike Moore



---
&nbsp This news update came from George Leever.
&nbsp Since I retired from FEDEX in 2001, Barb and I have been living on the western shore of a peninsula in Greers Ferry Lake located in North Central Arkansas. It's a somewhat isolated location but boating and golf ( 18 holes one mile away ) with occasional trips to Wal-Mart 25 miles away for food etc. make up our week. We have done some traveling (Australia, New Zealand, Puerto Rico, a Blue Danube cruise) but at present we are comfortable just enjoying the surroundings. Deer, turkeys, raccoons, and foxes visit almost daily. Visitors are always welcome, although our home is a bit difficult to find.
---
&nbsp Albuquerque resident Mike Blackledge served as a volunteer van driver in McCain campaign motorcades on two occasions in October. Here is a photo of Mike with John and Cindy McCain when they had a brief chat about Navy's gridiron victory over Air Force.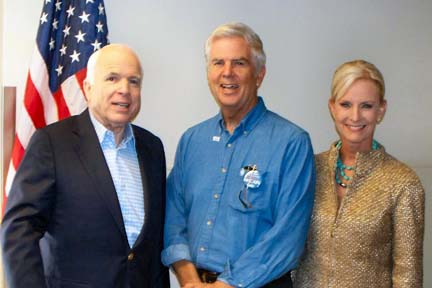 Mike Blackledge and the McCains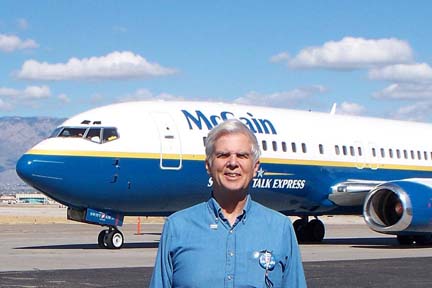 Meeting the Straight Talk Express


In mid-October, Mike spent some time with a visiting Fourth Companymate.
&nbsp On Sunday, 19 October, Dan Hitzelberger, the current Governor of the Maryland and South Delaware District of Optimist International, and his wife Bonnie arrived in Albuquerque, his second favorite town after Crabtown. They celebrated by taking to breakfast me and Bonnie Nolan (widow of our classmate George Nolan). A good time was had by all, as we validated Hitz' complete and thorough recovery from a somewhat scary heart attack (aren't they all?) back on Flag Day (14 June 2008). These photos lend credence to the fact that all of us are indeed living full and virtuous lives.

Dan and Bonnie Hitzelberger




Hitzelbergers, Mike Blackledge, Bonnie Nolan



---
&nbsp Here's a grand example of Navy spirit. Ron Wills sent a photo of himself and his Boxster with California "Go Mids" license plates.
&nbsp Although I live in San Diego, I have season tickets to the Navy games. It is kicks to be with my USNA class of 63 amigos and we do enjoy the games! As a Blue & Gold liaison officer, it is an honor to mix with the Mids from San Diego also.

Ron Wills, a Blue and Gold Officer with Blue and Gold spirit



---
&nbsp John Peterson is enjoying The Good Life while afloat in the Eastern Mediterranean. He filed this report to be shared with our classmates:
&nbsp Sandy Stoddard came onboard CADENZA with Jeannie and me mid-October in Marmaris, Turkey, after his and Bunny's extended travels in Eastern Europe. We poked our way up the coast to Turgutreis, just north of Bodrum, where I keep the boat when not cruising. I have been sailing the Med with friends for several years and unexpectedly bought a boat in Turkey a couple years ago. To rationalize this bold step, I try to squeeze out four months on board each year. The coast and nearby Greek islands give great diversity, limited congestion, and a lot of sunshine. I have no intention of taking the boat anywhere else. As a cruising friend often reminds me, boat ownership is for people who don't have enough problems. There is truth to that; keeping a thirty year old boat running smoothly challenges the brain and body while providing plenty of humbling opportunities. But, as a reward, the pleasures of sailing here beat anywhere else I have been. We often are looking for an extra hand or two and can be reached at cadenza43@gmail.com..

John Peterson and Sandy Stoddard afloat in Turkey



---
&nbsp This is a note from Ben Cole, accompanied by a picture showing the Navy spirit in his extended family.
&nbsp This is a photo of my all-female USNA team taken at a Cole Family get-together at Pawley's Island, SC, during Labor day weekend. Sue and I joined our two daughters, Debbie and Lorrie, and their families. We put the Navy T-shirts to good use and got this shot of the grandchildren. From left to right are Ava, Arlena, Alexis, Ana, and me. Who Knows - there may be a future female Midshipman in there.

Ben Cole and his granddaughters



---
&nbsp Remaining very busy in his professional and personal lives, George Singer took a moment to send a photo and this note.
&nbsp I am still in San Francisco working on building an IT hardware and software outsourcing company. It has been a bunch harder than I ever thought it would be.

Penny and I just made our first trip to Yosemite. This picture shows both El Capitan and Half Dome in the background. This is some remarkable place. We took our fishing gear, but there was no water. The rivers are nearly dry and have just enough pools to keep some of the fish alive, so we just drove around and checked out the scenery.

George and Penny Singer at Yosemite


Our 13 year old granddaughter has survived her extreme chemo treatments for lymphoma and is cancer free. She will do a two-year maintenance chemo program and after that will be declared fully in remission. She has gone back to school and dance classes and is working with a personal trainer. Her attitude, determination, and serenity throughout this past year have been an inspiration to us all.

Throughout this past year we have been taking care of her little (now 3 1/2 years old) sister on a fairly regular basis. WOW! I forgot what it is like to try and keep up with one so little and so energetic. She is a true free spirit. I bet all of us grandparents think their grandchildren are such, and she is fun most of the time.

If anyone gets to San Francisco please give us a call 415-956-9460 (home) or 415-515-5036 (cell). We'd love to see you.
---
&nbsp Tom O'Brien moved from Virginia to sunny Florida last year, but the cold weather followed him there.
&nbsp The late November Saturday dawned clear and cold (35F), but it was no deterrent to a '63 mini-reunion of three Classmates at the Orange Park Country Club (OPCC) in Northeast Florida. Tom Hall (in the area with his wife to visit her 101-year old Mother) and I joined my fellow OPCC resident Denver Key and his regular Saturday AM golf partners for a go at par and very modest financial rewards. The Navy '63 threesome teed off first and proceeded to tear up the course (meaning lots of sand was used in our divots) while squeaking out a hard-fought win by the narrowest of margins. Fortunately, it was a handicapped event. (OK, no crude jokes, guys.) This photo shows the three stalwarts acclimating to the adverse conditions outside the clubhouse prior to the start. A couple of Hot Toddies apiece would've helped --or maybe not! Since Tom had to depart Orange Park before the final divvying up could take place, this serves as official notice that Key and O'Brien owe him $6.00 from the Navy '63 winning team's prize.

Cold weather golfers Hall, Key, and O'Brien



---
&nbsp Many of our classmates in the National Capital area enjoy lunching together on a regular basis. This report from Jim Ring provides interesting details from the September session.
&nbsp Joel Gardner spoke to Classmates about his early experiences in the Marine Corps at the Class of 1963 luncheon at Army Navy Country Club in Arlington on 9 September. As you recall, the Marine Corps was talking only 30 to 40 from each half of the class, so Joel had to sandbag a course or two to get into the bottom half. (That's his story and he is sticking to it.) After Basic School, he picked a nice assignment for his first duty station. He took his bride, Beth, to Kaneohe, HI as a Platoon Commander with the 1st Battalion, 4th Marines. From there he transitioned through Army Ranger School and lots of other training to become a Platoon Commander with the 3rd Reconnaissance Battalion. In May 1965, he learned that he was not going to participate in Operation Silver Lance with an amphibious assault at Cape Pendleton, but was headed to Vietnam. (A sidebar -- two attendees at the luncheon, Frank Edrington and I, participated in Silver Lance, during which a cruiser shot down a Navy A-4 that had strayed into the exercise area.)

Joel was sent to Chu Lai and on one of their early missions, just as they got to their assigned recon area, two VC in black pajamas stood up. Joel had only a 45, and his pistol training came in handy, but then two other VC stood up with rifles. He was heard shouting, "Oh sh..!" Other Marines quickly dispatched them. It turned out the VC were doing the same thing that his platoon was doing, scouting the opposition. After Vietnam, he was assigned to Quantico teaching French, but when he heard about a special program as a Rural Development Officer with another agency , he jumped at the chance to get back in the action. After more training, he was assigned to Vietnam during 67 to 68 with local Vietnamese staff to search out the VC infrastructure as part of the Phoenix program. During this time, Beth and their two children were in Thailand and he could visit with them regularly. Also he made a lot more that a First Lt. in Marine Corps made. It was very interesting time for him.

Joel had lots of pictures of the old days and he did a great job -- no bragging, just the facts that I had strong armed him to tell us about. We look forward to others telling us about their experiences. We are not bragging about it, but we find it very interesting to learn about our classmates' experiences during these early days in the service. Attendees were Jim and Kate Ring, , Steve Leisge, Frank Edrington, Bob Forster, Roger Mehle, John Aucella, Bruce Webb, Forrest Siburt, Dan Koczur, Al Sherman, Pat Curtis, Satch Baumgart, Spencer Johnson, and Joel and Beth Gardner and their guest, a lovely young French woman, Aude Assemat.
---
&nbsp

Keep those e-mails and photos coming, folks! We're depending on you.





---