Shipmate Column
August 2006
---
CLASS OF 1963
Pres: CAPT W. Spencer Johnson IV, USN (Ret.)
Sec'y: Michael H. Shelley
25 Sweetwater Lane, Pisgah Forest, NC 28768
h: 828-862-4245 e: nstar@citcom.net
Web site: http://www.usna63.org.


For any classmate you can go to the Classmates Page and enter his name to read his current biography if available.
---
&nbsp This difficult year for the Class of 1963 continued with the deaths of three more of our classmates within 16 days in May and June.

Al Hellawell passed away on 22 May from pancreatic cancer. He will be inurned in the Arlington National Cemetery Columbarium on 21 August. His widow, Ellen, can be contacted at 338 Hart Road, Gaithersburg, MD 20878-5457.

Vince Gilroy died on 1 June from complications relating to lung cancer. He was interred at the Salisbury National Cemetery, Salisbury, NC. Vince's widow, Robin, lives at 6 Pine Knoll Lane, Lake Wylie, SC 29710-9200.

Ted Willandt died suddenly from a heart attack on 7 June. He will be buried at Arlington National Cemetery on 13 September. Ted's widow, Lorraine, resides at 4211 Harbour Island Drive, Jacksonville, FL 32225.

The Class extends its sympathies to the families and friends of these good men, all retired Navy Captains.
---
&nbsp Here's a note I received from Ben Cole with news of his recent relocation to northwestern South Carolina:
&nbsp On this 43rd anniversary of the graduation of the great USNA Class of '63, I thought I would get in touch to let you know that Sue and I have landed in the upstate of South Carolina, and three months after our move are beginning to feel like we are almost natives here. We are really enjoying the mountain scenery and our new log mountain home in the upstate, which is eight miles from the nearest grocery store! After 27 years in wonderful Summerville, SC, near Charleston, we made the big move to be closer to our two daughters and four granddaughters and their families, all of whom are in the Greenville, SC, area, less than an hour from us.

Sue and Ben Cole at home in the South Carolina mountains


We actually got moved in the first weekend of March and spent what seemed like the longest time ever unpacking those infamous boxes! I had almost forgotten that you have to actually pay for these moves, after having the Navy pay for nine of them for us! After paying off the moving company this time around, boy, do I ever appreciate even more what those bills might have been. But we are in and are really enjoying the area and all the beautiful scenery, waterfalls, parks, and, of course, the golf course which we have here. For the first time in thirty years, Sue and I are getting out and playing golf together, as well as frequent outings with friends. We're not quite ready for the PGA tour, but it sure beats working!

I hope that any classmates who might be in the area will let us know and try to stop by and see us or stay if they have time. We are at The Rock at Jocassee off the "scenic Highway 11" and our new address and email are on the class web site, so please let us know if your travels bring you this way.
---
&nbsp It was a real treat to see Martha and Phillip Marsden when they visited the North Carolina mountains at the end of April. After returning to Coronado, Phillip promptly submitted photos and this note:
&nbsp On a recent swing through the colonial south Martha and I looked up some resident classmates. Lou and Mike Shelley hosted us to a wonderful afternoon tour of Brevard, NC, that included a visit to their lovely home. Mike and Lou made us feel like visiting royalty -- they even purchased a new car for our visit and arranged for a sighting of a rare white squirrel (a local phenomenon)! Later, Donna and Dave DeHoll joined Martha and me for dinner at the Biltmore Village in Asheville, NC. Donna and Martha were close friends and classmates in high school in Arlington, VA. As the photos show we enjoyed visiting with friends and classmates and catching up on old times."

Phillip and Martha Marsden at Looking Glass Falls in Pisgah National Forest




Shelleys and Marsdens




Laughing at Phillip's jokes




DeHolls and Marsdens



---
&nbsp For all of us who have dreamed of vacationing in the tropics, here's an account of a sailing expedition taken by several of our classmates and their wives. Thanks to Jim Ring for preparing this envy-inducing account of their time together.
&nbsp Last Fall at a Navy football game, Lynn and Lew Blackwell told me that they were going sailing in April in the British Virgin Islands with Miller Detrick and Ian Sargent and spouses. I became good friends with Lew and Lynn while we were at Business School. On a whim they said "Why don't you and Kate join us?' Well, I haven't done much sailing since plebe summer, except a trip from Newport to Annapolis over 20 years ago. I remembered being asked to go sailing a number of years ago by my old buddy, Mike Cronin, but unfortunately had to decline. Mike has a sailboat on Cape Cod and has completed sailing trips in the Caribbean three times before. Mike said he and Jackie would love to do it again

So, fast forward to the first week of April. We had a 35 ft sloop (PIP) and the other boat was a 44 ft catamaran (ABROS). On it were Miller and Connie Detrick; Lew and Lynn; Ian and Fern Sargent and their daughter, Carrie; and Dave Parsons, a Navy squadron mate of Miller's and his spouse, Becky. Their boat was a luxury yacht with big areas for galley and lounge areas and each couple having their own stateroom, shower, and head. They were not true sailors like Mike, Jackie, Kate, and me. They had a one-day start on us, and we were delayed right from the start when we moved about five feet and got a line tangled around our prop. We beat our way up the Sir Francis Drake Channel and arrived about 1700 at the Bitter End Yacht Club in Virgin Gorda, BVI. Miller guided us in his dinghy to our mooring buoy right next to their boat and invited us to join them for dinner on board their boat. Dave and Becky fixed dinner and, after dinner and several bottles of wine, Dave had to endure hearing our sea tales from our days at the Academy and summer cruises. It turned out Dave was NROTC from Michigan and he wanted to know how to get in touch with Duane Buckingham from a summer cruise and Al Griggs from flight training.

The next morning the ABROS set sail for Anegada, while we took a more leisurely route and spent time on a private beach on Virgin Gorda. Then in the afternoon, we sailed over to Marina Cay on Tortola and anchored. We headed ashore for Happy Hour at the island's bar and then Mike spent the night checking to see if our anchor would hold in the strong wind, so we wouldn't run ashore. We didn't and in the morning went ashore for showers ($1.25 for 2 1/2 minutes). While there, I read how this little island got its start. Seems a Robb White and his bride came to the island in 1937 and built a small place and lived off the sea. They lived three idyllic years on their island retreat until 1940, when Mr. White was recalled to active duty in the Navy. He was USNA Class of '31 and graduated five numbers above John McCain's father, ADM John McCain, Jr. After the war, they divorced and never went back, but others have kept it going. Next we sailed to Cooper Island and spent 24 hours taking it easy on the beach, before we headed to the Bight on Norman Island to meet up with the ABROS. This time we led them to the mooring buoy. We treated them to drinks on the Willy T - a floating restaurant that was having happy hour. While there, we noticed a sign for a free t-shirt to anyone jumping nude off the second deck. Lo and behold, one couple stripped and jumped. Thank God, none of us had enough drinks to follow them. Again the ABROS crew was very hospitable and invited us aboard for dinner with Lew and Lynn as the cooks. We parted the next day and ended up spending the night in a cove on St. John before we headed back. Someday, over a drink, we will tell you the rest of the story.

It sure is nice to get together with classmates and spouses, 43 years after graduation, and share food, wine, and sea stories. Time is wastin', boys - go to that Class get-together, reunion, or luncheon, call the guys in your company and have dinner, or better yet set up a mini reunion for your USNA Company. There are too many good times that we need to share with special people with whom you spent four years together growing into manhood on the Severn. Do it today while you still have the chance!

As the pictures show, a great time was had by all. In the back row of the group photo are Miller, Lew, Mike, Jim, and Sarge; in front are Lynn Blackwell, Connie Detrick, Jackie Cronin, Kate Ring, and Fern Sargent.

Sailing party in the British Virgin Islands




Lew and Lynn Blackwell




Sargent, Detrick, and Blackwell




Miller and Connie Detrick




Mike and Jackie Cronin dancing under the stars



---
&nbsp My neighbors Judy and Bill Hollenack traveled to Albuquerque, NM, in May to visit their son and his family and to attend their granddaughter Anna's first communion. Bill and Judy dined with companymate Mike Blackledge, a long-time Albuquerque resident. Bill supplied several photos from their trip, which included stops at the Grand Canyon, Painted Desert, and Petrified Forest National Parks.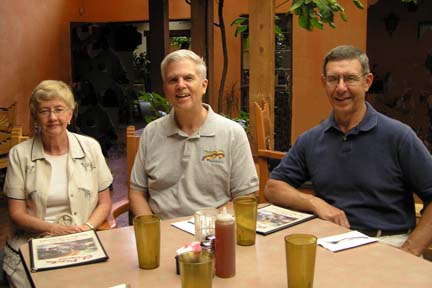 Mike Blackledge (center) dines with Judy and Bill Hollenack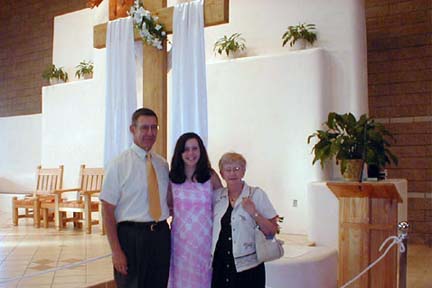 First Communion in Albuquerque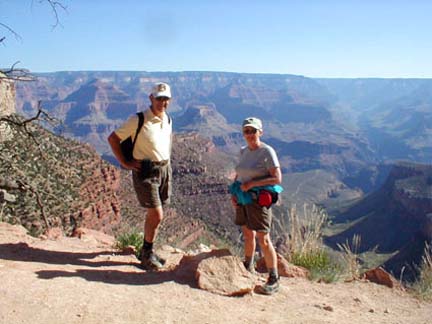 The Hollenacks at the Grand Canyon
---
&nbsp Peter Featherstone wrote to tell us about some big changes he is making this summer.
&nbsp I'm retiring from teaching this June, which frees up Charlotte and me to move to anywhere we want (within reason). We live in a great home on Norwalk (CT) harbor, which was worth a huge amount of money last year. So last fall, we decided to buy a nice yacht and a new home in Easton, MD (apparently not far from Steve Duncan's place in Oxford).

The boat is a 36-foot Grand Banks which we have named 'Tis, after the entire text of the last chapter of Angela's Ashes,. Why the Eastern Shore? Several reasons, not necessarily in any particular order. We like the area and the bay. It's milder weather than Connecticut. We have close friends who live on the water in St. Michaels. They have a dock, and have offered us a berth there for 'Tis. Our youngest son Reid goes to St. Mary's College of Maryland, which is a public liberal arts honors college, and we will qualify for in-state tuition. (This is important as a way of stretching a teacher's pension and social security as far as possible.)

The house we bought will be a great place, once it is renovated. A late 1800's Victorian, it's located in the historic district of Easton. It also is a "gut-job" -- we'll spend as much renovating it as it cost to buy. In the meantime, our house in Norwalk is on the market. The house in Easton will sit until we sell this one. We can only hope that it will be ready by the fall of 2007.
---
&nbsp So ends another very good month for our news exchange. I look forward to hearing from you, classmates. Please don't disappoint me.



---