Shipmate Column
August2007
---
CLASS OF 1963
Pres: CAPT W. Spencer Johnson IV, USN (Ret.)
Sec'y: Michael H. Shelley
164 Sweetwater Lane, Pisgah Forest, NC 28768
h: 828-862-4245 e: nstar@citcom.net
Web site: http://www.usna63.org.


For any classmate you can go to the Classmates Page and enter his name to read his current biography if available.
---
&nbsp It was good to hear from Bill Anderson, who provided a photo and tells us about his attempt to reconstitute the squash team from our Midshipman days.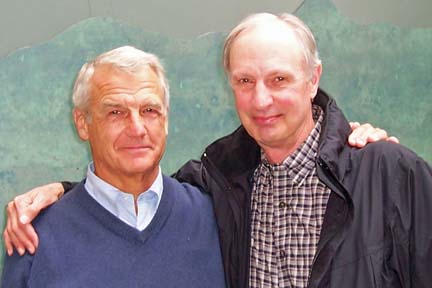 Bill Anderson and Phillip Marsden
&nbsp Here is a picture of Phil Marsden and me on April 10 in Edmonds, WA. Phil was up to see his mother, so we met north of Seattle -- a first after almost 44 years! It was taken with Phil's camera, but he felt he should have someone other than himself (yet again) send it in to Shipmate. We had hoped that Pete Soverel would join us but he had just gone to New Zealand to visit his nephew and sail and fish and hike. It was to be his first time there. (I've never been.) All of this came after I circulated a bright idea to reunite the '63 squash team for an assault on the current team. Lee Pekary begged off on account of worn out knees and back. I suggested we stack the ladder as coach Art Potter was alleged to have done in the old days, but Phil pointed out that we didn't have anyone to stack it with. Phil comes up here about four times a year, so maybe Pete will join us in the future, as well as Denny Vaughan (who lives in Edmonds) -- and anyone else nearby.
---
&nbsp Marti Livingston, widow of our classmate Lee Livingston, has shared this remembrance.
&nbsp Fifty years ago this summer, as a new high school graduate, Lee left home with a five-dollar bill and a bus ticket. Having been rejected by several universities for scholarship assistance, and his family not having the means to pay for college, he opted to enlist in the Navy. After Boot Camp in San Diego, he went on to Electronics Tech School at Treasure Island, and then to Submarine School at New London. Hungry for more learning, he approached the education office for yet something more. When the counselor suggested that he apply for the Naval Academy, the then 19-year-old naively asked if it were an accredited college! The application was processed, but so were his first orders for a submarine cruise. He was literally moments from boarding when he was summoned to the education department to be informed that his application to the Academy was accepted.

Of course, there was prep school at NAPS to face. In anticipation of the entrance exams, he asked his father to check on his high school records. Certainly, if he had been turned down for scholarship money, he must have done something terribly wrong on his college entrance exams. Lee's records showed that he had been ranked high in the state of Tennessee and in the city of Memphis. Why, then, could he not have been awarded scholarships? His folder was stamped "not college material". His principal admitted that he would not recommend him because he considered him a juvenile delinquent. The reason? This young man wore t-shirts and jeans. In the 1950's, they were cheap and durable. It should be noted here that Lee's father invited the principal to remove his glasses and step outside, but the principal declined the offer!

At the closing ceremonies at NAPS, this "juvenile delinquent" received the Class of 1939 Award for having the highest academic ranking in his class. At graduation from the Naval Academy, he ranked 33rd out of nearly 900 men and personally received his diploma from then-Vice President Lyndon Johnson

I was, and remain, ever proud to have been the wife of Lee Haltom Livingston.
---
&nbsp Now for a great story from Zimm Zimmerman, who recounts how three of our classmates pulled a daring and enduring prank which put '63 in the limelight and kept us there for three years.
&nbsp It seems the diggers and fillers had a slack day, and decided to spruce up the laundry smokestack with a fresh coat of gleaming, silver paint at the start of the football season of our Youngster year. Man, did that beautiful silver stack stand out on the Severn skyline! The Bancroft Hall Administration issued a warning to all classes not to ruin the new paint job with any class signs.

That's the kind of challenge we needed at the time. JJ Hogan, Steve Leisge, and I were coming back from intramural football at Hospital Point one evening, and stopped into the Laundry boiler room. An ancient attendant was alone there, and we asked him, " If you were going to break into this building at night and gain access to the smokestack, how would you do it?" He said, "Now that would be a criminal offense -- breaking and entering -- so I would never advise anyone to do it, but if I were going to do it, here's what I'd do. With that, he took us up the fire escape to the roof, showed us a set of windows with the hinges on the outside, then said, " See, if you back out the pins from the hinges, you can lift out the locked windows, thereby gaining access to the ladder that takes you to the base of the smokestack." We thanked him and laid plans for the assault -- spray paint and black outfits and a hammer to back out the hinge pins. We easily recruited three more commandos -- Niles Iannone, Dick Ortwein, and Mike Krause -- to complete our team. At 2:00AM, the alarm went off, we dressed in black, snuck out of Bancroft, and started running for the laundry. I remember a Jimmylegs in a patrol car forcing us to roll into a ditch until he passed - we felt like the James Bond SWAT team! The hinges came off just like the ancient one predicted, and we started up the smokestack ladder. But the ancient one hadn't warned us that the wind that night would cause the stack to sway about three feet in both directions, so holding the ladder with one hand and spray painting, " '63 Sez BEAT ARMY!" with the other hand was exciting in the dark! .

Well, we got back to bed without detection, but were so excited to see the brigade's reaction at formation, that we couldn't sleep. Especially since the Administration had warned the brigade not to touch their new paint job! We were feeling proud of ourselves for one day, until the next morning, when we saw that someone from '62 had gone up the following night, painted out the "3" and replaced it with a "2", so that the stack now read: " '62 sez BEAT ARMY!" They stole our paint job! This could not stand! JJ Hogan had an idea. We went out in town and bought three, giant sized jars of 100 percent Pure Petroleum Jelly. The next night, we repeated the assault on the stack, painted out the "2" and replaced it with the "3." This time, as we came down the stack ladder we coated each rung and rail with Petroleum Jelly! At the base of the stack we painted a Warning Sign, to the effect that climbing the ladder would be dangerous to your health! .

We were amazed we never were caught, and the Petroleum Jelly worked, because " '63 sez BEAT ARMY" remained as the stack sign not just for that football season but until we graduated.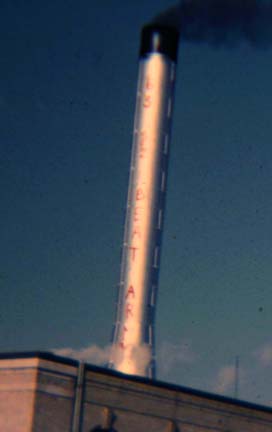 The '63 Smokestack
---
&nbsp Upon returning to Albuquerque from an April visit with family and friends in Florida, Mike Blackledge sent this bit of news.
&nbsp I stopped in Port St. Lucie to visit Judy Henghold, the widow of our classmate Bill Henghold. Bill died from esophageal cancer in March of 2006, one day after my wife, Helen. Bill and Judy lived in same cluster of houses at the Air Force Academy with us during their teaching years 1968-1970. Bill and I were among the 60 members of the Class of 1963 commissioned into the Air Force. Judy was exceedingly gracious in showing us her home (beautifully decorated by her) at the end of a lake in a gated community. She is an accomplished artist in her own right, and is using Bill's office (among other rooms) as her studio.

Judy Henghold


A noteworthy event will occur this June at the High School where Bill's son Mitch Henghold coaches. The new Weight/Conditioning Room will be dedicated as the "William M. Henghold Memorial." A large photo of Bill in his USAF O-6 uniform and a commemorative plaque will be part of the permanent display there.
---
&nbsp In early May, Ray Kutch sent news about an exciting project to establish USS Ranger (CVA 61) as a museum in Portland, OR.
&nbsp Judy and I still live in the thriving metropolis of Washougal, WA. Our grandchildren and two of our children are living in the Seattle area. Our oldest son lives in Bardstown, KY. Judy is enjoying teaching kindergarten and she wouldn't let me sit around the house while she was, so I have ventured into real estate, primarily commercial. I am enjoying the challenges, but with other business interests and real estate, I decided that I was not busy enough, so I took on another challenge.

Last summer, I was elected to the Board of Directors of the USS Ranger Museum Foundation. Before the first meeting was over, I was nominated and elected as President/CEO of the Foundation. You guessed it: no one else wanted the job and I was elected by default. That's not completely accurate, but close. .

As President of the USS Ranger Foundation, I have had the opportunity to speak to many organizations about the military and about the Ranger and what we are trying to do. Most of you are familiar with Navy ships that are located throughout the country as museums and memorials. Our group is trying to bring the USS Ranger to the Portland Metropolitan area as a Museum, Emergency Preparedness Facility, Tourist Attraction, School, etc., etc., etc. Here is a picture of Judy and me when I spoke to the Military Order of World Wars at the Massing of the Colors ceremony last fall. Some of you may recognize the picture from Christmas time.

Judy and Ray Hutch


In my efforts with the Ranger group, I am seeking to find anyone who served on the Ranger, either as Ship's company or with any of the air wings that were stationed aboard. We are very close to getting a site here in Portland for the ship and despite the hurdles that are very prevalent on the "left" coast, we are making some progress. Networking can be our biggest asset in getting the ship here to the Northwest. The ship will certainly be the largest man-made asset that will be a tourist attraction and will certainly draw more visitors to the Northwest. If you served on the Ranger or know anyone who did, we would love to hear from you. Please check out our website at www.ussrangercv61.org. Our marketing study is costing us $45,000! We need some help in covering that expense. Site location is crucial to fund raising, and the Marketing Study/Business Plan is crucial in convincing the community business and political leaders that we can make the project work. We have a number of large donors who will be able to help once we have the City of Portland convinced, but we need seed money to pay for the Marketing Study and Business Plan. The BOD, in addition to their time, travel expenses, and other costs, have donated in excess of $20,000 toward the Marketing Study and Business Plan. Now is the time for you to get out your checkbooks! We are a non-profit 501(c)(3) corporation, so your contributions - notice that I used the plural - will be tax deductible. Please visit the web site for details. Your help is very much appreciated. .

Judy and I, along with our children and grandchildren, will be visiting Washington, DC, and Annapolis during the Fourth of July week. We will then travel to visit family in Canonsburg, PA. Any of you who will be in the Pittsburgh area during the weekend after the Fourth of July are welcome to a big Polish family reunion that weekend in Canonsburg. Some of you, especially those from the 24th Company, may remember the party at my parents' bar after the Pitt game when we were second classmen. It was a great party and this family reunion promises to be just as good. .

If you are in the Portland area, Judy and I would love to see you. Please give us a call at our home (360) 835-7481. Be a part of history and help us save the Ranger!
---
&nbsp Big changes came this year for Steve Duncan, who had served since 2004 as the Director of the Institute for Homeland Security Studies at the National Defense University. In February he assumed the position of Vice Chairman of General Atomic Technologies Corporation, the parent company of General Atomics and its many affiliated companies. The company and its affiliates are engaged in a wide range of advanced technology businesses, including the development of modular helium-cooled nuclear power reactor systems, the sale of TRIGA research reactors, the manufacture and operation of state-of-the-art unmanned aerial vehicles, information technologies, aircraft launch and recovery systems, superconducting magnets, systems for the destruction of hazardous material, and many other products and services for government and industry.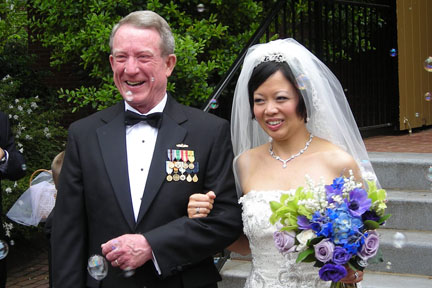 Steve and Natalie


On 12 May, Steve was married to Natalie Lui at a ceremony in the chapel at the Virginia Theological Seminary in Alexandria. Natalie is Counselor to the Director of U.S. Citizenship & Immigration Services, an agency within the Department of Homeland Security. She is also a member of the Board of Visitors of the National Defense University. The reception and dinner were held at the Fort McNair officers club in Washington. In a ceremony ably led by Chuck Stone, several of our classmates and their ladies welcomed Natalie to the USNA Class of 1963. Present for this important evolution were Mallory and Felix DeGolian, Carol and Bob Harper, Lisa and Jim Metcalfe, Judi and David Puckett, Lou and Mike Shelley, and June and Chuck Stone. Here are a few photos from the wedding and reception. In the group picture, taken just after the wedding, are (left to right) Bob and Carol Harper. Felix DeGolian, Lou Shelley, Mallory DeGolian, Judi and David Puckett, June Stone, Mike Shelley, Chuck Stone, and Jim Metcalfe.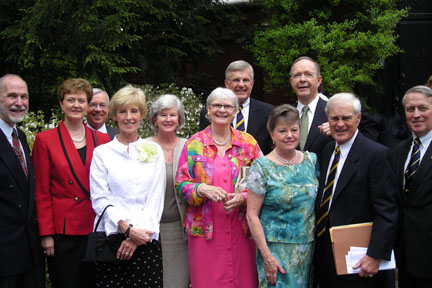 After the wedding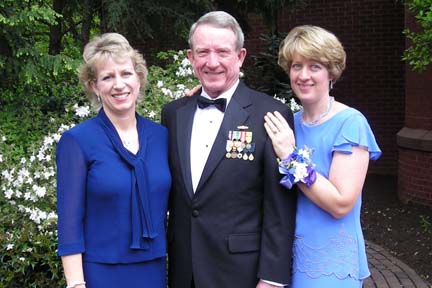 Steve Duncan and daughters Kelly White (USNA'90) and Paige Johnson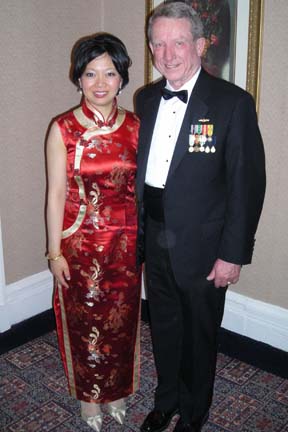 Steve and Natalie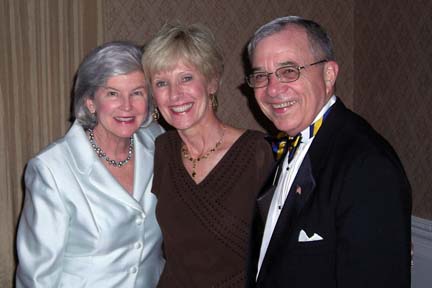 Mallory DeGolian, Lou Shelley, and Felix DeGolian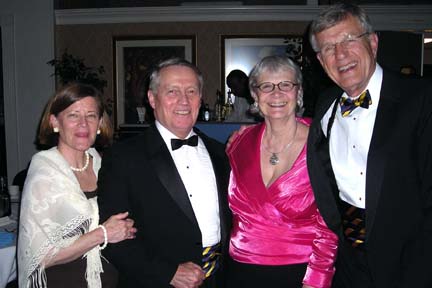 Lisa and Jim Metcalfe with Judi and David Puckett
---
&nbsp That wraps up things for now. Don't forget to write!



---