Shipmate Column
June-July 2007
---
CLASS OF 1963
Pres: CAPT W. Spencer Johnson IV, USN (Ret.)
Sec'y: Michael H. Shelley
164 Sweetwater Lane, Pisgah Forest, NC 28768
h: 828-862-4245 e: nstar@citcom.net
Web site: http://www.usna63.org.


For any classmate you can go to the Classmates Page and enter his name to read his current biography if available.
---
&nbsp Because it has been two months since the last issue of Shipmate, there is a lot of news for you this month. We begin with this important announcement from Steve Leisge:
&nbsp The left coast contingent of the Class has committed to venture to the right coast to help us cheer in person Navy's sixth-in-a-row victory over the Blackened Knights on December 1st. There will be a victory dinner following the requisite warm-up (literal and figurative) at the cash bar reception at the Radisson Lord Baltimore, several blocks from the stadium. For those desiring to make it a weekend celebration, we reserved a block of rooms at the hotel. About ten of those are still available on a first-come, first-served basis. For those just wanting to get an early start and/or extend the celebration to the next day, there will be a pre-game brunch on Saturday and a farewell brunch on Sunday.

We'll be asking for dinner and brunch reservations a few months before the game. If you want to stay at the Radisson (an historic hotel that was renovated in '05, near the Baltimore Inner Harbor), please email me as soon as possible at sleisge@comcast.net. As of mid-May, only ten rooms are still unassigned in the group we reserved for '63. The city will soon be booked solid; there are other hotels in the vicinity of the stadium (more expensive and without the camaraderie) that may still have rooms available. Rooms in our group are $259 plus tax for Friday and Saturday and $159 plus tax for Thursday and Sunday. We're hoping to have buses to and from the game.

We haven't had a class gathering at the Big Game before, so let's do it big! Alumni can order tickets now, before the school staff and general public. Make plans to join the party and order your game tickets now. The USNA Athletic Association ticket office can be contacted by calling 1-800-US4-NAVY or via its web site at www.NAVYSPORTS.com
---
&nbsp Tom Morgan has passed along the sad news of the death of our classmate George Gottlieb.
&nbsp We have learned of the passing of our classmate George Gottlieb in December 1997 due to a malignancy of the brain. Members of the 24th Company have been looking for George for several years and recently found his brother Michael. After numerous discussions with Mike to get facts straight and to get his approval, we prepared the following remembrance of George.

George's 24th Company mates and his other classmates remember him for his academic brilliance, intellectual curiosity, and generosity of spirit. Although he was as strong as an ox on the athletic field, he also was as gentle as a lamb off it.

On graduation, George was commissioned in the U.S. Air Force and quickly earned a Master of Science degree in nuclear physics at the University of Michigan. The Air Force then assigned him - well before President Reagan's "Star Wars" initiative - to the design of defensive weapons to be deployed in space. Following outstanding military service, George continued serving our country in the Department of Energy at the University of California's Lawrence Livermore National Laboratory, where he worked on top-secret nuclear weapons design. In doing so, George contributed importantly to our victory in the Cold War.

After his contributions to the nation as a whole, George then began contributing one-on-one. Given his love of philosophical debate and his innate kindness, it was no surprise to those who knew him that he undertook graduate training as a psychologist. Unwrapping the mind's mysteries in aid of others then became George's full-time profession. He lived in Santa Cruz and helped many patients in his years of practice in Los Gatos, CA.

George's service to our country and to his fellow man exemplifies the saying, "The measure of a man is not the number of his servants, but in the number of people whom he serves."

George did not marry; he is survived by his brothers Michael, of Tahoe Vista, CA, and William, of Boulder, CO, and his sister Helene Hershel, of Orinda, CA.
---
&nbsp Eli Dabich has written to share news of a very worthy program which helps wounded service members.
&nbsp I am in my fourth year of teaching Chemistry at USNA. I missed 2005 when I had a hip replacement and two shoulder operations -- a reconstructive year. It's a real challenge to deal with the new plebes but it keeps me on my toes and generally is a lot of fun and always hard work.

I want to share some information about the Intrepid Fallen Heroes Fund, which has become a focus for Eileen and me. Our men and women in the Armed Forces are doing a marvelous job in Iraq and Afghanistan despite multiple deployments, dangerous assignments, time away from loved ones, and horrific local conditions. Over 20,000 men and women have been severely wounded in Afghanistan and Iraq. Many of the wounded will require major long-term rehabilitation. To accommodate the catastrophically disabled, The Fallen Heroes Fund has completed construction of a world class, state of the art rehabilitation facility at the Brooke Army Medical Center in San Antonio, TX. The Center is for traumatic amputee patients, burn patients requiring rehabilitation, and service members undergoing limb salvage techniques. This facility was constructed by private funds and as you can understand additional funds are needed for future services thus providing a way for individual Americans to personally support those who have sacrificed so much in service to our nation. It will be fully staffed and operated by the U.S. Army Medical Corps.

Eileen and I wanted to help our troops with their rehabilitation. Consequently, we organized a luncheon on March 25, 2007. The luncheon was a fund raiser to support the rehabilitation efforts. One hundred percent of the contributions went to support wounded military members and their families. We invited former military personnel from our various groups of family, friends, neighbors, squadron mates and Naval Academy graduates. Our theme was "taking care of our own." Among the attendees were Jan and Peter Quinton, Ella and Mike Bracy, Ann and Tom O'Brien, and Andrea and Spencer Johnson.

To learn more about the Intrepid Fallen Heroes Fund go to www.fallenheroesfund.org. This would be a great class project where we could make the difference in the lives of our wounded troops.
---
&nbsp Congratulations to Bill Carmichael on the occasion of his marriage to the former Patricia Clingenpeel this past October. Their new home is at 13321 Ellerton Terrace, Midlothian, VA 23113.
---
&nbsp Here's a brief note from Bo Newell: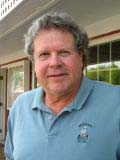 Bo Newell
&nbsp My wife, Nancy, and I own a real estate company, Mountain Area Realty (mountainarearealty.com)., with offices near the Wintergreen Resort and in Western Albemarle County, near Charlottesville, VA. I have been in the real estate business since 1969. Both Nancy and I are fly fishers and own a home in Montana just north of Yellowstone Park and east of Livingston, MT. We are very active in the SPCA and I am a struggling, but hopeful, golfer. Come visit us when you get a chance
---
&nbsp Tom Robertson reports that Jack Reed is continuing his determined battle against prostate and bone cancer. It's a tough road, but he's holding up well. Jack's address is 2240 Timberneck Lane, Newport News, VA 23602. I know he'd like to hear from his classmates.
---
&nbsp Jim Ring reports on presentations by two of our classmates who shared noteworthy personal experiences from their active duty service.
&nbsp At the Arlington, VA, Army Navy Country Club on January 16th, we had a Class luncheon to hear Paul Tobin talk about his experience as Acting Chief Engineer of USS LIBERTY following the sustained air and sea attack on it by Israeli planes and PT Boats. The attack lasted more than two hours -- killing 34 Americans and wounding 172 others -- and inflicted 821 rocket and machine-gun holes. Our classmate Steve Toth was killed. Paul gave a video presentation which showed LIBERTY just hours after the attack on June 8, 1967. Paul was the Chief Engineer of USS DAVIS (DD 937), the first U.S. ship on the scene. He went aboard LIBERTY to determine what repairs were needed to keep the ship afloat and then get underway for repairs in Malta. His report impressed the on-scene Commander, ADM Kidd, who made Paul the acting Chief Engineer to help insure the ship would not sink on its way to Malta. For years, ADM Kidd would not acknowledge to Paul that both were aboard LIBERTY.

This was a fascinating presentation. It was the second time that I have seen it, and it gets more interesting each time. Our classmates and spouses had a good time. They included David Robinson, Carla and Jeff Miles, Linda Stubbs, Spencer Johnson, John Kelly, Betty and Kent Maxfield, Denny Conley, Kate and Jim Ring, Lynn and Paul Tobin, Peter Browne, John Kelly, Mike Cronin, Ed Hutcheson, Al Sherman, Forrest Siburt, Dick Kuntz, and Mario Fiori.

At a luncheon on April 11, Mike Cronin spoke about his experience as a pilot in Vietnam and then six years as a POW in North Vietnam. Mike was hustled quickly to combat action after finishing flight school and the RAG. His first flight on 3 June 65 was supposed to be a familiarization one, but ended up providing cover for Paul Ilg '60, who had been shot down over Laos. The flight lasted over five hours, included an in-flight refueling, and then a night landing. Welcome to Vietnam! Fast forward to January '67: on his second cruise with over 180 combat flights, he was shot down. He thought he could make it to the coast but his plane caught fire and after he ejected, the wind blew him back ashore, where he would spend his next six years. Early on, he was tortured extensively. Torture consisted of shackling his wrists behind his back, then putting a rope through his biceps. They then tightened the rope so his biceps would come together, thereby dislocating his shoulders. When he lost feeling in his arms and shoulders, they would loosen the ropes, so he would regain feeling, and then tighten them again. This torture could last for over two weeks. Once while lying on a concrete floor with his arms shackled behind him, they added to the torture by tying a rope around his neck and attaching it to his ankles. Thus when he moved his feet, he would choke himself. While unconscious and close to death, he was saved by a guard, who saw him. During the first three years, the POWs were starved. He said that during this time he didn't dream about a steak dinner, only stacks of pancakes. Mike has made it through several of his nine lives. Family, friends and classmates are all happy he is with us. Mike ended by showing pictures he made at the Hanoi Hilton on his visit in 2001. It included the torture room where he believes some of the POWs were tortured to death.

We had a great attendance for the lunch, with 31 classmates and spouses. They included Chuck Maclin, Peter Browne, Tom O'Brien, John Aucella, Betty and Kent Maxfield, Pat Curtis, Pat Johnson, Dirck Praeger, Dick Williams, Kate and Jim Ring, Mike Cronin, Charlie Stubbs, Joel Gardner, Jan and Phil Rooney, Wilson Harris, Spencer Johnson, Noriko and Denny Conley, Steve Leisge, Satch Baumgart, Bruce Webb, Frank Edrington, Forrest Siburt, Skip Wright, Bob Forster, Mike Bracey, and Ian Sargent.
---
&nbsp Tom O'Brien contributed this news about a most noteworthy event at the Naval Academy.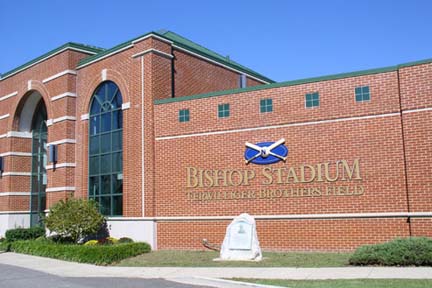 Max Bishop Stadium as seen from King George Street
&nbsp I attended (as a baseball fan) the dedication of Terwilliger Brothers Field at USNA's Max Bishop Stadium on 28 April. Ron '63 and his brother Bruce '64, both outstanding Navy baseball players, were there with their wives. They were honored in remarks before a scheduled doubleheader by Superintendent Rodney Rempt '66 and Athletic Director Chet Gladchuck for their tremendous gift to the Naval Academy. According to the Official Program for the day's dedication ceremony and doubleheader vs. the Bucknell Bison, the Terwilligers were responsible for a $2.5 million renovation of the baseball facility. The facility's biggest improvement was the installation of a new playing surface. The natural grass was dug up and 124,000 square feet of FieldTurf was installed in January 2006. FieldTurf is the same surface used by three Major League Baseball teams, as well as the field at Navy-Marine Corps Memorial Stadium. Only the pitcher's mound and home plate area (they remain dirt) are not covered by FieldTurf. Currently, only two other collegiate baseball facilities (at Washington State University and the University of Louisville) have an all-FieldTurf playing surface.

In addition to the new playing surface, several other enhancements were made to the baseball facility:
- a 5,000 sq. ft. heated, indoor, "rain-or-shine" hitting and pitching facility
- 1,000 chair-back seats installed
- a state-of-the-art LED matrix scoreboard with a video screen
- a concession stand located on the concourse level behind home plate and a patio area.
Large brass plaques detailing both Ron's and Bruce's Navy baseball highlights and individual contributions to Navy baseball will be permanently mounted at the ballpark.
&nbsp Also at the dedication was Jim Ring, who as our Vice President congratulated Ron on behalf of the Class of 1963. Jim notes that Ron and Bruce were starters on the baseball team for all three years. Ron hit .380 one year and Bruce was undefeated as a pitcher one year with a very low ERA. Navy had some great years during their playing days and the team still holds the Navy record for most wins in a row.
---
&nbsp Pete Carrothers tells us about a magazine article featuring his daughter.
&nbsp In the May issue of Reader's Digest there is a very heartwarming story of Ashley Bryan (our youngest daughter) and her compassion and determination as she shepherds Donald, a 12 year-old African-American boy who lost his mother in Katrina, through the maze of bureaucracy. A lot of you helped Ashley when she raised funds last summer to send Donald to camp. I thought you would be interested in how he's doing. If you can't locate a copy of the magazine, you can see the electronic version of the article ("Drawn Together") at www.rd.com. When you see the picture of Ashley and Donald, click on it and you can choose from the text version, or the pictures. Nancy and I are truly blessed to have raised such a compassionate and wonderful daughter.
---
&nbsp Now officially retired, Dave Riley brings us up to date about his forthcoming move from Ohio to Washington state.
&nbsp Though I regularly keep in touch with many classmates, it has been some time since I've provided a general update, so here goes. Much to wife Anna's joy, I fully retired at the end of last year. I had intended to do so in 2005 but delayed to help a friend who had patented a unique airfoil design with possible application to small, tactical UAV's and which was undergoing evaluation at Wright-Patterson AFB. This was my first experience as a Beltway Bandit of sorts and after one year of rather tedious work effort, I decided enough was enough.

Anna and I did some traveling in 2006 which included a six week vacation tour of Europe visiting long time friends in the UK, Germany, and Portugal and Anna's family in Italy. Some of these friends were foreign military students and their families who we met while attending the Navy Postgraduate School, Monterey in the early 1970's. Rather surprisingly, I also met some of Anna's relatives for the first time even though we had lived in Italy for three years and visit there regularly. Our other trip of note was to the Puget Sound area over the Christmas holidays to spend time with family and friends and scout out property. I grew up in the Northwest and we decided some time ago to eventually leave Ohio since there is no family in the area and our children are in California and Massachusetts, neither of which are appealing locations for us.

The two areas we considered for relocation were Bellingham (close to Phil Gubbins and his private stock of Campari) and Whidbey Island (close to one of my brothers, also a retired naval aviator). For a variety of reasons, we chose Whidbey Island and bought two acres on top of a bluff fairly close to the naval air station and with a view of Skagit Bay and the Cascades. The big job now is selling our Ohio home and then relocating to temporary housing on Whidbey Island while we build the home that Anna is designing. I've included a photo of Phil and Christine with Anna taken during our visit with them in December.

Anna Riley (center) with Phil and Christine Gubbins


The other news of note is the planned gathering of many from the 17th Company to cheer for Navy at the Notre Dame football game on November 3 in South Bend. A few of us from the 17th began attending the South Bend games eight years ago and the number of participants has been at most seven. But this will be a banner year with 15 signing up. Anna and I send our best to everyone.
---
&nbsp It was a pleasant surprise to hear from Jim Collister, who wrote to reestablish contact after many years.
&nbsp I am sending my information as the result of meeting up with Steve Hoy, my plebe year roommate in the 19th Company. Steve, Pete Nomura, and I spent many great days in room 4301 looking at the girls coming in the main entrance as well as getting put on report for drying our hats on the radiator that could be seen from Tecumseh Court. I left the Academy in February 1961 and returned home to Southern California. I went from marching to digging ditches for Southern California Gas Company until I could get back into school. There is nothing like physical labor to impress on you the value of a college degree. I married my high school girl friend in '61 and enrolled at UCLA. I graduated from UCLA in January '64 with a B.S. in Psychology and a minor in History and Economics.

After a year in banking I started management consulting with my own company, Collister and Company. I worked as a management consultant for 35 years and was fortunate to have long-term relationships with over 300 companies such as Bechtel, USC, and Nordstrom. My wife Diana (who came to June Week '60) and I were married for 28 years and had 3 children. We were divorced in 1990. In October 1993 I went back and found my junior high school sweetheart; we were married in October 1996. She died suddenly in October 2006 of a heart attack. I am now dating the sister of an old friend and anticipating getting married later this year.

For most of my life my passion has been learning about and then teaching people how to live and work together in meaningful personal relationships. In 2003 I wrote my book "The Last Relationship Book You'll Need" and began a second career as a speaker and seminar leader for my own company, Excel In Living Institute. Since the sudden passing of my wife my business activities have slowed down while I got a grip on my loss and grief. I am restarting my educational business and expanding my relationship learning practice to include grief recovery.

Currently I am living in Corona del Mar and Murrieta, CA. My lady friend and I will be moving to La Quinta, CA, after we sell our homes. Although I teach relationships for a living, golf and travel are my life.

My year and a half at the Academy was a pivotal time in my life. I continue to look back with fondness on my Academy days. My one regret is that I was not open enough with my classmates to get to know them and have them get to know me. Perhaps with this communication I will get to correct that mistake. My contact information - phone 949-293-8432; e-mail jim@excelinliving.com.
---
&nbsp That's a lot of news, folks, thanks to all our contributors. I'm waiting to hear from the rest of you, so take a few minutes today to check in with me by e-mail. It's easy!



---