Shipmate Column
August 2008
---
CLASS OF 1963
Pres: CAPT W. Spencer Johnson IV, USN (Ret.)
Sec'y: Michael H. Shelley
164 Sweetwater Lane, Pisgah Forest, NC 28768
h: 828-862-4245 e: nstar@citcom.net
Web site: http://www.usna63.org.


For any classmate you can go to the Classmates Page and enter his name to read his current biography if available.
---
&nbsp Once again I begin our report with news of the loss of a classmate. Richard Frisbie was killed when he fell while mountaineering in the Rocky Mountains National Park on 7 June. He had retired and moved from Kansas to Fort Collins, CO, last year. News reports indicate that he is survived by his wife, April, two children, a stepdaughter, and three grandchildren.
Richard Frisbie
---
&nbsp It was announced in late May that our classmate George Tracy will be inducted into the National Lacrosse Hall of Fame in a ceremony on 10 November at The Grand Lodge in Hunt Valley, MD. According to the announcement,
&nbsp The National Lacrosse Hall of Fame is a component of US Lacrosse. It was established in 1957 to honor men and women, past and present, who by their deeds as players, coaches, officials and/or contributors, and by the example of their lives, personify the great contribution of lacrosse to our way of life. More than 325 lacrosse greats are honored in the National Lacrosse Hall of Fame, which is located with the Lacrosse Museum at US Lacrosse Headquarters in Baltimore.
&nbsp The announcement included information about each of the eight persons who will be inducted this year. Here is an excerpt:
&nbsp A three-time All-American, Tracy was one of the leaders on Navy teams that captured three consecutive USILA national championships from 1961 to 1963. An attackman and midfielder, Tracy was a captain of the 1963 team and played in that year's North-South game. Following his collegiate career, Tracy played 15 years on the club level in five different states. He was honored with the U.S. Naval Academy Stuart Oxnard Miller Memorial Lacrosse Cup (1963), Navy Commendation Medal, Vietnam Service Medal (three stars) and National Defense Service Medal. He has been inducted into the USNA Athletic and US Lacrosse Greater Baltimore Chapter halls of fame. He is being inducted as a truly great player.
&nbsp A press release from the Naval Academy Athletic Association quoted George's response to his selection and provided additional information.
&nbsp "I am very grateful that I was able to participate in a Navy lacrosse era so gifted with exceptional coaches and extraordinary athletes, each of whom is a member of my personal hall of fame," said Tracy.

&nbsp A member of the Class of '63, Tracy is the 12th Navy player to be inducted into the National Hall of Fame and the third in the last three years. He is one of five Navy players in the National Hall of Fame who played for legendary head coach Willis Bilderback, who himself was inducted into the National Hall of Fame in 1973.

Coach Bilderback and Captain George Tracy


&nbsp Along with playing for Bilderback, came the distinction of playing for the Naval Academy during the period earmarked the "Decade of Domination" which saw the Midshipmen win eight consecutive USILA national titles between 1960-67. As one of the premier attackman in the country, Tracy guided the Midshipmen to championship crowns in 1961, '62 and '63. During those three years, Navy amassed a 27-4 (.871) record which featured three-year sweeps over the likes of Johns Hopkins, Virginia, Maryland and Princeton.

&nbsp Affectionately known as "Trace," Tracy, along with the late Donald MacLaughlin and Pete "The Shot" Taylor, collaborated as the trio "TMT" to become one of the most potent scoring arsenals in the country in the early '60s. Between 1961-63, the trio helped Navy averaged 13.2 goals per game with the Mids being held to single digits just five times in 31 games. Tracy produced 64 points over the span of three seasons, scoring 41 goals including a season-high 18 during his junior campaign.
---
&nbsp Without saying exactly why he was there, Mike Krause sent this picture of himself at a football practice at Army's stadium at West Point.
&nbsp Here's a photo of a Navy spy at the final Spring Training Black & Gold scrimmage at West Point on April 19. They have a new Plebe QB - a lefty -- who looked pretty good compared to the starter - he may get the nod for next year.

Keeping an eye on the Black Knights



---
&nbsp This month's recommended reading (for the beach or anywhere else) is Sailors to the End; the Deadly Fire on the USS Forrestal and the Heroes Who Fought It by Gregory A. Freeman. Recommended to me by Rocky Pratt, who was aboard at the time of the accident, it's a gripping account of the fire and its aftermath, including little-known information about why the ordnance on the flight deck caused so much damage to the ship. Pick up a copy at your library or from your local bookseller.



---
&nbsp Frequent contributor Tom O'Brien filed his latest trip report in mid-May.
&nbsp We're just back from a very pleasant trip to the Pacific Northwest to visit our son, John O'Brien '89, and his family. While there, Ann and I had lunch with Vivian and Dave Durfee and Denny Vaughan at Anthony's Beach Grill in Edmonds, WA. Dave and Vivian had caught the ferry over from Kingston, Denny had traversed the few miles by car from his home in Shoreline, and Ann and I had driven the few miles from our son's home in Mill Creek to get together for a '63 Lunch. Kudos to Dave for organizing the event. Dave relayed that he is still very active with the Bremerton Symphony Orchestra, and Vivian is still active with the Bloedel Reserve on Bainbridge Island. Denny said he was now spending less time in DC and more in the Pacific Northwest. Lu Anne couldn't join us at this lunch because of the workmen engaged in significant upgrades underway at their home. Despite atypical weather for Seattle in May (It was rainy and blustery.), we had a great time at our indoors lunch, and no one wanted it to end.

Dave Durfee, Tom O'Brien, and Denny Vaughan



---
&nbsp Jim Metcalfe submitted this soccer news, based on a report in the Virginia Beach Beacon.
&nbsp The North American Sand Soccer Championships will take place in Virginia Beach the weekend of 6-8 June under the eagle eyes of our classmate Dick Whalen, Executive Director. Dick started the tournament in 1994 and it has grown to 61 sand soccer fields on the beach, 925 teams, 9,500 athletes, and potentially 100,000 spectators. The proceeds benefit the Hampton Roads Soccer Complex. Dick has been one of the most influential leaders in the development of soccer in this area. He and his wife Marti also contributed their three sons, Todd, Scott, and Matt, to the local soccer scene and all three were standouts. Matt, a former All-American selection at Cox High School, is now director of operations for the event as well as a youth soccer club coach. Dick predicts that sand soccer will become an Olympic sport.
---
&nbsp Now we present an envy-producing photo from Steve Longo, who is clearly living the good life.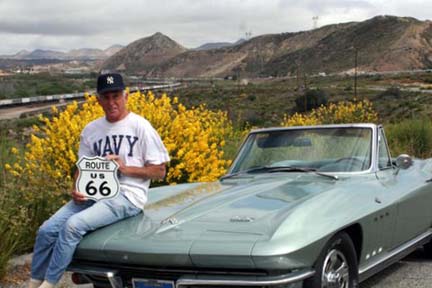 66 with a '66 on 66
&nbsp Here's a shot of me at age 66 on Route 66 in my '66 Vette. Carol and I drove out to the Cleghorn stretch near San Bernardino on May 24 to get the picture before I turn 67 in mid-June. This seldom used, five mile section of Route 66 is reputed to be one of the first divided highways in the US. I bought the Vette new when I was a nugget 1/Lt. based in El Toro. Before she passed away, my wife Barbara used to tell people that when we were married she was encouraged by the fact that I liked to hang onto old things. I didn't dare sell it after hearing that. I'm still living in Laguna Beach after all these years, a short walk from the Sandpiper, where I grew up.
---
&nbsp According to a press release in early May, the National Association of Home Builders has put Atlanta developer Ron Terwilliger in the National Housing Hall of Fame. Ron is the longtime chairman and CEO of multifamily housing developer Trammell Crow Residential. He's also the owner of Atlanta's new WNBA team, the Dream.

&nbsp From 1999 to 2001, Ron was chairman of the Urban Land Institute (ULI). In 2007, he made the single largest financial contribution to the Urban Land Institute in its 72-year history to combat the lack of affordable housing. His grant established The ULI J. Ronald Terwilliger Center for Workforce Housing, which aims to create 3,500 new units of workforce housing by 2012 in Atlanta, southeast Florida, and Washington, D.C. He is a past chairman of the Atlanta Neighborhood Development Partnership and the National Association of Home Builders Multifamily Leadership Board. "Ronald Terwilliger is a national leader in the effort to address the housing affordability crisis faced by America's working families," said Sandy Dunn, 2008 NAHB president. "Ron is highly respected by his peers in the housing industry because of his leadership in business and philanthropy."

&nbsp Of special interest to our classmates who are Habitat volunteers, Ron is the current chairman of the board of Habitat for Humanity International.
---
&nbsp On 5 June, Jim Ring observed the actual 45th anniversary of our graduation by sharing this newspaper photo of Sue and Lee Cargill on the chapel steps just after their wedding. The swordsmen were Jack Fischer, Joel Warshaw, Jim Patterson, Nick Daramus, Judd Pearson, and himself.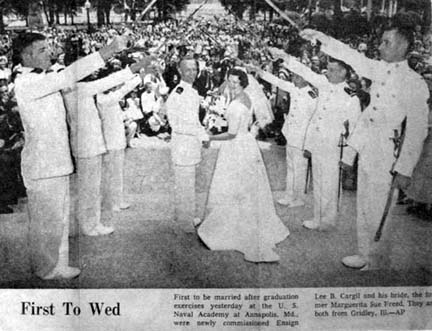 Sue and Lee Cargill - The first wedding on 5 June 1963


&nbsp Jim sent this account to amplify the photo:
&nbsp As you know, the picture of the first wedding at USNA and USMA usually appeared in the major newspapers at that time. Jim Patterson and I had reviewed the pictures from the past and noticed that the photographer had always been located at the bottom of the stairs and took the picture of the couple coming down the stairs. In order to get our faces in the picture and not have our arms covering our faces, we decided to locate ourselves on the right side of the steps looking toward the Chapel. Well, the best-laid plans of mice and men, the photographer stood at the top of the steps and had Lee and Sue look back toward him. In the picture, Jim is at the bottom on the left and I am in the middle on the left. Our faces are completely covered.
---
&nbsp Here's an appropriate summertime submission from Frank Hilton.
&nbsp I am confident I am not the only '63 grandfather who has shared "The Bee Movie" with his grandchildren either at the theater or on a DVD player. For those who haven't, "The Bee Movie" is a full length cartoon starring and produced by Jerry Seinfeld. It is a clever story line following a bee suing humans when he discovers they actually eat the honey.

But the real reason I write is to convey a piece from the Annapolis magazine,"What's Up Annapolis" It contains feature articles, news of up-coming events, and Who is Who in Annapolis. In its June 2008 edition is the following text:

" Have you read the buzz around town? Turns out that Annapolis has its very own bee colony, over 60,000 strong! The colony has one of the most beautiful views any one can wish for; its hive is in the gardens of the historic William Paca House.

The beehive is maintained and cared for by garden volunteer Peter Quinton, a member of the Anne Arundel Beekeepers Association with over 40 years of experience tending bees and harvesting honey. Throughout the spring and early summer the well organized bees are hard at work collecting nectar from the boxwood, roses, and hollies, converting it into honey and storing it in honeycombs. 'Each bee only produces about a quarter of a teaspoon of honey in its lifetime,' says Historic Annapolis Foundation Director of Horticulture Mollie Ridout, who works with Quinton. ' I'm in big trouble with Peter if I spill even a drop of it. "That's somebody's life work" he says.'

The honey is harvested from the hive in early July and available for purchase through the Paca House gift shop."

First, I know we all recognize Peter, but not all will know he maintains several hives in his yard in Severna Park Md. I was fortunate enough to receive a "welcome to Round Bay" jar of "Otter's Run" honey from Peter when Pam and I moved in just two roads away from Peter and Jan.

I am glad to report that Peter was not a defendant in the case brought by Jerry Seinfeld's bee.
---
&nbsp Dick Augur checked in with me to say that the Class of 63 is well represented in the new Southern Arizona Chapter of the USNA Alumni Association. He sent this photo showing himself and John Truesdell congratulating new Board Member Len Eaton. Missing from the photo are Bill Brinkley and Walt Sickel.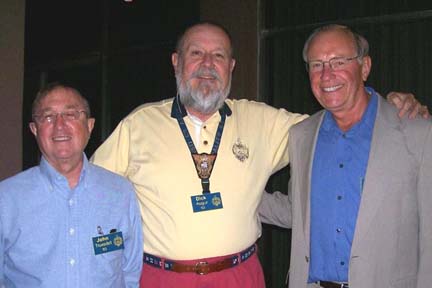 Southern Arizona residents Truesdell, Augur, and Eaton
---
&nbsp It was very good to hear from my Fourth Companymate Bill Hillgaertner this month. He sent a full account of his activities over the past two decades. That text will eventually appear as his Current Biography on our web site. Here are some highlights:
&nbsp After my active duty USMC service and training at the FBI National Academy, I became Police Chief for the city of Camas, WA. Due to a series of senior staff departures from our local government, during my final three years before retiring I also served as Fire Chief, Director of Emergency Medical Services, Emergency Management Director, Incident Commander, and President of the Chamber of Commerce. In case of emergencies, it was "Break Glass; Put on Correct Hat."' I chose to enter a life of early retirement in 1992.

In 1994 I went to work in security for Intel, at the urgings of some friends. It involved a long commute, so in 1996 I opted for a job with Legacy Health Systems which put me within a mile of home. Sometime later, a state trooper I had worked with when I was in Camas asked me if I wanted to come to work with the Washington State Patrol. I applied, became a VIN Inspector and then a Commercial Vehicle Officer, inspecting and citing trucks and truckers. I did that until my retirement in 2004.

I just finished my 4th season of coaching soccer teams(U-6) with my 4th winning season. That is because of my Grandson who wants to be a Marine when he grows up. Yes, that's right. I am still recruiting for the Corps. My grandson has no pressure to be a Marine, but his mother, his father, and his grandfather are all Marines.
&nbsp Bill sent this picture, taken on 31 May when he was the guest speaker and inspecting officer at the graduation of the latest local class of Young Marine recruits.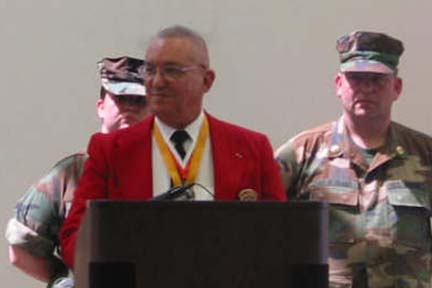 Bill Hillgaertner addresses the graduates
---
&nbsp To wrap up for this month, here is a photo taken just yesterday (6 June) when Bonnie and Daryl Rabert visited Lou and me for the day. They and some friends were spending the week near Highlands, NC, living a life of ease and much fine food. They were quite surprised one evening to encounter Sue and Ben Cole, who were in Highlands to celebrate their wedding anniversary. Sometimes it's a small world here in the mountains.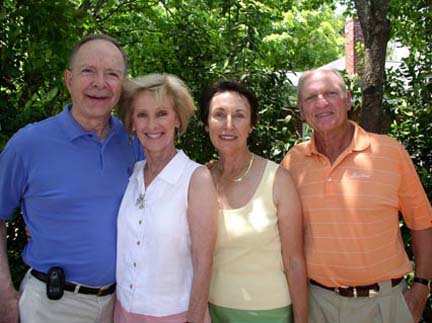 Shelleys and Raberts in Brevard, NC
---
&nbsp Hey, I haven't heard from you for a while. You know who you are, so make this the month you stop procrastinating and actually do send me an e-mail and maybe a photo or two. Thanks!



---