Shipmate Column
June/July 2008
---
CLASS OF 1963
Pres: CAPT W. Spencer Johnson IV, USN (Ret.)
Sec'y: Michael H. Shelley
164 Sweetwater Lane, Pisgah Forest, NC 28768
h: 828-862-4245 e: nstar@citcom.net
Web site: http://www.usna63.org.


For any classmate you can go to the Classmates Page and enter his name to read his current biography if available.
---
&nbsp I begin with the sad news that our classmate Dennis "Duffy" Doherty passed away on 9 April.


His family can be contacted at 17 Kenwood Court, Fairfield Glade, TN 38558. Duffy's ashes will be placed in the Naval Academy columbarium at a date to be determined, probably in July.
---
&nbsp Our 45th Reunion in Annapolis was the best ever! The combined effect of perfect weather, a relaxed schedule of events, and being the only alumni group at the Academy made for a wonderful experience for the more than 475 persons who participated. There were so many events, planned and ad hoc, that I won't be able to recount all of them here. Some photos appear below, but you can see many, many more by following the links on our reunion page. It's not too late to add your own images, so please do that if you wish.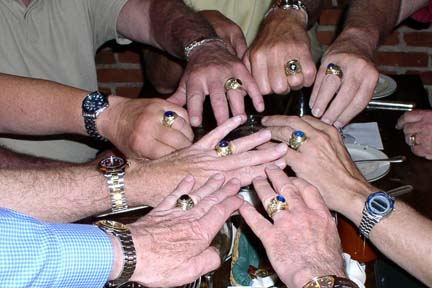 Whenever two or three shall meet...


The first scheduled events on Thursday, 24 April, were a '63 golf tournament at the Naval Academy course and an afternoon sightseeing (but mostly socializing) cruise aboard a chartered tour boat. The evening was left free to accommodate company-level events at various spots in and around Annapolis.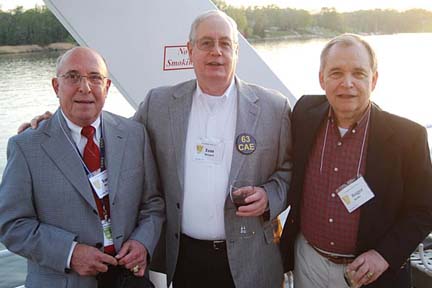 Tony Breard, Tom Morgan, Roger Mehle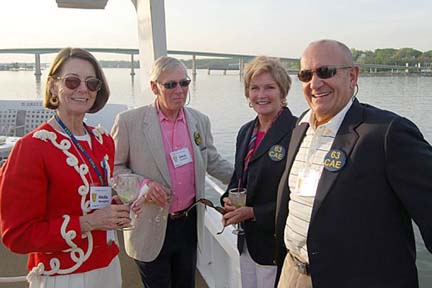 Doug and Charlsie Davidson (center) with Sheila and Mike Bonsignore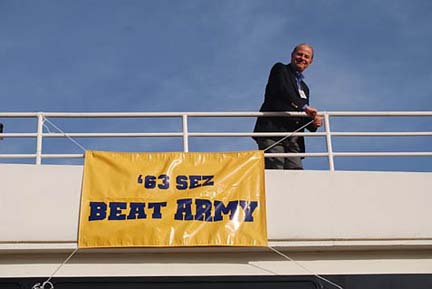 Steve Leisge makes a statement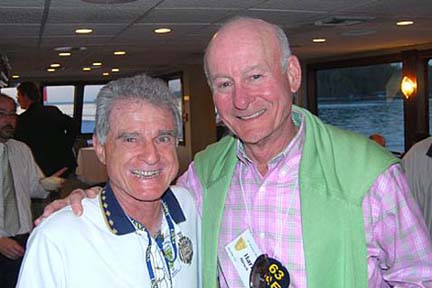 Bill Bradford and Harry Hirsch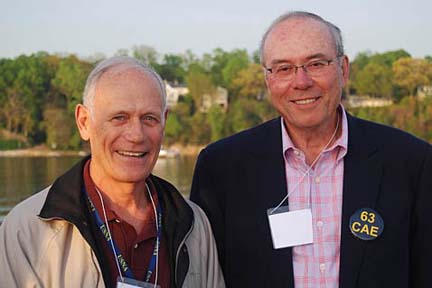 Rocky Pratt and Mike Krause
---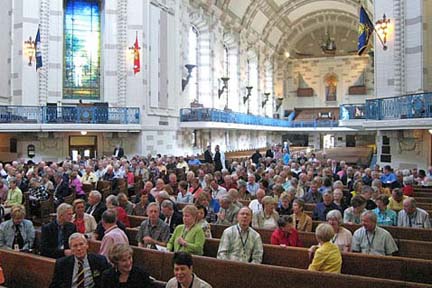 Before the memorial service


Friday's events began in mid-morning with a heavily-attended Memorial Service in the Academy Chapel. The roll call of the 152 men who have answered the Last Call was preceded by a moving homily offered by Joe Strasser. The full text can be seen in the Reunion section of our web site.


As they filed out of the chapel, the attendees noted the Class of 1963 pew, dedicated to the memory of our classmates who died in the line of duty. It is pew number 63, midway down the center aisle, on the left as one enters the Chapel. As noted in the service program, "A significant donation in memory of Jack L. "Kit" Karson and a generous gift from James and Audrey Williamson greatly contributed to the costs of our class memorial pew."


After a class photograph was made on the chapel steps, many people toured the Commodore Uriah P. Levy Center and Jewish Chapel, the Class of 1963 Center for Academic Excellence ('63 CAE) in the Nimitz Library, and other locations around The Yard. The class meeting in the Mahan Hall auditorium after lunch began with an overview of the Link in the Chain program which will tie together the Classes of 1963 and 2013. This was followed by a speech and Q & A session with the Superintendent, VADM Jeffrey Fowler '78. The meeting concluded with a presentation on the Class of 1963 Legacy Gift to be presented to the Academy at our 50th Reunion to ensure ongoing support of the '63 CAE. Our goal has been set at $1.963 million, and nearly half of that amount has already been pledged! You will be hearing more about our campaign in the near future.





After viewing the Friday afternoon dress parade on Worden Field - always much more fun to watch than to experience - the '63 crowd took a short break before attending the grand soiree in the new N-Star rooms at Navy-Marine Corps Memorial Stadium. The casual atmosphere, expansive areas (including the dazzling Navy Lacrosse Hall of Fame), and diverse buffet setups encouraged active but relaxed socialization. It was a wonderful time together!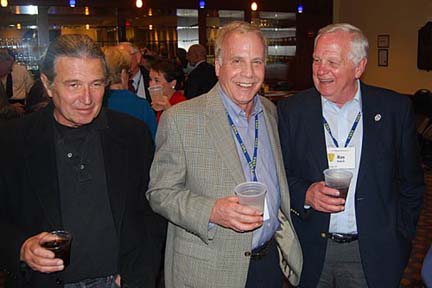 Reed Farrington, Bob Maier, Ray Kutch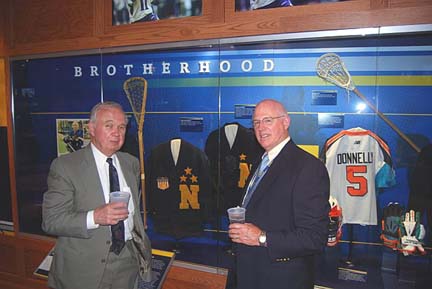 Eli Dabich and Pete Quinton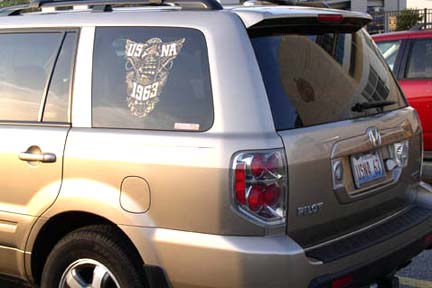 Parked by the entrance was Fred Kaiser's Spirit of Illinois SUV. Note the class crest and USNA 63 license plate.


Saturday's only all-class event was a tailgate extravaganza held in a prime spot overlooking third base at Terwilliger Brothers Field in Max Bishop Stadium. Folks could sit in the stands, wander around in the stadium, eat and socialize under our big tent, or watch the game from our unique vantage point. The weather was still perfect, helping to ensure an outstanding afternoon for everyone. (Except the Holy Cross team, which lost both games of the doubleheader to Navy).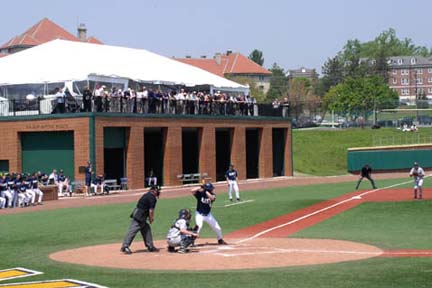 The perfect location for a tailgate party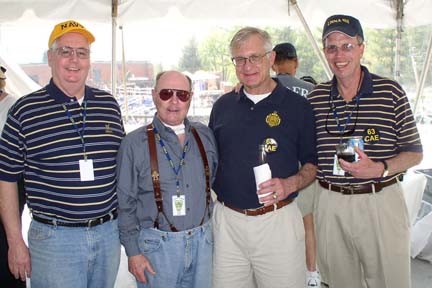 Tom Morgan, Frank Butler, Fred Storz, Jim Ring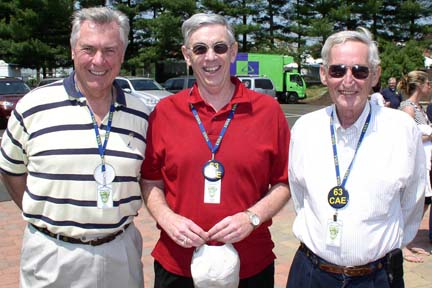 Ron Klemick, Birney Pease, Bill Howard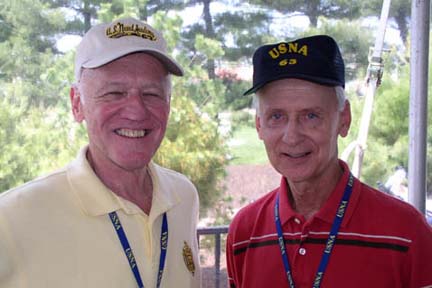 Ben Cole and Tom Robertson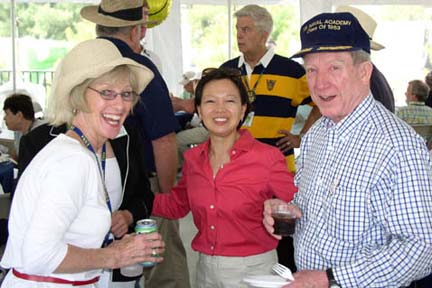 Lou Shelley with Natalie and Steve Duncan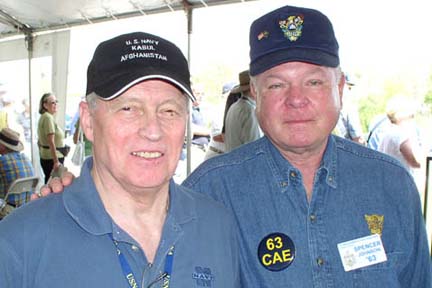 Jim Metcalfe and Spencer Johnson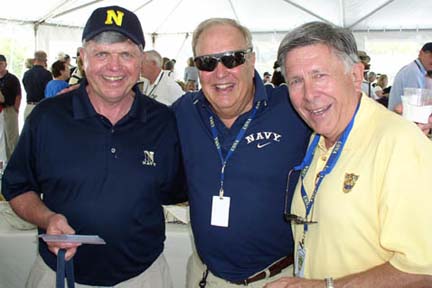 John Conroy, Jim Oakes, Pete Carrothers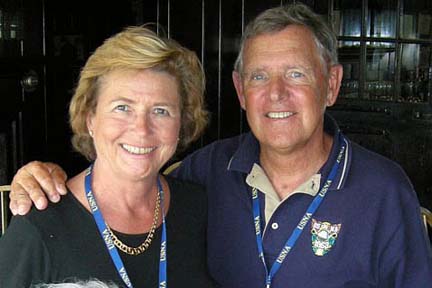 Yvonne and Steve Coester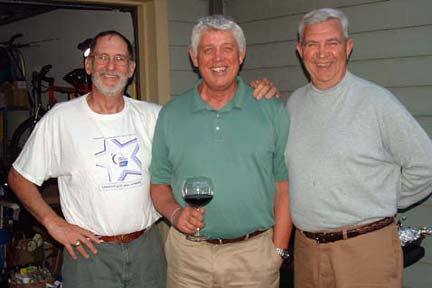 Plebe year roommates Pete Featherstone, Craig Barton, Dan Hitzelberger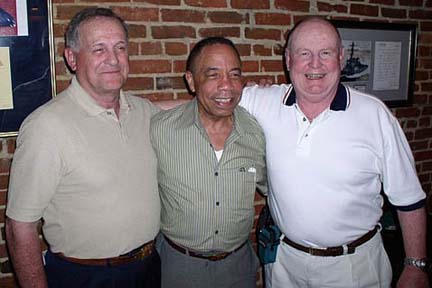 Lou Simpleman, Rob Newton, Mike Harman


Saturday evening was spent enjoying company dinners and other events around town. The fine weather ended with the arrival of thunderstorms late in the evening, but the fun continued uninterrupted. Sunday morning included religious services, brunches, and many farewells accompanied by pledges to stage mini-reunions here and there in the years just ahead.

Much praise and appreciation are due to those classmates and their wives who planned, prepared, and staged such a grand reunion experience for the Class of 1963. At the head of the team were our class president Spencer Johnson and his wife Andrea, who were involved in almost every facet of the reunion. He sent me this rundown of the reunion committee members and the work they did for us.
&nbsp Jan and Peter Quinton were the wheel horses for our Friday night N Star room evening event and did great work. Fern Sargent was a great help with the check-in for the event. Jim Lloyd organized and ran the Thursday afternoon golf tournament which 36 or so of our class enjoyed. Bob Forster helped with the baseball game and tailgate on Saturday. Doug Davidson arranged for our transportation needs for the four days of the reunion. Both he and Charlsie were responsible for producing the great DVD on the Center for Academic Excellence shown during the class meeting.

As always, Jennifer and Bill Earner were there with great advice based on past reunion experience and assumed a large measure of responsibility for the smooth registration and check-in procedures that we had. Joe Strasser, Jim Ring and Dave Puckett all made the memorial service the meaningful and memorable event that it was. Steve Coester was an invaluable help in getting timely information out to the class and in helping sort various lists for a variety of uses.

Also, there were a number of Alumni Association personnel who did yeoman work for our reunion. Foremost among them were Eileen Proulx. overall facilities coordinator, Kristin Kibler who helped format our printed materials, Keeley Marczyk who did our on-line registrations, and Linda Reyes who did mail registrations and financial services.
---
&nbsp Mike Krause sent this report highlighting members of the 1963 baseball team.
&nbsp The team members present were announced at the beginning of the game. These were Dan Hennessy, Ron Terwilliger, Charlie Spadafora, Larry Marsh, and me. Bob Campbell attended the reunion but had to leave Friday before the game. In addition, Chuck Galloway's widow, Bebe Galloway Mutz was there along with Chuck's son Glenn and daughter Meg and her children. The stadium and field with the facility where the tailgate was held is a far cry from what we had back in our day! The generosity of Ron and Bruce Terwilliger has given the Naval Academy a fantastic baseball facility which rivals -- make that exceeds - anything available at any university.

1963 baseball team members Chuck Spadafora, Ron Terwilliger, Dan Hennessy, Mike Krause, and Larry Marsh




Bobby Campbell, Ron Terwilliger, Mike Krause




Bebe Galloway Mutz with grandchildren, daughter Meg, and son-in-law with Dan Hennessy.



---
&nbsp While in Annapolis, I enjoyed seeing David Robinson and meeting his new bride, Rebecca. A few days earlier, he had sent this picture and note for me to share with you.
&nbsp This is a picture of us at our wedding on 15 March. I met Rebecca (nee Kuhn) at a mutual friend's home a couple of years ago. Her husband had been in the oil and gas business and died a couple of years before my wife, Gene. They had lived in London, Dubai, Houston and Calgary before coming to Dallas. Rebecca and I are planning to reside here in Dallas.

Rebecca and David Robinson



---
&nbsp In everyone's mind throughout the reunion was our beloved Honorary Classmate Charles S. Minter, Jr. '37/'63, who had passed away the previous Friday at the age of 93. He and his family were noted during our memorial service, and his name was read during the roll call of our deceased classmates. More than an inspirational leader and servant of his country and the Naval Academy, he was our friend and supporter over many years. This account of his funeral was provided by Spencer Johnson.
&nbsp Our commandant and honorary classmate, Vice Admiral Charles S. Minter, Jr., USN, was laid to rest with full military honors in the Naval Academy cemetery overlooking the Severn River on Tuesday, 6 May 2008, a beautiful sunlit day here in Annapolis. During a moving memorial service in the chapel, remembrances were offered by Capt. Jack Slaughter, USN (Ret), president of the class of 1937 and former Superintendent RADM Tom Lynch, USN (Ret), class of 1964. A commendation was given by the Rev D. Mike Minter, the Admiral's youngest son. The current CNO, ADM Mike Mullen, and former CNO Carl Trost were honorary pall bearers along with other dignitaries and our classmates Bob Harper and David Puckett, who are especially close to the family. In addition to Carol and Charlie Minter, their sister Meredith and brother Mike, and other grandchildren and great grandchildren, the services were attended by about 400 people.

Classmates attending the memorial services and interment in addition to Charlie and Carol Minter included David and Judi Puckett, Doug and Charlsie Davidson, Bill and Jennifer Earner, Bob and Carol Harper, Mick Favor, Joe Bustamante, Charlie Stubbs, Sonny Glassner, and Spencer and Andrea Johnson. Following the ceremonies, a reception was hosted by the Superintendent, VADM Jeff Fowler, USN, and Mrs. Fowler in their quarters at Buchanan House. Mary Minter, the Admiral's wife of 68 years, was unable to attend. Mrs. Minter is currently a patient at Anne Arundel Hospital in Annapolis, being treated for a serious infection. Please hold Mary and the entire Minter family in your thoughts and prayers in the difficult days ahead.
---
&nbsp In the weeks leading up to the reunion, several of our classmates submitted new or updated information for the current biography section of our web site. One of them was Rob Newton, who provided not only his military and civilian career history but also some previously unrevealed information about his active boxing career after graduation. To see Rob's entry and those of many others, go to the Wardroom page of USNA63.org and click on Classmates - Current Biographies .
---
Preparations are already underway for a Class of 1963 weekend gathering centered on the 15 November Navy-Notre Dame game in Baltimore. The weekend is being planned and coordinated by Steve Leisge, our impresario who was acclaimed for the super job he did in managing last year's Army-Navy weekend for our class. You should act quickly to secure your game tickets, which are sure to be in demand. Full details are provided in a 3 May entry in the Hot News section of our web site.
---
Ann and Tom O'Brien moved from Alexandria, VA, to Orange Park, FL, in February. The move went well, although Tom felt the loss of his Virginia "USNA63" license plates keenly. Here's his report, and it seems that all is well - and busy - for them.
&nbsp We love the new house. The pool looks great and the water chemistry is under control. It's great to be close to our daughters and grandkids. We interact with them several times a week. Ann and I have tried the Country Club food and it's pretty good. The golf course awaits.

Since we are now "somewhat" closer to South Carolina, Ann and I received an invitation to attend Cole Lindell's 70th birthday pig-pickin' party at his house in Graniteville, SC, on April 12th. We drove up the 300 miles and had a great visit at my sister's home in nearby Aiken, SC, on Friday and Saturday nights. On Saturday afternoon, we drove the ten miles west to Cole and Shelley's lovely home and joined the festivities.

Despite overcast skies and cooling temperatures, a large crowd of relatives, neighbors, friends, and classmates assembled in the house, around the pool, and under a large tent to wish Cole many more and to scarf down an excellent, prime, 130 lb. Pig. Another Classmate in attendance was Cole's and my 3C/2C Year roommate, Pete "Old Biker" Peroni from Cocoa, FL, along with 18th Co. couples, Fran and Tom Reemelin from Duluth, GA, and Linda and Rick Wakefield from Bluffton, SC. It was a great gathering and none of us wanted it to end. The Lindells and their ten kids are an amazing family story.

Lindell, Peroni, O'Brien, Reemelin, Wakefield




Lindells and children, Wakefields, Reemelins, and O'Briens


Some interesting background -- Graniteville, SC, was the site of that disastrous train wreck / toxic spill (chlorine) at Avondale Mills in January 2005. Cole and his family had been living in their house for just three weeks when they had to evacuate the residence in the early morning cold and didn't get back in for about another ten days. All Lindell family members survived OK, but eight locals plus one Canadian truck driver died as a result of breathing the toxic cloud. Cole's house is just up the street from the site of the accident.
---
&nbsp Jim Angel '66 is offering his copy of the 1963 Lucky Bag to anyone in our class who would like to have it. All you have to do is pay the shipping cost. If you're interested, contact Jim by e-mail at jbangel@samford.edu.
---
Gary Thomas was recently honored by the Truckee, CA, Police Department as the Volunteer of the Year for 2007. If you go to the town web site at www.townoftruckee.com, then click on Police Department you can see the complete write-up about his public service. Gary is a realtor in Truckee and also volunteers for the Nevada County Search and Rescue program.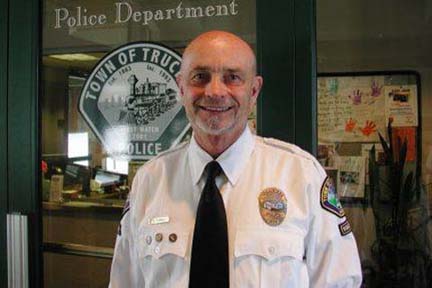 Gary Thomas
---
Paul Tobin sent two photos and this note:
&nbsp While Judi and Dave Puckett were visiting Pensacola in March, we had an opportunity to tour the Naval Aviation Museum and to have dinner. Dave was on the Plebe Detail during second class summer so this was his very first visit to Pensacola. Lynne joined us later for dinner at McGuires.

At the Naval Aviation Museum




Dave and Judi Puckett dining at McGuires with Lynne and Paul Tobin



---
&nbsp Thanks to Dave Riley for reporting that Christine and Phil Gubbins' daughter Madeleine was married on April 12 in Seattle. Dave wasn't able to attend but his wife Anna was there and made these photos. Gub still looks great in his uniform.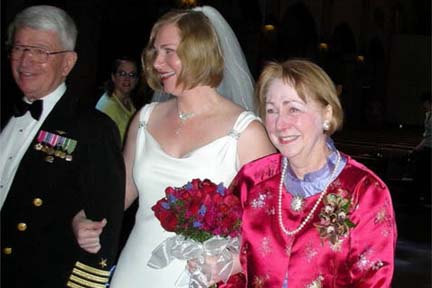 Phil, Madeleine, and Chris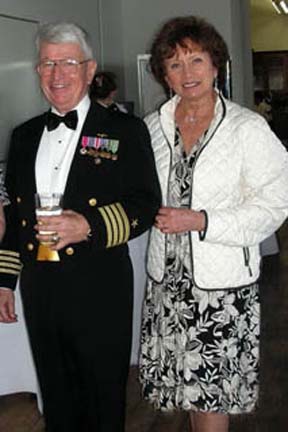 Phil Gubbins and Anna Riley
---
The online lacrosse magazine http://www.e-lacrosse.com/navyhop.html has published a lengthy article about the Hopkins/Navy rivalry. Author Bryan M. Nichols interviewed several of our lacrosse player classmates and featured All-American Don MacLaughlin, in whose memory the LT Donald MacLaughlin Award is given annually to the nation's best midfielder. Here is the link to this excellent article: http://www.e-lacrosse.com/navyhop.html. This excerpt will make you want to see the entire text
&nbsp Over the years, the lacrosse community has chosen to immortalize certain individuals that embodied the spirit of the game through their determination, unselfish play and leadership. This pantheon of players includes Hopkins graduates Jack Turnbull and William Schmeisser, both of whom are namesakes for the annual national attackman and defenseman of the year awards, respectively; in their company is Lt. MacLaughlin, a Navy Class of '63 midfielder who flourished in the "Golden Age" and now is remembered as the award-namesake for his position.

Amid the battle during Hopkins and Navy's 81st meeting on Saturday April 19, 2008, many of Don's teammates, friends and fans in the stands watched the latest honoree hustle across the field and thought of their lost friend.
---
&nbsp


We have learned of plans for a memorial to Dan Moran, who was killed in action in Vietnam. A plaque will be placed near the outdoor track at his high school alma mater, St. Ignatius in Chicago. According to his classmate Tom McMahon,
&nbsp The plaque will be designed as a tribute from both St. Ignatius '59 and Navy '63. There is already a scholarship fund in Dan`s name and the plan is to jointly encourage donations from his high school and Naval Academy classes to reach the initial goal of $50,000 and beyond. It currently stands at $34,000. An overall plan for the funds will be to help a student who has expressed interest in attending the Naval Academy. I encourage those who wish to donate to contact Ed Evert at 312-432-8314. The dedication of the Plaque will be in conjunction with the Class of 1959's 50-year reunion in 2009. My phone number in Oxford, MD, is 410-226-5071.
---
&nbsp Now that my mail bag is empty, I need your help. Please keep sending those letters, e-mails, and photos. We're depending on you.



---