Shipmate Column
December 2007
---
CLASS OF 1963
Pres: CAPT W. Spencer Johnson IV, USN (Ret.)
Sec'y: Michael H. Shelley
164 Sweetwater Lane, Pisgah Forest, NC 28768
h: 828-862-4245 e: nstar@citcom.net
Web site: http://www.usna63.org.


For any classmate you can go to the Classmates Page and enter his name to read his current biography if available.
---
&nbsp I'm sorry to share the news that we have lost two more of our classmates in recent weeks. Alan Lee Lutz passed away on 11 September. His widow, Bette Jean, resides at 5260 Locke Lane, Virginia Beach, VA 23464.


I have also learned of the death of Malcolm Schantz, who suffered a cardiac arrest at his home on 12 October. His widow, Sarah, can be contacted at 114 Majors Cove Road, White Stone, VA 22578-3028.



---
&nbsp Mike Krause has sent a few photos taken at the 26 August meeting of the Class of 1963 Foundation trustees in Annapolis. The attendees heard a very informative presentation from Dean Bill Miller '62 outlining the accomplishments and programs of the Class of 1963 Center for Academic Excellence. Also speaking was Marty Finnerty '59 who has been working with Ron Klemick on the Link in the Chain program that will establish connections between the Class of 1963 and the Class of 2013. Doug Davidson hosted the meeting at the Annapolis Yacht Club.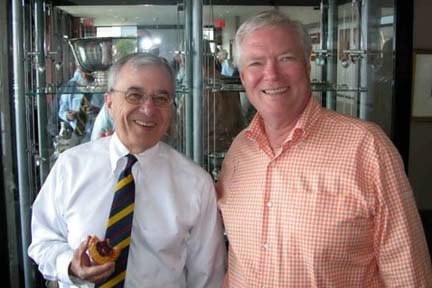 Felix DeGolian and Paul Revere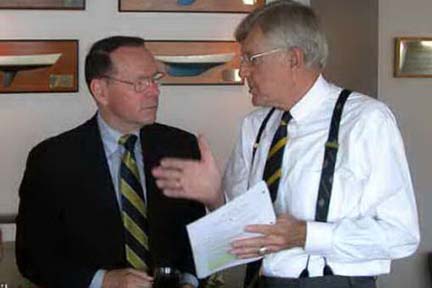 Bill Miller '62 and David Puckett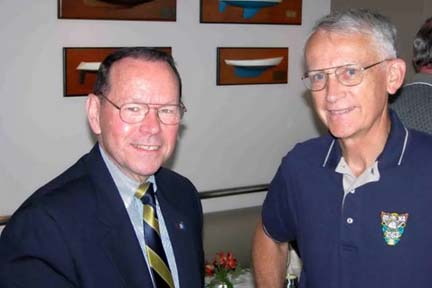 Bill Miller and Larry Marsh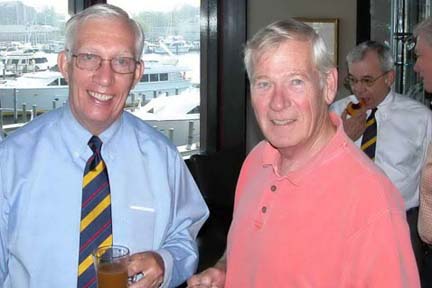 Bill Earner and Doug Davidson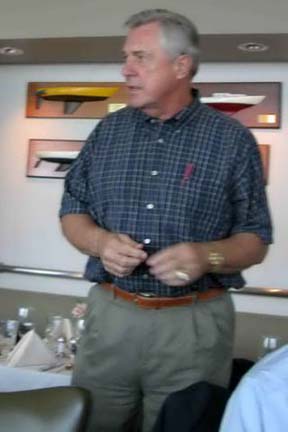 Ron Klemick
---
&nbsp You never know where some guys will turn up next. How about this photo and note from Phillip Marsden?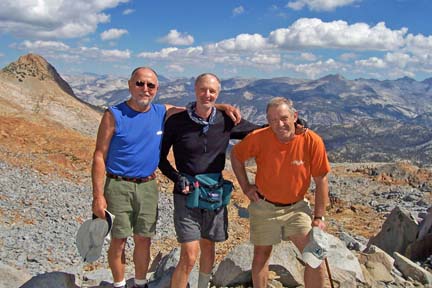 Peterson, Marsden, and Stoddard at 11,000 feet in Yosemite National Park
&nbsp For my latest excursion into the High Sierras I joined classmates Sandy Stoddard and John Peterson and nine other stalwarts for a week of backpacking in Yosemite National Park. We spent seven days on the trail, covering some 45 miles of the most spectacular terrain the Park has to offer. The highlights included summiting Red Peak Pass at 11,100 ft, a bear sighting, and wild afternoon thunderstorms with lightning, rain and hail.
---
&nbsp Phillip also sent news of a memorable Ninth Company gathering.
&nbsp Members of the Ninth Company and their ladies recently gathered for a special event in Washington, DC. Tom Hall, in his capacity as Assistant Secretary of Defense for Reserve Affairs, invited the company attendees to his office at the Pentagon where he presented a series of informative briefings on current events. The briefings were followed by lunch in one of the Defense Secretary's private dining rooms.

Ninth Company at The Pentagon


Left to right in this photo of the group are Glenn and Debbie Laury, Audrey and Jim Williamson, Paul O'Connor, Bob Tanis, Phillip Marsden, Rusty Rank, Judi and Dave Puckett, Jim Killian, Barbara Hall, George Leever, Tom Hall, Jack and Ginger Hood, Helen Anderson, Charlie Minter, Dick Anderson, Carol Minter, Sonny Glassner, and Barbara Leever. Additional photos are posted on the Ninth Company page of our Class Web site. 9TH Co. Homepage.
---
&nbsp Richard Rogers has checked in with this news of his family and his community service.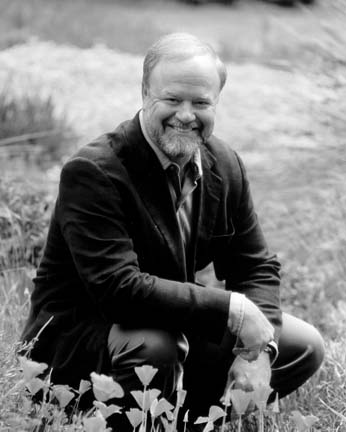 Richard Rogers
&nbsp I now have three grandchildren with the births of Lala, James, and Diego. We also have one in the oven. The mother, Vanessa, is the wife of my youngest child, Davis. They delivered Lala to us as our first grandchild thus placing rather enormous pressure on his four older siblings. They have responded in kind.

Interestingly enough, and without any prompting from me, Davis is now a Captain in the Air Force and an Instructor Pilot. He is just finishing his tour at Laughlin Air Force Base in Del Rio, TX. He will be receiving his next assignment to a squadron soon. He is hoping for an F-22 Raptor, but will settle for "the needs of the service" as required. He is our only child who chose a career in the military services.

In other news, I have been elected President of the California Fish and Game Commission. My tenure will last until 2011. I have also been elected Chairman of the California Wildlife Conservation Board. No, it is not an organization to perpetuate the sort of behavior that we all participated in during football weekends at the Academy. It is the governing body that decides on the use of the monies, in this case hundreds of millions each year, that have been raised by propositions or bonds for conservation of vast portions of California's resources, both habitat and critters. In addition, I have been elected Chairman of the National Board of Advisors of the Bren School of Environmental Science and Management at the University of California at Santa Barbara.

Should any classmate be traveling in the Santa Barbara area, my cell is 805-455-2944.
---
&nbsp Writing from New Mexico, Mike Blackledge sent this letter:
&nbsp In late September, Class of 1963 synchronicity occurred again in Albuquerque: the postal service delivered my new USNA 63 New Mexico license plate, and at that moment, the phone rang to announce that Sonny Langley had arrived in town. I called close friend Bonnie Nolan, widow of our classmate George Nolan, and she joined me and "The Lang" at the Owl Cafe.

Sonny was on his annual sojourn, driving from Williamsburg, VA, to Las Vegas, NV, to request that their Sports Books pay him for not guessing college football outcomes as well as he does. Sonny's wife Susan was to join him for the last eight days of a four-week timeshare adventure at the Polo Towers. We hoped to see Sonny again in late October as he wended his way back eastward, with a stop in Dallas to visit his accountant, our classmate P.J. Chaney (whom Sonny took under his wing while we were at the Academy). He would be heading to Vero Beach, FL, where he and Susan have their second home, spending six months of each year at their commune on the Indian River, the rest of the time (while not in Las Vegas) in Williamsburg.

Sonny Langley, Mike Blackledge, and Bonnie Nolan


A poignant side note is that the previous owner of NM's USNA 63 license plate was Bonnie's husband George. Sadly, both George and the '63 plate expired in November 2005, and Bonnie encouraged me this year to raise the Class of '63 emblem in New Mexico once again. George's original '63 plate continues to be honored on Bonnie's mantel.

Back in March, I was in Las Vegas for the Mountain West Conference Basketball Tournament. While there, I got together with local residents Beth and Dave Shute for a nice meal at the Steakhouse at the Luxor. Seated in this photo are Beth, me, and Dave. Standing behind us are my sisters Patti Blackledge Blide with Penny Blackledge Woods. Penny was the 1958 Cotton Bowl Queen and Patti was the Navy "Queen" at that game, escorted by Chuck Larson '58.

Dining at the Luxor in Las Vegas



---
&nbsp Miller Detrick sent an illustrated note about a recent VA-15 reunion in Florida.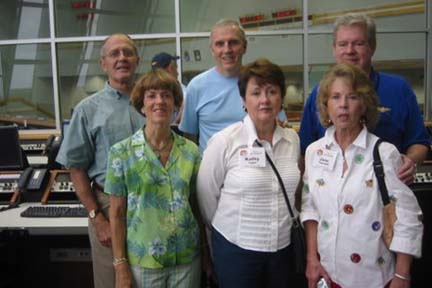 VA-15 squadron mates visit NASA.
&nbsp This picture was taken in the NASA Space Center control room, during a VIP tour. From left to right are Connie and me, Kathy and Tony Isger, and Jane and Dave Thornhill. The occasion was an event as part of our 40th reunion of Attack Squadron 15 in Orlando. We all flew A-4's during two tours in Vietnam off INTREPID (CVA-11). The three of us somehow survived 500 missions. We were based at Cecil Field in Jacksonville. This was our third reunion of the whole squadron. Tony and Kathy live in Jacksonville, Thorns and Jane in Parker, CO, and we are in Tampa. Hard to remember that we were JO's then. Everyone's memories were a little faded except for Thorns, who remembers everything.
---
&nbsp More and more '63ers are attending home football games in Annapolis this year, and especially enjoying the Class of 1963 tailgate parties before and after each contest. This month's most prolific contributor, Phillip Marsden, sent this report just after he returned home to Coronado, CA.
&nbsp I found a number of classmates gathered under the big blue and gold Class of 63 tent for the Navy/Duke game tailgate. It was my first Annapolis tailgate in years and I was impressed by the large, colorful tent clearly identified by the "Quality 63" sign provided by Steve Leisge. Attendees included Sharon and Bob Forster, Satch Baumgart, Sandy and Ron Klemick, Jim Metcalfe, Steve Leisge, Mike Bracy, Ian Sargent, Ted DelGaizo, Mario Fiori, John Gowens, Tom O'Brien, Eli Dabich, Al Sherman, Ron Wills, Bob Bennett, Bill Witcraft, Charlie Minter and his sister Meredith, Helen and Dick Anderson, and Barbara and George Leever. Copious quantities of food and drink helped fortify us for the long, nail-biting game that followed.
---
&nbsp Phillip provided several pictures from the tailgate, and from the internet I downloaded some others that were taken the previous week by Charlie Stubbs' daughter, Michelle. The first of these party pictures shows Ron Wills, Bob Bennett, Walt Rippinger (friend of Bob's who used to be his neighbor and now lives in Texas), and Bill Witcraft. Ron offered this comment:
&nbsp Bob, Bill and I were roommates at various times in the 3rd and later in the 12th companies. Bill, Bob and I saw both the Ball State and Duke games, and will be at the USAFA game, other home games, and the Army game. The three of us have Navy season tickets (even though I live in San Diego). Bob lives in Frederick, MD, and Bill in Waterford, CT. We get together every year at football time and have a lot of fun.

12th Company season ticket holders




Klemick, Minter, Sherman, Sargent, and DelGaizo




Leisge, Bracy, O'Brien, Dabich, and Sherman




Miles and Stubbs




Sargent, DelGaizo, Fiori, and Gowens




Ninth Company Group. Anderson, Marsden, Leever, Meredith Minter, Barbara Leever, Minter


















---
&nbsp I hope that after seeing all this news and so many pictures, you'll be motivated to take a few short minutes to write to me with news of your own. Please don't disappoint us.

Happy Holidays, everyone!



---