Shipmate Column
November 2007
---
CLASS OF 1963
Pres: CAPT W. Spencer Johnson IV, USN (Ret.)
Sec'y: Michael H. Shelley
164 Sweetwater Lane, Pisgah Forest, NC 28768
h: 828-862-4245 e: nstar@citcom.net
Web site: http://www.usna63.org.


For any classmate you can go to the Classmates Page and enter his name to read his current biography if available.
---
&nbsp Jim Lasswell has just updated his current biography in the Classmates section of our web site. He's had a very interesting life since graduation. Here is some of the most recent information he provided.
&nbsp As a business leader in San Diego I am very active in several organizations in addition to all the fun stuff of running our business. Fortunately for me, my travels and acquaintances reconnected me with an old friend. Actually, a young friend I have known for some time now. Cindy Jensen was my contracting officer when I was working with a struggling company trying to do work at SSC-SD (then NOSC). We became friends and stayed in touch over the years (more than 20). The loss of my wife Kathy to cancer and the breakup of Cindy's marriage occurred pretty simultaneously, and one thing led to another. After a couple of great dating years we were married on May 26th 2007. We are living in Carmel Valley, near Del Mar. I continue to run INDUS Technology and Cindy continues as a contracting officer at SSC-SD (I never do easy things) and you might guess that our relationship gets some conflict of interest scrutiny. Cindy has beautiful twin daughters (almost 11) who conspire to keep me connected with things of youth.

I still ski (snow, not water) although I have stopped competitive racing. Racquetball -- as often as I am not wounded -- continues to be fun, and occasional biking is great. (I miss the annual Northern Virginia excursion on the 1963 Terry's Team for multiple sclerosis research.) Diving and being in warm water anywhere are high on the list for me/us. My present obsession is duplicate bridge and I compete occasionally, although Cindy would say far too often.
&nbsp Jim sent some photos from the wedding day. One shows Jim, Cindy, and the twins. The second shows the happy couple flanked by Wes Jordan and his friend Jill Nelson.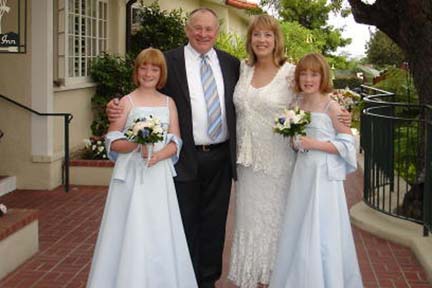 Lasswell wedding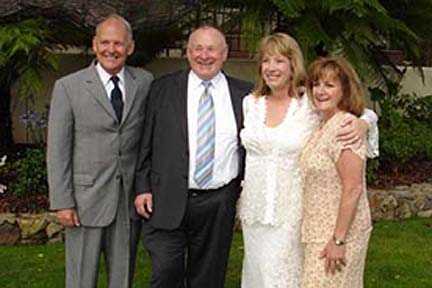 Wes Jordan, the bride and groom, and Jill Nelson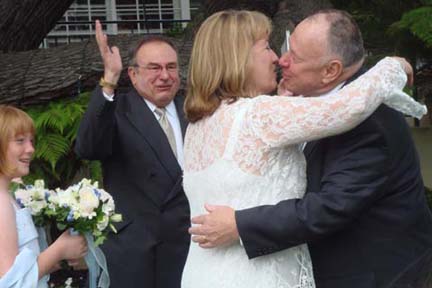 You may now kiss the bride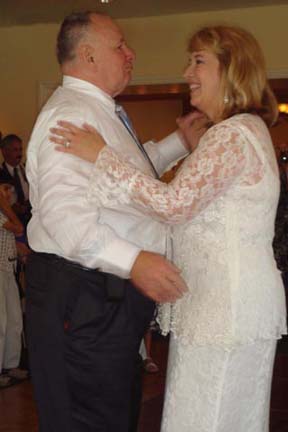 Wedding dance
---
&nbsp Here's something of a visual time warp for you to see, thanks to Ken Sanger, who sent this note and a nifty photo.
&nbsp The photo of Rocky Pratt's great uncle (ADM W.V. Pratt '89) in the October Shipmate column on our web site prompts me to write. A few years ago, during a visit to my Dad and sister, she asked me if I wanted something of my grandfather's. The something was his formal epaulets and hat (the original fore and aft hat like Admiral Pratt was pictured wearing). Here is a picture of me in semi-formal dress. The coat is my original reefer from our Midshipman days.

Ken Sanger in vintage regalia




William V. Pratt '89


But there is more. The items are in a leather carrying case designed for them. I carried them on board a commercial airline flight. I was sure that security would question the contents, and they did. I opened the case and the agent's eyes popped. He started asking all sorts of questions unrelated to security, quizzing me about the history of first the items then my grandfather, some WWII history, and more. By then, the line was backing up and the supervisor came over. He too, started asking history questions. No one had ever seen the real thing outside of movies like the Hornblower series. Security lapsed for a few minutes but no terrorists slipped through.
---
&nbsp It was a treat to hear from Paul Revere this month.
&nbsp Greetings from central Oregon! Several of us from the 16th Company had been discussing the possibility of meeting in the Pacific Northwest this year and a few of us actually managed to get together. Pete Rollosson attended from Lake Oswego, OR, and Barb and John Bender came from Boise, ID. Sue and I hosted the event in Sunriver, OR.

In addition to catching up on what we three "pensioners" are doing to keep busy, we all provided reports on both children and grandchildren. We also found time for a round of golf and a meal to celebrate the occasion. A great time was had by all and we are looking forward to meeting again at the 45th in the Spring.

16th Company dinner in Oregon




Pete Rollosson and Paul Revere


Here is a picture of all of us at dinner. From left to right are Barb Bender, John Bender, Sue Revere, Paul Revere, and Pete Rollosson.

Sue and I spend winters in Austin and are Texas residents. She grew up in Oregon and, when I retired, we bought a home in Sunriver -- in the central High Desert part of the state. It is a lot better weather choice in the summer than is Texas, and the grandkids love it. Basically, we are here from May - October and in Texas November - April.
---
&nbsp Steve Coester sent some photos taken in early September.
&nbsp We enjoyed seeing Fran and Tom Reemelin when they visited her sister Ann Schwanda and husband Bruce (Citadel '65) on Merritt Island, FL, which is the next town over from our home in Rockledge. Tom called and invited Yvonne and me for dinner at Ann and Bruce's home.

Fran and Tom Reemelin




Tom and Steve




Fran Reemelin, Ann Schwanda, and Yvonne Coester



---
&nbsp Dave Riley has provided reproductions of pages from three magazines featuring Ralph Kimberlin. They can't be printed in Shipmate, so they have been placed temporarily in the Hot News section of our web site. I think that Dave's description will entice you to look at them there.
&nbsp I think you might be interested in this information about one of the "heroes" of our class, Ralph Kimberlin. The first article is from the July 2002 issue of the Smithsonian's Air & Space magazine regarding Ralph's involvement in developing the C-47 Spooky/Puff the Magic Dragon concept that became well known during the Vietnam Conflict. The second is from the University of Tennessee alumni publication providing an abbreviated version of what's in the Smithsonian magazine. Some of you may not be aware that Professor Kimberlin headed up the Space Institute at UT until his recent retirement. The third attachment is the front cover of the June 2002 Experimenter showing Ralph flying a P-51 replica in celebration of Loehle Aircraft's 25th anniversary.

Ralph didn't put me up to this and if I get any static from him for doing so I will probably send him a bill for my efforts as his would-be publicist.
---
&nbsp I'll end this report with a reminder that our 45th Reunion will be in Annapolis from 24 through 27 April 2008. Have you made your hotel reservation yet? Time is moving quickly (Doesn't it always?), so don't delay any longer. Visit USNA63.org for useful information. Click on Wardroom, then Reunions, for a list of hotels and the reunion schedule.



---