Shipmate Column
December 2008
---
CLASS OF 1963
Pres: CAPT W. Spencer Johnson IV, USN (Ret.)
Sec'y: Michael H. Shelley
164 Sweetwater Lane, Pisgah Forest, NC 28768
h: 828-862-4245 e: nstar@citcom.net
Web site: http://www.usna63.org.


For any classmate you can go to the Classmates Page and enter his name to read his current biography if available.
---
&nbsp As happens much too often lately, we begin this report with news of the loss of classmates.
&nbsp Don Walton died at his home in Las Vegas on 26 September after a courageous battle against cancer. Prior to his death, he was employed as a facilities and real estate services manager for the Nevada Test Site, National Security Technologies. Don's widow, Mary Jane, can be contacted at 9665 Phoenician Avenue, Las Vegas, NV 89147. Memorial donations may be made to the Nevada Cancer Institute, One Breakthrough Way, 10441 W. Twain Ave., Las Vegas, NV 89135.
| | |
| --- | --- |
| Don Walton | Bobby Campbell |

&nbsp Another victim of cancer was Bobby Campbell, who passed away on 9 September. This account of his funeral service came from Tom Robertson.
&nbsp The Class stood tall at Bobby Campbell's funeral in Brick, NJ, on 13 September. I don't recall ever being part of a group more sad than those of us at the funeral Mass: family, friends, clients, community. Representing the Class were Andrea and Spencer Johnson, Rob Black, John Conroy, David Honhart, Major Howe, Mike Krause, Jim Lloyd, Robbie Newton, Vern Shock, Linda and Jim Stewart, Kathy and Erwin Storz, Jack Reed's widow Linda, and Julie and Tom Robertson.

A Navy honors detail rendered military honors outside St. Dominic's Church while eleven classmates stood at attention as an honor guard. We looked reasonably fit for duty, though surely not at the level Bobby was before being struck by cancer. Diane, son David, and daughter Jennifer were most gracious in trying to comfort the many mourners. We joined the family at a wonderful reception/luncheon afterwards in Spring Lake which served to continue the celebration of Bobby's life.

The family requests that any donations or memorials to honor Bobby be made to the University of Pennsylvania cancer center which worked so valiantly for Bobby and the family. Address: Melanoma Research and Patient Care Fund, The Abramson Cancer Center of The University of Pennsylvania, 3535 Market St. Suite 750, Philadelphia, PA 19104.
---

&nbsp Ken Metviner filed this report about a fund raising event for the Class of 1963 Center for Academic Excellence (63 CAE) at the Naval Academy.
&nbsp Classmates gathered at a 63 CAE Legacy Event in Philadelphia, sponsored by Bernie Kelley and Doug Tozour, coordinated by Harry Salmon. Academic Dean Bill Miller '62 gave an inspiring talk about the successes of the 63 CAE and its growing needs. Example: the graduation rate of 63 CAE "clients" exceeds that of the Brigade as a whole. Example: the emerging diversity of the national population means that more midshipmen will be entering the Academy from families without prior college experience. Example: the Navy increasingly depends on USNA for officers with science, technology, and engineering educations. Conclusion: the 63 CAE works, and we need it more than ever. It benefits us all.

Spencer Johnson, Doug Tozour, and David Puckett




Mel Bunnell and Kent Maxfield



---
&nbsp It's especially good to hear from Dick Guffey, who made his first contribution to this news exchange in many years. He sets a good example for our classmates. Follow his lead, guys!
&nbsp It's time for my 25 year contribution, so here goes.

During our reunion last April, I was impressed with the tour of the Class of 1963 Center for Academic Excellence. One of the staff, Dr. Wendy Shekdar, and I discussed my unmet need for academic help while I was struggling through the Academy so many years ago. I also told her of the international educational charity I participate in now. She invited me to come back in the fall to share with some of the plebe classes, and I did so last week.

I spent a period with four different classes trying to inspire them to take advantage of the living legacy that we are providing them, and talking about my work around the world, etc., but the thing they seemed to enjoy the most was hearing of the old days: $5/month pay for plebes, very limited liberty, Ma Connally's drag house, etc. I showed them my old Reef Points which they loved, my plebe and Ensign shoulder boards, and the Annapolis newspaper edition covering our graduation.

I also had the opportunity to eat with the 7th Company Officer and some of his 1st class in King Hall. It was the first time I have had a chance to interact with female Midshipmen and came away impressed. The staff of the CAE is outstanding. Overall, it was fun and very confirming that what we are doing to help Mids academically is a noble thing and a wise investment. Thanks, classmates, for your contributions.

Sorry I couldn't see everyone in the area. I spent the week with Charlie Stubbs in his beautiful new digs in Annapolis, and now I'm visiting Cynthia and Jim Eckert at their Glenside Farm in northern PA. They feed me, encourage me and help me with the international work. They are dear friends and classmates indeed.
---
&nbsp I reported last month that Jeff Miles' wife Carla had died on 1 September after a long fight with cancer. A memorial service at St. Anne's Episcopal Church in Annapolis on 25 September was followed by a celebration of her life at Harry Browne's Restaurant on State Circle. Among the attendees were Pete & Jan Quinton, Linda and Jerry Smith, Virginia and Brev Moore, Pam and Frank Hilton, Noriko and Denny Conley, Bonnie and Dan Hitzelberger, Charlsie and Doug Davidson, Arlene and Forrest Siburt, Judy and Jerry Jordan, Fern and Ian Sargent, Jennifer and Bill Earner, Susan and Mario Fiori, Sharon and Bob Forster, Sandy and Ron Klemick, Andrea and Spencer Johnson, CiCi and John Kelly, Mike Nadolski and spouse, Pam and Jim Lloyd, Lisa and Jim Metcalfe, Lou and Mike Shelley, Carolyn and Charlie Stubbs, Alece Key, Al Sherman, Sony Glassner, Steve Duncan, Satch Baumgart, Frank Edrington, Jim Czerwonky, Joel Gardner, and Roger Mehle. Here are a couple of photos from the event.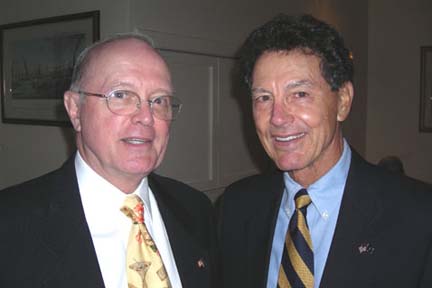 Jeff Miles and Forrest Siburt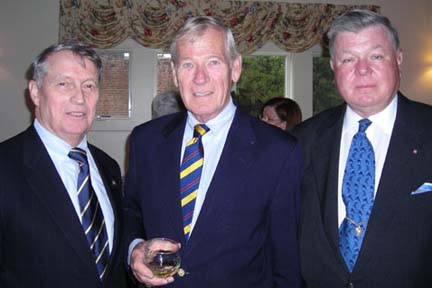 Jim Metcalfe, Doug Davidson, and Spencer Johnson
---
&nbsp This news of classmates who watched Navy's latest gridiron win over USAFA comes from Lu Schmuacher.
&nbsp We have been living in Colorado for the past nine years and have a view of the Air Force Academy. This year we hosted two of my old (and we're all getting old) roommates -- Paul Brown and Tom Selden for the Navy-Air Force game. It was a good game made GREAT by the 33-27 win.

Here are a couple of photos of us celebrating our win and showing the colors. In the first, left to right, are Paul Brown, Dot Brown, Carole Schumacher, Lu Schumacher, and Tom Selden. Unfortunately, Doris Selden was not able to make it. In the second are Dot, Paul, and Tom under the colors.

Celebrating in Colorado Springs




Showing the colors


If anyone is passing through the Colorado Springs area, we have a lot of room and would love to have them visit. Contact us at 1038 Bowstring Road, Monument, CO 80132. Phone (719) 487-0526.
---
&nbsp Our classmate Dick Whalen is an accomplished and much sought after maritime artist. Many of us have a print of his painting of USS FITZGERALD, made in conjunction with the ship's commissioning. Dick is now making available a limited edition of a near original replica of that painting. For more information, and to see some of Dick's other artwork, visit this page on our web site: www.usna63.org/tradition.



---
&nbsp This month's mountain adventure photo came from Phillip Marsden.
&nbsp Four classmates spent a week in late August backpacking in the high Sierras. This picture shows me, John Peterson, Sandy Stoddard (front), and Dave Moore enjoying the high country of the Immigrant Wilderness north of Yosemite National Park. It gave us all a chance to work on our beards, get a suntan and lose a few pounds, although the packs seems to be getting heavier each year.

John Peterson heads up the trip planning for a group of bay area professionals that have been doing an annual hike for ages. Dave and I are just Southern California tag-alongs. John's son-in-law set up a web site; you can check it out at http://robr.info/image.

High Sierra adventurers



---
&nbsp Dick Augur told me about the latest reunion of the Terrible Tenth Survivors (of Plebe Year), hosted by Kathi and Chuck Calvano in Monterey, CA, this September. Chuck prepared a full report on his internet blog at http://terribletenth.blogspot.com/ and placed many photos from the weekend at http://chuck.smugmug.com/Reunion.. Here are two of those images.





This is some text from Chuck's blog:
&nbsp For those of you who weren't able to join us, the final roster was: Dick and Marylyn Augur, Dave and Mary Bingemann, John and Margarette Boley, Al and Kathy Breen, Earl and Celes Buck, Roger and Sandy Deegan, Ollie Doherty, Jack and Joanna Donegan, Bill and Jennifer Earner, Tom and Donna Green, Bill and Barb Hahn, Ron Hand, Lillian Karson, Dick Kell, Bernie Patterson and Bonnie Phinney, Hugh and Georgia Schall, Matt and Betti Small, Mike and Bonnie Spear and Chuck and Kathi Calvano.

Events began on Thursday night with a reception at the Calvano house. Friday morning saw us all climbing to the top of the rock at the Point Sur Light Station, followed by a lunch in perfect weather on the river bank terrace at the Big Sur River Inn. Friday afternoon free time was followed by dinner hosted by the Calvanos.

Saturday morning saw us at sea on the Monterey Princess hunting whales -- and we were not disappointed. The evening was spent at a restaurant dinner on Fisherman's Wharf. The wrap-up event was a Sunday brunch at the Calvano house one more time.
---
&nbsp To wrap up for this month, here are two photos of people who visited Lou and me in North Carolina this summer. Pennsylvanians Lois and Bernie Grabowski were here in July, and in October bought their retirement home in nearby Brevard. Gaye and Steve Jacoby were here from south Florida for most of September, living in their RV and roaming up and down the mountains in search of waterfalls and excitement.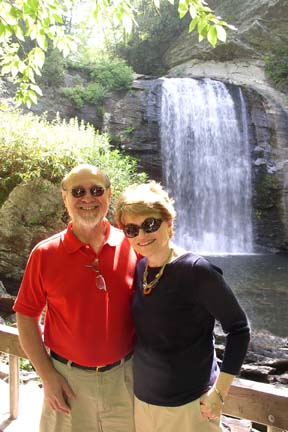 Bernie and Lois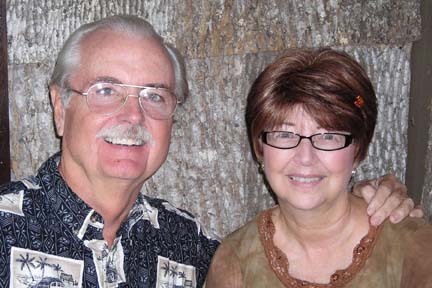 Steve and Gaye
---
&nbsp

Merry Christmas, everyone, and a Happy New Year!





---