Shipmate Column
November 2008
---
CLASS OF 1963
Pres: CAPT W. Spencer Johnson IV, USN (Ret.)
Sec'y: Michael H. Shelley
164 Sweetwater Lane, Pisgah Forest, NC 28768
h: 828-862-4245 e: nstar@citcom.net
Web site: http://www.usna63.org.


For any classmate you can go to the Classmates Page and enter his name to read his current biography if available.
---
&nbsp I am deeply sorry to report the death of Jeff Miles' wife Carla, who succumbed to complications of lung cancer on 1 September. She had fought a determined yet cheerful battle against that disease for more than five years. The courage and positive attitudes that Carla and Jeff sustained throughout that time were a remarkable inspiration to all of us. Jeff can be contacted at 2723 Lury Lane, Annapolis, MD 21401. Memorial contributions may be made to the Geaton and JoAnn DeCesaris Cancer Institute, 2001 Medical Parkway, Annapolis, MD 21401.

Adding to the sadness, only hours before my deadline for sending this text to Shipmate I learned that Roger Milos' wife Ellen had died on 4 September. Only scant information is available, but it was reported that she was the victim of a fast-growing, metastasized cancer of unknown origin. Roger can be contacted at 14902 Bittersweet Court, Rosemont, MN 55068.
---
&nbsp An article about long-time Baton Rouge resident Ward Bond appeared in the Summer issue of Imagine Louisiana magazine. Here are some excerpts.
&nbsp Entrepreneurial since childhood, Bond's all-consuming project these days is Talking Signs, a company he founded in 1993 to promote an assistive technology that helps the blind and visually impaired to find their way around the world's cities. Receivers in hand, users scan the environment to pick up private, human voice messages from small Talking Signs infrared transmitters. The messages guide the user to his destination or across a busy street, unaided. "For the first time in history, someone who is blind or visually disabled can know that a bus some 150 feet away is approaching, and flag it down," said Bond.

Talking Signs have been installed in U.S. cities like San Francisco and Colorado Springs, as well as in Japan, Italy, Canada, and Norway where the spectacular new Oslo Opera House has 82 transmitters. A $2.3 million installation is currently underway for a rail and bus system serving Seattle and Tacoma.

Ward bond


A graduate of the U. S. Naval Academy, Bond was serving on the destroyer Maddox when it was attacked in the Gulf of Tonkin in August 1964, leading to a massive escalation of U. S. forces in Vietnam. He moved to New Orleans after his naval service, working as banker and investing in real estate, including part ownership of the Hotel Maison de Ville in the French Quarter. There were other jobs (managing the Baton Rouge office of Scharff & Jones, the municipal bond dealers) and of course, other projects. Big ones. In 1971, for example, Bond arranged the federal grants to put together The River Center in Baton Rouge.

At 68, he keeps on going. "What motivates me about Talking Signs is its effectiveness. It is technology that works!" he said. "All these years have brought me to what I was trying to do. We are the de-facto international standard. I have total belief that we have reached a tipping point and will quickly move from now on." And as he travels the world promoting his company, Bond always packs a small digital recorder to save all the new ideas that pop into his head. He doesn't want to miss the next great project.
---
&nbsp Eli Dabich checked in with me in early August. It's obvious that he's enjoying his work as a member of the Naval Academy faculty.
&nbsp I am ready to start teaching plebe chemistry for my sixth year on August 20th. I always wonder what challenges I will encounter with each new class. The class of 2011 was very good so I hope 2012 will be as good or better. It seems like each class has their own character, characters, and culture.

I have already had some contact with the class of 2013. Each June there is a summer seminar program where high school juniors who are going into their senior year come to the academy for about a week to determine if they are suited to Academy life. I had about 324 students over a three-week period in the labs I was teaching. If statistics hold, that means about 100 of those students will be in the class of 2013, which will be our sponsored class in the link in the chain program connecting classes at 50-year intervals.

In June, I also had the opportunity to participate in a faculty afloat program where 10 academy professors, administrators, and others spent almost three days at sea on JAMES E. WILLIAMS DDG -95 and an LSD. I slept in officers country with five Ensigns, one of whom was a former student. I had the bottom bunk. Thank God I was an aviator. We observed night Coast Guard helicopter landing qualifications on the ship, toured every part of the ship and watched with fascination as female OOD's and CIC officers performed their duties in a very professional manner. We transferred via small craft to the LSD and then took a hover craft back to Little Creek. Overall, it was a great experience and it left me with the feeling that we have some great young officers and enlisted men and women. The CO of WILLIAMS, Timothy Trampenau, is class of 1989 and his father-in-law is our classmate Merrill Dorman.
---
&nbsp This interesting news came from Lew Blackwell, who tells us about a memorable ceremony in France.
&nbsp During our stay in Paris this summer, Lynn and I had the very good fortune of meeting, through a mutual friend, the Comtesse Genevieve de La Pomelie , the great ( 7 times ) granddaughter of the Marquis de La Fayette. This was prompted by my long interest in the life of La Fayette, a Major General in the American Army at 21 years old, who adopted George Washington as his father and later wrote "Les Droits d'Homme" which still stands today as a cornerstone of European democracy -- a remarkable man, without whom and the support of France which he procured, the American Revolution may very well have not succeeded. Genevieve, a member of the DAR and unabashedly pro American, very graciously escorted us on a five-day tour of the sites in France important in La Fayette's life.

The highlight took place on July 4th, starting with the annual services at La Fayette's gravesite -- a stirring tribute as a French Army detachment stood at "present arms" while their army band played our National Anthem. A large crowd was present, including the US Ambassador, French dignitaries, and many descendants of French veterans of the American Revolutionary War.

Wreath laying at the Tomb of the Unknown Soldier in Paris


In the afternoon, we attended the party at the Ambassador's residence ( a palace ! ) . Later that same afternoon, at another ceremony, Genevieve asked Lynn and me to join her, (and other La Fayette descendants, the US Ambassador, French Army officials, band and honor guard ) in a march up the Champs Elysee to the Arch d'Triomphe. At the Arch d'Triomphe I had the very great honor of assisting Genevieve in laying a wreath at Le Tombeau de le Soldat Inconnu. All very moving.

Genevieve is the principal sponsor of "Cercle des Amis de La Fayette." If any classmates would like to learn more on this organization, please let me know.
---
&nbsp David Puckett sent this note about a milestone in his family's life.
&nbsp Judi and I were hosted by our children in our backyard for a 45th Anniversary party on the 26th of July. Although our Anniversary was June 16, that was the first date that would work for all our children and ourselves. We were fortunate to have high school friends, relatives, neighbors, friends from the area, Navy friends, and our four children and eleven grandchildren. Judi and I loved the party as the children said we had nothing to do but enjoy ourselves, and we did. Charlie Minter was in our wedding. Satch Baumgart attended our wedding as he and Gail had gotten married the day before. Spencer Johnson and I have become close while working on Class of 1963 issues. We enjoyed being with these classmates and their wives and appreciated their effort to join us.

Satch Baumgart, Andrea and Spencer Johnson, Carol and Charlie Minter, Judi and David Puckett




Baumgart, Johnson, Minter, and Puckett



---
&nbsp Just added to the Hot News section of our web site is a letter from Mario Fiori describing the need for continuing support for Bill Pawlyk. Please take a few minutes to read it and consider responding to his situation. Mario provided this photograph, taken when he visited Bill in August.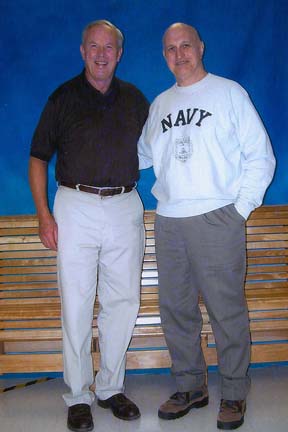 Mario Fiori and Bill Pawlyk
---
&nbsp My companymate Dan Hitzelberger surprised me with news of a close call he had this summer. He asked me to share his experience and some excellent advice with you.
&nbsp I had a heart attack on 14 June. It just goes to show that even if you do everything you are supposed to do -- exercise, diet, etc. -- it can still happen. I get tested every year (stress tests, blood work, physicals, etc.). In fact, I just had a complete workup less than two months before the attack! All of my test results were good to excellent! Fortunately, we live near the hospital and in less than 2 1/2 hours from the time of the start of the symptoms I was through the entire correction process. Heart damage was minimal and my recovery is going really well. To look at me, you would never know anything happened. The lesson for everyone is to continue to do all of the good things and pay attention to your body and your emotional/gut feelings. Do not try to be "macho" and delay seeking assistance if somehow things just don't seem right.
---
&nbsp In early August, Phillip Marsden sent this summertime news from Southern California.
&nbsp Recently, some San Diego classmates and their wives, friends, and relations gathered at one of Coronado's Concerts-In-The-Park. This picture shows (top) Clyde Van Arsdale, Joe Morra, Karl Kozak, Lee Cargill's daughter-in-law, Heather, with Lee's granddaughter, Charles Helsper, Lee Cargill, Phillip; (middle) Donna Kaup and her daughter, Jennifer Hannon; (bottom) Joe Morra's guest Maria-Teresa Bonafonte, Marirose Kozak, Nancy Helsper, and Sue Cargill. Music was provided by the Sue Palmer Motel Swing Band and everyone enjoyed a pleasant Sunday afternoon of music and camaraderie.

Summertime concertgoers in Coronado



---
&nbsp This month's international e-mail came from Ken Sanger.
&nbsp Doris and I are in Cardiff, Wales, for the wedding of her son to a Welsh lass. While all the ladies were getting their hair done (something I certainly have no need for), I visited the museum of the Royal Welsh Regiment.

As I entered one room, I was surprised to see a stuffed goat, looking very much like Bill. It turned out that the regimental mascot is a goat, always named Taffy. I had a long chat with a museum guide about the role of the goats and told him that the USNA mascot seemed to be related. He was excited to learn about Bill because the day before, a Canadian had asked if there wasn't a U.S. military unit with a goat as mascot. I wonder if anyone of us ever got this as a question during plebe year.

This photo came from http://www.royalwelshband.com/goat/goat.shtml, where more can be learned about Taffy.

Taffy of the Royal Welsh Regiment



---
&nbsp One of the best features of our web site is the Current Biographies section. It's fascinating to see what our classmates have been doing over the years. Have you added your information, or perhaps updated the content of the bio you submitted a while ago? Among those who recently supplied updates is Pete Carrothers. He's a busy man.
&nbsp Since retiring from Imperial Sugar back in 2001 we've been taking "Sugar," our long range cruiser, on a number of trips, including the Great Loop. I came out of retirement two years ago to co-found E-Fuels, LLC. We hope to be the first sugar based ethanol plant in the U.S., modeling after the Brazilians. Our first four units will be on the Houston Ship Channel to take advantage of deep water access for our feedstocks.

This year I've been working on knocking off some of the items on my "Bucket List". The five-day float down the Smith River in Montana fly fishing has been a lifelong dream; followed by an opportunity to help a friend take his boat through the Trent Severn Canal system in Canada, a cruise I heartily recommend to everyone. Today I finished my open water dives and became PADI certified, so it's been a full summer already. I'm in my second tour as a City Councilman and this past year we were able to eliminate city property taxes and go strictly with the sales tax which was a major plus for our residents. When was the last time you heard a politician brag about eliminating taxes?


Nancy has finished carving "Rory" a 54 inch high carousel lion which has been seven years in the making. It's a gorgeous animal.
---
&nbsp Our Class Vice President, Jim Ring, has been maintaining contact with USS FITZGERALD and has identified a way that we can provide needed support to the ship's crew members and their families.
&nbsp As most of us know, the Arleigh Burke-class destroyer USS FITZGERALD (DDG-62) was named for our classmate LT William Charles Fitzgerald, USN. Built by Bath Iron Works, she was commissioned in October 1995 in Newport, R.I., then homeported in San Diego. In early 2004, it was announced that she would be one of 15 destroyers and three cruisers which would be deployed to counter ballistic missile threats worldwide. She arrived in her new homeport of Yokosuka, Japan, that September to join the U.S. 7th Fleet after participating in a personnel exchange known as "Super Swap" -- 140 sailors from USS O'BRIEN (DD-975) transferred to FITZGERALD and 95 of FITZGERALD's sailors joined the decommissioning unit for O'BRIEN.

Because FITZGERALD is homeported in Japan, the Class of 1963 has had little contact with the ship, other than copies of ship's newsletters that are emailed to some of us. As a means of maintaining a link to perhaps the only ship ever named after one of our classmates, a tremendous honor, I propose that classmates offer some financial support to the FITZGERALD Family Readiness Group (FRG). Its purpose is to promote and create a friendly and social relationship among its members, to raise funds for group oriented activities and to serve as best permitted the family members and the crew of FITZGERALD. Membership may consist of any FITZGERALD family member who wishes to become a part of the organization. The FRG plans and organizes various children's activities such as bowling parties, movie nights, holiday parties etc. They also hold monthly social activities for children and spouses. To help support itself, the FRG conducts fundraisers in the form of bake sales and is currently putting together a cook book to sell. Any contributions from members of the Class of 1963 will be very much appreciated. Please send your gift to USS FITZGERALD Family Readiness Group, PSC 473 Box 1941, FPO-AP 96349-1941. I think donations of $25 to $100 would help them a lot. I intend on sending $100.

For more information about FITZGERALD, visit http://www.search.com/reference/USS_Fitzgerald_(DDG-62).

On a personal note, here are two pictures from our recent trip to Sunriver, OR, to visit my roomie Sidney Paul Revere, Jr. and his lovely wife, Sue. Sunriver is a great resort up about 5,000 ft in the high desert, with daytime highs in the 70's and nighttime lows in the low 40s. They have a lovely house and both Paul and Sue were great hosts - Paul is a great cook. Also, Paul drove us to unbelievable Crater Lake. If you have never seen it, put it in your to-do list. Incidentally, the Senior Tradition Tournament is being played on one of their golf courses. It will be on the Golf Channel. Paul and Sue will be building a new home overlooking the 12th hole. Kate and I had a great time with the Reveres, but it was too short.

Sue and Paul Revere




Jim Ring and Paul Revere



---
&nbsp Mike Krause distinguishes himself by being a frequent contributor to this news exchange. This is his latest submission:
&nbsp Here are a few photos of classmates who attended the Army-Navy-Air Force and Citadel golf tournament at The Connecticut Golf Club in Easton, CT, on Monday July 28. Competitors from USNA 1963 were Ken Metviner, Mike Pero, Al Griggs, Kent Maxfield, Bill Palafox, Harry Hirsch, Mike Krause, John Conroy, and Forrest Siburt. Non players included Erwin Storz, Robbie Newton, and Bernie Grabowski who served as photographer. This was the fifth annual event and Navy won (Again!). We had a great time.

Siburt, Pero, Maxfield, and Palafox




Griggs, Krause, Metviner, and Hirsch




Griggs, Storz, and Siburt




Newton, Griggs, Storz, and Siburt



---
&nbsp Thanks to everyone who contributed news and pictures this month. I invite all our other readers to follow their good example.



---