Shipmate Column
January/February 2004
---
CLASS OF 1963
Pres: Stephen M. Duncan
Sec'y: Michael H. Shelley
25 Sweetwater Lane, Pisgah Forest, NC 28768
h: 828-862-4245 e: nstar@citcom.net
Web site: http://usna63.org.
Remember that you can click on any underlined Classmate's name to view his Current Biography.
---

&nbsp We face a triple whammy this month: Lots of news and photos from our 40th Reunion, an extra accumulation of other news because this is a double issue, and a firm limit on the size of class reports. In years past, classes were given additional space to report on their major reunions but that practice has been ended for budgetary reasons. I wish we could have more news - and especially photos - in the magazine. To compensate, I have prepared an expanded version of this report for our web site, which has been restored at www.USNA63.org. Please visit the site, click first on "The Wardroom" and then on "Shipmate Columns". While you're enjoying the content, remember that it's there because Steve Coester spends many hours keeping things up to date for us.
---

It saddens me to report that we have lost three more members of the Class of 1963 family. Ronald Reihel succumbed to acute lymphoblastic leukemia on 6 December. He died in a Colorado hospital where his family had gathered to watch the Army game with him later that day. The family can be contacted at 4520 Castle Lane, Broomfield, CO 80020. Charles Gosnell died on 7 December -- the same day his father was killed while aboard USS SHAW during the attack on Pearl Harbor in 1941. The Gosnell family can be contacted at 1302 Governor Circle, Wilmington, DE 19809. Our classmate Bob Tanis lost his wife, Reva, who died on 7 October from injuries suffered in a traffic accident in New York City ten days earlier. The Tanis family can be contacted at 7360 Overland Park Court, West Chester, OH 45069-5560.

40th Reunion Report


&nbsp Planning for our 40th Reunion began four years ago. Four years! Chaired by Bill Earner, the reunion committee prepared a grand experience for the attendees. Every detail was carefully arranged to ensure a memorable and "Quality '63" reunion. Our account of that unique weekend experience must begin with gratitude for the countless hours of work that the committee members did for our benefit. The committee members were Jan and Pete Quinton (Hotels and Dinner Dance); Bob Forster (Tailgate); Tom Morgan (Transportation); Jim Lloyd (Golf); Steve Duncan (Class Meeting and Memorial Service); Frank Edrington and Spence Johnson (Memorabilia/merchandise); Phil Rooney and Charlie Stubbs (Picnic); Jennifer Earner (General Administration). A resounding "Well Done!" goes to all of these good folks.

The reunion weekend turned out to be something very special indeed. The impending arrival of Hurricane Isabel in Annapolis was a concern but not a deterrent as we did something that as mariners we would never have done -- we intentionally traveled directly into the path of a hurricane. Isabel arrived in Annapolis mid-day Thursday at almost the precise hour that our class picnic was to begin. A quick adjustment enabled the picnic to be held inside Dahlgren Hall while the winds continued to rise and the rain became torrential. Although the storm and widespread power outages that evening caused most of the scheduled informal and company-level events to be cancelled, many ad hoc groups of '63ers enjoyed being together for shared adventures.

Friday morning found much of downtown Annapolis flooded and without electricity. About three feet of water stood in the lobby of the harbor front Marriott Hotel, our original headquarters. Classmates wanting to "go ashore" from the hotel to dry ground were conveyed in skiffs and canoes. (The boatmen made good money that morning!) The unexpectedly high storm surge flooded much of the Academy, including basements and machinery spaces in Bancroft Hall and several academic buildings, leaving most of the Yard without electricity. Our class meeting and memorial service were postponed, and the dinner dance planned for the Marriott that evening was cancelled. Flexibility, improvisation, and good humor were the watchwords of the day.

Class President Steve Duncan worked tirelessly and tenaciously to see that our class meeting and the memorial service would not have to be cancelled. In response, the Academy took a strain and came through for us, managing to restore power to the chapel so that the class meeting could be held there on Saturday morning. The new Superintendent, VADM Rod Rempt '66, pausing from his efforts to deal with the storm damage, gave a dynamic briefing on the state of the Academy and its success in mission accomplishment. The centerpiece of the meeting was the presentation of our gift to the Naval Academy - a check for $1,123,000 to fund The Class of 1963 Center for Academic Excellence. This photo shows the presentation. Left to right are VADM Rempt, Steve Duncan, Alumni Association President/CEO George Watt '73, Class of 1963 Foundation President David Puckett, and Academic Dean Bill Miller '62.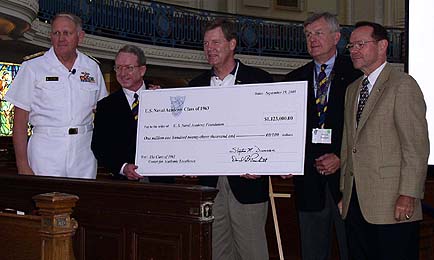 Presenting the Class of 1963 gift
Here are some photos of the Class of 1963 Center, which is on the second floor of Mahan Hall. Below them is a note from a USNA alumnus who tutors in the Center. It provides a good example of the benefit the Center provides to Midshipmen struggling with their academics. We can be proud that our class gift will be providing ongoing support for the Center's invaluable assistance to the Brigade of Midshipmen.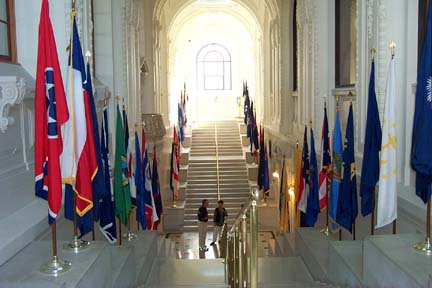 Mahan Hall stairway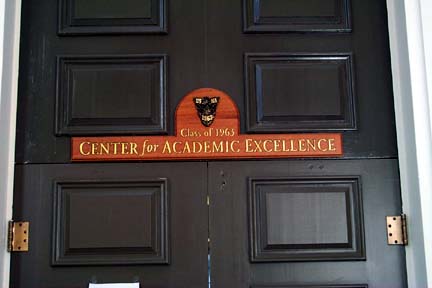 Entrance sign in gold leaf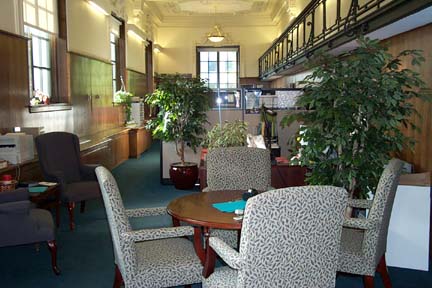 Inside the Center
Thank you very much for supporting the Academic Center at USNA. I am Class of '65 and have been a tutor (Calculus and Thermo) for the Academic Center since 1997. As you well know, the Academic Center is a valuable aid to the Brigade<.p> If you don't mind, I would like to give you an example of the benefit that tutoring is to the Brigade. I tutored a group of three Second Class Mids in Thermo. They were assigned to me well over half-way through the semester. One of them had an F at the time. I always organize information used to solve thermo problems by creating tables and filling in the values given and using that to calculate other values. The Mid with the F asked me if he could start filling out the tables for the other 2 as we worked problems during the tutoring session. I, of course, said that he could.

A couple of months after the final in Thermo, I spoke with a faculty facilitator for Academic Boards. He asked me what I had done to the Mid. When I asked him what he meant, he told me that this Mid who wanted to fill out the tables had gotten a B on the final in Thermo and a C in the course. That kept him from being booted out. I explained that I didn't do anything but let the kid do the work in the tutoring sessions. Apparently, that was the factor and learning style that made the Mid suddenly comprehend Thermo.

I am not writing to tell you that I accomplished something (because I didn't), but rather tell you what the Academic Center accomplished. By offering help to this Mid and stumbling into his learning style, his life was affected. This sort of thing goes on in many tutoring sessions, though the results are rarely so distinctive. All of the tutors are dedicated to helping Mids and strive to work with them to overcome the inherent problems of time management and stress that are a part of the Naval Academy experience.

Again, thank you and the Class of '63 for what you have done for the Academic Center, the Naval Academy, and the Navy.
Doug Bishop
&nbsp Saturday's weather was clear and quite warm, almost perfect for our big tailgate party and the football game itself (Navy 39 - Eastern Michigan 7). Saturday evening was filled with Company parties and other small gatherings of classmates. There are many reunion photos on our web site. As a sample, here are two from the tailgate. I'll print more here next month, including some I just received from Phil Marsden.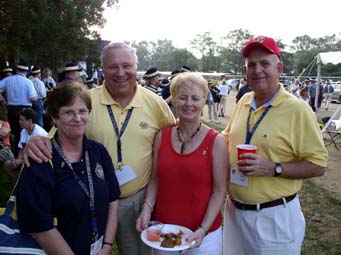 Minters and Lloyds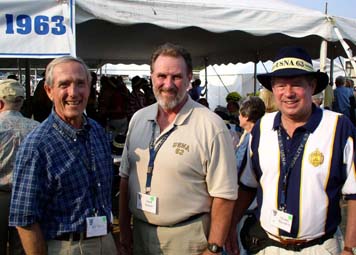 Andrews, Kaiser, and Thornhill
&nbsp The weekend was fittingly capped by the memorial service held in the chapel Sunday afternoon. This powerful program included an homily by Rev. Tom Heslop, a remembrance and tribute by Steve Duncan, and a reading of the names of our classmates for whom the bell has tolled.
Before moving on from the Reunion, I want to point out that our Class Foundation made a concerted effort to reach out to our widows, inviting them to come to Annapolis for the weekend and offering partial sponsorships for class events. One of the several who attended was Sally Rohrbach, who later sent this letter to the Class of 1963:
&nbsp Once again I am overwhelmed and heartened by the thoughtfulness and generous attention of Rick's classmates. The bond amongst you that you so willingly share with me is extraordinary and very gratifying to me. I deeply appreciate the warmth and sincerity with which you welcome me as a part of the class.

The Class of 1963 both collectively and individually has offered me friendship, comfort, solace, assistance, and encouragement through the years that are a most precious gift. From the bottom of my heart I thank each and every one of you for being who you are and for being there for me and my children. Rick was very proud of his affiliation with the Naval Academy and his career in the Navy. It gladdens my heart and enhances my memories of him to maintain such a wonderful relationship with all of you.
---

&nbsp Retired RADM Tom Hall, whose distinguished career has included service as Commander of the Naval Reserve and his current post as Assistant Secretary of Defense for Reserve Affairs, received permanent recognition this September when his hometown of Barnsdall, OK, renamed a street in his honor.
---

&nbsp Prolific author Pete Deutermann sent this news about two of his latest novels:
The paperback edition of Darkside, my novel set at the Naval Academy, was published in October. The term, "The Darkside," is a midshipman code word for the military administration at the boat school. The book describes what happens when they manage to admit a very smart psychopath, finally discover that he's there, and then try to wish the problem away. My new hardback, The Firefly, was released in December. It's about a Saudi factional plot to decapitate the U.S. government. I'm already cranking away on number ten.
---

&nbsp Jim Ring has made three submissions for Shipmate in recent weeks. The first tells us of the recent retirement of the classmate who is probably the last among us to command a fleet of oceangoing vessels.
The Class of 1963's last Fleet Commander stepped down in December, when Paul Revere retired as President of SeaRiver Maritime. Paul and I sat next to each other the first night that we had meals with entire brigade. That was probably the most frightening night of my life. When we introduced ourselves, Paul said his name was Sid -- an attempt to disguise that his middle name was Paul. It didn't take long for the upper class to ask what the P stood for in the name of S.P. Revere, Jr. stenciled on his White Works. Then the fun began as he had to learn Longfellow's "Midnight ride of Paul Revere" and recite it while riding a broom as his horse around the mess hall. I heard it so many times that I learned parts of it.
&nbsp Jim passed along this brief note from Paul:
&nbsp After I retire, I will be off to Austin and Sunriver, OR, to enjoy time with the six children and nine grandchildren. This will cap 36 years with Exxon, including various assignments in the US, Singapore and Tokyo. Regarding the fleet, SeaRiver is the largest operator of Jones Act (US flag, crew, built and owned) vessels. Our fleet consists of 10 tankers and two harbor and ocean escort tugs. The fleet trade routes include the entire US coast, including Alaska, and San Francisco Bay. In seafaring terms, I am hoping that retirement is blessed with fair winds and following seas. However, being from south Louisiana, I prefer LAISSEZ LES BONS TEMPS ROULER!! (Let the good times roll!!)
&nbsp I think Paul may have a record to claim. His 36 years of employment with the same company may be the longest tenure among our classmates. Are there any challengers? (Government service doesn't count.)
&nbsp Jim also submitted a historic photo from our graduation day way back in 1963.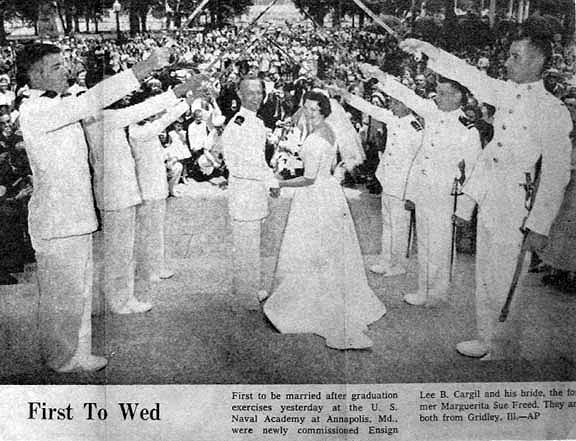 The first USNA Chapel wedding on 5 June 1963
&nbsp Here is a digitized image of the news picture of the first official USNA wedding on June 5, 1963. The bride and groom were Sue and Lee Cargill, still going strong after 40-plus years. As you might recall, the pictures of the first wedding went out to nationwide papers. Jim Patterson and I positioned ourselves on the left side of the swordbearers because the prior year's picture of the first wedding was taken from the bottom of the steps looking up at the couple. Being on the left side, our arms would not block our faces, as long as the photographer took the picture looking up the steps at Lee and Sue. As you can see, the photographer took the picture looking down the steps and our faces are completely blocked. Classmates on left side of the picture are Jack Fischer, me, and Jim Patterson. On the right side are Joel Warshaw, Nick Daramus, and Jud Pearson.

&nbsp Finally, Jim reported on his rendezvous in September with 16th Companymate Hunt Parker.
&nbsp I had dinner with Hunt at the Grand Central Hotel and Grill in Cottonwood Falls, KS. Cottonwood Falls is partially restored and has a beautiful County Courthouse Building about 100 years old. It is close to where the wagons west gathered before heading out on the Santa Fe trail. It was a fabulous steak dinner with great company. Hunt lives in Wichita and is a Managing Director of Sisson and Associates, engaged in aviation sales and marketing. He is doing fine and it was great catching up. Here is a picture of Hunt and me at dinner.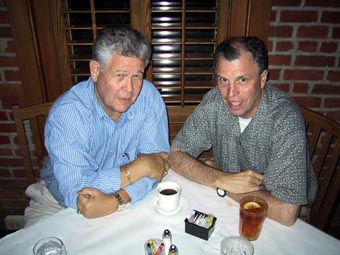 Hunt Parker and Jim Ring
&nbsp This photo shows Hunt and his partner, who obviously is out of West Point 1951. Hunt said it was not tough to get his license plate in Kansas.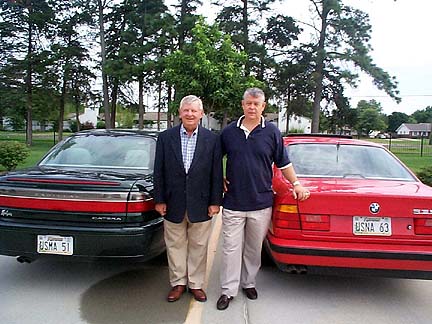 Vanity plates in Kansas
---

&nbsp Members of the 18th Company have honored their companymate John Worcester, who is MIA in Vietnam, by providing a memorial stone and plaque which have been installed in his hometown of Big Rapids, MI. Arv Heilman, with some internet help from Steve Coester, coordinated fundraising, procured the memorial, and transmitted it to Big Rapids. He filed this report:
&nbsp The dedication for the memorial to John was held on October 26 with very good attendance. John's two brothers, his aunt, their spouses, and his namesake nephew, John, were there. Several people from the local area attended including the mayor and many of John's high school classmates. Sharon and Bob Borlet '63 (they were at Pensacola with John), and Shirley Swalgamuth and her husband (she's Terry Abell's sister who dated John for several June Week festivities) very thoughtfully made the trip. I made the presentation thanking all for attending and thanking the City for all its help. Most of the presentation was a sharing of memories of John and the Academy -- my memories and, by reading their e-mails, those of several of John's former roommates, Paul Sutton (plebe summer), Tom Heslop, Steve Coester, and Ollie Donelan.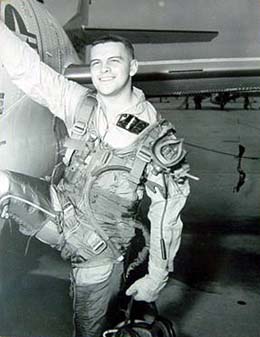 John Worcester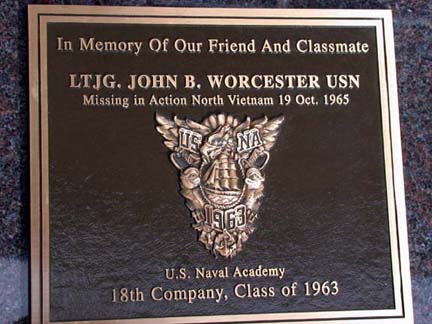 The John Worcester Memorial
&nbsp As several had asked, I told what I knew of John's disappearance which included what I had received from the pilot who was his flight leader and flew with him that day. I ended with the following, submitted on behalf of all John's Academy classmates who knew him: "Whatever happened, and wherever John is, I suspect he's looking down on us now, smiling, and wondering why we're making all this fuss about him. He always thought of himself as an ordinary guy just doing his duty. But we his classmates, to whom he was such a good friend, remember him as a special person and a naval officer who went above and beyond the call of duty. And so we dedicate to him this memorial, with our class crest, to place it here in his home town as close as we can to the house where he grew up, and in a small way, at least spiritually, to bring him home."
---

&nbsp Here's a spot of news from Mike Dickerson, provided last autumn: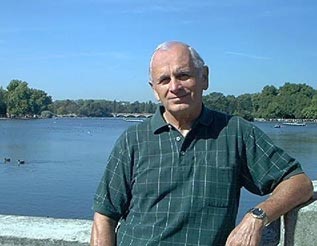 Mike Dickerson at Hyde Park
&nbsp I retired a couple years ago and Joyce and I have been traveling around the country in an RV since then. We sold our home and became full time RV'ers. We just returned from a trip to London and Scotland, where we took a break from our wanderings in the US. We are currently heading for Bryson City, NC, where we will be spending the month of October in the Smoky Mountains. After that, we will head to Virginia Beach, VA. for the Thanksgiving-New Year holiday season, where my mother lives and we have a daughter and some grandchildren.
---

&nbsp From his home near Ft. Worth, Lanny Cox sent an account of his attendance at two of TCU's home football games in 2003.
&nbsp On September 6, I attended the Navy - TCU game and have a picture from that day taken of me, my daughter Emily, and Brent Canaday `66 with whom I work. Emily has applied to USNA for the Class of 2008.

At the Navy-TCU game




Tailgating at the Army-TCU game


A month later, on 4 October, Patsy and I, accompanied by Claudia and Jim Eckland went to the Army-TCU game. Before the kickoff, we visited the USMA tailgate tent and Jim and I had our picture taken with a couple of guys from the USMA Class of `64. We couldn't find anyone from USMA `63. The West Pointers were certainly surprised to see a couple of Navy men in their midst. While there, we were informed by the Army folks that Navy had prevailed against Air Force and, briefly, we thought it might be some sort of sick joke!
---

&nbsp Most football post-game accounts include mention of the tailgate party; some speak of nothing but. Here's a different sort of report from Jim Metcalfe, who missed not only the tailgate but most of the game against Air Force.
&nbsp What a great thrill it was!. We left Virginia Beach with just enough time to make the game, then ran into horrendous traffic and took two hours just to clear Tidewater. We arrived at the Redskins' stadium at the end of the third quarter. When we got into the stadium we discovered the score was 21-18, Navy! We sat next to Carla and Jeff Miles for the fourth quarter. Although we only saw the last quarter of the game, it was one of the most satisfying Navy football experiences I have ever had (and we were lucky to have had a lot of good ones in our days as midsheep).
A few weeks later, Jim and Lisa were back in Annapolis to see Navy's team in action again. He provided this report:
&nbsp The weekend of the Navy-Central Michigan game was a delight, with many '63ers on hand and a very special final score. Among the folks I saw were: Phil Rooney (All I saw was his license plate -- PJR 63 -- he beat a hasty retreat to Virginia after the game.); Al Sherman and his daughter Jenny; Fran and Tom Reemelin (over from Mason Neck, VA); Jan and Peter Quinton (I understand Pete has retired from Anne Arundel County Hospital where he was facilities manager for many years.); Jennifer and Bill Earner (apparently fully recovered from the 40th Reunion); Fern and Ian Sargent (down from the Philadelphia area); Linda and Charlie Stubbs from Annapolis; Arlene and Forrest Siburt; and Bruce Webb and his son Chuck who is an ICU nurse at a Jacksonville, FL, hospital. In honor of our class, the Big Blue Team scored 63 points. A number of guys from '64 were yelling "go for two" on the last PAT kick. I identified Brent Bennitt and Jim Arrison. The win guaranteed a winning season for the first time in many years. Navy had over 600 yards in total offense. We stayed overnight with Carla and Jeff Miles. After the game we went to dinner at Harry Browne's Restaurant on State Circle. The Siburts joined us. We spent about four hours telling stories and laughing. God willing and the creeks don't rise, Lisa and I will be at the new stadium in Philadelphia to see Navy BEAT ARMY!
---

&nbsp Bob Harper reminds us that the 2004 Northern Virginia MS bicycle ride will be the weekend of 22-23 May. The Class of 1963 has for many years fielded a team of riders to benefit the cause of MS research and honor our classmate Terry Abell for his courage, fortitude, and good humor in battling this disease which finally claimed him in September. We expect to be joined this year by at least one of Terry's daughters. Bob rode in last year's Delaware MS ride with Charles Gosnell, who had been involved with that event for 16 years. A good turnout this year will be a tribute to both Terry and Charlie. Please contact Bob Harper (bobh@bmpcoe.org; 301-405-9890) to indicate your interest in participating.
---

&nbsp Mario Fiori retired from Federal service on 15 December, completing 29 months as Assistant Secretary of the Army for Installations and Environment. In a note to me he said:
&nbsp I had a wonderful 29 months serving the Army and our great Soldiers -- wonderful people who I truly admire. I will miss my talented Installation and Environment staff who were totally dedicated to the welfare of Soldiers. I have not firmed up my personal plans but do intend to work till my 66th. I am looking for positions in industry where I can make a difference.

I am working hard to win clemency for Bill Pawlyk who is incarcerated in Washington State. I invite our classmates to contact me if they want to help. My e-mail is mariof3609@aol.com; phone 703-923-9544.
---

&nbsp That's it for the print version, folks. Be sure to check the expanded and fully illustrated web site version of this report. And keep in touch with your classmates!



---