Shipmate Column
March 2003
---
CLASS OF 1963
Pres: Stephen M. Duncan
Sec'y: Michael H. Shelley
25 Sweetwater Lane, Pisgah Forest, NC 28768
h: 828-862-4245 e: Class.Secretary@USNA63.org
Web site: www.USNA63.org
Remember that you can click on any underlined Classmate's name to view his Current Biography.
---

&nbsp The USNA Class of 1963 web site, hosted by our classmate Bill Kennedy, has been out of commission for several months due to storm damage and persistent technical problems. To help us until full service is restored, Steve Coester has created a temporary Class of 1963 web site. Its content is currently limited to Fortieth Reunion information, recent Shipmate columns, Current Biographies, and breaking news. The address appears at the head of this column. Take a look at the site, and join me in thanking Steve for his efforts on our behalf.
---
Dave Riley has made a very full contribution to our news exchange, ending what he termed "a nine-year hiatus." (He sets a good example for all you guys who haven't checked in for a while.)
&nbsp After retiring from the Navy in 1990 and spending a year in Pensacola trying to refine my golf game (which I never did with any great success), Anna and I moved back to our home in San Diego and I dabbled in international commerce. Tired of me hanging around for lunch, Anna strongly suggested that I find a real job. So in early 1994 we moved to the Dayton, OH, area when I was hired by a major French aerospace firm to restructure a faltering subsidiary, SPECO Corporation, in nearby Springfield. SPECO designed and manufactured aerospace power train drive components. This evolution became a Class of '63 project of sorts. The late Riita Smith, Mike Smith 's widow, and Vicki and Roy Warren were realtors for selling our San Diego home. Phil Gubbins signed on as SPECO's VP of Administration and Tony Celebrezze and his law firm became SPECO's counsel. To make a long story short, working for the French turned out to be an agonizing and fruitless endeavor, and in 1995 all three of us had had enough and left for greener pastures. I also ended up in Federal District Court over employment contract issues. My suit was finally settled out-of-court after it "cooked" for five long years. My only advice to the class after this experience is to avoid lawsuits if at all possible. It will significantly impact your time and, more importantly, your sanity.

Since leaving SPECO, I have established my own company (David Riley Associates, Inc.) and have been working in international business development for about three years. My company's focus has principally been excess inventory reduction and my primary client is a major European aerospace firm. While at SPECO, it became readily apparent that classmates provide the "best bang for the buck" so Ralph Kimberlin, who is currently a professor of aeronautics at the University of Tennessee but also has his own consulting firm (KCAS Incorporated), is partnering with me. Tony Celebrezze is also my company's attorney. There are a lot of challenges in working cross-culture but Ralph and I keep plodding through the obstacles with hopes that it will prove worthwhile over the long haul.

Even though Dayton is in the middle of nowhere, there are plenty of opportunities to socialize with classmates. Tony Celebrezze is an avid amateur Legend race car driver and I try to show up on occasion with medical kit in hand to observe and cheer him on. I've included a photo of Tony giving my wife Anna some instructions on how to drive his Legend car. Any suggestions from Tony on how to go faster are not really required since Anna seems quite capable of navigating the freeways at close to Mach 1 without help from anyone.

Anna Riley and Tony Celebrezze


Anna and I have hosted a couple of recent socials at our home. We were joined by Connie and Tom Brandt, Louisa and Tony Celebrezze, and Christine and Phil Gubbins for a 4th of July weekend celebration. The gathering happened to coincide with Anna's and my 39th wedding anniversary and we had a great time reminiscing over times past. At the end of August, we hosted Judy and Jerry Jordan, who were accompanying their daughter Julie from Hawaii for enrollment at Deerfield Academy in Maine. If all goes as planned, Julie will become a member of the USNA Class of 2007. Then in October, Anna and I drove up to Dearborn, MI, to visit the Henry Ford Museum and had the pleasure of dining with Bill Penn and his lady friend, Linda Thebo

Fourth of July social at the Rileys'




Celebrezze, Rileys, and Jordans




Dearborn, Michigan, October 2002


In summary, life is treating us quite well. I stay busy with business trips to Europe on occasion. Anna pursues her career as a personal trainer with uncommon zeal and was fortunate to spend six months working in Genoa, Italy, last year. This was a special opportunity for her since she was close to "home" with family and friends in Milan. We look forward to seeing our many long-time friends at the 40th reunion.
---

&nbsp In an e-mail, Jim Ring raised an interesting historical question about our classmates' participation in aerial combat. Here's his note:
&nbsp I was reading an article on the Internet about the F-8 Crusader. It mentioned that, "The last Crusader MIG kill took place on September 19, 1968, when LT Anthony Nargi of VF-111's Det II destroyed a MIG-21." Way to go, Tony! I wonder if any other classmates got a MIG.
---

&nbsp Well, my curiosity was engaged and I wanted to know more, so I contacted Tony and asked him to confirm the report. Here is his answer:
&nbsp The information you have about my getting the last F-8 Crusader MIG Kill is correct. On 19 Sep 68 my wingman, Alex Rucker, and I were on MigCap when we were vectored in by Red Crown (the controlling agency) against reported MIG's. It turned out that there were six of them and two of us, or as we say in the fleet, "a target-rich environment." At any rate, we didn't know their formation and were following Red Crown's intercept instructions.

Red Crown realized that the three lead aircraft were MIG 17's and were trying to lure us in front of the trailing three MIG 21's. At the last minute, in the intercept turn, Red Crown turned us to intercept the three MIG 21's. I engaged the second aircraft in their formation although I didn't know it was the second aircraft at the time. After a brief fight, I shot him down with an AIM-9 Sidewinder missile. He ejected safely and I was so intent on his ejection that I forgot about the other MIG's. The last MIG 21 fired everything he had at me, both missiles and guns, and missed.

I engaged him and fired a Sidewinder missile at him. As the missile exploded he flew into a low cloud deck and I lost sight of him. The remainder of the MIG's ran for it. Being low on fuel I returned to the ship with my wingman.

&nbsp If you know of other MIG kills by our classmates, please let me know, and provide details if you can. I recall that one of us was involved in an engagement between MIG's and Spads but could be mistaken. Please confirm or correct this.
From South Carolina comes this photo sent by Rich Weidman, taken at a recent Low Country Alumni Chapter picnic on Hilton Head. He says that the chapter is quite active but needs one more '63er to make up a foursome. Left to right in the photo are Denny Tomlin, Rich, and Rick Wakefield.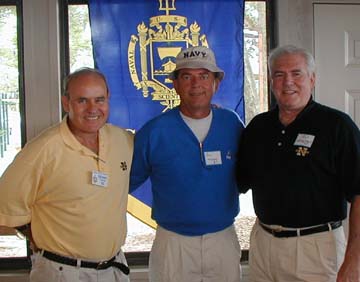 Classmates at Hilton Head
---

&nbsp Thanks to Ray Ross for providing this summary of his career since graduation:
&nbsp I flew two tours off nine carriers in the S2F to protect the high-value target (a.k.a. the attack carrier), instructed CQ in the T-28 in Pensacola, was a CV Dept Head, garnered a few unit awards here and there, flew mission support in the Tonkin Gulf, and worked four OPEVALs (Harpoon, P-3C Orion, S-3A Viking and T-34C TurboMentor) at Pax River. Later transferred to the Restricted Line, served on AirPac staff, and retired from a Navy laboratory supervising 18 civilian and military Program Managers.

In the civilian arena, I hired into General Dynamics Space Systems Division of Convair (later bought by Martin Marietta and merged with Lockheed) as a systems engineer. My '61 alumnus supervisor became the Chief Engineer while building a new $340 million rocket launch pad, and I succeeded him by the end of that 7-year project. Having lateralled from Engineering to Management in 2000, I'm now in the countdown mode to retirement. In 2003 you will find Carol and me on the west slope of Colorado. Montrose is a little crossroads town an hour's drive from Crested Butte, Powder Horn, Telluride, fine fishing, and -- let's talk fundamentals ­ our grandchildren.
---

&nbsp Phil Marsden continues to be the most prolific news hound among our many Southern California classmates. This is his latest submission of text and photos for your enjoyment.
&nbsp Here are some excellent shots of our Southern California 1963 contingent celebrating our win over Army this year. Mike Krause was the photographer of record. We had a good turnout, highlighted by a number of new faces that had been lured south by a 23rd company reunion at Karen and Steve Hoy's. Some pictures from that gathering are also included. The attendees at June and Chuck Stone's lovely house included Bob Easton, Charlie Helsper, Karen and Steve Hoy, Donna Kaup, Don Jacobs, Sally and Win Orgera and their lovely daughter and grandchild (see if you can find them in the group photo), Jay Roberts, Mike Rubel, Mike Krause, Grant Telfer, Sandi and Jim Thornton, Gail and Vern Von Sydow, Ginnie and John Dolby, and Reed Farrington.


Beat Army party in Escondito, CA




Bob Hecht, Mike Rubel, and Steve Hoy




Celebrating the grand victory




Saturday morning smiles




Chuck and June Stone



---

&nbsp Phillip also passed along this story recounted by Steve Hoy:
&nbsp As most of you will recall, Vern (alias "Beast") Von Sydow was wearing a very tight sweatshirt at our Army-Navy get together at the Stone's home. The sweatshirt was from a vintage assortment of "Navy" sweatshirts embroidered with a "Class of 63" patch by Sally Orgera for a bunch of us several years ago. As everyone knows, Vern must wear a size XXL. This year Vern's sweatshirt was considerably tighter than in the past and he tugged on it most of the day in an attempt to provide a little breathing room -- of course I teased him in a rather unrelenting fashion all morning about how tight it was (not that I have much room to talk). As usual, Vern did not take my teasing too kindly, but endured it just the same. That afternoon Vern called me after he got home, first calling me an unkindly name, then explaining that when he "peeled" off his sweatshirt he discovered that it was his wife's size medium. Only our past president of the Honor Committee could convince me of such a fact.
---

&nbsp Wrapping up a great bunch of photos for you this month, here is one from Northern Virginia, courtesy of Al Sherman. It was taken at the annual Beat Army pep rally at Terry Abell's the night before the big game, showing all the guys who braved the first snowfall of the season to be there. In the front are Terry, Tom Reemelin, and Brev Moore. The center row consists of Al, Pete Quinton, John Aucella, and David Robinson. Standing in the rear are Tom O'Brien, Bob Harper, Joel Gardner, Paul Tobin, and Jim Ring. This pep rally has become a great tradition! I'm sure it contributed to the lopsided score of this year's game.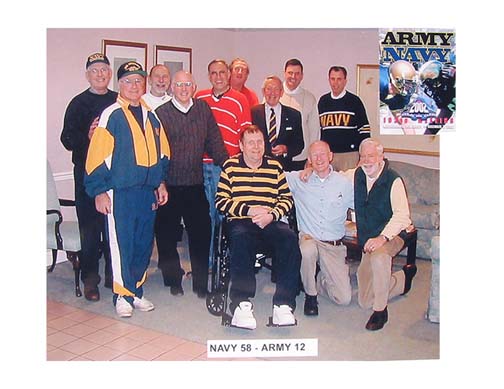 Beat Army pep rally at Terry Abell's
---

&nbsp Keep in touch, folks! I need to hear from you soon.

QUALITY - '63
---
---
This page is
Shipmate:
January/February 2003

---

posted on:
15 January 2003
Shipmate columns:
Navigate to:

Shipmate Index

Wardroom


Plan of the Day

Site Map

USNA63