Shipmate Column
January/February 2003
---
CLASS OF 1963
Pres: Stephen M. Duncan
Sec'y: Michael H. Shelley
25 Sweetwater Lane, Pisgah Forest, NC 28768
h: 828-862-4245 e: Class.Secretary@USNA63.org
Web site: www.USNA63.org
Remember that you can click on any underlined Classmate's name to view his Current Biography.
---

&nbsp Phil Marsden reports that eight of our classmates and their wives were in Dahlgren Hall on 11 October for the ceremony recognizing our honorary classmate VADM Charles Minter as a Naval Academy Distinguished Graduate. Phil supplied photos from the occasion. In the panorama are (front row) Andrea Johnson, Charlie Minter, Mary Minter, VADM Minter, Carol Minter, Carol Harper and (back row) Judi Puckett, Spence Johnson, Charlie Lynch, Sonny Glassner, Dave Puckett, Phil and Martha Marsden, Tom and Barbara Hall, Bob Harper. Phil says it was a wonderful afternoon and the 1963 contingent were all pleased to have an opportunity to thank the Minters for all they have done for our class. Photos will be in the printed Shipmate

---

&nbsp I am sorry to report the death of Layne Almond, widow of our classmate Jack Almond, on 10 November. The funeral service was conducted by Wayne Clark '63 at the First United Methodist Church of Chula Vista, CA.
---

&nbsp Tom Meyer recently returned to the States after an extended assignment in China. He reported his new focus in this e- mail:
&nbsp We just got a 3-4 year contract to work the Navy's Surface Ship Maintenance Process, a big deal for our firm, Thomas Group. We're back in Dallas and I am commuting to Norfolk weekly. Working with 0-6's and Admirals is more fun than Chinese people right now. The Navy is looking for big results from us. I feel pretty confident that we will deliver efficiency and productivity and a higher level of material readiness. Between three and four billion dollars are spent each year on ship maintenance, more than any other activity like air or sea operations.
---

&nbsp We congratulate Tom Hall, who became the new Assistant Secretary of Defense for Reserve Affairs in October. Tom has a very big job in a difficult time, and we wish him well. In case you're wondering: Yes, one of Tom's predecessors in this critical post was Steve Duncan, who served during the Reagan and Bush administrations.
---

&nbsp In October I received an e-mail and a photo from Pete Optekar's brother David, who has received support from our classmates for his work in combating substance abuse in Russia. I'm sure you will enjoy them.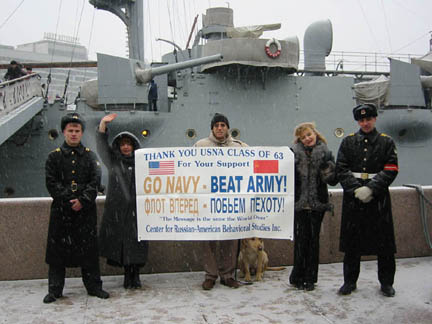 Beat Army! message from Russia
&nbsp As promised, this is a special greeting from St. Petersburg, Russia, and the Center for Russian - American Behavioral Studies, Inc. Just as you and your classmates have supported us in our endeavor to stem the tide of alcoholism and drug addiction in Russia we would like to provide you with that same support for your upcoming duel with Army on December 7th. Please accept this e-mail and photo as evidence of the support that is being pledged by the Russian Navy and our organization in what we are sure will be an inevitable victory by Navy. In this photo I am flanked by two of my Board of Directors, Valentina Shabalina and Natasha Zinovieva and two seamen from the battleship Aurora that you see in the background. This battleship played a decisive role in Russian History during the 1917 Revolution, and while we in the West had to deal with the consequences of the outcome of that Revolution for nearly 70 years, the fact remains that when a job needs to be done the Navy is called upon to do it. We look forward to celebrating the good news of your success with our Russian counterparts on December 7, 2002. All the best! Sincerely yours, David Optekar, Pres. Center for Russian American Behavioral Studies, Inc.
&nbsp I don't know how clearly the text on the banner will appear on this page, so here it is: "Thank you USNA Class of 1963 for your support. Go Navy-Beat Army! (in both Roman and Cyrillic characters) The message is the same the world over. Center for Russian-American Behavioral Studies Inc." Now, isn't that nifty?! Thanks to David for the unique message of solidarity. We've sure seen lots of changes since the end of the Cold War...
As a postscript to Dave's message, here is Pete's reaction: :
&nbsp I was enormously surprised by the picture and message from my brother Dave and the pictured team. If you remember, he was appealing for funding a year ago to lead an effort focused on rehabilitation for drug and alcohol abusers in Russia. Some of our classmates helped fund his effort for which he was very appreciative, then in August of this year he received a Fullbright Scholarship to fund his efforts for a semester teaching at the University of St. Petersburg. My wife Grace and I are looking forward to visiting him in February, and I appreciate the inspirational and monetary support from the class of'63.
---

&nbsp One of the first to contribute to this month's column was Miller Detrick, who supplied news and images from October of 2002. Here's his note:
&nbsp Here are two photos from a recent trip when Connie and I flew up to Pensacola to visit Kathleen and Flack Logan. It was great to see those guys. If Flack is not the mayor of the city, he is close. We enjoyed a visit to the Naval Aviation Museum, checked out in wave- runners, ate tons of seafood (caught at the local fish market), toured the Bay in the Sea Ray and had a reunion at Trader Jon's. One picture shows the four of us in front of the boat; the other captures Flack challenging me to ride a wave- runner with him. Flack still has his '47 MGTC and '27 Model A pickup. We rode around in the '72 VW Beetle! A bit of a time warp. Great time.

Detricks and Logans in Pensacola




Two young guys on a wave-runner



---

&nbsp Ken Sanger wrote from northern Idaho with a good story from Veterans Day 2002.
&nbsp I just had a memorable and rewarding Veterans Day. Last July I chanced to meet the producers of the movie Return With Honor. When I met them, I didn't know that they had produced (and written and directed the film) but they had been told that I had been a Navy pilot. They told me about Return With Honor, which I had seen a few years back. At one point I told them I thought it would be a great movie to show to high school kids. They said they had done that in the past and would be happy to provide me the film to show locally.

The schools here in Sandpoint do celebrate Veterans Day so I offered to get the film for them as part of their celebration. One thing led to another resulting in the historic theater in town hosting the movie for not only 1,500 students (which required the school to lay on busses to transport the kids during school hours - three viewings in two days) -- but also for the general public on Veterans Day. I was able to arrange to have an ex- Vietnam POW (USAF) on hand to conduct a Q&A after each showing for the kids.

Having been uncertain about how the kids would react, I was greatly rewarded by observing 1,500 teenagers so awed by the film's power that they watched in hushed silence. Each group gave the movie a standing ovation then individuals proceeded to ask thoughtful and evocative questions of the former POW. He also got a standing ovation. As the kids passed us while leaving the theater, many stopped to thank him for coming and me for getting the film for them. To say I am greatly impressed with my town's teens is an understatement.

I have since learned that there are a number of teachers (generally history or social studies) in other cities who show the film to their classes each year. The film can be ordered at www.returnwithhonor.com.
---

&nbsp Steve Duncan is now spending most of his professional time as a Distinguished Fellow at The National Defense University, Fort McNair, Washington, D.C.
&nbsp It was a pleasant surprise to hear from George Emery this month. He reported on a mini-reunion in Boston and summarized his activities since he retired from active duty.
&nbsp Dottie and Bill Hughes, Linda and Zimm Zimmerman, and our Cornell '63 submarine shipmate Rich Itkin and his wife Hildy joined Pat and me for a weekend reunion in Boston in early October. Memorable was our 90-minute tour of the city in a World War II "Duck," documented by this photo. Left to right are Hildy, yours truly, Pat, Bill, Dottie, Rich, Linda, and Zimm. We were last all together in May of 2000 when we sailed on a Greek Island cruise aboard the motor-sailing ship Windsong. It was great fun until the guys talked the gals into a post-cruise, one-day, all- inclusive tour of the Peloponnesian Peninsula. By the end of a very late day, our mates were less than thrilled with our initiative.

The Zimmermans make their home in Idaho Falls and flew out a few days before our Boston rendezvous to visit with Pat and me in Kennebunkport where we've built our "retirement" home, about 20 miles from our old high school. Bill and Dottie share their time between their Manhattan apartment and their eventual "retirement" home in San Diego. Since I'm finally writing to you, here's a short summary of Emery doings since retiring in 1996. I went to work for Raytheon at their Burlington, MA, site a couple of months after leaving SubLant, and moved to Vienna, VA, two years later to assume the presidency of Raytheon Technical Service Company. Enjoyed the good company of several classmates during that stay, particularly at pizza lunches with Terry Abell. With the magic 60 closing in, we decided to get back to Maine while we could still enjoy it, and Pat (with Dottie and Hildy's help) soon found a spot and a builder , and here we are. We keep busy with family, Newcomers, bridge, old and new friends, and with lots of old shipmates and spouses during the summer at our nearby lakeside camp-among them this summer were Julie and Tom Robertson. I still do a bit of work-enough to give Pat a break-with a few consulting contracts and as an involved trustee of the USS Constitution Museum in Boston.
---

&nbsp In the previous issue, I reported on our Homecoming 2002 party hosted by Carla and Jeff Miles. Thanks to Bernie Grabowski for supplying these two snapshots made at that grand event. In the group photo are (kneeling) Mid sponsored by the Miles, Bernard Grabowski, Siburt, Reemelin, Miles, Nadolski and (standing) Quinton, Webb, Robinson, Sherman, Metcalfe, Harper, Klemick, Leisge, Johnson, and Freese.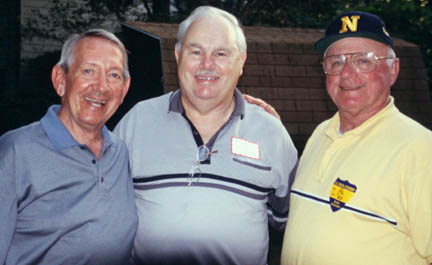 David Robinson, Bruce Webb, and Al Sherman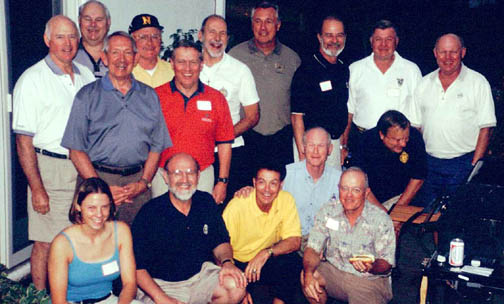 Homecoming 2002
---

&nbsp Ace reporter Jim Metcalfe's wife Lisa encountered Jim Spruance last fall, prompting Jim M. to send this note:
&nbsp Jim Spruance was married in about 1989 and became the classmate with the youngest child (but was later outdone by some other classmates). His son Jake recently entered Friends School in Virginia Beach. Jake was interviewed for admissions by my wife, Lisa. Jim noticed the USNA license plates (ours and the Whalens') and found out he was among classmates. I haven't seen him yet. (I last saw him in 1989 at the Armed Forces Staff College bar which '63 had taken over for the Army-Navy game on the big TV.) Lisa says Jim is in real estate development with our classmate Tony Ditteaux.
---

&nbsp From Dayton, Ohio, Dave Riley sent me a CD containing a nice note about himself and several classmates, accompanied by a group of fine photographs. There is not enough room in this month's news exchange for all that he sent, so as a "tease" here is an excerpt about a football gathering.
&nbsp Every other year when Navy plays Notre Dame in South Bend, a number of us meet to witness Navy's loss. Here is a snapshot from our last get together (in November 2001), with our part of the Navy rooting section consisting of Dr. Jason Florimonte (Jerry Jordan's son-in-law), Mike Obsitnik, Phil Gubbins, Gene Dehnert, yours truly, and Ralph Kimberlin.

Classmates at Notre Dame game



&nbsp The rest of Dave's submission will appear in next month's Shipmate. Stand by for news and pictures of Tony Celebrezze, Bill Penn, Jerry Jordan, Phil Gubbins, and Tom Brandt. What's happening with YOU these days? Please share the info with me, so I can pass it along to our classmates. This news exchange needs your participation, so delay no longer!
QUALITY - '63
---
---
This page is
Shipmate:
January/February 2003

---

posted on:
2 December 2002
Shipmate columns:
Navigate to:

Shipmate Index

Wardroom


Plan of the Day

Site Map

USNA63