Shipmate Column
January/February 2007
---
CLASS OF 1963
Pres: CAPT W. Spencer Johnson IV, USN (Ret.)
Sec'y: Michael H. Shelley
164 Sweetwater Lane, Pisgah Forest, NC 28768
h: 828-862-4245 e: nstar@citcom.net
Web site: http://www.usna63.org.


For any classmate you can go to the Classmates Page and enter his name to read his current biography if available.
---
&nbsp I am sorry to open this report by informing you of the death of our classmate John Newton, who passed away on 20 November after battling cancer for 14 years. He will be interred at the Naval Academy on a date to be determined.
Condolences can be sent to John's lady Pat Leicher, John's daughter Leigh, and his son Craig at 60 St James Place, Piedmont, CA 94611.
Memorial contributions may be made to the Multiple Myeloma Research Foundation, 383 Main Avenue, 5th Floor, Norwalk, CT 06851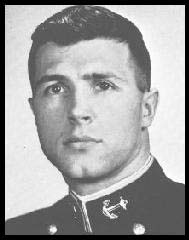 John Newton
---
&nbsp Mike Krause is our leading contributor this month, having sent two illustrated news items for your reading pleasure. His first submission arrived in mid-October.
&nbsp I want to pass along a photo of four classmates taken in San Francisco. Lew Blackwell hosted Mike Rubel, Jim Thornton, and me at the Olympic Golf Club where he is a member. I was in California on a golf trip with three pals from Connecticut touring Pebble Beach and Half Moon Bay, closing out the trip at Olympic. Lew was the perfect host and arranged a fantastic closing dinner for my pals plus Lew and Lynn, Jim and Sandi, and Mike and Jan. While in Pebble Beach, I had dinner with Reed Farrington, who was preparing for a show where several of his paintings were to be exhibited. Last week Stewart Settle, who was visiting NYC, stopped by for an enjoyable dinner at our house in Westport. Needless to say, none of us have changed much and everyone looked very good and in excellent health. If any classmates get to NYC, we are only an hour away, and the door is always open.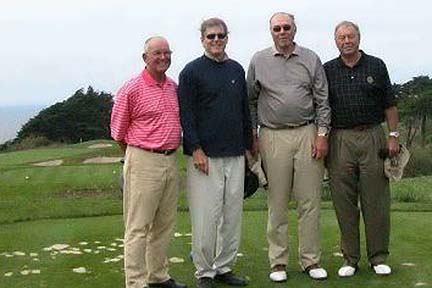 San Francisco golfers


&nbsp Mike's second report arrived two weeks later, on the same day as the event in question - that's a new record for the '63 News Exchange!
&nbsp Here are some photos I took today at a luncheon sponsored by The Navy League of NYC at the New York Athletic Club. The speaker was none other than our classmate The Honorable Tom Hall, Under Secretary of Defense for Reserve Affairs. Tom provided an interesting perspective on the role the Reserves are playing in the War on Terror. He stated that Reservists and Regular Troops in Iraq and Afghanistan are indistinguishable on the line due to their training and readiness. Tom took the train up from DC with his wife, Barbara, to be with us. In attendance were several classmates from the area including Bob Campbell, Ken Metviner, Robbie Newton, Bill Palafox, Rob Black, and me. Pete Optekar was in NYC following a visit to NJ and the Notre Dame game in Baltimore and Mike Bonsignore, an erstwhile New Yorker, was in town checking up on things. As you can see, everyone is aging well. The ageless Robbie Newton was voted "most Midshipman-like." He challenged Pete to a couple of rounds, but Pete declined.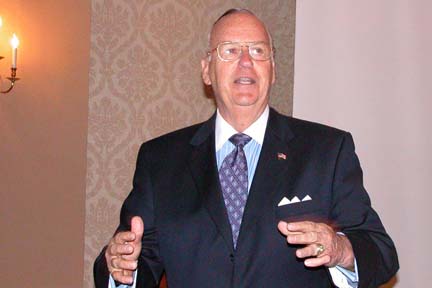 Tom Hall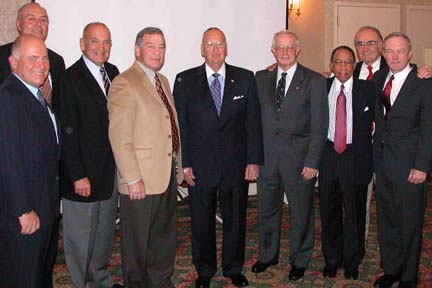 '63 at the New York Athletic Club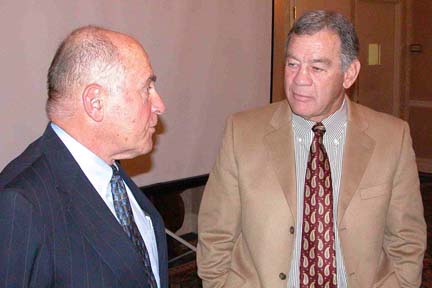 Ken Metviner and Pete Optekar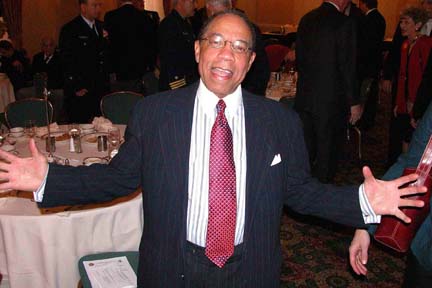 Robbie Newton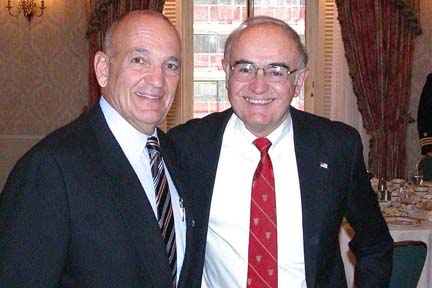 Mike Bonsignore and Bill Palafox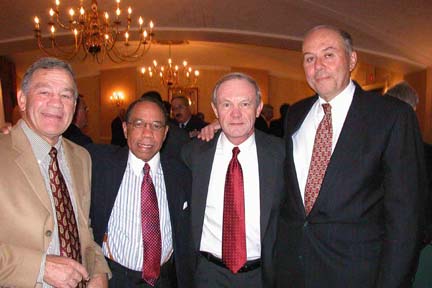 Optekar, Newton, Campbell, and Krause
---
&nbsp Don Freese made the long trip from Florida to Colorado to see Navy's gridiron victory over the Air Force Academy on 7 October. He told me that the Fifth Company was well represented at the game, and sent these photos as proof. Left to right in the group image are Doris and Tom Selden, Sherry and Don Freese, and Carole and Lu Schumacher. Lu and Carole live in nearby Monument, CO.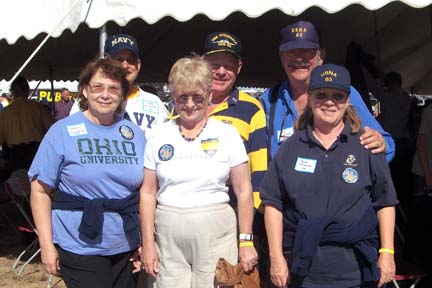 Fifth Company couples in Colorado Springs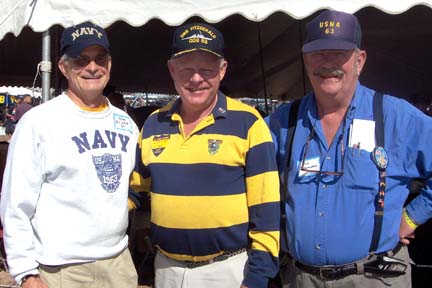 Selden, Freese, and Schumacher
---
&nbsp Here's something to inspire the armchair athletes among us. For the second straight year, Steve Coester took home a gold medal at the Sanford, FL, Golden Age Games. This year it was the Men's 65 Doubles Championship. Here's a photo of Steve and his partner, Dave Bonnar.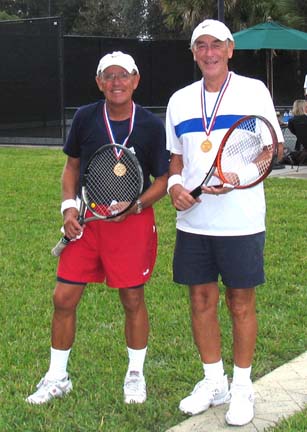 Steve and partner Dave Bonnar Win the Gold
---
&nbsp The newly retired Peter Featherstone has completed his relocation to the Chesapeake Bay.
&nbsp We made the transit from Connecticut to the Chesapeake in 'Tis, our Grand Banks 36, in early October. It took us seven days, and it was quite the experience. New York City was awesome: we took the East River through Hell Gate (aptly named) and past the U.N., the Empire State Building, and lower Manhattan, and on into N.Y. Harbor and the Statue of Liberty. We continued our run to the eastern shore of Maryland via Sandy Hook, the New Jersey Intracoastal, Delaware Bay, and the C & D Canal. This picture was taken on the flybridge as we were about to pass under the Bronx-Whitestone Bridge. (More pictures and information can be seen at http://www.grandbanksowners.com/gb36-729

Charlotte and Peter Featherstone


For the time being, we are renting a condo on the water in Chesapeake Harbour in Annapolis. The condo has four levels, with very private guest accommodations, so we expect a lot of visitors!
---
&nbsp We'll top off this month's column with the latest news from Phillip Marsden.
&nbsp Martha and I recently had a chance to see some classmates during a visit to some of our old haunts in northern California. John Pfeiffer, who works for the city of Monterey, hosted a classmate lunch on a beautiful sunny day in Carmel. Before lunch we met at the Carmel Art Association headquarters where we admired some paintings by the Association president, Reed Farrington. My backpacking buddy and Pebble Beach resident, John Peterson, also joined us for the luncheon. This photo shows Martha and the "Vandellas" -- John Peterson, Reed, and John Pfeiffer -- posing before some of Reed's paintings.

At the Carmel Art Association



---
&nbsp I'm wrapping up this column on 2 December. The 2006 Army-Navy game ended a few minutes ago. The 26-14 win completes five consecutive Navy wins over Army, four consecutive Commander-in-Chief's Trophies, and an 8-0 sweep of USMA and USAFA. How sweet it is.

What's up with you, classmate? Tell me!



---