Shipmate Column
January 2011
---
CLASS OF 1963
Pres: CAPT W. Spencer Johnson IV, USN (Ret.)
Sec'y: Michael H. Shelley
164 Sweetwater Lane, Pisgah Forest, NC 28768
h: 828-862-4245 e: nstar@citcom.net
Web site: http://www.usna63.org.


For any classmate you can go to the Classmates Page and enter his name to read his current biography if available.
---
&nbsp We begin this installment of our news exchange with this account of an important event, submitted by Spencer Johnson:
&nbsp In Annapolis on Friday afternoon, 5 November, classmates, wives, and friends gathered in the tap room of Ogle Hall, known to most of us as Alumni House, to witness the placement of our classmate Ted Willandt's ring in the display case of class rings by his widow Lorraine and to celebrate his life and legacy.

Ted Willandt



&nbsp The brief but moving ceremony began with class president Spencer Johnson, a companymate of Ted's, recalling his time with us as a midshipman, his exceptional athletic abilities that earned him a place in the first rank of Navy national championship lacrosse teams, and his subsequent three decades of naval service that included multiple tours of duty in Vietnam, significant duties in the Pentagon and the Bureau of Naval Personnel, and command of three ships, PITKIN COUNTY, SANTA BARBARA, and JUNEAU. Spencer mentioned that the ring being dedicated also represented Lorraine's dedicated service to the nation as a Navy wife during her 43 years of marriage to Ted, symbolized by the miniature class ring that she wears so proudly. Finally, Spencer mentioned that our class ring symbolizes all that our class has accomplished together, beginning with helping each other navigate the rocks and shoals of Academy life, our service to the nation since graduation, and our sense of brotherhood over the years no matter what life had in store for us.

Roger Tetrault



&nbsp Roger Tetrault, Ted's friend in Middle and High School on Long Island and his roommate at the Naval Academy, spoke of Ted's single minded determination to become a lacrosse player of distinction even though he had no innate gifts at the outset. Through daily practice with a lacrosse stick and a focus on improving his skills and stamina, Ted became the superlative lacrosse player who came to the attention of athletic recruiters, leading to his appointment to the Naval Academy in 1959. Ted's ability to focus on the missions and goals at hand, developed in high school and honed in his years at the Naval Academy, were personal traits that characterized his entire life and highly successful career.
&nbsp Finally, Dick Corrigan, the coach of the attack men on Navy's lacrosse team, spoke of Ted's outstanding abilities not only as a championship player, but also his quality of being a team player who always advanced the team first.
&nbsp After thanking all present for coming and honoring Ted's memory, Lorraine placed Ted's ring in the display case with the assistance of their daughter Carolyn and Bobbi Collins from the Alumni Association. There with the rings of deceased graduates from other classes, Ted is not only memorialized, but represents all of us who are proud and privileged to have known him and to call him classmate. His life and achievements speak exceedingly well of us all. We could ask no better representative of our class.

Placing the ring




In the display case




Lorraine and Carolyn Willandt




Viewing the display




Roger Tetrault with Lorraine and Carolyn Willandt



&nbsp As an aside, we learned that Ted delivered his daughter Carolyn into this world when it became evident that there was no time for a trip to the hospital. I don't know of another classmate who can claim that distinction, but it once again proves that there is nothing a Naval Academy graduate cannot do.






&nbsp Attendees at the ring dedication ceremony included Lorraine and Carolyn Willandt, Roger and Linda Tetrault, Phil Rooney, Jim Ring, Eileen Dabich, Sonny Glassner, Joe and Barbara Strasser, Mike and Stephanie Nadolski, Norm and Judy Shackelton, Peter Quinton, Bill Earner, Jeff Miles, Charlie Stubbs and Barb Novak, Mel Bunnell, Dick Corrigan (Navy lacrosse coach), Dennis Wedekind '65 (lacrosse teammate), and Andrea and Spencer Johnson.
&nbsp Thanks to Spencer for providing the preceding text and to Eileen Proulx of the Alumni Association for taking and providing the photographs.
---


&nbsp Have you registered for the Class of 1963 Mid-Term Reunion to be held in San Diego 31 March - 3 April 2011? Many of our classmates have already registered, and several of our USNA companies will have a significant number of their members on hand. It's not too early to be firming-up your plans.
&nbsp I encourage you to act now to reserve your room at our headquarters hotel, the Manchester Grand Hyatt. To secure the discounted rate, call 888-421-1442 and identify yourself as a member of the Naval Academy Reunion Class of 1963. Complete reunion information, including a registration form, can be seen on our web site by clicking here. If you have any questions, contact Lee Cargill by e-mail ( leecargill@sbcglobal.net ) or phone (619-437-4866).



---

&nbsp Last month I reported the good news that Jack Hood's son John was promoted to Captain, USN, on 1 July. Jack remarked that John may be the first '63 child to attain the O-6 rank. Responding, Larry Linn sent this note to me:
&nbsp I read Jack Hood's input in the latest Shipmate and I need to let you know that my daughter, Cheryl Linn Carter, was promoted to Colonel, USAF, on April 10, 2010. She may be the first O-6 offspring from the class. I was privileged to administer her oath of office at her "pinning" ceremony at Eielson AFB, Alaska.

Larry Linn administers the oath to his daughter



&nbsp Congratulations to both of these fine officers! All of us can appreciate their accomplishments and be grateful for their continuing service to our nation.

&nbsp Larry also sent this summary of his activities:
&nbsp I retired from the Navy in 1986, went to work for The George Washington University's Division of Continuing Education managing their budgets and registrations, and left there in late 1989 to take a similar position with Florida Atlantic University here in Boca Raton, Florida. I retired for real out of that job in 2004. My wife, Zella, and I continue to reside in Boca Raton. She works still, at FAU, attempting to support me in the manner in which I desire to become accustomed. I stay busy with church and civic organizations and with trying to keep the bushes trimmed. They grow 24 hours a day, seven days a week here. In my spare time, I play my old trumpet, the one I had at USNA, and I am attempting to learn to play the ukulele.
&nbsp We have three daughters. All are employed, married, and not living at home. The oldest and youngest are practicing attorneys in Alabama. Cheryl, our middle daughter, is the one who was promoted to O-6 in April. She is a doctor, a board certified family practitioner, a graduate of the Air Force Aerospace Medicine Program, and now the head flight surgeon at Andrews Air Force Base.
---
&nbsp Dave Moore sent this snapshot from southern California, describing it simply as "Denny Vaughan and John Middleton arrive in the desert to kick off to the snowbird social season in La Quinta." Left to right are Lew Blackwell, Denny, John, and Dave.



---
&nbsp Members of the Fifth Company held a mini-reunion in Annapolis over Labor Day weekend. One of them, wishing to be uncredited, supplied this account.
&nbsp The attendees included Fred and Gloria Beckham, George and Joanne Candelori, Gary Franklin, Don and Sherry Freese, Wilson and Polly Harris, Bob and Sharon Lyons, Dave and Kate Maples, Perry and Anne Miles, Jerry and Betts Potter, Miles and Linda Schmidt, Lu and Carole Schumacher, Tom and Doris Selden, and Nick Sim and Sandy Gossman. Bob and Kathleen Prangley, Ron and Sandy Klemick, and Ward Bond had all planned to attend, but had to cancel for compelling reasons.



&nbsp During a late-night exchange of sea stories and reminiscences, Tom Selden posed a question: "What did we do with our rifles after we carried them in the JFK Inauguration Parade in January 1961?" No one had an answer until Bob Lyons came into the room and said very confidently that we had thrown them in a truck. Upon closer questioning, he admitted he didn't actually remember doing that, but surely that must have been what we did with them. Can anyone give a definitive answer to Tom's question?
---
&nbsp You may recall that Mike Blackledge and Bonnie Nolan (widow of our classmate George Nolan) were married in Albuquerque in July 2010. As a wedding gift, Mike's 4th companymate Lou Simpleman and his wife, Jo Ann, hosted them for what Mike described as a "glorious" three-day weekend based at the Simpleman home in Trinidad, CO.
&nbsp The excitement started on Thursday evening in Trinidad with dinner at Rino's Restaurant, where the food is not only the best Italian cooking around (except perhaps for Jo Ann's), but also the waiters and waitresses all sing opera or better. On Friday, we headed up to the Simplemans' mountain "cabin" nestled within the Spanish Peaks outside Aguilar, where we were treated to a great meal by Jo Ann, plus a tour of the wildlife nearby -- turkeys and deer specifically.
&nbsp On Saturday we were off to the Air Force - Navy game at Colorado Springs. It was not one of Navy's best football showings, but it was not for lack of proper attire and cheering by Simplemans and Blackledges. That evening our lodging was at the Distinguished Visitors quarters at Ft. Carson, which USMC Colonel Lou had wangled through a close working relationship with the Base Commander.

Blackledges and Simplemans



&nbsp We went out to Outback that evening, and the next day ended our festivities at Patti's Restaurant in Pueblo. Thanks, Jo Ann and Lou -- true friends, shipmates, and companymates. Our marriage is well launched.
---
&nbsp Jim Metcalfe sent this note shortly before leaving for a month in Merrie Olde England.
&nbsp Lisa and I will be in England November 7th to December 7th visiting our daughter Megan and her family. We will be on our own with grandchildren Matthew, Adam, and Maya for about two weeks while Megan and her husband Susantha go to Sri Lanka for a Jayawardena family wedding. At the end of our trip we will stay several days at the Royal Army and Navy Club on Pall Mall. One of my best friends, CDR Eric Dietrich Berryman, USNR (ret), has written a book, "Passport Not Required: U.S. Volunteers in the Royal Navy 1939-41." One of the volunteers was Draper Kaufmann who was NPQ out of USNA, became a merchant mariner, and then a Royal Navy EOD expert in the London Blitz before rejoining the USN after Pearl Harbor. He was Superintendent of the Naval Academy from 1965 to 1968. The launching of the book will be at the Churchill War Rooms in London on December 3d, followed by a luncheon at the Royal Army and Navy Club the next day.
---
&nbsp Jim Ring forwarded this information from Joel Warshaw, who is continuing his law enforcement work as a part-time Deputy Sheriff in Warren County, Ohio
&nbsp Retirement can be fun. I participated in a county wide training course with several other law enforcement agencies. The training consisted of several scenarios that might occur during a traffic stop. I played the bad guy / violator in one of them, a suicidal crazy with a knife and concealed hand gun. That's me in the camouflage getting the drop on the patrol officer who had no idea as to what to expect on a traffic stop for expired registration. We used "simmunitions" which are plastic bullets filled with a colored marking dye. They still hurt. Anyway, I ran this scenario 175 times over a six day period. Enjoyable, hard work for me. Anyway, you have to do something but I am looking for a more civilized approach.

Deputy Sheriff Joel Warshaw portrays a bad guy



---
&nbsp Lanny Cox sent this information about a Prep School focused on helping its students gain admission to a service academy.
&nbsp My daughter was in the first class at Greystone Prep School and eventually earned her appointment to USNA. From that first class of five students in 2004, the program has grown to 28 students in the present class and is a fully accredited USNA Foundation School. The measure of the school's success is that 95-plus percent of its students earn at least one appointment to a service academy at the end of their Greystone year.
&nbsp One thing that sets Greystone apart from other service academy prep schools is that, while pursuing a rigorous academic, physical, leadership, and community service program, the students earn up to 36 college credits -- the only Naval Academy Foundation Prep School where this is true.
&nbsp If you know any young people who were turned down for entry into a service academy and who might be interested in spending a year in the Texas Hill Country for another attempt at an appointment while earning college credit, please pass this information on to them. The school's web site is http://www.greystoneprepschool.net/.
---
&nbsp Phil Rooney touched base with me just after my previous publication deadline in early October, providing this news of his recent activities:
&nbsp Matt Small and I had a wonderful trip to Alaska. On the Kenai Peninsula, we caught some beautiful silver salmon (great eating, too) and large rainbow trout. Alaska is enormous!

Phil Rooney and Matt Small



&nbsp Steve Longo came by a couple of weeks ago, to attend a Quantico reunion. He stayed with us a couple of days, and we went to the new "Newseum" in downtown Washington, where we became instant White House reporters. Steve had recently come back from a Habitat for Humanity trip to North Vietnam and is planning another trip to Nepal. I am thinking of going along.

Longo and Rooney at the Newseum



---
&nbsp Naval Academy Alumni Association staffer Eileen Proulx supplied this excellent photo from the Class of 1963 tailgate before the Central Michigan game in Annapolis on 13 November.


Left to right in the front row are Mario Fiori, Bob Forster, Jeff Miles, and Norm Shackleton. Standing are Dick Jones and his granddaughter Lauren Atcheson, Don Freese, Phil Rooney, Eli Dabich, Pete Quinton, Bill Earner, Spencer Johnson, Satch Baumgart, Ron Klemick, Charlie Stubbs, and Mike Nadolski.
---
&nbsp To close this month's column, let's do some time travel. Here are two images I received this fall. The picture of the young Midshipmen and the ladies was taken in January 1961. The newspaper photo of Dick Wyttenbach-Santos dates from his tour as C.O. of JOSEPH STRAUSS in the late 1970's.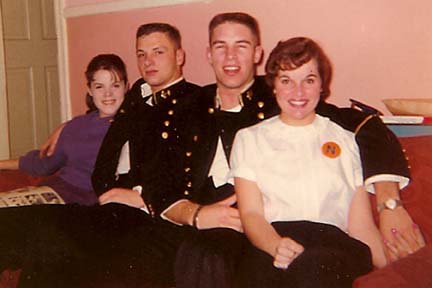 George Singer and Bob Tieslau charming the ladies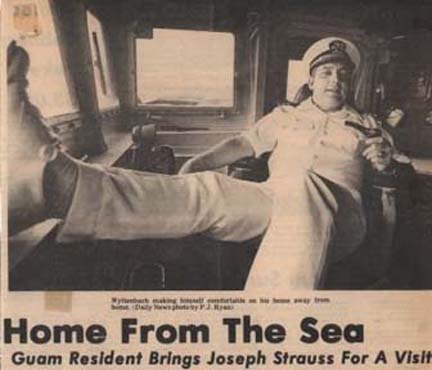 Captain's on the bridge!
---
&nbsp That's all for this month, folks. Many of you will be spending more time indoors now that the cold weather has arrived. How about using a bit of that time to send me some news about what you've up to lately? Photos are always welcome. Thanks!



---