Shipmate Column
November-December 2010
---
CLASS OF 1963
Pres: CAPT W. Spencer Johnson IV, USN (Ret.)
Sec'y: Michael H. Shelley
164 Sweetwater Lane, Pisgah Forest, NC 28768
h: 828-862-4245 e: nstar@citcom.net
Web site: http://www.usna63.org.


For any classmate you can go to the Classmates Page and enter his name to read his current biography if available.
---
&nbsp I hope you have already decided to attend the Class of 1963's Mid-Term Reunion in San Diego from 31 March to 3 April 2011. The reunion committee, headed by Chuck Stone, has been working diligently for many months to plan and prepare for our time together. Stand by to receive a registration package, which will be mailed to the Class in mid-October. For an overview, here is a firm schedule of events. Details about each event will be included in the registration package.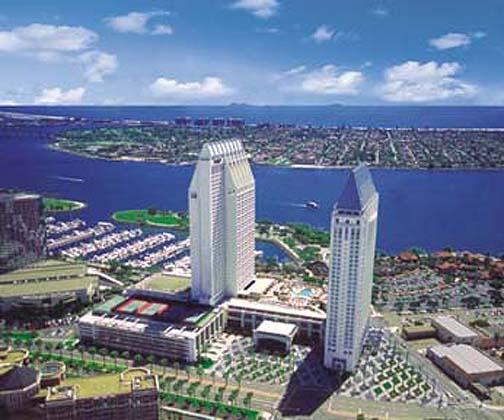 Our headquarters hotel


&nbsp Reunion headquarters will be at the Manchester Grand Hyatt Hotel, located on the waterfront in the heart of downtown San Diego. Our "contract rate" for singles will be $131 per room, and $156 per room for doubles (plus taxes and fees). These rates will also be available for three days before and three days after the Reunion. Hotel registration details will be included in the Registration package. You can learn about the hotel by clicking Here .
&nbsp Hats off to the reunion committee for their hard work on behalf of the Class! The members are Lee Cargill, Jim Thornton, Phillip Marsden, Rich Wilson, Bob and Sue Easton, Jim Fontana, JJ Hogan, John Ryan, Bill Hughes, Mike Rubel, Vern VonSydow, Dave Meyers, Marirose and Karl Kozak, Don and Charlotte Jacobs, Mickey Mays, Grant Telfer, Donna Kaup, John Middleton, and Chuck and June Stone.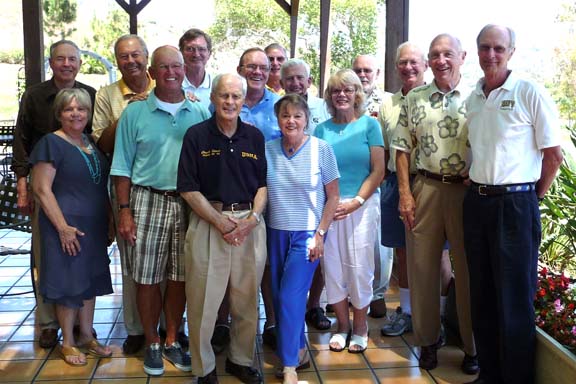 Mid-Term Reunion Planning Committee meeting in August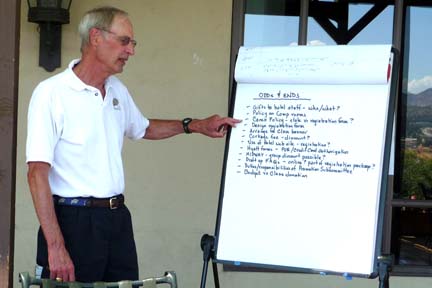 Phillip Marsden leads the discussion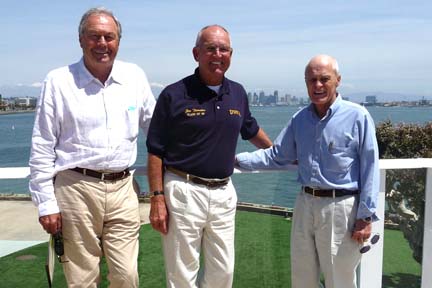 Mike Rubel, Jim Thornton, and Chuck Stone check out the facilities and the view at the Admiral Kidd Club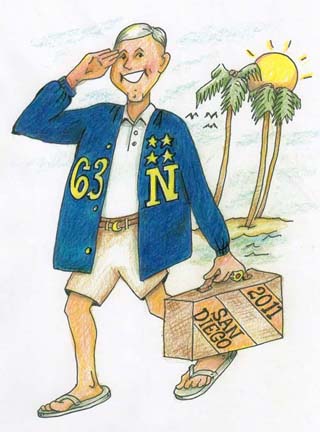 Happy classmate arriving for the Mid-Term Reunion (by Don Jacobs)
---
&nbsp Four Naval Academy midshipmen and a professor are part of a Navy expedition that began in mid September to search for Bonhomme Richard, the illustrious ship once commanded by Captain John Paul Jones. They will be aboard the survey ship USNS Henson. Other expedition members are coming from the Naval History and Heritage Command, U.S. Naval Forces Europe, the Naval Meteorology and Oceanography Command, the Naval Oceanographic Office, the Office of Naval Research and the Ocean Technology Foundation. They will be joined by British Royal Navy personnel and a French Navy minesweeper with divers on board. This is the Navy's fifth search, over many years, for the ship.
&nbsp Bonhomme Richard sank off the northeast coast of England about 36 hours after Jones' victory over HMS Serapis in September 1779. Her resting place is believed to be within a 900 square mile search area.
&nbsp David Puckett, the President of our Class Foundation, shared this information about 63's connection to the Bonhomme Richard search:
&nbsp At the request of the Naval Academy Foundation to support part of the funding of the expedition, the Class of 1963 provided half of the needed matching grant funds through individual contributions and also assistance from our Class Foundation. What a wonderful event to be supporting, especially if they are successful!
---
&nbsp I am sorry to report the death of our classmate Warren Kellerhouse on 17 August. Many of you will remember him as a very accomplished musician and the composer of original music for the 1960 and 1961 Musical Clubs Shows. After leaving the Academy near the end of Youngster year, he returned to enlisted service. A graduate of the Navy Music School, he served at the Academy as a member of the Naval Academy Band from 1964 until his retirement as a Chief Petty Officer in 1983. Subsequently active in a variety of music and civic activities, Warren held a Masters Degree in music and was best known for his abilities and talent as an arranger and composer of music for jazz and concert bands. He was widely published throughout the Navy Music Program and internationally. He appears in this 1971 photo from the Academy Band's web site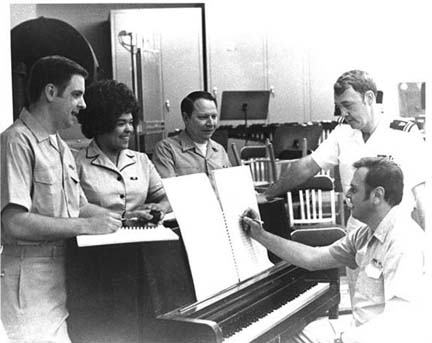 Warren Kellerhouse (right) with Academy band members
---
&nbsp Looking forward to relocating to Brevard, NC, this fall, Lois and Bernie Grabowski put their home in King of Prussia, PA, on the market in April. To their great surprise, it sold in only three days and they had to move by the end of the month. Because the renter of their North Carolina house had several months remaining on the lease, Lois and Bernie decided to put the intervening time to good use by getting an in-depth look at Alaska. Here are some excerpts from a very full account Bernie sent to me.
&nbsp In keeping with the "KISS" principle, I said, "Let's just get an apartment and wait out the rest of the rental period and move into the Brevard house in September." Lois had a different idea. She said, "You always wanted to go to Alaska and photograph grizzly bears; here is an opportunity to do it." I said, "It's too complicated." But she got on line and found jobs for us in a hotel at Denali National Park and then started to second guess herself. Hours of daylight, lots of young people partying, we're not going to get much sleep. So she called an RV rental place in Fairbanks to price out renting an RV that we could live in and get away from all that testosterone and estrogen.
&nbsp The place she called said, "You can't afford it, but come to work for us in Fairbanks. We won't pay you anything but we'll give you a place to live. You'll work four hours a day for eight days and then have off six days that you can use to travel and see Alaska."
&nbsp We took the job. The place at which we work rents RV's to individuals and corporations. Lois does the cleaning and I do the mechanical work. There are four couples. One couple works four hours in the morning and the other, four hours in the afternoon. While those two couples are working, the other two couples are free to travel.
&nbsp Fairbanks is a great place to experience the "real" Alaska. Tourists do come to town to take a paddle wheeler up the Chena river for two or three hours and/or to go to the El Dorado gold mine to pan for gold but 99 percent of this place is people just doing jobs and making a living. Much of the work done here is in support of the pipeline, the Army base, Fort Wainwright, and Eielson Air Force Base.

Lois and Bernie Grabowski



&nbsp During our time off periods we have been to Denali National Park, Wasilla, Anchorage, Seward and the Kenai Peninsula, the Arctic Circle, Glacier Bay National Park, Juneau, and Skagway. Next on the list are the grizzly bears at Brooks Falls. Lois has been talking about going to Barrow or Nome. We'll see what develops.
&nbsp It was all quite unexpected but that is how we are spending the summer.
---
&nbsp Tom O'Brien sent this account of an eventful visit to Washington state in late August.
&nbsp Ann and I just returned from a great week's visit to the Pacific Northwest to see my son John O'Brien '89, his wife, Julianne, and our three grandkids out there, ages 8, 3 and 1. Because space-A in their Mill Creek, WA, home has become an issue as their family has grown, we decided to rent a place on the Hood Canal, west of Puget Sound, for several nights as a vacation place for all of us. We ended up in the "Hood Canal Grand Cottage" just two miles south of the east end of the Hood Canal Floating Bridge, and couldn't have been more ideally situated. The "cottage" was a 4,000 sq. ft. house with all the amenities and wonderful views. The average daily temperatures of about 68 were a very welcome reprieve from Florida's 90's and max humidity.
&nbsp Besides exploring the nearby Norwegian-themed town of Poulsbo situated on Liberty Bay and taking in the ongoing Kitsap County Fair, we had the opportunity to make contact with Classmates and 18th Companymates Dave Durfee and Denny Vaughan. Dave and his wife, Vivian, are enjoying life in Bremerton, and Denny and LuAnne are situated across Puget Sound in Shoreline, a few miles north of Seattle. I had alerted both couples to our vacation plans, and plans to get together came together nicely. I ran into Dave, who was running the "candy train" for some very happy kids, at the large "Bremerton Northern" model trains setup at the County Fair. In addition to being a volunteer cellist with the Bremerton Symphony, Dave enjoys a passion for model trains. We agreed that the four of us would meet the next day for lunch at Anthony's Restaurant in Bremerton's Harborside. We had a delightful lunch while dredging up a lot of good memories.

Durfees (center) and O'Briens lunching in Bremerton



&nbsp After our lunch with the Durfees, we headed back up to Poulsbo to greet the Vaughans at our cottage. Denny had decided that, since he didn't know the rocks and shoals in that area too well, he wouldn't sail his newly acquired Beneteau 40.7 up the Sound and down the Canal to pay us a visit, but rather would take the reliable and much quicker Washington State Ferry from Edmonds to Kingston and let his Garmin do the heavy lifting from there. They arrived bearing a scrumptious peaches and cream pie and a nice bottle of white wine. We caught up over wine, cheese, fruit and pie for a couple of hours before the unofficial Puget Sound clock of the ferry schedule prompted their departure. We managed one time-delay photo of the four of us before they departed.

Vaughans and O'Briens



&nbsp We are looking forward to joining classmates and their significant others at the San Diego Mid-Term Reunion next year.
---
&nbsp Pete Deutermann checked in with me in early September, providing this news about his book projects and family.
&nbsp I'm in the final stages of production for my fourteenth book, entitled Pacific Glory, due out in January. This one is a World War II historical novel, featuring the 1944 destroyer action against Kurita's battleships at Leyte Gulf. My dad was a DesDiv commander with Halsey during the Leyte campaign, and his stories about that sea fight inspired the book.
&nbsp Otherwise, Susan and I are happily composting on the family pony farm here in North Carolina. Susan is coming to grips with the fact that our son, Daniel, will be finishing up twenty years of service in the navy and the coast guard, which means she's officially getting old. (She happily tells me I'm already there.) He and his wife (also a USCG helo pilot) are stationed in Miami, where he will be launching a new business venture that involves designing, certifying, and providing helicopter facilities and crew for mega-yachts. My daughter, Sarah, is back with Booz Allen as an environmental engineer working on the massive DOD base sustainability program, which is aimed at leveraging the value of DOD's land holdings to do things like biofuels, solar power, wind-farms, etc. It requires cooperation from state and local officials; if they don't play ball, there's always BRAC....
&nbsp Right now I'm cranking up book No. 15, an international suspense novel involving the ruins of the fortress of Masada in Israel, beautiful archeologists, spies, Russian emigre's, Iran, oh my. Hopefully Israel will still exist by the time the book comes out in 2012.
---
&nbsp Both Tom O'Brien and Jim Ring told me that in early September, National Public Radio gave in-depth coverage to the involvement of USS KIRK (FF 1087) in evacuation and humanitarian operations following the fall of Saigon in 1975. Our classmate Dick McKenna was KIRK's XO at that time. The broadcasts credited the ship with having helped to save many thousands of Vietnamese refugees. NPR's web site presents extensive text and photographic coverage of the events and personalities involved. Also included are audio recordings of Dick and other crew members recounting their participation in the operations. To see the NPR coverage, click here .
---
&nbsp Ollie Donelan sent a brief note and this photo in early September.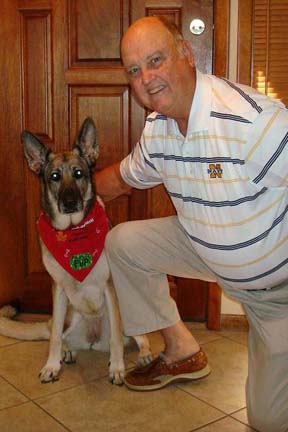 Dusty and Ollie Donelan
&nbsp My dog, Dusty, was qualified as a therapy dog under Project PUP (Pets Uplifting People) in March, and we visit a local rehab center and a nursing home once a week. The looks on the faces of some of these folks who were dog owners is priceless. This volunteer effort has replaced my previous volunteer job of being the world's biggest, ugliest receptionist at the MacDill AFB Pass and ID office which I did for a little over a year.
&nbsp Sandy and I had supper with Elyse and Vern Browne and Connie and Miller Dietrich last week at Vern's house, and Saturday I saw Sherry and Don Freese at an Alumni gathering to watch Navy squeak out a win over Georgia Southern.
---
&nbsp While in Norman, OK, during the Fourth of July weekend, Steve Jacoby was able to visit the traveling version of the Vietnam Veterans Memorial. This display is a scaled-down replica of The Wall which is about two-thirds the size of the memorial itself. It has been displayed in many locations throughout the United States for several years. Steve sent the pictures below, as well as images of the names of our 13 classmates who are listed in the memorial. One of these appears below as an example.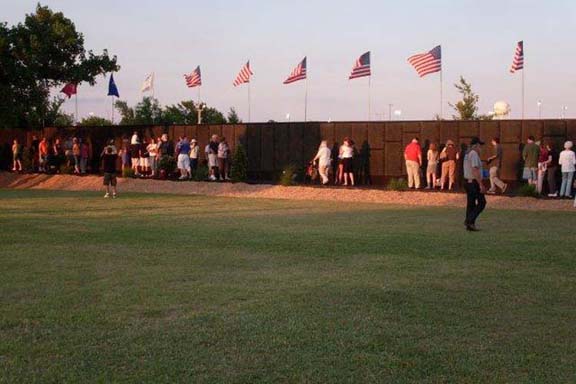 The traveling memorial display
Steve Jacoby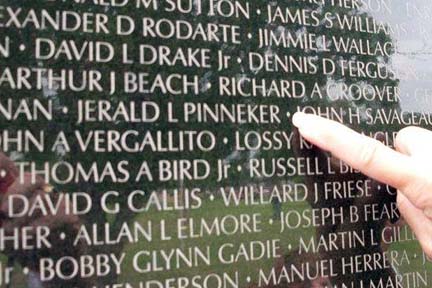 The entry for Jerry Pinneker


&nbsp One of our Vietnam casualties was Dan Moran. His sister, Gay Moran Pfeiffer, recently shared this story with Jim Ring:
&nbsp In late August, I received an email from a young man through Facebook saying he had found a sword that said Daniel H. Moran USNA Class of 1963. It was in the garage of the mother of a former girlfriend in Kensington, MD. He investigated the name with the Naval Academy and finally got my name from a thank you email I had sent to the Foundation that was posted on the Class of 1963 website.
&nbsp We have been emailing back and forth about the sword. I know it was used at Dan's military wedding and probably lost at the reception following which was held at the Kensington Country Club.
&nbsp This young man is sending me the sword and won't even let me pay the postage. I am telling you...the electronic age is incredible!
---
&nbsp Three of our classmates spent some quality time - and burned a lot of calories - on a wilderness adventure in early September. Phillip Marsden supplied this news.
&nbsp John Peterson led ten intrepid backpackers on a 40-mile, seven-day loop through the Emigrant Wilderness north of Yosemite National Park. We hiked from five to ten miles a day at altitudes from 6,500 to 9,000 ft on trails that offered verdant meadows, alpine lakes, and pine forests. As the photo shows, Sandy Stoddard also joined us on the trail. We can attest that the beautiful scenery, good friends, and pure High Sierra air are good for the body and spirit.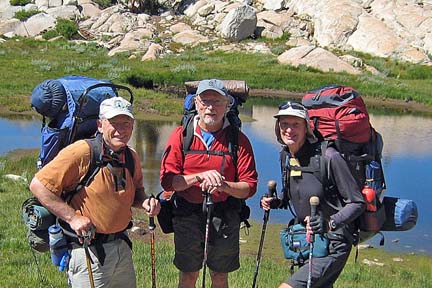 Wilderness backpackers Stoddard, Peterson, and Marsden
---
&nbsp That's all for this month. Have a terrific holiday season, and don't forget to send me your news to be shared with our classmates. We need your participation to keep this news exchange in business.



---