Shipmate Column
July-August 2018
---
CLASS OF 1963
Pres: CAPT W. Spencer Johnson IV, USN (Ret.)
Sec'y: Michael H. Shelley
164 Sweetwater Lane, Pisgah Forest, NC 28768
h: 828-506-2201 e: nstar@citcom.net
Web site: http://www.usna63.org.


For any classmate you can go to the Classmates Page and enter his name to read his current biography if available.
---
---
---
&nbsp A report ("Irish Pennants") from our class president Spencer Johnson was posted in the Hot News section of our web site in early April. It presents information about our 55th reunion, the '63 Center for Academic Excellence, and tailgating at Navy's 2018 home football games. To see it, click HERE. I have copied some of the reunion information below.
&nbsp Reunion registration has now been open for about one month and we are very pleased with the initial response from our classmates. We hope that many others of you will decide to join us as well. Please go to this link for registration information and the registration form: http://www.usna63.org/reunion/55thReunionRegistration.html
&nbsp We also wanted you to know that the reunion registration web page has been updated with some additional information.
&nbsp The initial listing of classmates currently registered has been posted. This list will be updated monthly as we go forward. The registered classmates have been sorted by company. (NOTE: You can see the list by clicking HERE .)
&nbsp The Frequently Asked Questions (FAQs) include revised room reservation procedures and more information for classmates and guests with mobility challenges. In addition, we expanded the description of the process we are using to assist classmates who wish to purchase additional football game tickets. We provide updated information on possible ship visits during the reunion since Fleet Week now coincides with our reunion weekend.
&nbsp Information on Thursday's golf tournament was added to the event descriptions and the tourney location was added to the reunion venue diagram.
&nbsp Overall, the football game tickets have been selling briskly. A near sellout is expected. So far, we have plenty of tickets available in our reserved Class seating sections. However, we must turn in all unsold tickets in mid-June. Therefore, if you want football tickets you must register before 15 June. And if you want extra tickets, register as soon as you can to increase your chances of getting your extra tickets.
&nbsp Some of our Classmates have asked whether the Class of 2013 will be part of our Reunion. The Class of 2013 decided to have their 5th reunion in Annapolis, so there will be no formal joint 63-13 reunion. However, we plan to invite the Class of 2013 and their parents to join us at the Tailgate and the Football game in San Diego.
---
&nbsp We received the sad news that Charles Adams' wife of 54 years, Nancy, passed away on 16 April 2018. You may contact him at 105 Catawba Court, Chapel Hill, NC 27514
---
&nbsp I reported last month that our classmate Dennis Bell had died on 27 February. Phillip Marsden provided this report about the memorial service:
&nbsp The funeral service for Denny Bell of the 11th Company was at the Miramar National Cemetery, followed by a celebration of life at the Coronado Yacht Club. As Denny had a long and illustrious career as a naval aviator in addition to being an enthusiastic member of the local yachting community, there was a large crowd of celebrants, all of whom seemed ready and willing to share a sea story or two. Here are some photos from the celebration of life. Left to right in the larger group photo are Denny's son Mike, Jay Roberts, Phillp Marsden, Grant Telfer, Theresa Bell, Lee Tillotson, and Pattie and Dave Meyers.

Jay Roberts, Kathy and Mike Marra




Lee Tillotson, Jay Roberts, Dave Meyers




Rich Wilson, Randy Orlowski, Grant Telfer, Jay Roberts, Jim Fontana






---
&nbsp On 21 April, a crew shell honoring our classmate Mike Pero was dedicated at the Hubbard Hall boathouse at the Academy. Spencer Johnson noted that funds raised from classmates, family, and friends made the purchase of the German manufactured shell possible as a lasting tribute to Mike, who cherished his time on the Navy crew team and the crew team camaraderie that has lasted through the years.


&nbsp Hugh Schall sent this after-action report about the event.
&nbsp Here are pictures from the dedication of the shell in honor of Mike Pero at the boathouse. The group photo shows the Class of 1963 oarsmen who attended. Left to right are myself, John Aucella, Dick Kuntz, Dick Jones, Felix DeGolian, Jim Fontana, and Craig Thrasher. The trio in another image are Jim Fontana, Craig Thrasher, and myself with the shell. Jimmy, Craig, and I rowed with Mike in the undefeated Plebe shell that went to the finals of the 1960 Olympic trials. It was great to see all the support and the people who came for the event.




USNA '63 oarsmen




Schall, Fontana, and Thrasher




Leslie Pero addresses the crowd



&nbsp Among our members of the Class of 1963 who attended the dedication was Jim Metcalfe, who told me about many additional photos that can be seen in a Dropbox folder by clicking HERE .
---
&nbsp Bob LaGassa sent this happy family news:
&nbsp Our eldest grandson, Andrew James LaGassa, has been appointed to the United States Air Force Academy in the Class of 2022. Coincidentally, he received his appointment 59 years to the day that I received my USNA appointment to the Class of 1963. He is our third generation appointee to a service academy; his father, David, is a USNA 1991 graduate.
---
&nbsp Steve Coester sent this note in early April.
&nbsp Today I escorted Luck Patterson, brother of our Academy classmate James Kelly Patterson, and his friend Jim Wade to the Viera Wetlands here in Brevard County, FL. Kelly was shot down in North Vietnam in 1967 and his fate is still unknown. See the page I created for him on the USNA63 web site by clicking HERE . We had a perfect morning at the Wetlands seeing many bird species. Luck loved tempting the gators. Afterwards they treated me to lunch at Grills.

Jim Wade, Luck Patterson, and Steve Coester



---
&nbsp Pete Deutermann's latest novel, The Iceman, will be published in August. It's about a diesel-boat skipper who had one of the boats run out of Cavite, The Philippines, in the early and very dark days of 1942. The boats fled to Perth-Fremantle in western Australia and operated out of there for the next 18 months or so, pretty much inflicting the only damage done to the Japanese in MacArthur's theater.



---
&nbsp Here's news of yet another company-level 1963 reunion, as described by Jim Ring.
&nbsp During the weekend of 6 April, some members and wives of the Savage 16th Company met in Charleston, SC, for a mini reunion. We first met in September 1959, almost 59 years ago. We became members of the Savage 16th after we moved from the Sensual 7th Company and found we were paired with former members of the 10th Company from '62!
&nbsp Rich Weidman, Denny Tomlin, and Fred Storz organized the event around the Cooper River Bridge run/walk that Denny and Fred had done in the past. This run/walk attracts 40,000 people. Our walkers included Lee Cargill, Elaine Davey, Dave and Donna DeHoll, Pete Optekar, Fred Storz, and Denny and Cindy Tomlin. All walkers wore the great 55th reunion Class of '63 tee shirts that Rich developed. Other weekend attendees were Cliff and Edna Barney, John and Barbara Bender, Sue Cargill, Jack and Maria Fischer, Gay and Barbara Hopkins, Jim and Kate Ring, Fred and Kathy Storz, and Grace Optekar. Unfortunately, the organizers of the event, Rich and Doo Weidman, were among those who were scheduled to attend, but were last-second cancellations. These included Jack and Mary Jo Dranttel, Eric and Lynda Krieger, and Jud and Betsy Pearson. Thanks to the free drinks and snacks in the evening and full breakfast buffet in the morning, we all had quality time with our Companymates, some we had not seen for a long time. Saturday night, we had a great Company dinner which included the famous South Carolina "Shrimp and Grits." We departed on Sunday all fired up to attend the 55th reunion with our Company tee shirts in San Diego!

Denny Tomlin, Fred Storz, Jim Ring, Edna Barney, Jack Fischer, Gay Hopkins, Lee Cargill, Dave DeHoll




Rich Weidman wearing the reunion tee shirt he designed




Cliff and Edna Barney, Pete and Grace Optekar, Denny and Cindy Tomlin, Kathy and Fred Storz



---
&nbsp In the online version of our Shipmate column for March was a picture of five of our classmates submitted by Watt Miles. From the left, they are Bill Runkle, Stan Smiley, Dick Bachman, and Austin Lett (rear) . We were not certain about the identity of the guy on the right. Jon Harris sent a note to say he believes him to be Don McAlister. That agrees with what I had thought, so we'll consider the question answered.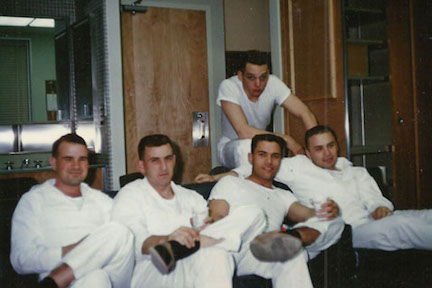 All accounted for, Sir!
---
&nbsp That's all for now, folks. Please take a minute to send me an email telling about your interactions with '63 classmates, recent travels, and other activities. We will enjoy hearing from you.



---