Shipmate Column
July-August 2020
---
CLASS OF 1963
Pres: CAPT W. Spencer Johnson IV, USN (Ret.)
Sec'y: Michael H. Shelley
27 Cambridge DR, Brevard, NC 28712
h: 828-506-2201 e: nstar@citcom.net
Web site: http://www.usna63.org.


For any classmate you can go to the Classmates Page and enter his name to read his current biography if available.
---
---
---
&nbsp Here's a salute to the USNA Class of 2020, now graduated and commissioned. The Coronavirus pandemic forced many changes in Commissioning Week plans. To begin with, the Brigade was not there. Segments of 2020 returned for graduation ceremonies in Tecumseh Court, with commissioning of the entire class in absentia a few days later. No plebes climbed Herndon and there was no Ring Dance, though both events may be held in the fall. What will Plebe Summer be for the new Class of 2024?









---
&nbsp Our classmate Joseph F. Carroll died on 27 March 2020. His widow, Janet, can be contacted at 319 North Union Avenue, Cranford, NJ 07016. His full obituary is in the Last Call section of our web site. See it by clicking HERE
---
&nbsp Over the past several months our classmates have been sharing information about their fathers' service in World War II. The latest account of wartime service came from Lew Blackwell.
&nbsp Dick Wyttenbach-Santos' article about his father in the June Shipmate triggered wartime memories from my own father (USNA '25) which overlapped to some extent his father's experience.

USS OSPREY (AM-56)



&nbsp My father, Cecil L Blackwell, was the commissioning C.O. of the USS OSPREY (AM-56) from 1940 through 1942. OSPREY participated in the invasion of North Africa (October -December 1942) and was the lead ship for the central force aimed at Casablanca. After commissioning and prior to the invasion, OSPREY conducted anti U-boat searches from Cape Hatteras to the Caribbean, dropping innumerable depth charges and arriving, unfortunately too late, to the scene of attacks only to see "the sea in flames with few alive survivors." My father was detached from OSPREY in December of 1942 and spent the rest of the war in the Pacific. OSPREY, however, later participated in Operation Overlord and was sunk with the loss of six crew members who became the first U.S. casualties of D-Day! Interestingly, OSPREY's bell was just recovered off the coast of England in 2019 and will be on permanent display at the U.S. embassy in London. These photos show my father at OSPREY's commissioning at the Norfolk Navy Yard (in Portsmouth) in 1940 and the recovered ship's bell.
LCDR Cecil Blackwell '25 (2nd left)
---

&nbsp Austin Chapman received special recognition this spring from residents of his community, Tryon Estates in Columbus, NC. A video highlighting his distinguished Navy career and subsequent community service was produced. You can see it by clicking HERE
---
&nbsp Jim Koehn checked in with me in late March just after our previous column appeared on our web site.
&nbsp I just finished reading the latest Shipmate update and decided to do my part. The interesting comments regarding the USNA 3rd Company mug prompted me to send this picture of my 4th Company mug.



&nbsp Judy and I are hunkered down in Henderson, NV, during the pandemic scare. The extra time and FaceTime give us a great opportunity to make contact with family members. We now have four great grandkids (two boys and two girls) and we can watch them grow up with almost daily videos.
&nbsp Two of our grandsons are in the Army Special Forces; one being an "operator" currently residing in Colorado Springs, and the younger is deployed to South Korea. They have grown into respectful young men that we are terribly proud of!
&nbsp A few months ago we had some significant travel plans that may be changing as the days progress. In late May we are planning to fly to Colorado to see the latest addition to our tribe, followed by an 11-day trip to Israel with a church group. I'm not too confident that this will occur due to the flight restrictions currently in place, but time will tell. We return in late June and then head to central Oregon for six weeks when we're hoping that virtually every family member can join us for a few days of reunions.
&nbsp Later in the fall I would like to get to Florida to visit my brother and his family as well as a number of other friends who like bugs! It's a busy calendar but we'd like to take advantage of our good health while it lasts. I've experienced some 17-plus surgeries over the years and Judy has had her share of medical issues as well. This past November she was assaulted while trying to deter shoplifters at a church thrift shop that she managed. They knocked her down on concrete payment, broke six ribs (with multiple fractures) and badly bruised her head. She continues to mend but still has some discomfort. The police never did find the people that did it as they were dressed as transvestites! She left the position on March 1 due to the incident plus a lack of security at the store area.

Judy and Jim Koehn at our 50th reunion



&nbsp We now have ample time for our hobbies and travel; Judy spends a majority of her time on her genealogy work and supporting our church activities while mine is devoted to golf, biking, poker, and coin collecting. Our local USNA chapter has suspended our monthly social time due to lack of participation but we do hold a large Army game party in December. We typically have 100 attendees and in years past have had Navy squadrons come, but these have been reduced due to funding restrictions. This limits our interaction with grads but we try to keep up through Shipmate and emails from old friends.
---

&nbsp Pete Deutermann has announced the impending publication of his latest novel. It's called The Hooligans, the story of a Navy doctor's experiences/adventures with a PT Boat Squadron from Guadalcanal to Surigao Straits. Look for it this summer in your local bookstore or from other sellers.
---
&nbsp Jim Ring relayed this very happy news from his 16th companymate, Hunt Parker:
&nbsp In late March, I got married to a lovely lady who grew up in Hutchinson, KS, Patricia Crews, now Patricia Crews Parker. Patty learned to play golf on the nationally acclaimed Prairie Dunes course. She graduated from KU (avid Jayhawk basketball fan). and after her kids went away to college became a speech therapy teacher. Patty and her deceased husband were my good friends in '72-'83 while he was working at Beech Aircraft. They returned to Hutchinson in '83. Patty and I met for dinner in KC 18 months ago after we found out we had three children and five grandchildren between us living within 15 minutes of each other. The rest is history and we both are very happy to have found each other. We'll start playing golf again seriously this spring. And to top it off, Patty's father commanded a squadron of LCTs in the South Pacific during WWII. She is a real Navy fan.

The wedding party, masked




and unmasked!




Hunt and Patty



---
&nbsp Faithful correspondent Jack Hood sent his pandemic status report from his home in northern Virginia.
&nbsp I thought I would bring you up to date how we are coping at home in Ashby Ponds in Ashburn, VA. Actually, we are not doing as badly as the majority are. Swimming is through and that is the greatest loss for both of us. We walk for a half hour every day but that does not come close to replacing our swim. With two knee and two hip replacements plus a cane, walking is not my favorite thing to do, but I do it. We did have our last meal out on my 80th birthday but since then eating out is a big no-no. Fortunately, we have a steakhouse just down the road with great meals and even better wine to go. Ginger misses her movies, shopping, and occasional lunch out. The temporary loss of housekeeping has also been a blow, but we are certainly not as bad off as a lot of our neighbors. We are having three dinners delivered to our door every three days in place of eating in one of our dining rooms. To us, not eating out most nights is a big loss, but we also realize that not many people currently have their dinners prepared and delivered to them. When all is said and done, having two retirements, two social securities, and savings certainly puts us better off that a whole lot of people so we give thanks for our blessings and otherwise just grin and bear it, knowing we, and our children, are going better than most. In our apartment, thank goodness for books, e-books in my case, and Netflix. I know that I would fail inspection today after six weeks without a haircut but, unlike my retired Navy Captain, and current Senior Executive Service son, I do shave every day despite not working. Like everyone else we are counting the days until we have something approaching a normal life again but until then, we take one day at a time knowing there is nothing we could do about it. Just hope the rest of the class is doing as well as we are and that the virus has touched very few.
---

&nbsp Here's something very unusual that I discovered while quarantined at home this April. I doubt that you've ever heard the USNA Chapel organ play march music. Enjoy this fine performance of The Stars and Stripes Forever by chapel organist Monte Maxwell by clicking HERE
---
&nbsp The pandemic has led many persons to review and adjust their wills, other documents, and various end of life instructions. Many persons choose to designate a recipient for memorial contributions, which are sometimes mentioned in wills and obituaries. Should you wish to designate the Class of 1963 Center for Academic Excellence as a recipient, here are the instructions: Send contributions to the U.S. Naval Academy Foundation, 274 Wood Road, Annapolis, MD 21402. The memo line of the check should indicate "Class of 1963 CAE" If there are any questions, contact Dan Quattrini '81, the Director of Class Legacy Gifts, at 952-210-5533 or dan.quattrini@usna.com .
---
&nbsp Have you looked at the Current Biographies section of our web site lately? There have been several additions and updates. Please be sure that your own information is there and up to date. Send your additions and changes to our Webmaster, Steve Coester, at scoester@cfl.rr.com . We have already seen instances where a deceased man's survivors have had to use information found only in a Current Biography to help compose an obituary or to confirm the details of military service. If you do nothing else, take a few minutes to read some of the biographies of your companymates and others. Click HERE to see them.
---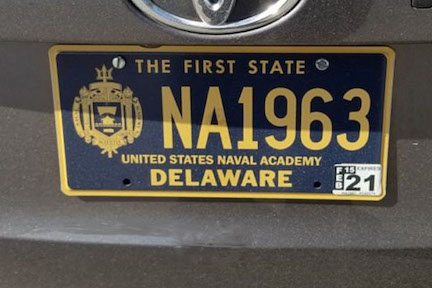 Jim Ring's USNA plate


&nbsp Jim Ring showed his leadership by spearheading a Naval Academy pride effort in his home state. He sent this brief report.
&nbsp A few years ago I found out Delaware had a license plate program for colleges. If I could round up 25 people posting $10 each, I could design a plate for the Naval Academy. Voila! The Delaware Blue and Gold plate colors were perfect for us. I love mine and it cost only $10. We now have over 50 plates outstanding.
&nbsp Click HERE to see the many USNA 1963 vanity license plates.
---
&nbsp That's all for this month. Please keep sending emails and photos to be shared with our classmates and other readers of this lively news exchange. br>


---