Shipmate Column
June 2003
---
CLASS OF 1963
Pres: Stephen M. Duncan
Sec'y: Michael H. Shelley
25 Sweetwater Lane, Pisgah Forest, NC 28768
h: 828-862-4245 e: Class.Secretary@USNA63.org
Web site: http://1963usna.topcities.com/
Remember that you can click on any underlined Classmate's name to view his Current Biography.
---

&nbsp OK, folks, it's time to get serious about the 40th Reunion. We hope all of you will be there to enjoy the fruits of the many months of preparations by our outstanding Reunion committee. If you haven't yet returned your registration form, get cracking! Persons registering before 1 August will enjoy a discount on the registration fee and key reunion events. Be sure to check our web site frequently (address above) for the latest Reunion information and for news about events that your USNA Company may be planning. We'll see you in Annapolis!
---
I have learned a few more details about our classmate Roger Rahl, who died of cancer on 15 February. At the time of his death he was President of Imaging Systems, Inc., of Birmingham, AL. Roger served two tours in Vietnam and was a member of the Naval Reserve after he left active duty. He was Dean of Student Affairs at Aiken Technical College, Aiken, SC, and Executive Vice President of Alabama Corporate Credit Union in Birmingham prior to his founding of Imaging Systems. One of my sources for this information is Roger's friend Jim Franklin, who said, "He was a fine man, with more integrity than anyone I can name. His USNA background was apparent in his dealings with all who knew him. He will be missed."
---

&nbsp Regular contributor Jim Metcalfe sent this news about the perpetually youthful Ron Baxter:
(Editor's Note: The online column only includes the photos that Mike Shelley receives electronically so try to input them digitally if possible)
&nbsp Here is a picture of Lettie and Ron and grandchildren, taken in Virginia Beach this February when Ron gave a surprise birthday party for her. Ron managed to keep a secret -- which Lettie says is quite rare. He arranged for their various children and grandchildren to gather at her father's farm in Virginia Beach. Ron got Lettie to drive him to Norfolk from their home in Kill Devil Hills, NC, ostensibly so he could catch a flight to his Northwest Airlines home base to connect with a scheduled flight to the Orient. (Ron is still flying, albeit as an engineer/navigator because he is over 60.) He somehow managed a detour to the farm. Greatly surprised, Lettie was also highly impressed with Ron's planning and discretion. We all had a good time but I've lost my detailed notes so I can't report specifics about the kids and grandkids. I do know that Ron has one son working as a design engineer for Delta Airlines and going to night law school in Atlanta. The other son is now in Maryland, I think.

&nbsp Jim also reported the birth of his and Lisa's latest grandchild, Andrew Matthew Thornton, born in Surrey, England, on 14 March. Congrats, folks!
---
Miller Detrick submitted this illustrated news about his recent visit with USNA roommate Lew Blackwell in Southern California.
&nbsp My wife, Connie, and I just returned from a brief visit with Lynn and Lew Blackwell in PGA West, La Quinta, CA, where they were just moving into a gorgeous home on the 11th fairway of the Weiskopf course. They have decided to take up permanent residence there, having retired from Chevron in San Francisco. Lew is staying in great shape and has become an avid golfer. He took me out to the driving range for a lesson. I always tell people I'm not old enough to play golf, but I came close to "signing up" after the visit. He pointed out Chuck Spadafora's place a block from them.

Lew has a golf cart that he claims can do 50 knots. It has seat belts! We survived the rides. We are looking forward to the 40th Reunion in September.

Here are two pictures from our time together. One shows the former roommates enjoying some fine wine. It was NOT French wine! Appearing left to right in the other picture are myself, Lynne (holding Tiger the dog), Connie, and Lew.

Roommates enjoying non-French wine




Detricks and Blackwells



---

&nbsp Chuck Adams has asked me to share this information with you about an exciting project to establish a perpetual Class of 1963 presence in the USNA crew program.
&nbsp"Project Class of 1963" is an effort by members of our class to give a rowing shell to the Navy crew and establish an endowment fund to purchase replacements so that from this autumn on, there will always be a shell in the Navy crew fleet bearing the name CLASS OF 1963. A rowing shell is a tangible thing that one can see and touch. There has been a shell named CLASS OF 1963 in the past. I visited it in Hubbard Hall while it was in the Navy fleet. It gave me a great deal of pride to see it there as a very appropriate memorial to our class.

Fundraising efforts for the project have been underway for several months. We already have enough in pledges to purchase and endow a four-oared shell. We would like to continue the drive until we have enough for an eight. Part of the package is to make and install a plaque on a bulkhead in Hubbard Hall, the crew boathouse. The plaque will contain the names of those members of our Class (and others) who have contributed to make the project a success. There might be other members of the Class beside oarsmen who may desire to contribute to the project and see their name on the plaque. Indeed, the organizers of the project have never intended to restrict the pool of potential contributors to former oarsmen. So far, that is the only group we have contacted, but only for financial and administrative reasons. Anyone wishing to participate in our effort can contact me by phone at 919-967- 3002, or by e-mail at ceadams@nc.rr.com

&nbsp It is significant that the project has the support of the Class of 1963 leadership. It is not competing with the effort to raise funds for our 40th Reunion gift to support the USNA Academic Center. Classmates are encouraged to donate to either -- or both -- of these worthy endeavors.
---

&nbsp Here's a bit more about air combat during the Vietnam War. It comes from Walt Breede.
&nbsp If memory serves, our classmate Jim Lynne nailed a MiG while flying a Spad in early 1965. I remember reading about it in Stars & Stripes while on Okinawa and then running in to Jim in the Club at Subic while on liberty from USS IWO JIMA during the summer of '65. When I asked him how he did it, he very modestly said something like "Easy. He flew in front of me and I shot him down." I'm not sure which carrier he flew off--may have been CORAL SEA. I hope this helps.

&nbsp After leaving active duty, Jim Lynne died in 1979 in the crash of a light plane he was piloting for a missionary organization in Indonesia.
Walt reported that he and Betty are moving to Jupiter, FL, sometime this spring. That should be quite a change after their many years in Northern Virginia.
---

&nbsp As I was wrapping up this report I received this note from Dick Omohundro telling about a chance encounter in the Caribbean:
&nbsp I was standing on the dock at Trellis Bay, Tortola, British Virgin Islands, and was introduced by a friend to Doug Davidson! We both did a mutual return to what we looked like 40 years ago, and rejoiced at the chance encounter. Doug and his wife Charlsie were there for a visit with my next-door neighbor on Great Camanoe. They toured the island and stopped by our house for a view of the islands to the east and a coming tropical shower. Two photos (available in Shipmate) commemorate the occasion, one of the two classmates and one of the two couples -- Charlsie and Doug Davidson (on the left) with Dick and Ann Omohundro.
---

&nbsp Here is an update from retired submariner Eric Krieger, who seems quite happy in the Southwest, far removed from sea water.
&nbsp In July 2002, I became the QA Manager for the New Mexico offices of an A/E firm called DMJM Holmes and Narver, Inc. Basically, I manage the QA activities at our Los Alamos and Albuquerque offices and do a lot of supplier qualification/oversight activities. Travel is minimal and I make it home most evenings. The work is fun and the team focus and way of doing business often approaches the environment I enjoyed in submarines.

As sort of a sideline, I seem to have done well enough in the supplier "assistance" area that I have now been requested to work with client vendors (as opposed to our vendors) in QA trouble on certain Los Alamos National Lab jobs. It's sort of like consulting, but I am usually working as a member of a "get well" team, and the projects are generally involving fabrication shops and suppliers who need a lot of help fast -- the kind of thing I've been doing for 15 years or so. It's kind of fun actually, and everyone usually seems very grateful if I can get them through alive and producing acceptable widgets for the client.

We downsized to a nice little place at the base of the Sandia Mountains north of Albuquerque. It has fast access to the interstate, which helps commuting to our office in Los Alamos. Lynda likes the new place which is smaller, all on one floor (no stairs to fall down), and easier to maintain. Me, well I just feel blessed.
---

&nbsp I just learned that Jerry Harken is Director of Human Resources for Genica Corporation in Oceanside, CA.
---

&nbsp My thanks go to those classmates who reminded me that Harlan Ullman was one of the principal formulators of the "Shock and Awe" approach to the Iraq war, and who sent me copies of articles in which he was quoted or credited. Harlan is currently with the Center for Strategic and International Studies and the Center for Naval Analyses. He is also a columnist with The Washington Times. The March issue of the Naval Institute Proceedings contains a review of his latest book, "Unfinished Business: Afghanistan, the Middle East and Beyond -- Defusing the Dangers That Threaten America's Security" published by Citadel in 2002. The reviewer described the book as providing "imaginative suggestions about how to organize national security efforts" that are "timely and well taken."
---

&nbsp Because of a technical glitch, a photo that should have been published in the April issue of Shipmate did not appear. It shows a group of classmates aboard Pete Carrothers' yacht "Sugar" berthed in Annapolis last June. Obviously having a good time were Spence Johnson, David Robinson, Pete, Roger Mehle, Jim Ring, Bruce Webb, and Jeff Miles.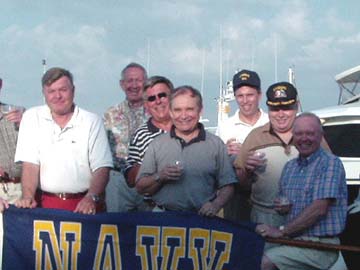 Pete Carrothers hosts cocktails afloat in Annapolis
---

&nbsp We'll wrap up this month's news exchange with a photo of a '63 grandfather and a young Navy booster. Pictured with his granddaughter Hannah (one of his NINE grandchildren!) is David "Pops" Puckett . This begs a question: Do any of our classmates equal or surpass this number of grandchildren? Some may come close but I think that Dave and Judi are the front- runners as of now.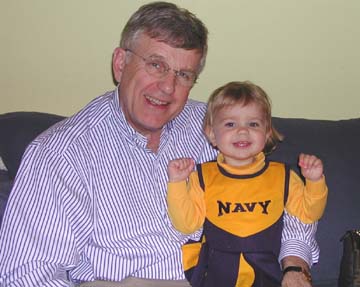 David Puckett and granddaughter
---

&nbsp Enjoy your summer, use that sunscreen to protect your healthy skin, and start preparing for our Reunion. Be there!

QUALITY - '63
---
---