Shipmate Column
June 2005
---
CLASS OF 1963
Pres: CAPT W. Spencer Johnson IV, USN (Ret.)
Sec'y: Michael H. Shelley
25 Sweetwater Lane, Pisgah Forest, NC 28768
h: 828-862-4245 e: nstar@citcom.net
Web site: http://www.usna63.org.


For any classmate you can go to the Classmates Page and enter his name to read his current biography if available.
---
&nbsp We'll begin this month's news exchange with a colorful report from Chuck Calvano:
&nbsp I write this from London where I am an Associate Director for Ships and Systems Engineering of the Office of Naval Research Global. This office, directly descended from one founded during WWII to enhance US/UK cooperation in science and technology, is responsible for keeping abreast of scientific developments anywhere in the world which may have an impact on future Navy or Defense needs (through unclassified and open means). We are supported by subsidiary offices in Tokyo, Singapore, Santiago, and Melbourne. There are 12 of us in the London office (plus a support staff) and we look out for opportunities to enhance collaboration between US and foreign researchers -- we sometimes refer to this as being "technical matchmakers". In addition, through our collective involvement in work in our various fields and through the reports and contacts we make back home, we perform the function of avoiding technological surprise. As you might imagine, the job is travel-intensive, but fascinating as well.

We are finding living in the heart of London to be a new experience, with more ups than downs -- though it might not be a permanently desirable plan. It's the first time in our adult lives we've been without a car (a car here would be a burden and the transport system really makes one unnecessary) -- I walk about four minutes to my office and Kathi, who has begun work at the US Embassy, walks about 20 minutes. (She wasn't working there when we were doing our house hunting.)

We are very much enjoying the rich menu of London activities -- have attended over 20 theater events since our arrival in mid-July of 2004 as well as a number of concerts and lots of visits to the various historical sites and great museums. So far my business travel has taken me to Denmark once, Sweden twice, Paris once; and there was a really valuable nine-day trip to Italy. Greece, Russia and a few others are on the plate for the next few months. It's professionally very interesting to see the work being done in many of these countries in the technologies supporting the design of Navy ships which is, of course, my focus.

Kathi and Chuck Calvano in Italy


This picture is of Kathi and me in Italy in January -- while touring Cinqueterra (the five lands -- actually five towns south of Genoa). It was cold, cold, cold -- we had snow flurries in both Genoa and Rome and while we were in Rome there was two feet of snow in Sicily.

We recently had a chance to visit with Jennifer and Bill Earner, who were here to visit their son, and it was great to catch up with their busy lives. We expect to be in London somewhere between two and four years and would be happy to see classmates passing through this great city.
&nbsp If you're headed to London, you can contact Chuck by e-mail at ccalvano@onrglobal.navy.mil .
---
&nbsp Ronald Schowalter, Partner, Blackwell Sanders Peper Martin, LLP has been appointed to the Board of Directors of The James S. McDonnell USO, a private not-for-profit organization that operates a facility in St. Louis Lambert International Airport and provides for the surrounding military community through many outreach efforts. With the help of over 500 volunteers, the USO stays open 24 hours a day, 365 days a year, and serves over 120,000 military personnel and their families annually.
---
&nbsp I'm sorry to report that LeeAnn Martha Dyer Shaw, widow of our classmate Jim Shaw, died on 14 March in the Portsmouth Naval Medical Center. A long time resident of Virginia Beach, she is survived by her three children, two grandsons, and many other relatives and friends. In lieu of flowers, memorial donations can be made to Navy-Marine Corps Relief Society, 4015 Wilson Blvd. Arlington, VA 22203 (www.nmcrs.org) .
---
&nbsp As my mates in the Fourth Company gear up for our reunion at the Albuquerque Balloon Festival this October there is quite a bit of e-mail chatter among us. Here are excerpts from a couple of messages I saw in March. The first is from Rick Byrnes in Cherry Hill, NJ.
&nbsp Pat and I are well and, like everyone, looking older. We now have seven grandchildren and one coming in August. Pat and I will be married 41 years this April -- I think it may last. I retired from the Nuclear Power business a few years back and now do some high school teaching (Chem and Physics).

The football coach at the school where I teach has a son who graduated from USNA in 2004 and was captain of the wrestling team. The coach was attending some wrestling related affair at USNA and said he met Mike Harman there. He commented that Mike looks a bit bigger than the 137 lbs he wrestled at. I am exactly the same weight as I was the day we graduated.

I don't know if we'll get to New Mexico for the reunion, as my son Rich will be coming back to the states for some leave around that time. He's in England on the staff of CincNavEur and hoping to make CDR in the spring. He is a RIO on F-14 Tomcats and has participated in Afghanistan and Iraq (2003), has a large number of Air Medals and other citations, and is a bona fide tough guy.
&nbsp Mike Harman added some related information.
&nbsp As Rick noted I went back for the Eastern wrestling tournament that was held at Navy. Although I am a tad above my fighting weight I had a weigh off with Wayne Hicks '66 who took over my weight class (137 Lbs) and you will be pleased to know that I was two pounds lighter than he was. I will not tell you what the actual weight was.

We also have seven grandkids. Mike Jr. has four girls and Todd (USNA '92) has three boys. I'm convinced the youngest boy is going to be a National Champion and I am already working on him to go to the Academy.
---
&nbsp Phillip Marsden sent this report of a dinner party at the Escondido, CA, home of June and Chuck Stone.
&nbsp The Stones invited several local classmates to dinner to welcome Mallory and Felix Degolian who were visiting from Atlanta. Others in attendance were Ted Khrone, Betty Ray and Rich Wilson, Pat and Jim Fontana, Donna Kaup, yours truly, and my wife, Martha. True to form, our wonderful hosts prepared a great feast that was appreciated by all and which fueled many sea stories and remembrances. A highlight of the evening was the recounting of Felix, Jim and Rich's experiences rowing in the Master's Crew Regatta on Henley in England last year. According to Felix, the regatta required sacrificing many pounds on his part and enduring some of the coldest July days in English history. You can be sure Felix received little sympathy for his past sacrifices and much encouragement to get in better shape for next time.
&nbsp Phillip provided three photos from that evening. In the first are, left to right, Messrs. Wilson, Degolian, Fontana, Marsden, Khrone, and Stone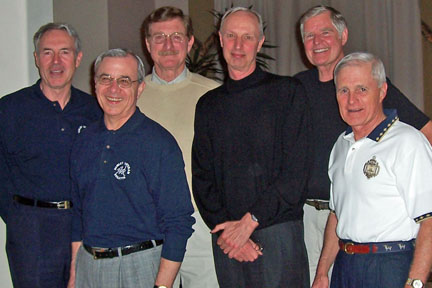 Classmates at June and Chuck Stone's dinner party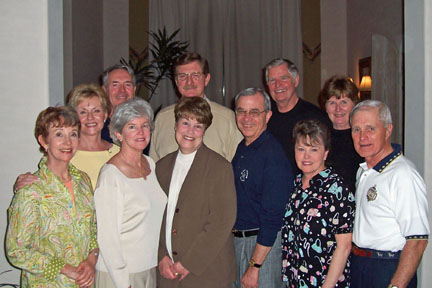 June and Chuck Stone (right foreground) and their guests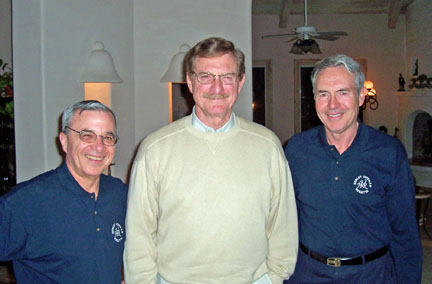 Henley veterans Degolian, Fontana, and Wilson
---
&nbsp Jan and Phil Rooney made a three-week circuit from their home in Fairfax, VA, to Key West, FL, in March. Their plan was to golf on numerous courses as they traveled. They did play several rounds but the weather interfered more than expected. They did have good weather in Key West and had a very fine time there. On their way north they stayed for two nights with us in North Carolina. We took them to see various natural and man-made wonders. Foremost among the latter was the Biltmore Estate in nearby Asheville. I snapped this picture of Jan and Phil in front of Biltmore House, the largest private home in America.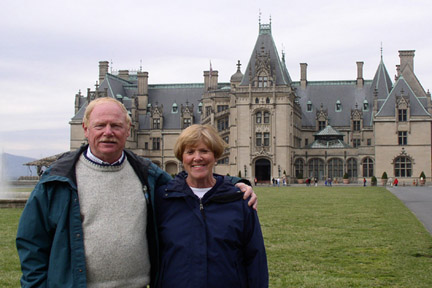 Phil and Jan Rooney visit the Biltmore Estate
---
&nbsp In March, Helen and Mike Blackledge drove from their home in Albuquerque to visit Jo Ann and Lou Simpleman at their home in Trinidad, CO. Here's the picture Helen took of Jo Ann and the two Fourth Company mates.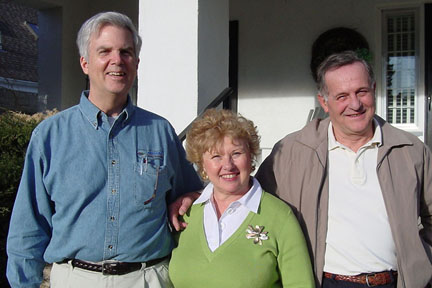 Mike Blackledge visits Jo Ann and Lou Simpleman
---
&nbsp James N. Penrod has been named Litigation Lawyer of the Year by California Lawyer magazine. There are over 200,000 lawyers in California. His award recognizes a recent lost policy insurance coverage case he tried which resulted in a settlement totaling $2.2 billion and the creation of a trust for some 40,000 past and future victims of exposure to asbestos in the San Francisco area. Jim has had many other noteworthy trials. Among these was one in which he obtained the then-largest legal malpractice verdict, against the former Mayor of San Francisco, Joseph L. Alioto. He obtained the then-largest "slip and fall" verdict in California history. He successfully defended numerous physicians in medical malpractice cases and many members of the Oakland, CA, Police Department in excessive force cases. He has written and lectured widely on various issues relating to trials and litigation in the United States and abroad. He has been listed in "The Best Lawyers in America" since it was first published in 1987 and is one of the few lawyers listed in three categories.

Jim and his wife Susan reside in Piedmont, CA. Their oldest son, Joe, will graduate from Temple Law School in Philadelphia in May and will be working for the Public Defender in Alameda County, CA. Their middle son, Mark, has an Economics Degree from Wesleyan University in Middletown, CT, and is a Charted Financial Analyst with Eastdil Realty in San Francisco, a subsidiary of Wells Fargo Bank. Their youngest son, Dan, will graduate from Wesleyan in May with a degree in Economics and History and will be going to work in investment banking with Lehman Brothers in New York City.
---
&nbsp It seems like our Webmaster, Steve Coester, and his wife Yvonne are always in motion. Here's a photo taken at Lake Tahoe this winter as they enjoyed a few days of skiing at Heavenly. Back in Florida, Steve remains a fierce competitor on the tennis courts - as he was during our USNA days.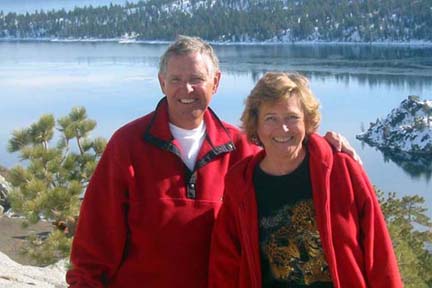 Steve and Yvonne Coester at Lake Tahoe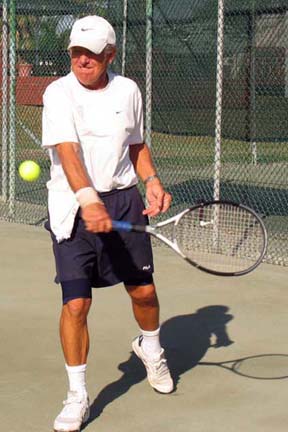 Backhand in motion
---
&nbsp That wraps it up for now. If your name did not appear in this month's report, get busy and send me a letter or e-mail with some news to share with our classmates. Pull your oar.



---