Shipmate Column
March/April 2010
---
CLASS OF 1963
Pres: CAPT W. Spencer Johnson IV, USN (Ret.)
Sec'y: Michael H. Shelley
164 Sweetwater Lane, Pisgah Forest, NC 28768
h: 828-862-4245 e: nstar@citcom.net
Web site: http://www.usna63.org.


For any classmate you can go to the Classmates Page and enter his name to read his current biography if available.
---
&nbsp I regret having to begin this report with sad news. Our classmate CAPT Herman J. "Huey" Long, Jr., USN (Ret.) died at his home in Virginia Beach, VA, on 18 December following a short, aggressive bout with cancer. His full obituary is posted in the Last Call section of our web site
Herman J. "Huey" Long Jr.
---
&nbsp Lu Schumacher told me in early January that Paul R. Brown, who was with us during our Plebe and half of our Youngster years, has died. No details are yet available.
---
&nbsp It has been confirmed that Peter Featherstone's ashes will be placed in the Naval Academy columbarium on Friday, 23 April, at 2:30 PM. Please advise Craig Barton craigbartn@aol.com if you are planning to attend.
---
&nbsp Rick Wakefield sent this photo of four of our classmates at the 2009 Army-Navy game party sponsored by the South Carolina Low Country Alumni chapter. From left to right are Rick, Tom Reemelin, Rich Weidman, and Denny Tomlin. Rick said this picture was taken at halftime and they were even happier at the end of the game.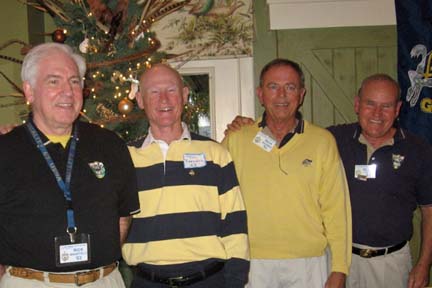 South Carolina Low Country classmates
---
&nbsp Meanwhile, in Southern California, the traditional assembly of '63 men and their ladies once again cheered the Navy team over the Black Knights. This report was provided by Phillip Marsden.
&nbsp Sixteen of our classmates and their ladies and families gathered at the On The Border Mexican Grill in Escondido to cheer on Navy in this year's contest against a valiant Army team. In attendance were Bob and Sue Easton and their daughter Laura, Jim Fontana, Janet Gushue and her son Brian, Charlie and Nancy Helsper, Steve and Karen Hoy, Bill and Dottie Hughes, Ted and Kay Krohne, Dave and Pattie Meyers, John and Betty Middleton, Win and Sally Orgera, Jay Roberts, John and Terri Ryan, Grant Telfer, Vern and Gail VonSydow, Roy and Vickie Warren, Rich and Betty Ray Wilson. Sickness kept two of our regulars, Karl Kozak and JJ Hogan, from attending.

Army game party in Escondido




Hughes, Ryan, Wilson, Warren




Myers and Roberts




Grant Telfer, Kay and Ted Krohne




Hoy, Orgera, Helsper, VonSydow, Fontana, Middleton



---
&nbsp I received this note from Eli Dabich in December.
&nbsp It's hard to believe, but I am half way through my seventh year of teaching plebe Chemistry. I am fortunate to work with our Link in the Chain class of 2013. My four sections from the class of 2013 are the best overall midshipmen I have had so far - smart, great shape, fun, and diverse, but as usual for plebes, they are still learning to follow directions and listen to instructions.

&nbsp In November, we had several plebes from my class over to our house for a Sunday lunch along with Spence Johnson and Pete Quinton. It was a fun get together.... Class of '63 socializing with the Class of '13. The midshipmen enjoyed hearing the stories about our plebe year, but were told what you hear today stays here.

&nbsp When you spend as much time as I do with the midshipmen, you come to realize that we have some great future leaders in development.
&nbsp Eli's wife, Eileen, sent this photo of Eli and one of his classes. That's her in the doorway. She remarked that it may be a first that an alumnus is teaching his fifty years younger Link in the Chain class. Eileen works for the USNA Alumni association part time at the receptionist's desk in Ogle Hall.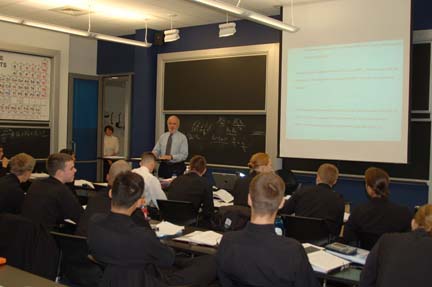 Eli Dabich and his Plebe chemistry class
---
&nbsp Ollie Donelan tells us about seeing classmates during his visit to Hawaii in November.
&nbsp I recently got back from Maui. Elyse and Vern Browne, Sandy and I, and my sister Martha Anne (our chaperone in Sherwood Forest our first class year) and her husband all had time shares there. We were surprised to encounter Mike Nadolski and his wife, Stephanie. All of us went on a dinner cruise out of Lahaina.

Browne, Donelan, and Nadolski in Maui


&nbsp This photo shows Vern, me, and Mike before the dinner cruise. I had originally gone out there planning to go to the Navy vs. Hawaii football game, but they moved it back a week. Mike and Stephanie stayed on an additional week to go to the game. They are season ticket holders for the Navy games and missed the Delaware game, but their tickets were used by Eli and Eileen Dabich.
---
&nbsp Phillip Marsden provided this illustrated news:
&nbsp Seattle resident Bill Anderson found himself in San Diego in December participating in a National American Contract Bridge winter tournament. Bill and his wife, Elana, competed in a number of the pairs contests as they sought to win more of the elusive bridge master points. While various contests were scheduled day and night, Bill did manage to squeeze in a lunch with some classmates. Here is a snapshot showing Bill's 2nd Company mates Ray Theep and Mickey Mays, Bill, and me enjoying the camaraderie and the San Diego winter weather.

Theep, Mays, Anderson, and Marsden



---
&nbsp The Class of 1963 was present in force to see Navy defeat Missouri in the Texas Bowl game in Houston on New Year's Eve. Pete Carrothers sent several pictures from that weekend.
&nbsp These two photos were taken the day before the game at the lounge in the Marriott. In the group of three are Bob Forster, Don Freese, and Pete Optekar. The other shows Ed Gill and me.





&nbsp Most everyone in the '63 crowd came by the RV in the parking lot before and after the game. This picture shows Bob Schaefer and Pete Optekar shortly before the kickoff.





&nbsp The morning after the game we had 26 brave souls who drove down to Clear Lake (about 45 minutes south of Houston) where we keep "Sugar," our Long Range Cruiser. The weather was blustery, so we elected to just keep the boat in the covered shed so we could get some of the folks up topside.

&nbsp Here are some photos taken that morning. The first shows Walt Pierce in front. In the second row are me, Ed Gill, Don Freese, John Boley, and Charlie Stubbs. In the rear are Joel Gardner, Mike Nadolski, Jim Eckland, Steve Hoy, and Lanny Cox.

New Year's morning afloat


&nbsp The image below includes Steve Hoy, Pete Optekar, Bob Easton, and Erwin Storz, who was appropriately recognized for reaching his 70th birthday that very day.

Happy Birthday, Erwin!




Lanny and Patsy Cox, John Boley




Pete Carrothers, flanked by Beth and Joel Gardner


&nbsp A picture I didn't get and would have been a great one: Walt Pierce, Bob Schaefer, and Ed Gill all wore Supe's stars and all played first string football. Not too many Division I teams can make that claim today.

&nbsp There were several people who came for the tailgate and the game but couldn't stay for the Bloody Marys the next day. Among them were Bob and Julie Schaefer, Bob Forster, Larry Graham, Frank Radik, Denver and Alece Key, Frank Wroblewski, and Dave Driscoll.

&nbsp One of the good sidebars is that we were having a hard time getting Larry Graham to drive over from the Texas Hill Country where he lives -- until we told him Ed Gill would be there. Larry hadn't seen Ed since they were together as Navy Seals on a Swift boat in the delta when Larry got shot up and was medevac'd out of there. Larry drove over the afternoon before the game just to see Ed.

&nbsp Some of our classmates might remember "Sugar" from when we did the Great Loop (2002) and stopped in Jacksonville to see Denver and Alece Key, along with the Isgers, and the Klemicks in N.C., and a cocktail party onboard in Annapolis with everyone that Jeff Miles could round up in the area. We went on up the east coast, into the Great Lakes, down through Chicago, the rivers, and eventually eight months later made it back to Houston. Sugar has a range of around 2,200 nautical miles. The Great Loop is around 6,600 miles so I made it on "three tanks of gas". Nancy is the Skipper and I'm just the Purser. (She actually has her Captain's license; mine got summarily yanked when I hit the bulkhead too hard conning a YP first class year.)
---
&nbsp Also checking in with me after the Texas Bowl was Don Freese, who sent this photo of himself with four Plebes from the 11th Company. Surely there can't be a half century between Don and those Midshipmen!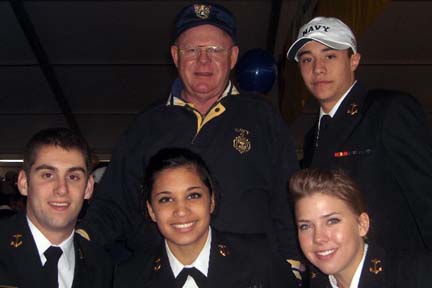 '63 and '13, a short 50 years apart
---
&nbsp Jim Metcalfe sent this news about his daughter's wedding in England late last year.
&nbsp Megan and Susantha Jayawardena were married in Weybridge, Surrey, on 14 November and went on their honeymoon to Sri Lanka. That gave Lisa and me about 10 days of quality solo time with our grandchildren Matt (8), Adam (6), and Maya (2). Susantha is an aeronautical engineer (structures) who has lived in the UK since he was 17. He had a three-year stint in Canada working on the design of the Canadian Regional Jet which is used extensively here in the U.S. by connector airlines.

Kilted gentlemen in Surrey


&nbsp Here is a picture from the wedding reception. The fellow on the left in the red tartan is a Scottish friend of ours from Edinburgh. Our son Jimbo is in the center and I'm on the right. Jimbo was wearing a West Point kilt that belongs to one of our USMA friends. The WooPoos were delighted that my Navy son was wearing an Army kilt! Jimbo is now a Navy Reserve commander and a Navy OGC attorney working at the Norfolk Naval Shipyard.
---
&nbsp Last fall I received an e-mail from Dave Reif's daughter Erin, who was preparing a celebration for his 70th birthday on 29 November. She was seeking information about Dave's USNA days and his interactions with his classmates. I put her in touch with Alan McAnally so that he and others in the 21st Company could help. There was a great response and Erin told me that Dave was thrilled and surprised. She sent some photos from the event to be shared with Dave's companymates and classmates.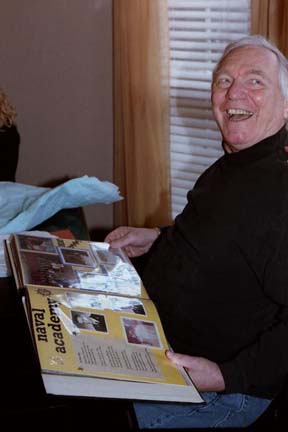 Dave Reif enjoys the USNA pages in his birthday scrapbook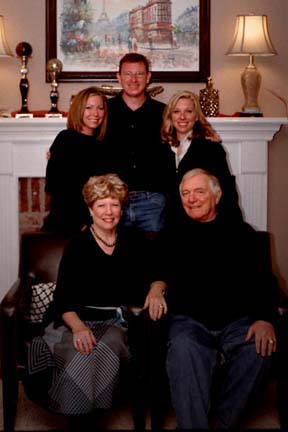 Sheila and Dave Reif and their children Aimee Reif, John Reif, and Erin Reif Janssen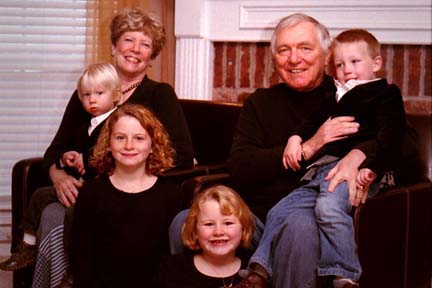 Sheila and Dave with grandchildren Keeley and Katie Reif and Riley and Noah Janssen
---
&nbsp Here we have a photo from the traditional (It's been going on long enough to be called that.) end-of-year holiday dinner held by 20th Companymates in the Washington, DC, area. Left to right are Larry Marsh, Karen and Dan Koczur, Charlie Robbins and his fiancee Pat, and Barb Marsh.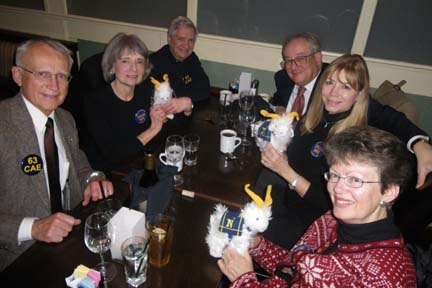 20th Company's traditional dinner


&nbsp Larry supplied the picture and these comments:
&nbsp Note that the ladies are enjoying their "NAVY Bill The Goat" stuffed animal favors and are wearing "20 th Company Special Wife" buttons. And, of course, we men are wearing our "CAE" buttons. As usual, a good time was had by all, especially in eating s'mores for dessert!
---
&nbsp A December press release by the Urban Land Institute recognized its board members who completed their terms of service, one of whom is our classmate Ron Terwilliger.
&nbsp Ronald Terwilliger, of Atlanta, who served as chair of Habitat for Humanity International's board and recently retired as chairman of Trammell Crow Residential, a developer of multi-family housing in the United States. A graduate of the United States Naval Academy and a Baker Scholar at Harvard University's Graduate School of Business, Terwilliger is the former chairman of the Urban Land Institute, where he remains a trustee. Additionally, he is chairman emeritus of the Wharton Real Estate Center and past chairman of the Atlanta Neighborhood Development Partnership. Terwilliger also has served on the governing boards of the Enterprise Foundation and the U.S. Naval Academy. Terwilliger made a historic $100 million commitment to Habitat for Humanity in 2009.
---
&nbsp
---
&nbsp The Current Biographies section of our web site now contains career and personal information provided by more than 300 of our classmates. Are you among them? If not, take a few minutes to browse through some of the entries there. You'll see photos and a lot of information about careers, families, hobbies, and much more. To add or update your own current biography, just send the text and any photos to our Webmaster, Steve Coester, at scoester@cfl.rr.com . Entries for Skip Wright and Phillip Parotti were recently added.

&nbsp That's it for now, folks. Keep sending your news and photos to me. We're depending on your support.



---